Boots-on-the-Ground Market Insights: Apartments
May 2020
The Coronavirus health crisis is now an economic crisis.  Find out how apartments are faring!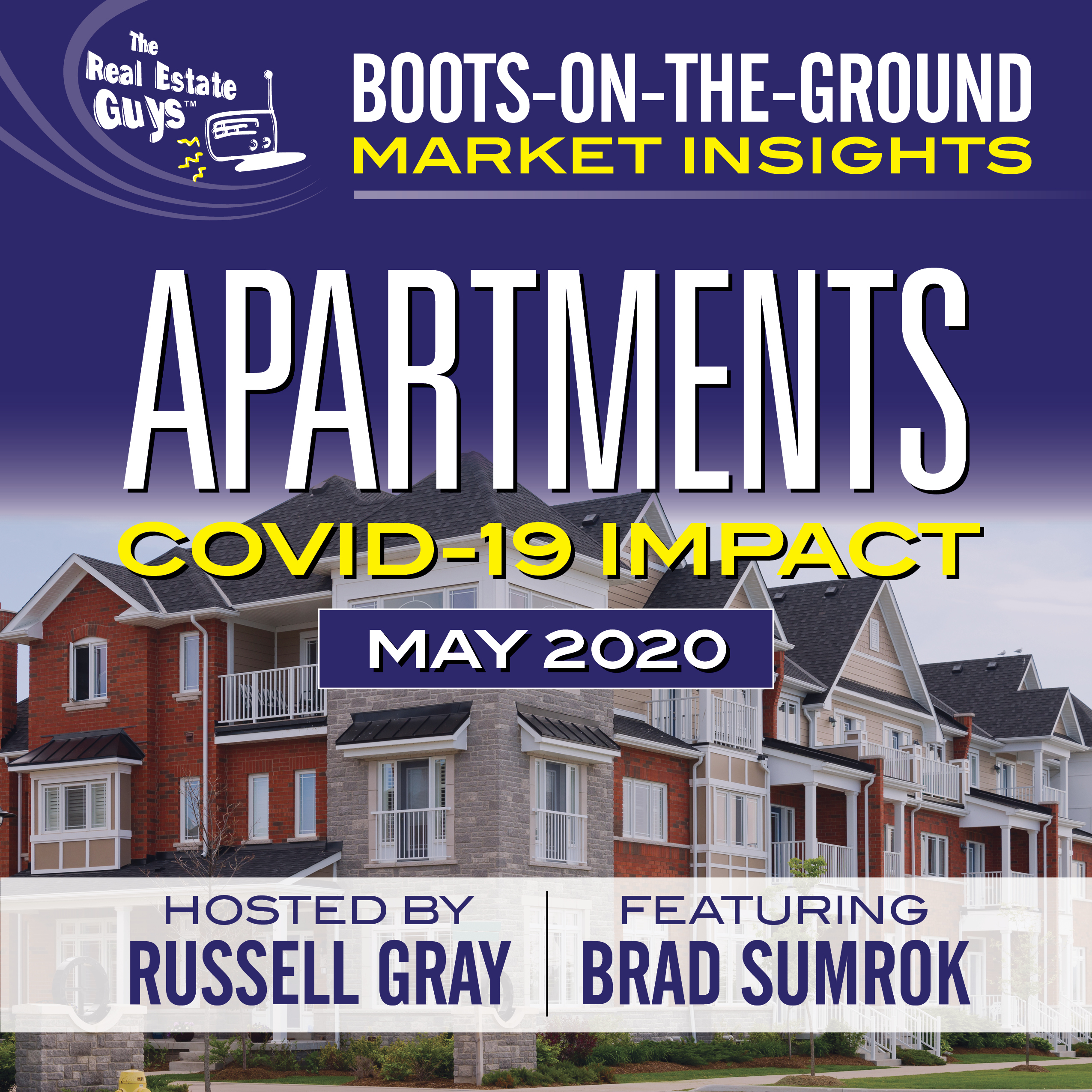 Russell Gray, Co-Host of The Real Estate Guys™ Radio Show, interviews Brad Sumrok about what Brad and his thousands of students are experiencing right now.
The bottom line is that no matter what happens …
People still need housing.  But the question on every apartment owner's mind is …
Will tenants be able to pay their rent?
Will they?
Russ & Brad discuss the current state of apartment …
Occupancy
Rent Collections
Tenant Applications
Tenant Screening Criteria
Rent Concessions
Tenant Retention Strategies
Variances by Real Estate Markets
Emerging Opportunities
Plus, Brad shares his proven recipe for finding the best apartment markets to invest in.
For immediate access, simply complete the form below …
Five Reasons to Invest in Self-Storage
Good things do come in not-so-small packages!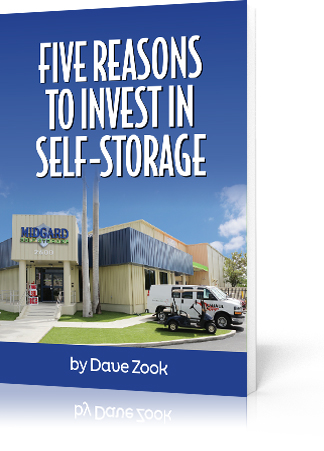 They say you can't take it with you … but we certainly do enjoy our "stuff" while we can. 
And when times are good … the amount of stuff we accumulate and store during prosperity tends to grow.
Here's the thing … when times are rough, we tend to move (think downsize, move in with family for awhile, relocate to a more affordable area) … and, guess what? 
During rough times … we store our stuff while transitioning. 
People need a secure location to store their treasures. That means turning to self storage. 
Self storage properties enjoy high demand from Baby Boomers in need of extra space as they downsize AND from Millennials who would rather pay less for storage than pay rent for more living space. 
During the last decade, self storage investment returns have outpaced most other property types … which means investors should take note. 
Dave Zook and his team at The Real Asset Investor have seen the payoff of investing in self storage … and they're sharing the top five reasons why YOU should do the same!
In this special report, learn:
✓ Why self storage is a recession resistant niche 
✓ The tax benefits of depreciation
✓ How to play a fragmented market to your advantage
✓ And more!
Dive into a space where your tenants are boxes. Discover the endless possibilities of self storage investing.
Get started by filling out the form below to access

Five Reasons to Invest in Self Storage …
Last week the Fed pumped over $200 billion of freshly printed cash into the repo market.
Since then, the Fed's upped the ante to $400 billion … and counting.
For those young or asleep during the 2008 financial crisis …
… back then, the Fed provided an infusion of $85 billion per month to keep the wheels on the financial system bus.
Today, they're pumping in nearly that much PER DAY.
That's MIND-BOGGLING.
They're trying to keep interest rates DOWN to their target. Of course, interest rates matter to real estate investors. We typically like them low.
But this isn't about real estate. It's more about banks who hold debt (both mortgages and bonds) on their balance sheets.
As we explained last time, when interest rates rise, bond values fall …
… and a leveraged financial system with bonds as collateral is EXTREMELY vulnerable to collapse if values drop and margin calls trigger panic selling.
The Fed seems willing to print as many dollars as necessary to stop it.
And that brings us to an important question …
If the Fed can simply conjure $400 billion out of thin air in just a week … is it really money?
This matters to everyone working and investing to make or save money.
For help, we draw on lessons learned from our good friend and multi-time Investor Summit at Sea™ faculty member, G. Edward Griffin.
Ed's best known as the author of The Creature from Jekyll Island. If you haven't read it yet, you probably should. It's a controversial, but important exposé on the Fed.
In his presentation in Future of Money and Wealth, Ed does a masterful job explaining what money is … and isn't.
In short, money is a store of energy.
Think about it …
When you work … or hire or rent to people who do … the energy expended produces value in the form of a product or service someone is willing to trade for.
When you trade product for product, it's called barter. But it's hard to wander around town with your cow in tow looking to trade for a pair of shoes.
So money acts as both a store of value and a medium of exchange.
The value of the energy expended to create the product is now denominated in money which the worker, business owner, or investor can trade for the fruits of other people's labor.
This exchange of value is economic activity.
Money in motion is called currency. It's a medium of transporting energy. Just like electricity.
When each person in the circuit receives money, they expect it has retained its (purchasing) power or value.
When it doesn't, people stop trusting it, and the circuit breaks. Like any power outage, everything stops.
So … economic activity is based on the expenditure and flow of energy.
This is MUCH more so in the modern age … where machines are essential to the production and distribution of both goods and information.
Energy is a BIG deal.
This is something our very smart friend, Chris Martenson of Peak Prosperity, is continually reminding us of.
Here's where all this comes together for real estate investing …
New dollars conjured out of thin air can dilute the value of all previously existing dollars.
It's like having 100% real fruit juice flowing through a drink dispenser.
If someone pours in a bunch of water that didn't go through the energy consuming biological process of becoming real fruit juice in a plant…
… the water is just a calorie free (i.e., no value) fluid which DILUTES the real fruit juice in the dispenser.
Monetary dilution is called inflation.
Legendary economist John Maynard Keynes describes it this way …
"By a continuing process of inflation, government can confiscate, secretly and unobserved, an important part of the wealth of their citizens."
Inflation waters down real wealth.
Fortunately, real estate is arguably the BEST vehicle for Main Street investors to both hedge and profit from inflation.
That's because leverage (the mortgage) let's you magnify inflation's effect so your cash-on-cash ROI and equity growth can outpace inflation.
Plus, with the right real estate leverage, there's no margin call. Meanwhile, the rental income services the debt.
Even better, the income is relatively stable … rooted in the tenant's wages and lease terms. Those aren't day-traded, so they don't fluctuate like paper asset prices.
Effectively, you harness the energy of the tenant's labor to create resilient wealth for yourself. And you're doing it in a fair exchange of value.
Of course, the rental income is only as viable as the tenant's income.
This brings us back to energy …
Robert Kiyosaki and Ken McElroy taught us the value of investing in energy … and markets where energy is a major industry.
First, energy jobs are linked to where the energy is. You might move a factory to China, but not an oil field. This means local employment for your tenants.
Your tenants might not work directly in the energy business, but rather for those secondary and tertiary industries which support it. But the money comes from the production of energy.
Further, energy consumers are all over the world, making the flow of money into the local job market much more stable than less diverse regional businesses.
It's the same reason we like agriculture.
While machines consume oil, people consume food. Both are sources of essential energy used to create products and provide services.
So when it comes to real estate, energy, and food … the basis of the investment is something real and essential with a permanent demand.
Though less sexy and speculative, we're guessing the need for energy and food is more enduring than interactive exercise cycling.
Real estate, energy and agricultural products, are all real … no matter what currency you denominate them in.
And the closer you get to real value, the more resilient your wealth is if paper fails.
Right now, paper is showing signs of weakness. But like a dying star, sometimes there's a bright burst just before implosion.
Remember, Venezuela's stock market sky-rocketed just before the Bolivar collapsed.
Those who had real assets prospered. Those who didn't … didn't.
Are we saying stocks and the dollar are about to implode? Not at all. But they could. Perhaps slowly at first, and then suddenly.
If they do and you're not prepared … it's bad. It you're prepared and they don't … not so sad. If they do and you're prepared … it could be GREAT.
Real assets, such as well-structured and located income property …
… or commodities like oil, gold, and agricultural products (and the real estate which produces them) …
… are all likely to fare better in an economic shock than paper derivatives whose primary function is as trading chip in the Wall Street casinos.
So consider what money is and isn't … the role of energy in economic activity … and how you can build a resilient portfolio based on a foundation of real assets.
"The time to repair the roof is when the sun is shining."
John F. Kennedy
Until next time … good investing!
More From The Real Estate Guys™…
The Real Estate Guys™ radio show and podcast provides real estate investing news, education, training, and resources to help real estate investors succeed.
---
Love the show?  Tell the world!  When you promote the show, you help us attract more great guests for 

your

 listening pleasure!
A very big real estate story splashed across mainstream news recently, but got buried underneath (insert the sensational political headline you're sick of) …
Oregon Okays First Statewide Mandatory Rent Control Law
 Associated Press, 2/28/19 
Okay, we admit this is a government policy … so it's political.
But politics is easy to laugh at when it's happening in cyberspace.  It's a little less funny when it hits hard on Main Street.
For thousands of Main Street landlords in Oregon, politics just landed hard … right in their portfolio.
Of course, as is often the case, there's more to the story than meets the eye.
So even if you don't own property in Oregon … or won't for much longer 😉 … there's a lot to glean from this watershed legislation.
We could debate whether or not government should step into a "free" market and regulate the price of anything … from housing to healthcare to haircuts.
But it doesn't matter if WE think they should or shouldn't.  They do.
And as a broken financial system keeps growing a wedge between haves and have-nots … we're guessing more politicians will try to legislate affordability.
So like it or not (we don't), rent control is something every investor everywhere should be watching out for.
Let's take a look at how rent control works in the real world …
Real estate investors buy property to produce income and build long-term wealth.  The more income a property produces, the more it's worth.
In order to create more wealth, real estate investors need to create more income … which means creating more value that a tenant is willing and able to pay for.
The essence of real estate investing is using capital to acquire long-term cash flow.  This is how real estate investors think.
Make sense so far?
Politicians, whom we're guessing are NOT real estate investors, think investment starts and ends at acquisition.
Unless you're Warren Buffet, paper asset investors don't buy stocks with the intention of improving the cash flow.
You just buy, own, and sell.  Maybe collect some dividends along the way.
But when value-add real estate investors buy properties in poor condition with lousy amenities …
… they're excited about the potential to make further investments into the property AFTER the acquisition.
For example, a property without a washer and dryer might rent for $50 a month less than one with that amenity included.
So for perhaps $600 per unit additional capital invested, a landlord could acquire $600 per year cash flow.
That's a good ROI.  It's also a nice amenity for the tenant.
You could say the same about covered parking, self-storage, a laundry room, a workout room, free wi-fi, and on and on.
Rent control caps the owner's ability to create positive returns by improving properties.  So guess what?  They don't.
So crappy properties stay crappy … because the incentive to improve them is removed.
And as nicer properties deteriorate, there's not much incentive to maintain them above the bare minimum.
With profit potential capped on the revenue side … and no cap on the fixed expense side …
… as margins get squeezed, property owners have no choice but to cut services and defer maintenance.
So rent control makes both landlords and properties cheap.  In a bad way.
And because there's always more people on the low-end of the economic scale (part of the reason Oregon is doing this) …
… there will always be a line of people waiting to get into these "affordable" rentals … even though they're crappy.
And with little market pressure on landlords to compete for tenants, there's even less incentive to improve properties, add services and amenities, or lower rents.
But it gets "better" … or actually worse …
As property values decline … or stagnate relative to rising costs of labor and materials … incentives for developers to build new inventory declines too.
Rising values are what attract developers to create more supply … which is the answer to moderating rising values.
Yes, it's sad when marginal tenants' incomes don't grow as fast as rents … or other inflating necessities.
But capping the property's growth doesn't pull the tenants up.  It pulls the properties down.
It's a bad scene. That's why nearly every investor we know stays away from rent control areas.
But it's also important to consider WHY this is happening …
The Fed dropped interest rates to zero for nearly a decade, then pumped trillions of dollars into the financial system … primarily to inflate asset values (stocks, bonds, real estate).
It worked … at least for some people.
Those paying attention, with both resources and financial education … snapped up the money, rode the equity train, and got much richer.
You might be one of them … or hope to join them.  We hope you succeed.
You can't blame people for playing the game using the rules and circumstances in their own best interests. But politicians do.
But the real issue is the financial policy wizards thought these now richer folks would then spend the money … and build businesses … and prosperity would trickle down to Joe six-pack and Larry lunch-bucket. 
In many ways, it worked.  The problem is the wealth didn't allocate very evenly.  It never does.
Certain markets got a disproportionate share of the goodies. 
And even though Oregon wasn't really on the list … it was nearby … and so became a collateral beneficiary /victim.
Lots of cheap money ended up in tech stocks, which blew up real estate values in tech hubs like Seattle and Silicon Valley.
As prices shot up, folks in those uber high-priced markets got pushed off the back of the bus … and gravitated to nearby "affordable" places like Oregon, Nevada, and Arizona.
Of course, the folks already in those nearby affordable areas end up competing with the new people who see everything as cheap … and easily bid things up.
It's a regional variation of gentrification … with its roots in paper asset bubbles blown up by cheap stimulus money.
But politicians are notoriously myopic when it comes to "fixing" things … especially financial problems.
As Peter Schiff says, "Good economics is bad politics, and good politics is bad economics.  That's why you always get bad economics from politicians."
Sadly, there are signs it could get worse as politicians try to contain the consequences of an over-financialized economy.
So even though we tout the opportunity to invest in affordable areas ahead of the crowds, it's REALLY important to stay aware of the political climate.
If you bought into Oregon ahead of the migration …
… you're now the proud owner of a property where the state government views you more as a public utility to be regulated than a free entrepreneur to be incentivized.
So you'll either need to get out while the getting's good … or not as bad as it could get … or start brushing up on your C-class property management skills.
Until next time … good investing.
More From The Real Estate Guys™…
The Real Estate Guys™ radio show and podcast provides real estate investing news, education, training, and resources to help real estate investors succeed.
---
Love the show?  Tell the world!  When you promote the show, you help us attract more great guests for 

your

 listening pleasure!
Welcome back to an all-new edition of Ask The Guys!
Today, we'll be answering listener questions. So listen in for our best real estate tips and tricks!
A disclaimer … we are not tax advisors or legal professionals. In our Ask The Guys series, we give ideas and information … NOT advice.
In this episode of The Real Estate Guys™ show you'll hear from:
Your tipster host, 

Robert Helms

His tricky co-host, 

Russell Gray
---
Listen
---
Subscribe
Broadcasting since 1997 with over 300 episodes on iTunes!
---
Review
When you give us a positive review on iTunes you help us continue to bring you high caliber guests and attract new listeners. It's easy and takes just a minute! (Don't know how? Follow these instructions).
Thanks!
---
How do I find a property management company?
This question comes from Lee, in Bay City, Michigan. He wants to know whether we have any advice for finding—and vetting—management companies.
He says he's investing in his area, but the only management companies he can find are run by real estate agents on the side. He has a day job, and doesn't have time to manage on his own … so he wants to find a reputable company that's up for the task.
He also asks whether he should move out of his local area, since there aren't many management companies.
We always say you should invest where the numbers make sense … but you also need to invest in places where you can find a great team.
In the long term, your property manager is the most important person on your team. So if there aren't any great property management solutions where you live … perhaps it's time to expand your geographic investing boundaries.
Start by refining your personal investment philosophy, then look for a market that both matches your goals and has the management companies to fill your needs.
You don't want single-point failure. Make sure the company you choose aligns with your philosophy. Ask them, "Who supports you, and how?"
You want to make sure their compensation model is aligned with your best interests. In other words, when you earn money, they do too.
And choose your property management company BEFORE you buy your properties. They can be an excellent resource for finding properties and asset class types that will work well for both of you.
Remember, you can't scale up without putting the right team in place. Getting a great property manager on your team helps you find the professional distance you need to run your business properly.
How do Section 8 rentals work?
Laura, from Naples, Florida, wants to know how Section 8 rentals work and how she can acquire affordable housing in her investment market.
First, a few things about Section 8. Section 8 is housing subsidized by the Department of Housing and Urban Development (HUD). But it's administered by local public housing agencies, so it's not always available and differs across the country.
Section 8 can be great because a portion of the rent is paid by the government. You basically have a guarantee you'll get most of your rent on time, regularly.
But tenants in this housing can be a tough crowd … sometimes they don't blend well with other, non-Section 8 tenants. For that reason, we like a property to be all Section 8 or none.
A great resource for learning about Section 8 is Mike McLean, who has published a book called the Section 8 Bible and has some great online resources, too.
Affordable housing can be a good place to be because of stagnant purchasing power … but make sure you're playing close attention to the program from which funding comes.
And keep in mind … the devil is in the details. If you're not managing the property yourself, make sure your property manager is well acquainted with Section 8.
Should I invest now, or later?
Casey, in Lehi, Utah, has been listening to the podcast, and now he has a pressing question.
Casey has saved up $100,000 to invest, but he wants to know whether he should invest now or wait until the market takes a dive. He mentions worries such as rising interest rates, an unstable dollar, and inflation.
Let's start with a premise … markets will either do well or poorly in the future. We know that. We also know that when the market hits the bottom, you can only go up.
Real estate is a long-term, buy-and-hold business. But it is interest-rate sensitive, so you want to make sure you lock in long-term financing if you invest now.
It's also good to keep some liquidity for if and when the market does go downhill.
Something we like to say is, "Opportunities are like busses. Another one will always come along … but you have to get on the bus at some point."
The way we see it, Casey has a few options …
Invest in things that are likely to do well, even when the market is bad, particularly mid-level rentals and below. There will always be demand for housing, especially mid-range housing.

Invest in a forced equity situation … a neighborhood or property that has room for improvement, which you can force upward in value. This will help you mitigate downward pressure to the dollar.

Invest in a bigger market … this provides stability, as these markets have more ballast during tough times.

Step in on the debt side of the market by

lending money

to other investors.

Work with an experienced syndicator who is more likely to get investments right, even when times are more precarious.
Remember, when you're in property for the long haul, most of the time you'll be fine. The key is to structure deals so you can weather the ups and downs.
Another thing to consider … the price only matters when you buy and when you sell. In between, it's all about cashflow.
Real estate is one of the best inflation hedges if you structure the financing properly relative to cashflow … but you can't fledge against inflation if you don't do anything at all!
How do I create residual income with little savings?
Jeff, in Fountain Hills, Arizona, says he is in an interesting situation.
He doesn't have any income, but he has enough cash to live on for 24 months. In the meantime, he wants to figure out how to create residual income that will pay for his living expenses going forward.
Jeff is looking at building a balance sheet of passive income sources.
But right now, he has time, labor, and energy he can put to work. And since he's not holding on to a chunk of cash, the active investor route is a good one.
Some options …
Force equity by fixing and flipping.

Earn cashflow by fixing, holding, and renting.

Become a syndicator

and use other people's money to make great investments. It's our favorite way to go full-time, fast.

Try

wholesaling

.
Basically, what Jeff needs to do right now is to build up his investment capital so he can start getting some cashflow.
But before he does that, we suggest he invest in education and build relationships. Get the right tools in your toolbox and the right advisors at your back before you go big.
Can you recommend turnkey management companies?
Keith hails from East Sandwich, Massachusetts. He recently bought a home through Mid South Homebuyers and is ready to buy another.
The problem? He's on the waitlist at Mid South. In the meantime, he's looking for another turnkey company that manages the houses it sells.
One disclaimer … we don't know anybody quite like Terry Kerr at Mid South.
But we do know lots of other great folks.
The idea of a turnkey provider is that they do the whole thing … find the properties, get them in great shape, put tenants in, and manage the rentals.
But before you look for a provider, think about the type of property, market, and team you want.
Then go ahead and search our provider network for someone who can help fill your needs. We don't guarantee anyone on the list, but we do promise we've spent a lot of time with them on the ground and have seen enough to trust them.
Should I attend Secrets of Successful Syndication now, or later?
Gene, in Boston, Massachusetts, is an investor who owns two duplexes. He wonders whether he should attend our signature Secrets of Successful Syndication conference now, or later in the year when he has more experience.
We've gotta say, we really think the key is for investors to come early and often.
This conference is designed for investors who already have a portfolio and are ready to take the next step.
But even if you're just starting out, it's a great way to get around what we call "evidence of success" and learn the power of networking.
Experience is something you can accumulate through other people. And syndication is all about having the experience to make good investment decisions.
So, for those who want to move forward, we recommend you start as soon as you can.
---
More From The Real Estate Guys™…
The Real Estate Guys™ radio show and podcast provides real estate investing news, education, training, and resources to help real estate investors succeed.
---
Love the show?  Tell the world!  When you promote the show, you help us attract more great guests for 

your

 listening pleasure!
If you're relatively young, Social Security is probably just an abstract concept and another bite out of your paycheck.
But before you tune out,  consider that the U.S. Social Security program creates both problems and opportunities for real estate investors of ALL ages … including YOU.
Big picture …
Social Security and Medicare make up about 42% of federal program expenditures.  They're a BIG chunk of Uncle Sam's spending.
According to this Congressional Research Service report on Medicare and this Social Security Administration Trustees' Report … both are headed towards insolvency in the not-too-distant future.
That's bad.
Worse … both are "pay as you go" programs.  That's not our description.  That's exactly the way the U.S. government describes them.
The programs don't really have any money.
The only "assets" these programs have are YOUR taxes … and IOUs from Uncle Sam.  The CRS report explains it on page 5.
Of course, IOUs from Uncle Sam are also backed by taxes … and the Federal Reserve's printing press (which means inflation).
According to recommendations by the SSA Trustees in their report, the answers are … wait for it …
… raise payroll taxes and reduce benefit payments.  
Shocker.
You probably know payroll taxes are paid by working people (your tenants) and their employers.
Higher payroll tax obviously means less take-home pay to live on … including paying their rent to YOU.  So you may want to pay attention to the direction of payroll taxes.
But what about benefit reduction?  How does that matter to real estate investors?
There's the obvious impact on tenants who rely heavily on Social Security, disability benefits or Medicare to help them with their routine living expenses.
Reduction in subsidies means those tenants have less money to pay rent … and less flexibility to absorb increases to rent or other costs of living.
But there's a less obvious angle to consider … one we pay close attention to … and that's the Fed's printing press.
We trust at this stage of your financial awareness, you've heard of John Maynard Keynes, the father of the "Keynesian economics" you hear about.
Here's a long, but powerful statement made by Keynes in his book The Economic Consequences of the Peace …
"Lenin is said to have declared that the best way to destroy the capitalist system was to debauch the currency. By a continuing process of inflation, governments can confiscate, secretly and unobserved, an important part of the wealth of their citizens.  By this method they not only confiscate, but they confiscate arbitrarily; and, while the process impoverishes many, it actually enriches some. The sight of this arbitrary rearrangement of riches strikes not only at security but [also] at confidence in the equity of the existing distribution of wealth.
Those to whom the system brings windfalls, beyond their deserts and even beyond their expectations or desires, become 'profiteers,' who are the object of the hatred of the bourgeoisie, whom the inflationism has impoverished, not less than of the proletariat.  As the inflation proceeds and the real value of the currency fluctuates wildly from month to month, all permanent relations between debtors and creditors, which form the ultimate foundation of capitalism, become so utterly disordered as to be almost meaningless; and the process of wealth-getting degenerates into a gamble and a lottery.
Lenin was certainly right. There is no subtler, no surer means of overturning the existing basis of society than to debauch the currency. The process engages all the hidden forces of economic law on the side of destruction, and does it in a manner which not one man in a million is able to diagnose."
There's SO much we could say about that quote … but read it and re-read it a few times.   You'll view the news in a whole different light.
For now, let's get back to Social Security, inflation … and YOUR real estate investing …
As you can guess, cutting benefits overtly is not a politically popular solution.
Neither is raising taxes.
Yet according to the people in charge of these programs, that's EXACTLY what needs to happen.
And it is happening … but "in a manner which not one man in a million is able to diagnose."
That is … cutting benefits and raising taxes are both cleverly hidden inside how Uncle Sam and the Fed handle inflation.
When most people think of "inflation," they think of Uncle Sam's official gauge of inflation … the Consumer Price Index (CPI).
It's well known that the Fed has a stated goal of 2% per year inflation … every year … year in and year out.
That doesn't sound like much. And whether it's good or bad depends on which side of the coin you're on.
If you own real assets, you get richer in nominal terms.
If you use long-term debt, like mortgages, you get richer in real terms.
That's too big a concept for today, but one EVERY real estate investor should know like their name.  In fact, it's a big part of what Robert Kiyosaki will be talking about at our next Investor Summit at Sea™.
But just because you own properties doesn't mean you're home free (punny, we we know) because …
… for folks who don't have assets (like your tenants) … inflation means it costs more to live.  To see it in dollar terms, use Uncle Sam's inflation calculator.
Based on the CPI, a tenant in October 2018 would need $1,542 to purchase items that cost only $1,000 in October 1998.
That's means they need more than a 50% increase in take-home pay over 20 years … just to keep the SAME standard of living.
Similarly, for programs like Social Security … with  built in cost of living adjustments (COLAs) … a $1000 benefit in 1998 now costs Uncle Sam $1542.
No wonder the debt is swelling.
Of course, it didn't take Uncle Sam long to figure out keeping the CPI lower than real-world rate of inflation, would effectively cut benefits without political fallout.
In other words, as Peter Schiff often points out, the CPI probably UNDER-reports the ACTUAL rate of inflation … which means the reality is even harder for the working class than the CPI indicates.
So it's important for investors of all types to get the best measure of real-world inflation possible.  And the CPI is arguably not it.
That's why many investors turn to Shadow Stats or the Chapwood Index.
The Chapwood Index is handy for real estate investors because it breaks inflation down by city.  That's important because unlike stocks, bonds, and commodities … real estate is a LOCAL investment.
Here's where it all comes together …
Even though Uncle Sam is motivated to keep inflation LOW for CPI purposes, they have no choice but to print gobs of dollars to fund the huge and growing debt and deficit.
Meanwhile …
Income producing, leveraged real estate is arguably (and by far) the safest, most powerful hedge against long-term inflation.
But again, rental property investors must stay alert to the pressure inflation puts on their tenants.
Remember … just because nominal GDP is growing, it doesn't mean your tenants are getting more purchasing power.
So be careful to select markets, product types, and tenant demographics that fit well into what's happening in the big picture.
Until next time … good investing!
More From The Real Estate Guys™…
The Real Estate Guys™ radio show and podcast provides real estate investing news, education, training, and resources to help real estate investors succeed.
---
Love the show?  Tell the world!  When you promote the show, you help us attract more great guests for 

your

 listening pleasure!
You've probably heard the popular adage, "Get rich in a niche!"
But what does that really mean?  And how do you do it?
The premise is when you work or invest in something with a high barrier to entry, or that few strong players know about, you face less competition and can therefore enjoy better profits.
Makes sense.
The challenge is finding and mastering the niche.  And common sense says a profitable niche doesn't stay secret for long.  So when you find one, it's wise tomove quickly and capitalize ahead of the crowd.
Of course, all that sounds good on the chalkboard.  But how do you make it work in the real world?
We look for clues in the news … and this headline caught our attention …
Sovereign Wealth Funds, Private Equity Step Up MOB Acquisitions
For the unfamiliar, MOB stands for Medical Office Building.
Obviously, MOB is a niche, and sovereign funds and private equity are BIG players … with big research budgets and smart analysts.
So watching what big players are doing is one way to identify a hot niche.  Then you look for a niche within a niche where Main Street investors can play.
But first, let's look at why the big boys like MOB …
" … increasingly view medical office space as a core property type with strong fundamentals."
" … demand for space continues to grow amid an aging population in need of more medical services …"
 "This particular sector of commercial real estate benefits from one of the largest and fastest-growing components of the U.S. economy: healthcare … "
That "aging population" they're referring to are the baby-boomers.  This huge demographic wave is sometimes called "the silver tsunami" because of its economic size and impact.
It's something we've been following closely … including which industries and geographies stand to benefit.
But if the big boys are already in the space, is it too late?  Or is there still opportunity for Main Street investors?
We think there is.  And clues in the article support the thesis …
" … risks facing medical office investors …  tenants are increasingly facing reimbursement pressures from insurers and government payors such as Medicare and Medicaid … " 
"…  medical office facilities do not offer tenant diversification … tenants are exposed to the healthcare sector, unlike conventional office buildings …"
 " … a shift of providing high-quality care … [in] alternative settings …" 
So let's consider how these clues might fit together to spell opportunity …
First, it's not MOBs that big money is excited about.  It's the demographic and industry that the properties support.  It's about elderly people and healthcare.
The properties are actually a problem because they're specialty use.  A medical building is typically only suited to medical uses.  That can be risky.
So, even though medical buildings appear strong for the long haul, it's still a one-trick pony.  If the sector cools, you're trapped in a property that's not of much use for anything else.  Yikes.
Next, the tenants of MOBs are healthcare providers whose income is largely derived from insurance and government reimbursements, which are facing downward pricing pressure.
Savvy landlords always look past the tenant to the tenant's ultimate source of income.
In this case, "commodity" healthcare providers are getting squeezed by stingy insurance companies and social services.  Not good.
Lastly, the article reports a "shifting preference" by tenants (healthcare providers) towards "providing high quality care [in] alternative settings …"
Now THIS is interesting!
It seems those providers being squeezed are moving towards sub-niches where there's more profit.
In fact, people we know in healthcare say a popular strategy for combating the declining margins of "commodity" healthcare …
(commodity healthcare are the kinds of services major insurers and government programs aim their cost-cutting strategies on)
… is to focus on boutique services for affluent clients who pay by cash or through private insurance.
That's a clue.
How can Main Street real estate investors play?
Since we've already identified the demographic (boomers) and economic sector (healthcare), let's focus on the property.  After all, we're real estate guys.
We're looking for a property well-suited to a boutique healthcare for an affluent, self-paying, or privately insured sub-demographic.
Of course, Main Street real estate investors aren't healthcare professionals.
So we either need to find tenants who are, or find a simple healthcare service we can deliver through readily out-sourced operators.
And we'll need to pick a property type that works well for the healthcare service … but also other things, so we don't get trapped in a single-purpose property.
Sounds like a tall order …
Or maybe the answer is right in front of you … or next door … or down the street.
Single-family homes!
But not just ANY single-family homes … residential assisted living homes.
This is an exciting sub-niche of the healthcare real estate niche that checks a lot of boxes …
First, your tenants are the parents of boomers (today) … and will soon be the boomers themselves.  That's a substantial long-term pipeline of tenants.
Plus, boomers are the most affluent demographic right now … and paying for Mom or Dad's care is a TOP budgetary priority.
It's always good to be at the front of the line for getting paid.
Also, care fees (rent) are often paid out of a combination of the parents' estate, private long-term care insurance policies, or incomes and assets of the adult children.
So when you're in what our residential assisted living guru Gene Guarino calls "the sweet spot" … you're not dependent on government reimbursements.
Residential assisted living homes are boutique, high-quality, "alternative setting" healthcare … which, as the article points out, is the trend.
Another investing adage is, "The trend is your friend".
Check.
Next, residential assisted living homes are NOT big, single-purpose commercial buildings well-suited only for use as a medical facility.
Residential assisted living homes are operated in single-family houses located in regular residential neighborhoods.
No special zoning.  No commercial location.
So if for some reason the bottom falls out of the sector … the home can be rented to a residential occupant (albeit at a much lesser rent), or simply sold on the open market to an owner-occupant.
In other words, you've got multiple exit strategies.  You aren't trapped by your niche.  This mitigates one of the major risks the big boys fear.
Check.
But perhaps one of the greatest advantages in the sub-niche of residential assisted living homes is the ability to QUICKLY right-size to changing market conditions.
Big-box commercial properties are all-or-nothing propositions.  That's another worry for the big guys.
When you have a 120-bed medical facility and profits get squeezed or things slow down, you still have 120-bed facility … and all the fixed costs which come along with it.
There's no throttling capacity up or down based on demand.
But when you own ten 12-bed homes and things pick up a little … you simply add one more home to your collection and increase capacity to 132 beds.
Compared to a big-box, the properties are easy to find, set up, and get optimized.  You can catch an "up" wave sooner and ride longer.
Even better, if things slow down, you simply consolidate your residents into fewer homes … and sell or rent out the excess properties individually.
Again, there a multiple exit-strategies, and when it comes to real estate, single-family homes are arguably the most liquid.  A big-box?  Not so much.
This is HUGE in terms of maintaining profit margins … even in a declining market.
Think about it …
A big-box can't cut facility overhead.  They either own the whole property or they don't.  It's all or nothing.
So the only way preserve margins when occupancy is down is to cut back on staffing, care, and amenities.  Not good for the resident under care, nor the staff or brand.
Meanwhile, the residential assisted living home operator has an advantage …
While the big-box cuts services, the more nimble RAL operator can right-size and maintain or even improve services … and attract an unfair share of residents in a competitive market.
Big check.  And who doesn't like big checks?
But whether or not residential assisted living is for you … (though it probably will be some day … we all get old) …
… there are still great lessons to glean about strategic sub-niche investing to find profits under the radar (at least temporarily) of the big players.
Until next time … good investing!
---
More From The Real Estate Guys™…
The Real Estate Guys™ radio show and podcast provides real estate investing news, education, training, and resources to help real estate investors succeed.
---
Love the show?  Tell the world!  When you promote the show, you help us attract more great guests for 

your

 listening pleasure!
We're back again to tackle the questions we missed in our last Ask The Guys episode. We love these episodes and the opportunity we get to talk through some of YOUR real-world investing opportunities and challenges.
We hear from listeners dealing with tenant damage and security deposits, 1031 tax-deferred exchanges, nontraditional lending ideas and TONS more.
First, the ground rules.
We talk about ideas and information. When you're dealing with real money in the real world, you want to consult a professional. We don't offer legal, investment, or tax advice.
In this episode of The Real Estate Guys™ show you'll hear from:
Your problem-solving host, 

Robert Helms

His trouble-making co-host, 

Russell Gray
---
Listen
---
Subscribe
Broadcasting since 1997 with over 300 episodes on iTunes!
---
Review
When you give us a positive review on iTunes you help us continue to bring you high caliber guests and attract new listeners. It's easy and takes just a minute! (Don't know how? Follow these instructions).
Thanks!
---
Question: How soon can I move in after a cash offer, and how low can I go under the asking price?
Joseph in Tacoma, Washington, asked this question. The important concept to understand here is price versus terms.
Whether or not you offer cash or take out a loan, the outcome is essentially the same for the seller. What cash offers is a quicker payout with certainty.
But, this isn't attractive to every seller. In some cases, a quick closing isn't what a buyer wants at all, so the promise of quick cash won't be an incentive.
When you're negotiating with cash, make sure what you're offering lines up with the seller's priorities. A cash offer doesn't automatically mean a 20 percent discount.
Question: I rehabbed a rental property in Detroit, and now I'm ready to sell. My tenant wants to purchase the property, but she has limited cash on hand. How can I find a lender to do the deal?
Wilbert in South Field, Michigan, brings us this question. He wants to sell the home for $38,000, but the appraisal came back at $20,000. That price gap, as well as the location has made it difficult to find a traditional lender.
The first problem is that many banks won't do a loan for less than $50,000. If the lender is going to go to all the trouble to do the paperwork for a percentage of the loan amount, then the loan amount needs to be enough to get their attention.
Here are a couple alternatives for Wilbert to consider:
Find a private lender.

This might mean a higher interest rate for the buyer. But, that higher interest rate will be more likely to attract a lender.

Be the private lender.

Rather than finding an outside investor, work a deal with the tenant to have them pay the loan to you instead. If they pay off the mortgage, you've still had that steady stream of income. If not, you'll get the property back to rent or sell to someone else.

Find a different buyer.

If finding a private lender isn't possible, consider finding a different buyer who is able to get financing or purchase the home for the price you want to sell.
Question: When a tenant in our out-of-state rental moved out, they caused a lot of damage. Why don't tenants take care of their rentals better, and why are they surprised when they don't get their deposit back?
Renters view their home differently than an owner. How else do you explain that it feels like no renter owns a vacuum cleaner?
Damage to property is part of doing business as a landlord. But, Lauren in Charleston, South Carolina, did a lot of things right. They documented all the damage with photos before the tenant moved out, had a third-party realtor do a final walkthrough with the tenant, and got estimates from contractors to repair the damage.
Here are a few other things you can do to deal with damage:
A picture is worth a thousand words.

Take photos of the property BEFORE the new tenant moves in and get their initials on the photos. Then, when they're ready to move out, you can use those photos to justify the cost of any damage.

Open up a pet policy.

Many landlords are hesitant to allow pets in a rental. But, with a hefty pet deposit and even a little higher rent, you can come out on top.

Get a read on your renters.

As you screen applicants, be perceptive. We've also known people who will meet with potential renters at their current residence to see how they treat their current space. This may not be possible for everyone, but get creative and thoughtful about how you screen new renters.
At the end of the day, renters are more likely to treat a rental home with less care than you do. Damage and repairs are a cost of doing business, so make sure you build that into your budget.
Question: I want to sell my rental home in California, and I'm interested in the 1031 tax-deferred exchange to buy a new property in Texas. I'm confused by the IRS form and want to know if this will eliminate my taxes in California?
Cindy in Fort Worth, Texas, is definitely an A student!
First of all, we want to be clear that with this kind of complicated tax question, you need expert opinion and advice. A 1031 tax exchange intermediary will be well worth the cost and can answer all your questions.
The intent of the 1031 tax-deferred exchange is that if you sell a property and then purchase another property, you can defer the tax. As you buy and sell properties, you can continue to defer the tax, but there isn't a way to eliminate the tax completely.
Finally, try not to let the tax tail wag the investment dog.
Real estate offers many great tax benefits, which is one of the reasons we love it! But, when you're dealing with real money and the IRS, you need a team of experts to guide you.
Life is short, and you don't want to spend your valuable time reading an IRS form.
Question: How can I learn more and get coaching on real estate syndication?
Addie in Seattle, Washington, brings us a question that is near and dear to our hearts!
We recommend our Secrets of Successful Syndication seminar as your first step. Whether you want to be a syndicator and learn how to leverage money with a group of investors or invest passively in real estate, this is an event you'll learn a lot from.
In this seminar, we're teaching the strategies that have been a part of our investments for years.
We do have a coaching program, but you can only learn about it at the seminar during an OPTIONAL session after the two days are done.
If you want to register for the event and see if syndication is right for you, we'd love to have you!
Question: My wife and I have a real estate investment company with 23 doors under rent. We've found traditional lenders to be slow and cumbersome and want to simplify our lending process. How can we do this?
John and Karen in Troy, Ohio, are having trouble scaling their business because of lenders. They write that they'd be willing to pay a higher interest rate to make the process easier and more streamlined.
For traditional banks, the process is often necessarily slow. They need to do due diligence to make sure the investment is a good one.
Private capital is easier and faster, but it comes at a higher price. This can be done through syndication or networking to find interested investors. Make sure you're well advised and working with big deals, and you're well on your way.
We'd also suggest that with the rollback of some of the Dodd-Frank provisions, some of the restrictions on community lending have eased. If you haven't checked in with your community lender recently, it's worth getting to know them. They'll get to know you and your entire portfolio of properties and could be a valuable resource.
Question: I wasn't able to attend your events for the Future of Money and Wealth in Florida. But I'd sure love to get access to that information. How do I do that?
A listener in Hawaii wants to learn from the incredibly faculty we brought in to talk about how to keep up with the changing times in the economy.
This was a one-off event, and it was an incredible gathering of some of the best minds in a variety of subjects all focused on how to protect your wealth.
We recorded the event with a professional video crew and now have 20 different panel discussions and presentations available to watch.
You can visit the Future of Money and Wealth website to learn more or send us an email to future [at] realestateguysradio [dot] com. We'll get you all the details on how to access these videos.
Question: My schedule seems to be always booked up by the time I hear about the Belize discover trips. Do you know the future trip dates for later in the year?
Tim in Silverton, Oregon, like many of us, has a busy schedule and needs to plan ahead!
To find out events as soon as possible and to get them on your calendar, get on our advanced notice list. Head to the events tab on our website. If you find an event there, and the date doesn't work out, get on the advanced notice list and you'll get an email letting you know about future dates.
Our next Belize discovery trip will be August 24-27, and registration is open now! We hope to see you there.
Question: What is the definition of a performing asset?
Matthew in Nacomin, Florida, asks us the shortest question in our inbox!
Simply put, a performing asset is something that puts money in your pocket. The more cash flow, the more equity. If you have something on your balance sheet that doesn't put money in your pocket, it's not a performing asset.
When you consider an asset you can go for a fat cow, a performing asset that will come at a premium but continue to deliver, or a skinny cow, a non-performing asset that needs some work to get it performing again.
---
More From The Real Estate Guys™…
The Real Estate Guys™ radio show and podcast provides real estate investing news, education, training and resources to help real estate investors succeed.