The second decade of the last century are known as The Roaring Twenties.
Good times were fueled by abundant currency from the newly formed Federal Reserve … and the resulting debt and speculation which ran rampant.
As you may know, it ended badly.
The Great Depression ensued … an event which ruined lives, fundamentally changed the United States government, and took decades to recover from.
Today, we're on the threshold of the second decade of this century.
And once again, the United States is "enjoying" a Fed-fueled party of absurd debt and speculation.
Will it end badly this time?
Or will the lessons learned from the 1929 and 2008 debacles provide the necessary wisdom to ride the free money wave without an epic wipe out?
No one knows.
But as we say often, better to be prepared for a crisis and not have one … than to have a crisis and not be prepared.
Last time,  we discussed some of the gauges we're watching on the financial system dashboard such as gold, oil, debt, the Fed's balance sheet, bonds, and interest rates.
But of course, we can't control any of these things.
That's why we think it's very important to control those things you CAN control … so you're better positioned to navigate the things you can't.
Fortunately, real estate is an investment vehicle which is MUCH easier to control than the paper assets trading in the Wall Street casinos.
And if history repeats itself, as Main Street investors who are riding the Wall Street roller coasters get spooked … many will come "home" to the Merry-Go-Round of real estate.
For those of us already there, this migration of money creates both opportunities and problems.
Like any investment, when lots of new money floods in, it lifts asset prices.
While this generates equity, unless you sell or cash-out refinance, your wealth is only on paper. And equity is fickle. Cash flow is resilient wealth.
Meanwhile, when prices rise higher than incomes, finding real deals that cash flow is much harder. We're already seeing it happen.
The key is to move up to product types and price points where small, inexperienced investors can't play.
Of course, this takes more money and credit than many individual investors have. That's a problem, but also an opportunity.
Another strategy is to move to more affordable, but growing markets.
This also takes an investment of time and money into research, exploration, due diligence, and long-distance relationship building … unless you happen to live in such a market.
So once again, this is better done at scale … because the time and expense of long-distance investing is hard to amortize into one or two small deals.
Bigger is better.
It's for these reasons, and many more, we're huge fans of syndication. 
Syndication allows both active and passive real estate investors to leverage each other to access opportunities and scale neither could achieve on their own.
But whether you decide syndication is a viable strategy for you …
… to take more control going into what history may dub "The Tumultuous Twenties" …
… it's important to have a game plan for developing both yourself and your portfolio.
So here's a simple process to take control of your investing life, business and portfolio heading into a new decade …
Step 1: Cultivate positive energy
It takes a lot of energy to change direction and compress time frames.
Building real wealth with control requires learning new things, taking on new responsibilities, and building better relationships.
So it's important to put good things into your mind and body …
… be diligent to put yourself in positive environments and relationships, while limiting exposure to negative ones …
… and stay intentional about focusing your thoughts and feelings.
That's because what you think, how you feel, and what you believe all affect your decisions and actions. And what you do directly impacts the results you produce.
Improving results starts with a healthy body, mind, and spirit. More positive energy allows you to pack more productivity into every minute of the day.
Step 2: Establish productive structure
This also takes effort. That's why we start with cultivating energy. But being effective isn't just about expending energy.
There's a big difference between an explosion and propulsion.
Structure helps focus your energy to propel you to and through your goals.
Structure starts with getting control of your schedule. Time is your most precious resource … and you can't make more of it.
But structure also includes your spaces … your home, office … even your vehicles and devices. They should be organized to keep you focused and efficient at your chosen tasks.
Yes, you can and should delegate to get more done faster.
But even if delegation is your only work (it's not … learning, monitoring and leading your team, making decisions … those stay on your plate) …
… you'll need spaces conducive to focus, with access to resources and information, so you can organize and delegate effectively.
Then there's legal, financial, accounting, and reporting structures.
Once again, all these take time and energy to get together. So start by cultivating energy and taking control of your schedule.
Step 3: Set clear, compelling goals with supporting strategies and tactics.
You might think this comes first, and perhaps it does.
However, you can cultivate energy and establish fundamental structure as a universal foundation for just about any goals.
But whenever you choose to do your goal setting, it's important to establish a very clear and compelling mission, vision, set of values, and specific goals for yourself, your team, and your portfolio.
This clarity will help you more quickly decide what and who should be in your life and plans … and what and who shouldn't.
When you have clarity of vision, strategy and tactics become evident.
Step 4: Act relentlessly
We think it's important to "keep your shoulder to the boulder" … otherwise it rolls you back down the hill that you're working so hard to climb.
Fortunately, as you use your newfound energy and structure to act relentlessly towards your goals, you'll eventually enjoy the momentum of good habits.
Lastly, be aware that this is a circular process … not a linear one.
You'll keep doing it over and over and over. That's why having an annual goal setting retreat is an important time commitment on your calendar.
We don't know if the 2020s will be terrible or terrific at the macro level.
But history says those at the micro level who prosper in good times and bad are those who are aware, prepared, decisive, and able to execute as challenges and opportunities unfold.
Those are all things each of us can control.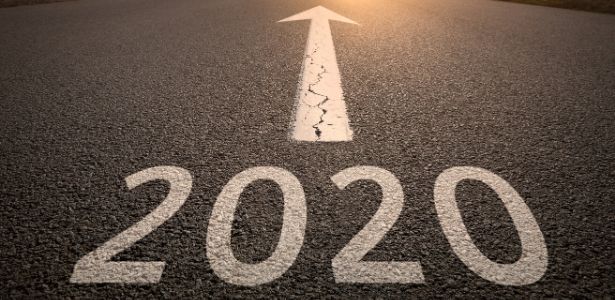 The start of a brand-new year is a great time to reflect on lessons learned and make bold plans for the future. 
It doesn't matter if you're just starting out or starting over … the possibilities are endless!
We're sharing practical tips for getting off to a great start in this new year … and new decade. 
In this episode of The Real Estate Guys™ show, hear from:
Your practical host,

Robert Helms
His practical joker co-host, Russell Gray
---
Listen
---
Subscribe
Broadcasting since 1997 with over 300 episodes on iTunes!
---
Review
When you give us a positive review on iTunes you help us continue to bring you high caliber guests and attract new listeners. It's easy and takes just a minute! (Don't know how? Follow these instructions).
Thanks!
---
Vision, Mission, and Values
For our last show of the decade, we're going to talk about how you can gear up and prosper in a brand-new year. 
When you have clarity of vision, strategy and tactics become evident. 
We all want to know how to make money in real estate … but sometimes the true vision isn't that clear. 
It's a great time in history to be thinking about clarity of vision because we're entering 2020 … and we all want to see with 2020 vision. 
So, today we are talking about how you can figure out how to go from where you are to where you want to go. It starts with getting a vision in your mind of what success looks like for you. 
Anytime we have a challenge or an uncertainty, we sit down and ask ourselves … what is the vision? What are we trying to accomplish? What is the why?
You only have so much. You only have so much energy. You only have so many resources. You only have so much focus … so you need to know what to say yes to AND what to say no to. 
If you can get a clear vision … and articulate that vision to other people … then everyone knows what they need to do without micromanaging. 
On the other hand … if you lay the ladder of success against the wrong building, you're going to get to the top, look around, and realize you are in the wrong place. 
Your vision isn't peripheral to your investing … It's fundamental. It's the foundation of everything you do. 
Vision, mission, and values are three different things … but together they can really chart your course. 
As we said before, vision is what success looks like in very clear terms. Mission isn't about what success looks like … it's the why behind what you do. 
Mission is the reason what you are doing matters. 
The best missions … in our experience … are those that are about making a difference for the better. 
This could be with your community, or for a spouse, for your children, for your friends, for your employees … if you get up every day and are motivated to support someone else and make the world better … that's a mission. 
Values are really about the methodologies … what you're willing to do and what you are not willing to do. 
A great exercise is to sit down and come up with the six top values in your life … the things that really matter to you in life. 
Stephen Covey says that highly effective people begin with the end in mind … all of these things help you do that. 
Today, we're going to give you some tools that you can use to actually get to where you want to go. 
Start, Stop, Continue
One of our favorite tools is what we call Start, Stop, Continue. 
Simply put … at the end of the year, you step back and look at the year and see everything you've done and ask, "What are the things that I should continue doing?"
This could be a particular area, market, or partner that has served you well. 
Then, you have to ask, "What are the things that I need to stop?" Maybe it's the way you spend your time or a personal or business partnership. Maybe it's a market that you need to get out of. 
After you have decided what will continue and what will stop, it's time to ask, "What should I start doing?"
These could be new habits, new beliefs, new partnerships, new markets, new product types, new activities, or new people.
This is an exercise that requires you take time, sit down, and confront the brutal facts. 
There may be things you are doing every week that aren't serving you well … and these aren't necessarily bad things. 
Sometimes you have to say no to the good in order to say yes to the great. 
If you're busy … like most successful people are … you don't have a lot of extra time. So, you have to make room in your schedule either through delegation or by removing items from your docket. 
You can't really create more time … but you can leverage time. 
Once you have determined how to bring more good energy into your life, you need to create a productive structure to get it done. 
Then, you establish clear goals, strategies, and action plans because you can allocate them into the structure. 
Zero-based Thinking 
The next tool in our arsenal is something we learned from Brian Tracy many years ago. It's called zero-based thinking. 
The question you ask yourself is, "Knowing what I know now, what would I do differently?"
Knowing what I know now would I get into this relationship? Knowing what I know now would I get into this particular deal? Knowing what I know now would I get into this marketplace?
And if the answer to any of those things is "no," now is the time to change your course. 
Maybe your accountant isn't that great … but they've been your accountant for so long you just haven't ever really considered leaving. Now may be the time. 
Sometimes what you find yourself looking at is a personal relationship. If there are people in your life that don't affect you in a positive way, it's time to cut ties. 
Zero-based thinking only works if you are willing to be brutally honest with yourself. You have to admit your mistakes. 
But if you can, you can set yourself up for your best year yet. 
For more tools for getting off to a great start … listen in to the full episode!
More From The Real Estate Guys™…
The Real Estate Guys™ radio show and podcast provides real estate investing news, education, training, and resources to help real estate investors succeed.
---
Love the show?  Tell the world!  When you promote the show, you help us attract more great guests for 

your

 listening pleasure!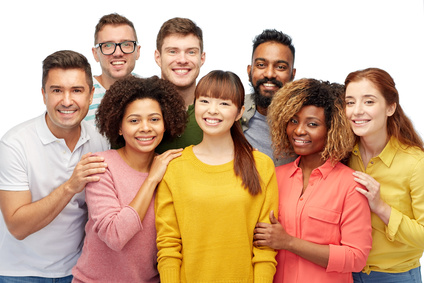 No matter how brilliant you are, going solo in real estate won't get you very far.
It's a team effort, which is why you need a tribe.
We've joined (and founded!) many tribes, and  encourage you to do the same.
Have you ever considered you are the sum total of the people you spend time with? The people and habits in your life can either drag you down (misery loves company!) or help you progress.
YOU CHOOSE your tribe, or the people who get to take up time and space in your life.
We want your tribe to bring you up—to help you learn from others, grow as an investor, and connect with like-minded folks.
Today on The Real Estate Guys™ show, coming to you from sunny San Diego, you'll hear sage advice on finding your tribe from:
Your shy-no-more host, Robert Helms
His frog-kissing co-host, Russell Gray
The godfather of real estate investing, Bob Helms
---
Listen
---
Subscribe
Broadcasting since 1997 with over 300 episodes on iTunes!
Review
When you give us a positive review on iTunes you help us continue to bring you high caliber guests and attract new listeners. It's easy and takes just a minute! (Don't know how? Follow these instructions.)  Thanks!
---
Find a balance between diversity and common goals
We just wrapped up our yearly goals retreat in beautiful San Diego.
While we were at the retreat, we had the awesome opportunity to observe our own tribe in action.
We were also able to ask ourselves: What makes our tribe so great?
We realized our tribe worked well because it was diverse. It wasn't an echo chamber, but instead, a group of people with different perspectives united by a bond of commonality.
Take a group of people with similar values but diverse perspectives, and you get an incredible synergy.
It's that synergy that helps you know when you've found your tribe.
"You know it's your tribe because of how you feel," Russell tells us.
Yes, it's that simple.
Step out of your comfort zone
Do you feel embarrassed, overwhelmed, and underqualified to show up in a room of investors?
If so, THAT'S OKAY!
Once upon a time, we felt that way too.
But we want you to know that new investors can be invaluable to a group.
You help people farther down the road understand new perspectives.
And you allow others opportunities to refine their thought processes and share information they've acquired.
If you think you can't network because you're "too shy," we have three words for you: GET OVER IT.
Step out of your shell. Push yourself out of your comfort zone.
We're "shy guys" too, but very early on we realized that being shy didn't serve us in the world of real estate investing.
So instead of hiding out, terrified of rejection, we faced our fears and did some hard things. We still do, every day!
Put yourself in environments where you'll be surrounded by successful people.
Then ask yourself whether those environments are working for you.
If you realize you're in a place you don't want to be, don't stick around! Cut your losses.
Realize that you might have to kiss a few frogs before you find your ideal match.
You might even have to kiss a lot of frogs!
Begin with little things, one-time events: paid seminars or talks by published authors.
Attendees at these events WILL have commonalities with you. Start there.
Then latch on to the people you want to spend more time with. You never know where things will lead.
One person can open up a whole new world of connections and new tribes.
Start with your values
The basic gist of finding your tribe is to set course, then be smart about where you're headed and what you're doing to get there.
How do you set course? The VERY FIRST thing we encourage you to do is identify your values.
Set out your personal investment philosophy and your goals. Identify what is most important to you.
Beyond whatever else we may have in common, it is truly our values that bond us to others.
When you start looking for your tribe, look for people who share and reinforce your personal values.
And make sure you act on your own values. Be the best version of who you really are.
In a new environment, DON'T
Play close to the vest
Pose and pretend you're someone you're not
Try to look smart
DO
Be willing to open up
Ask questions and share ideas
Make an impression
Prepare talking points
Bring business cards!
Get contact information for new acquaintances
Don't insist on acting alone
Real estate can be a lonely business.
While we trust you to be an innovative independent operator, we also believe strongly in the power of a tribe.
We know finding your tribe isn't a piece of cake.
You have to commit time and energy. You might have to put yourself out there and overcome some natural inhibitions. You might even have to form your own groups.
But being a member of a tribe is a sacred and special thing.
When you're part of a tribe, you have a community and responsibility. Treat that responsibility with the utmost care, and in return, it will give you more than you ever thought it could.
Remember, your environments and associations can either drag you down or bring you up.
Today, we encourage you to start the work of finding your tribe by asking yourself these questions:
Who do I spend time with?
What do these people have me thinking? Doing? Reading?
What do they have me BELIEVING?
Then ask yourself the big question: Is that okay with me?
If your answer is yes, you're on the right track.
And if your answer is no, then maybe you have some work to do.
Go out today and kiss some frogs.
We guarantee you'll find Prince Charming, or at least a good friend, a role model real-estate investor, or a terrific tribe.
Now get out there!
---
More From The Real Estate Guys™…
The Real Estate Guys™ radio show and podcast provides real estate investing news, education, training and resources to help real estate investors succeed.
"Rock star" is a term commonly used to describe HUGE success in any field of endeavor.
Maybe YOU are dreaming of being a real estate rock star some day!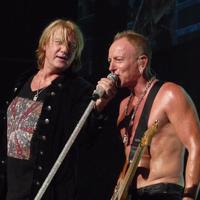 So we thought it would be fun (and instructive!) to sit down with a real life rock star…and see how someone goes from obscurity to super-stardom in their chosen field.
Of course, we didn't want some random one-hit wonder…though we're sure there'd be lots of lessons there too.
Instead we found someone who's achieved both huge and ENDURING success.
Rockin' this edition of The Real Estate Guys™ radio show:
Your rock star radio host, Robert Helms
His roadie co-host, Russell Gray
Lead guitarist for mega-band Def Leppard, Phil Collen
Now right out of the gate, you may wonder WHY we're interviewing a musician for a real estate investing program.

And if you're part of our younger demographic, you may not even know that Def Leppard is one of the greatest selling rock bands in history.
Formed in 1977, Def Leppard has sold more than 100 MILLION albums worldwide.
According to Wikipedia…
Def Leppard is one of only five rock bands with two original studio albums selling over 10 million copies in the U.S.
The band is ranked No. 31 in VH1's "100 Greatest Artists of Hard Rock"
Def Leppard is ranked No. 70 in "100 Greatest Artists of All Time".
And nearly 30 years later, they continue to pack thousands of people into concerts..  We know.  We went to one in Dallas.  It was awesome.
So that's HUGE success.  It's also ENDURING success.  And Phil Collen has been with them since 1982, so he's been a big part of Def Leppard's success.
But success is bigger than just fame and fortune.  
Just think about Elvis Presley, Marilyn Monroe, Jim Belushi, John Candy and a long list of other rich and famous entertainers…along with all kinds of lesser known corporate executives and hard working entrepreneurs.
So while you're busting your rear building your balance sheet, it's a good idea to build some balance into the process.
Success is also about physical health, long term relationships, and living with passions and purpose.
After all, without these things…how successful are you really?
Of course, when you think of the stereotypical rock star, you don't think about health and long term relationships.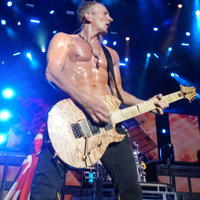 That makes Phil Collen a very rare guy.
Phil's a 57 year old, non-drinking, drug free, vegan who exercises regularly and is more fit than guys half his age…
All the while, Phil continues to rock the house while on tour with Def Leppard…AND still finds time (and energy!) to make music with not one, but TWO other bands.
So if you think YOU are busy…and struggling to stay fit, focused, motivated and effective while building your real estate empire…
We're guessing you could learn a thing to two from Phil Collen…and THAT'S why we wanted to talk to him.
We say all the time that what you think and believe affects the actions you take, which in turn produce the results (or lack thereof) in your life.
So getting a chance to grill Phil on how he thinks about life and work could reveal success principles, patterns and philosophies we can apply to our own endeavors.
You'll discover Phil is a pretty level headed guy and a solid "middle-class" work ethic.
He says in spite of his fabulous success, he hasn't succumbed to believing his own press. He just keeps working on improving himself.
He's also fiercely loyal.
In fact, Phil tells us the amazing story of how Def Leppard's drummer, Rick Allen, literally had his arm ripped off in a car accident…and how his bandmates never thought to replace him.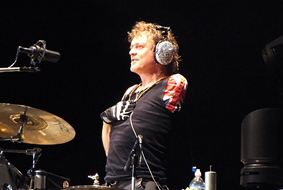 Watching a Def Leppard concert is worth it…just to see Rick Allen play world class drums…with only one arm!
Wow.  And we want to throw in the towel when a tenant trashes one of our units.
Of course, as we've mentioned, the rock and roll landscape is littered with tragic stories of substance abuse, broken relationships and excesses of all kinds.
And Phil confesses there was a time early in his career when he got caught up in some of that.
But he had the vision and humility to realize the path he was on, and made a conscious decision to choose a different path.
So Phil hasn't had a drink in over two decades. He's as fit a guy as you'll ever see…at any age.
The lessons are to know yourself and your goals, to be decisive and disciplined to be true to your mission, vision and values…and to always keep pushing yourself to improve.
Easy to say.  Harder to do.  Unless you're able to unlock your own personal, powerful, compelling why.
We learned a lot from Phil and are inspired to take our personal efforts to the next level.
We trust you'll find great lessons in this episode…which you apply to the daily pursuit of your hopes, dreams and goals…real estate and otherwise!
Listen Now:

The Real Estate Guys™ radio show and podcast provides real estate investing news, education, training and resources that help real estate investors succeed.