The real estate story behind Walt Disney World in Florida has a valuable lesson for investors today … and it's not what you think.
If you're unfamiliar, Walt Disney decided to create a new and improved East Coast version of his epic California Disneyland. But he needed land … LOTS of it.
So he went to Florida.
By then, Disney was a household name and the success of Disneyland was well known. This created a problem for Disney.
If local landowners realized Disney was behind the assemblage of land needed to build another park, it could take a lot more time and money to get the project done.
So even when the land deal hit the news in May 1965, Disney waited months to announce his plan to build Disney World.
The obvious lesson is to avoid showing deep pockets when the other party has leverage.
But that's not why we're talking about it today.
There's something else going on in the world … something we've been watching for some time … that could become one of the biggest financial stories in the last 50 years.
So while financial reporters hang dutifully on every word that proceeds out of the mouth of Jerome Powell today…
… there's another voice in the marketplace only a few nut jobs (like us) are paying attention to.
Gold. And yes, this matters to real estate investors.
But it's not what gold is doing in response to what the Fed says. It's about what gold is saying about the state of the system that the Fed is not.
Of course, there are implications for you and your investments … real estate and otherwise.
The quandary for pundits everywhere is why the Fed is considering lowering interest rates in the midst of "the greatest economy ever".
Typically, interest rates are lowered to stimulate a sluggish economy.
Sure, it's possible the economy could be far less robust than claimed.
You probably know this is now officially the longest "recovery" on record … so perhaps a preemptive boost is a good idea.
Maybe the Fed is simply yielding to President Trump's pleas to go tit for tat with those pesky currency manipulators … to help keep America's exporters competitive.
If you read the financial news, it's easy to get lost in all the conjecture surrounding the dollar, the Fed, the economy, and interest rates.
But while people are bickering about political intervention in monetary policy, and what it all means to asset values …
… central banks around the world have been quietly stocking up on gold at the fastest pace in 50 years.
So what?
Think of Wall Street and insider trading. When insiders of a corporation buy or sell … it's often because they know something others don't.
Savvy stock traders watch these moves for clues about the future of the stock.
When it comes to money … or more accurately, currency … you can't get much more "inside" than central banks.
It's reasonable to think they know something.
Most "investors" look at gold as a trading vehicle … something to buy and sell in order to create currency "profits" in the same way a flipper trades houses to generate currency profits.
But central banks can print currency … at next to no cost. They don't need to trade gold or anything else to generate currency. They can print all they want.
Think about that.
Could it be gold has another role in international finance?
Apparently, China and Russia think so. Along with Poland, Hungary and Malaysia … to name just a few. The list is long.
Another notable advocate for putting gold back in money is Judy Shelton. Shelton is President Trump's latest nomination to the Federal Reserve Board.
It's also notable that of ALL the things Fed Chair Jerome Powell could say in his limited testimony to Congress, he chose to warn them against a return to the gold standard.
Maybe it's just us, but reminds us of this admonition from the Wizard of Oz …
"Pay no attention to that man behind the curtain!"
So what does all that have to do with Disney?
Remember, Disney wanted to accumulate land without anyone realizing what he was really up to. Everyone just looked at each deal as a one-off.
Disney and his team were careful to be sure no one saw the master plan until he unveiled it.
(Of course, people playing close attention figured it out … but by the time the masses knew, the deal was done).
But think about this …
If YOU had an unlimited credit card, no ethics, and knew you were about to go bankrupt … might you use your credit to buy and stash things of real value before the card is shut off?
If the players in the casino know the house is about to go bust, there's a mad dash to cash in the soon-to-be-worthless chips.
Just remember, these are big, lumbering central banks and a worldwide financial system. "Soon" can take months … or years.
So no one knows exactly when the tipping point comes. It's slow at first … and then all at once.
We've been watching this story develop since we first wrote about it in our Real Asset Investing report in 2013.
We discuss it in more detail in the videos of our more recent Future of Money and Wealth conference.
It's clear there's SOMETHING going on …
The ultimate currency insiders are aggressively acquiring gold. Nations who had entrusted their gold to third parties are steadily repatriating. Perhaps not so trusting anymore?
Lots of things going on geo-politically have no apparent rhyme or reason, until you look past the chatter about democracy and human rights … and just follow the gold and oil.
Richard Nixon shocked the world on August 15, 1971 when he changed the entire global monetary system in a "temporary" defense of the dollar.
Gold and oil spiked as the dollar collapsed. Interest rates were eventually hiked to over 20% to save the dollar. Every individual and business on the planet was affected.
Some people lost fortunes while others made them. The difference was (and still is) awareness, preparation, and a willingness to act when others stand paralyzed.
Some people noticed the exploding debt of the 60's, the silver coming out of the coins in 1964, and the French President's public warning about misplaced faith in the U.S. dollar.
People paying attention back then positioned themselves to prosper in spite of … or more accurately, because of the turmoil.
That's why we attend and produce investor mastermind events like the New Orleans Investment Conference and the Investor Summit at Sea™.
It's where we talk with alert investors and savvy thought leaders … searching for actionable intelligence in a noisy, chaotic world.
Though largely ignored and misunderstood by many on Main Street, there's a very public and aggressive global search for alternatives to the U.S. dollar.
Whether it's gold, crypto, the yuan, or something else … if and when a viable alternative to the dollar is embraced by the rest of the world …
… Americans could well be faced with spiking interest rates (the Fed will lose control), a collapsing dollar, rising asset prices in dollar terms (inflation), falling values in real terms, and a contracting economy (recession).
Those with low fixed-rate debt, real assets (including gold), cash-flow producing investments (like rental property), are likely to be big winners.
The world didn't END when Nixon reset the system. It just changed.
So this isn't doom and gloom … it's hope and opportunity … IF you're among the aware, prepared, and prone to act.
After all, if you own solidly cash-flowing properties in affordable markets, while holding a chunk of your liquid reserves in gold (with no counter-party risk) …
… and nothing happens, how are you worse off?
But if gold is the canary in the coal mine signaling that the Wizards are up to something, it might be smart to be hedged.
Until next time … good investing!
More From The Real Estate Guys™…
The Real Estate Guys™ radio show and podcast provides real estate investing news, education, training, and resources to help real estate investors succeed.
---
Love the show?  Tell the world!  When you promote the show, you help us attract more great guests for 

your

 listening pleasure!
We realize it's only the START of 2019 …
But 2019 is the LAST year of the second decade of the 21st century.
And with our annual goal setting workshop coming up this weekend, we're in the mood for thinking ahead.  Like a decade ahead.
Perhaps you should too …
After all, real estate investing is based on long-term commitments … to markets, to properties, and often to financing.
Right now, there are more than a few reasons to think there are probably some MAJOR shifts coming … things which are important to consider in today's investing decisions.
Consider this recent headline …
U.S. economy could slip from top spot in 2020 and keep slipping, analysts say – MarketWatch, January 14, 2019
"Standard Chartered predicts that China's GDP will overtake the U.S. next year. What's more, within another decade, India is pegged to push the U.S. even further down the list"
Think about that.
This isn't some routine wave in an economic cycle.  This is a complete global shift of economic (and probably military) power and influence.
Virtually NO ONE investing today has ever done so in a world where the United States and its almighty dollar aren't the undisputed dominant economy and currency.
Of course, we've been talking for quite some time about preparing for the possibility of the U.S. dollar losing its unique and powerful position as the world's reserve currency.
There are several internal and external forces working against it, in spite of recent relative strength.
In fact, Russia just dumped all its dollar holdings and traded them for Chinese yuan …
Russia Buys Quarter of World Yuan Reserves in Shift From Dollar – Bloomberg, January 9, 2019
These are both MEGA-trends … major shifts that are gradually taking place over a long period of time.
Back in 2016, Business Insider published an article about four mega-trends that could change the world by 2030 … including the U.S. losing top status.
Of course, we're only a few years in.   But IF you're paying attention, you've been watching these trends slowly and surely develop.
Most people don't even see it happening, much less have any understanding of what it might mean to them … or how to prepare.
We think that's a mistake.
There's an old investing adage which says, "the trend is your friend."
In other words, it's generally a losing proposition to invest against the trend.  It's just too powerful.  Especially a mega-trend.
Sure, you can be contrarian and buy when others are selling or vice-versa.
But that's just navigating cycles.  If you get it wrong, you can simply wait it out because time often heals those wounds.
But a mega-trend isn't a cycle.  It's a major long-term shift in the landscape.  It fundamentally changes the way the world works.
The gradual erosion of the United States exclusive status is a powerful mega-trend.
Artificial intelligence is another.
In a recent news report, a leading expert predicts AI will displace 40 percent of world's workers as soon as 2035.
That kind of disruption has the potential to impact economies, political systems, and your real estate investments.
So when thinking about the New Year ahead … we encourage you to start thinking about the next decade as well.  Because big change is on the horizon.
Fortunately, real estate moves slowly … just like a mega-trend.
And because real estate is a permanent and essential part of human existence, there's likely to be investment opportunity … so long as private property rights survive.
So what might all this mean to YOUR real estate investing?
It's obviously way too much to unpack in a weekly newsletter, but here's some food for thought as we approach the 3rd decade of the new millennium …
U.S. real estate could grow in appeal as a preferred wealth preservation haven for foreign investors.
Sure, the U.S. economy and dollar might get knocked out of the top spot.  But the U.S. has a long and stable history of strong private property rights.
The same can't be said for some these up and coming economies.
However, if the dollar loses reserve status, then dollar-denominated asset prices … along with interest rates … could surge in response to inflation.
So anyone who uses long-term fixed debt to acquire real estate BEFORE it happens could end up a two-time winner.
Rising prices against fixed debt makes equity happen.  We like it.
The key is to pick markets and product types likely to see increased demand if economic conditions become more challenging for working class folks.
Of course, if economic conditions improve then all the better.  But best to prepare for downward pressure.
These are themes we've been talking about for years … because the mega-trends driving them have been slowly developing for quite some time.
Be careful not to let routine cycles, political winds, or investing fads blind you to the mega-trends underneath it all.  Mega-trends transcend all those things.
The good news is mega-trends move slowly.
So IF you're paying attention, you'll almost always have plenty of time to adjust your position to capture opportunity and mitigate risk.
The even better news is real estate is a tangible, essential asset … with a unique status.  All stakeholders in society have a vested interest in keeping it valuable.
Not all investments can say that.
Of course, all investing involves risk.  But so does NOT investing.
So it's a matter of  being strategic and taking well-calculated risks … which is why we think it's critical to keep a keen eye on mega-trends as well as cycles.
When you play off the big picture, it smooths out short-term gyrations which can sucker Pollyanna investors to jump in … or spook skeptical investors into missing out.
That's why we're REALLY looking forward to spending a week with our incredible faculty members on our fast-approaching 17th annual Investor Summit at Sea™.
Of course, we hope you'll join us.
But whether you do or don't, we encourage you to get together with smart, experienced investors and discuss the way the world is changing …
… and how YOU can best position yourself to survive and thrive as the future unfolds.
Until next time … good investing!
More From The Real Estate Guys™…
The Real Estate Guys™ radio show and podcast provides real estate investing news, education, training, and resources to help real estate investors succeed.
---
Love the show?  Tell the world!  When you promote the show, you help us attract more great guests for 

your

 listening pleasure!
On March 26th, the Chinese launch their yuan-denominated oil contracts.
Is that a big deal? 
Some people think so.  Some say it's just another incremental step towards a gradual shift in global economic power.  Some say it means nothing.
Most people have no idea it's happening … and even if they do, have no idea if it has any impact on them.
But think about this …
If you pay attention and nothing happens, you'll probably learn some things about the eco-system you invest in.  That's not a big win, but it's not a big lose.
But what if you don't pay attention and something big happens? 
That's what happened to all the people who downplayed sub-prime mortgage problems in 2007.  
So stick with us for a few minutes and we'll share our reasons for thinking this is development worth paying attention to … 
… even if you're a nose-to-the-grindstone real estate investor who doesn't care what happens in stocks, bonds, currencies, or commodities.
In this case, we're talking about oil … and in that regard, China's kind of a big deal.  After all, China has surpassed the U.S. as the world's largest importer of oil.  
That means China is the most important customer to countries who sell oil … including Russia, Saudi Arabia, Venezuela, Iraq, and Iran.  
Hmmm … Funny how the U.S. doesn't get along with most of those folks, but that's probably just a coincidence, so put your tinfoil hat away.
The point is … China has leverage with major oil producers to pressure them to do business in yuan … and not U.S. dollars.
THAT'S why some say this latest development is important.
It starts back in August 1971 when President Richard Nixon shocked the world by defaulting on the gold-backing of the U.S. dollar.
That's right.  Up until 1971, foreign holders of U.S. dollars could turn them into Uncle Sam and take home cold, hard gold.
The problem is the U.S. printed too many dollars and foreigners (being prodded by France) got worried … and started trading dollars in for gold.
And as demand for the dollar dropped, so did its value.
So then it took more dollars to buy the same things (inflation).  Gold went from $42 to $850, oil quadrupled, and consumer prices were rising double-digits.
It wasn't as bad Venezuela today, but bad enough that Nixon prohibited private businesses from increasing prices or giving pay raises. 
Yes, that really happened in the land of the free.  It's important to remember … governments do crazy things when they're desperate.
Here's where oil comes into the picture … 
To re-create global demand for dollars after they were no longer as good as gold, Uncle Sam made a deal with Saudi Arabia. 
At the time, the U.S. was the world's No. 1 producer of oil.  Saudi Arabia was No. 2 and the de facto leader of OPEC, the Middle Eastern oil cartel founded in 1960.
In exchange for military support from the U.S., Saudi Arabia agreed to sell oil in dollars.  The other OPEC members tagged along. 
So now, if Germany, for example, wanted to buy oil from Saudi Arabia, they had to buy dollars first.  Even though the U.S. had nothing to do with the deal.
This created immediate global demand for dollars and the "petro-dollar" system was born … replacing the Bretton Woods "gold–dollar" system that Nixon defaulted on.
Many financial historians believe this was the single most important move the U.S. made to save the dollar.
Of course, other tactics were used, including jacking up interest rates and opening trade relations with China. But the petro-dollar system was (and is) a big deal and the focus of today's discussion.
Oil's not well with the dollar … 
Since the mid-70s, the petro-dollar system has been central to creating global demand for the dollar.  And the U.S. has been pretty protective of it.
But China's been systematically cutting into that action. And the yuan-denominated oil contract is the latest, and perhaps most substantial step.
Of course, we're just a couple real estate radio talk show hosts, so don't take our word for it.  Here's just a few of the MANY news reports …
China has grand ambitions to dethrone the dollar – CNBC October 24, 2017
China's launch of 'petro-yuan' in two months sounds death knell for dollar's dominance – RT, October 25, 2017
China Will Launch Yuan-Based Oil Futures Contract, Set to Shake Up Global Market – Fox Business News, December 20, 2017
China Set To Launch Yuan-Prices Oil Futures Next Month – Oilprice.com, February 9, 2018
Yes, we know many pundits and officials contend it's no big deal.  But that doesn't mean they're right.
Funny today.  But not so funny if you were on the wrong end of the joke.
It's good to have a Plan B … 
The dollar's been falling for over 100 years, so it's not the downward trend that freaks people out.  You can get rich simply by leveraging real assets with long term debt as the dollar falls.  That's real estate investing economics 101.
The bigger concern is a sudden move, like when Nixon defaulted on the gold-backing.  Or when the subprime crisis suddenly seized up the entire financial system.
That's like having a fire at your home or business.  It's best to have a plan in place BEFORE the crisis … or you're likely to panic, run in circles, and end up hurt.
We've got Robert Kiyosaki, Peter Schiff, Doug Duncan (chief economist for Fannie Mae), Chris Martenson, Brien Lundin, G. Edward Griffin, and MANY others …
We're going to talk tax reform, the dollar, oil, gold, crypto, banking, and of course, real estate.   
And most importantly … what an investor can do to prepare to avoid losses and reap big profits … and how to know what moves to make as things unfold. 
The future of money and wealth is changing … whether you're paying attention or not.   But if you read this far, now you know.  
The big question is what to do next … 
There's still time to join us in Fort Lauderdale April 6-7.  They might just be two of most important days of your year.
---
More From The Real Estate Guys™…
The Real Estate Guys™ radio show and podcast provides real estate investing news, education, training, and resources to help real estate investors succeed.
We're just two weeks removed from an epic educational and networking experience at the New Orleans Investment Conference.
While we were there, we threw a little private party and Robert Kiyosaki, Peter Schiff, Chris Martenson, and Brien Lundin all showed up to hob-nob with our listeners.  Very fun.
During the conference, Robert Helms emceed a fascinating panel called The Future of Money, with panelists Doug Casey, Danielle DiMartino Booth and Chris Martenson.
(Side note: Chris Martenson, Brien Lundin and Peter Schiff are all confirmed for the 2018 Summit at Sea™ … and we're still recruiting several other VERY notable speakers.)
It's clear the future of money and wealth is on the threshold of MAJOR change.
For most people "the dollar" is synonymous with money because their income and wealth are denominated primarily in dollars. So the future of the dollar is an important topic.
Right now, the U.S. dollar is the world's reserve currency … and Treasuries are considered the safest, most liquid place to save excess dollars.
Treasuries are Uncle Sam's IOUs.  They're technically called bills, bonds, and notes … but they're all debt.
Treasuries also play a major role in how market interest rates are determined … so if you're a user of debt, the future of Treasuries affects you also.
Yields (rates) and prices of Treasuries are a function of supply and demand.
Like apartment buildings, when investors bid prices UP, yields (like cap rates) fall. 
You may already know it, but just in case, the math is simple:  Income / Price = Rate
For example, $60,000 net operating income on an $800,000 property is a 7.5% cap rate. 
If investors bid the property up to $1 million, it's $60,000 / $1,000.000 = 6% cap rate.
So high demand creates upward pressure on prices, and downward pressure on yields (cap rates).  Make sense?
The same with Treasuries.  As long as demand is robust relative to supply, interest rates are low.  Strong demand for Treasuries means low interest rates.
If anything substantially alters the supply / demand equilibrium in Treasuries, YOUR asset values and interest rates will feel it.
Lots of government debt means lots of Treasuries for sale.   We're pretty sure that's not changing soon.
But TOO MUCH supply means lower prices.  Just like when lots of houses in a neighborhood are for sale at the same time.
DEMAND for Treasuries comes from private investors (small and large), and political investors (governments and central banks).
Private investors buy Treasuries to park large amounts of cash, use as gambling chips in the Wall Street casinos, or serve as collateral in complex financial transactions.
Governments also buy Treasuries as a place to park their reserves.  China and Japan are at the top of the list with over $1 trillion each. 
Treasuries are denominated in dollars.  So countries buy dollars with their own currency, or sell things to the United States and get paid in dollars … then use those dollars to buy Treasuries.
To keep the worldwide economy going, Uncle Sam issues lots of Treasuries and the Fed prints lots of dollars.
As long as everyone trusts the dollar, it's all hunky-dory.  And this is why so many of our big-brained friends are concerned. 
As we chronicle in our Real Asset Investing special report, China's been making substantial moves to undermine the dollar as the world's reserve currency.
We recently commented on this … and the story continues to unfold.
Here's the quick backstory …
When the dollar became the most trusted currency on earth in 1944 it was backed by gold.  In 1971 Uncle Sam defaulted on the gold backing.
Not surprisingly, the world dumped dollars which triggered excessive inflation (rising prices, loss of purchasing power).  The U.S. quickly came up with a plan to save the dollar.
Uncle Sam made a deal with Saudi Arabia … for oil to ONLY be sold for dollars and the Saudi's would invest their profits in Treasuries.  Clever.
Then the Fed raised rates to nearly 20% to "break the back of inflation."  If you wonder why inflation is scary, look at life in Venezuela right now.
Inflation is caused by too many dollars in circulation relative to goods and services available.
High interest rates slow borrowing.  It's a long story, but new dollars are born when you borrow.  Reducing borrowing slows the birth of new dollars.
High interest rates also suck excess dollars into banks and Treasuries, as people and nations save for yield (interest).
These moves shifted demand for the dollar from Uncle Sam's savings (gold) to the oil and bond markets. 
Back then, the U.S. had the biggest manufacturing economy, most productive workforce, the strongest military, and very little debt.
Of course, MANY things have changed … and more change is likely coming to an economy near you.
Today, no one cares about gold … except China and Russia, who are accumulating hundreds of tons a year.  Hmmm… that's interesting.
Coincidentally, Russia and China are the #2 and #3 military powers in the world behind the United States.
China is now the largest manufacturing economy and top importer of oil.  Russia is the #2 seller of oil … behind (wait for it …) Saudi Arabia.
Russia and China recently made a deal to trade oil in Chinese currency (the yuan) … instead of dollars.   
China already has major oil producers Iran and Venezuela on board the petro-yuan train.
And now there's talk China will "compel" the Saudi's to deal in yuan too.  When you're the big customer, you have negotiating leverage.
China also recently announced plans to create a yuan-denominated oil contract, which some say is a big step towards creating a robust yuan-backed bond market.
And to top it all off, it's been reported China is flirting with the idea of backing those petro-yuan contracts with gold.
The Chinese are infamous for seeing a good idea and copying it. 
Right now, it seems China has reverse-engineered the dollar's rise to dominance and is simply copying it … and it looks like they're making steady progress towards their goal.
The BIG questions are …
What does it mean to YOU and what can YOU do to grow and protect YOUR wealth?
Of course, that's a HUGE discussion and we're working on something BIG to address it.
For now, when you think about the future of money and wealth, here are some things to consider …
Investors, many probably born after 1971, are piling into Bitcoin … driving it up at an insane rate.
Motives we've heard for Bitcoin-mania include moving wealth into an "asset" which can't be simply printed out of thin air.
Interestingly, Bloomberg reports that online searches for "buy Bitcoin" have exceeded "buy gold." 
Some use the border-less nature of Bitcoin to escape capital controls and discreetly move wealth out of totalitarian jurisdictions. 
Of course, some are buying Bitcoin simply because "it's going up" and they want to strike it rich in dollar terms.
Meanwhile, plans have been announced to launch a Bitcoin futures market … just like already exists for gold.  
Ironically, futures markets are the very mechanism many pundits claim gold prices are suppressed with … to discourage those concerned about the dollar from seeking safety in gold.
We'll see what happens to Bitcoin.  Meanwhile, Russia, China and several other nations continue to accumulate gold.
As for the U.S., it's all about the red-hot stock market.
Of course, as our friend Simon Black points out, the top performing stock market is Venezuela. So a booming market isn't necessarily the bellwether of a healthy economy.
Where does real estate fit into all this?
History says real estate fares pretty well when shift happens.
Even in chaotic financial times, people still need a roof over the head, crops still need to grow, commerce goes on … and real estate is at the center of human activity.
Of course, that doesn't mean all real estate investors everywhere make it. 
We took it hard in 2008 because we weren't prepared for a sudden shift.  We're working hard to be better prepared today.
One thing's for sure … there's never been a more important time to get SERIOUS about your financial education and strategic network.
Until next time … good investing!
---
 More From The Real Estate Guys™…
The Real Estate Guys™ radio show and podcast provides real estate investing news, education, training, and resources to help real estate investors succeed.
We were lucky enough to spend some time at the New Orleans Investment Conference, the longest-running investment conference in the United States.
In this episode, we chat with three expert guests. They share their expertise on all things investing, from cryptocurrencies to gold, the Federal Reserve to commercial real estate, the international oil market and the U.S. dollar.
Our guests touch on real-estate-specific issues, but they also give us the big picture about what's going on in the financial space … and how that will affect investors of all types.
PLUS … our three guests have never before been featured on The Real Estate Guys™ show. Listen in to hear brand-new, timely insights from these money pros!
In this episode you'll hear from:
Your top-dollar host, Robert Helms
His dollar-short co-host, Russell Gray
The godfather of real estate, Bob Helms
President of Neptune Global, Chris Blasi
Author of Fed Up, Danielle DiMartino Booth
Senior editor of the website International Man, Nick Giambruno
---
Listen
---
Subscribe
Broadcasting since 1997 with over 300 episodes on iTunes!
---
Review
When you give us a positive review on iTunes you help us continue to bring you high caliber guests and attract new listeners. It's easy and takes just a minute! (Don't know how? Follow these instructions).
Thanks!
---
Cryptocurrencies and precious metals, oh my!
Chris Blasi is an expert in all things money. He founded the precious metals exchange Neptune Global and has patented a new way to invest in metals.
We asked him to give us his insights on the cryptocurrency trend.
"Cryptocurrencies are all the rage," he told us. That doesn't mean they're always the best choice.
Cryptocurrencies are digital currency backed by blockchain software. That means it is susceptible to the same issues as other software, like code issues, storage databases, and scaling.
Bitcoin is the big name in cryptocurrency right now, but there are hundreds of initial coin offerings, or ICOs, put on the market every day as people create new cryptocurrencies.
These cryptocurrencies have cost investors millions, Chris warns. "People need to step back and look at the market more closely" before making the jump to investing in cryptocurrencies, he says.
"Cryptos are actually a polar opposite of gold," Chris says. Gold is a tangible asset, while cryptocurrencies are entirely digital.
That doesn't mean he's saying yay or nay to digital currencies … only cautioning investors to understand what they really are.
"Cryptos offer speculative gains," he notes. "Do your homework and invest in moderation."
Nick is actually an expert in gold … he developed a patented unit of trade for precious metals, the PMC ounce. It's a unit of trade that corresponds to proportions of physical gold, silver, platinum, and palladium.
Using real-time technology, investors can buy and sell PMC ounces of metal immediately through Neptune Global.
The goal is to offer a turnkey precious metals fund … backed by real assets. And the PMC ounce has been architected to capture the blended return of each metal, smoothing out the volatility of trading in just gold or silver, for example.
Fed up with the Federal Reserve
Danielle DiMartino Booth has dipped her feet into all matters related to money. She has experience in private and public equities, worked as a finance journalist, and spent nine years at the Federal Reserve. She recently published the book Fed Up, her take on what's wrong with the Federal Reserve.
We started by asking Danielle to give us an overview of the Federal Reserve.
The Fed is a quasi-public organization that is intended to function as the central bank of the United States.
Unlike some conservative politicians and finance experts, Danielle doesn't want to abolish the Fed. She gave us her take on what we need to do to reform the Fed:
Go from a dual mandate to a single mandate. The current Federal Reserve operates on a dual mandate of 1) protecting the value of our dollar and stabilizing prices and 2) maximizing employment. Danielle is in favor of completely dropping the labor mandate, which she believes would help keep both inflation and the value of the dollar in check.
Reduce the number of local Federal Reserve banks from 12 to 10 and add a bank to the West Coast. In a largely cashless society, the need for so many districts has clearly dissipated, says Danielle.
Hire knowledgeable people who represent regional economies. Get rid of the majority of the regulators in the Federal Reserve. Instead of hiring PhDs, hire people who actually understand the inner workings of the U.S. financial system.

 

Give each district a permanent vote on the federal open market committee, and change the complexion of the Federal Reserve board so it's composed of people who are actually on the receiving end of the policies the Fed makes.
Danielle is ridiculously knowledgeable about the Fed, but she also had a lot to say about real estate. We asked for her thoughts on the real estate market.
"Investors are missing the forest for the trees," Danielle says. "I'm seeing the forest."
Danielle notes that commercial buildings are overbuilt right now, and that abandoned B- and C-class malls and retail structures can only be repurposed for so long. That glut of overdeveloped, centrally located land will cause an oversupply problem, she says.
Another problem? "There are not enough low-cost homes." We are facing a housing shortage that will only get worse in the next 20-30 years.
The people who benefit most from the overall real estate situation, Danielle says, are the people who are perceptive and get in while the fire is still burning and prices are at rock bottom.
The yuan, the petrodollar, and what it means for YOU
Nick Giambruno is a reporter and editor for Casey Research, specifically their International Man website.
We asked him about an intriguing article that appeared in the news for about a half second.
It's about China's hopes to price oil in the yuan (instead of the U.S. dollar) using a gold-based futures contract.
Why is this significant? Nick walked us through what this could mean.
If China is successful, "This will usher in a new era in the international monetary system," says Nick.
A quick history lesson:
In 1971, Nixon ends the Breton-Woods system; the dollar is no longer backed by gold

To preserve the value of the dollar, Kissinger creates the petrodollar system, in which the U.S. government agrees to provide protection to Saudi Arabia in exchange for oil being priced in U.S. dollars

The petrodollar system gives other countries an incentive to hold U.S. dollars
If China goes forward with its new money mechanism, it could divert 400-600 billion dollars in oil sales every year that would normally go through U.S. currency.
This could have a HUGE impact on international financial markets. Oil is the most valuable commodity in the world right now … essentially, Nick says, "China is going for the jugular of the U.S. financial system."
How does the breakdown of the petrodollar concern you? "The breakdown of the petrodollar will have clear consequences for interest rates." And as we all know, interest rates are the price of money.
We hope you learned something new from our expert guests! Now go out and make some equity happen!
---
More From The Real Estate Guys™…
The Real Estate Guys™ radio show and podcast provides real estate investing news, education, training and resources to help real estate investors succeed.
We just recorded an emergency conference call …
…  featuring Peak Prosperity's Chris Martenson (The Crash Course) and Brien Lundin (Gold Newsletter).
Chris is a big brain PhD who studies economics, eco-politics, and how energy (i.e., oil) affects economics.
Brien is a well-recognized expert in precious metals and mining investing … and spends much of his time studying the gold market.
Both guys are hyper-connected to the smartest economists, investors, and niche experts in the world.  So they're not just smart, they're also well-informed.
The conference call centers around China's recent announcement of plans to back their currency with gold for the purpose of settling oil trade.
This single move could substantially affect oil, gold, the dollar, interest rates, real estate … Uncle Sam's credit line, budget and influence around the world … and YOUR financial future.
It's a BIG deal.
China has been advancing … quietly at first, and lately much more overtly … a strategy to UNDERMINE the U.S. dollar as the world's reserve currency.
This is HUGE for anyone measuring wealth and income in U.S. dollars.
It's even more significant for Americans, whose government has been able to use its privileged status to go DEEPLY into debt … seemingly without consequence.
But that could be changing …
Uncle Sam's unlimited checkbook … as well as his substantial influence around the world … has been largely built on the power of issuing the world's reserve currency.
That's because international trade is primarily settled in U.S. dollars, so getting locked out of dollars though U.S. sanctions can choke a nation's economy …
… just ask Russia, Iran and Venezuela … to name a few who've been on the receiving end of this power.
Oil is the biggest component of international trade.
It's no wonder Russia, who happens to be the world's largest oil producer, was early to sign on to circumvent the dollar.
Iran (#5 producer) is on the team.  Venezuela (#11 producer), whose economy is 95% oil, also just got on board.
Now the U.S. is talking about kicking CHINA out of the dollar system.
But China's been preparing to be independent of the dollar …
… and has a LONG list of bilateral trade agreements signed with MANY trading partners (as chronicled in this free report on Real Asset Investing).
As the largest oil importer in the world, China has a lot of purchasing power to put pressure on the "petro-dollar" (U.S. dollars used in international trading of oil), as Chris explains in the call.
The petro-dollar has been a major component of the dollar's power in international trade.  China's move could be setting the table for a collapse of the petro-dollar.
This isn't the end of the world …
But it could be a BIG change for dollar denominated investors …  
Those who are aware and prepared can protect themselves and get in a position to win.  Those who aren't will likely be blind-sided and face potentially horrific losses.
We've been watching this develop for years … and now it seems things are picking up speed.
If YOU haven't been paying attention, it's time to accelerate YOUR learning and preparation.
Maybe this isn't as big a deal as we think.  But better to prepared and not have a dollar crisis … than to have one and not be prepared.
The GREAT news is there are lots of smart investors watching this situation very carefully … and there are strategies to hedge … and even profit … from these developments.
So click here now to listen in on the conversation with Chris Martenson and Brien Lundin … as we discuss China, oil, gold, the future of the dollar … and how concerned investors can prepare.
Until next time … good investing!
---
 More From The Real Estate Guys™…
The Real Estate Guys™ radio show and podcast provides real estate investing news, education, training and resources to help real estate investors succeed.
And the hits just keep on coming …
We know you'd like investing to be simple and drama free.  We do too.
But while real estate investing itself is a simple activity … the economics of real estate investing has become more complex.
There's a LOT going on in the world.   Some things interconnect by cause, and others by effect … meaning they don't appear to be related, but then converge.
As Jim Rickards points out repeatedly … economies and ecologies are complex systems.  They are difficult to understand and even more difficult to predict.
But even though no one can say with certainty what will happen, it's still important to take precautions when it's clear SOMETHING BIG is coming …
… just as Floridians watched Irma and prepared, not knowing fully what to expect.  Better to be prepared and not have a disaster than vice versa.
So let's take a look at what's forming on the horizon …
Hurricanes Harvey and Irma
While the total financial and human impact of these back-to-back disasters is yet to be calculated, one thing's for sure …  it's going to be expensive.
Short term disruptions to gas prices and orange futures aside, disasters like these redirect HUGE amounts of capital … which has a ripple effect.
For example, money insurance companies might otherwise put into financing NEW multi-family apartments in other markets …
… will now pour into re-building properties damaged and destroyed in Houston and Florida.
Federal money which might have been focused on infrastructure spending or tax cuts will also be redirected to damage recovery.
And it's likely the demand for construction labor and supplies will rise, driving up total construction costs in many markets … not just those affected by the storms.
That's because just as demand for concrete in China creates price increases in the U.S. … the demand for reconstruction resources will probably be felt throughout the United States.
Distressed inventory
Just like the financial disaster of 2008, there may be many problem properties coming out of all this … because many weren't insured for flood damage.
Federal aid may help some of those homeowners.  It's less likely such relief is offered to investors who were under-insured.
While it's no fun to profit from someone else's loss, there's a role for profit-seeking capital to play in repairing damaged communities.
We wouldn't be surprised to see tax breaks, loan subsidies or other incentives offered to entice investment capital to flow into affected markets … like when New Orleans was hit by Hurricane Katrina.
The Debt Ceiling

 
In other news, President Trump and Congress managed to get the debt ceiling temporarily increased … while raising the prospect of simply eliminating it all together.
Talk about calling a spade a spade.  The ceiling hasn't capped spending … ever.
Now billions of dollars are ear-marked for hurricane relief, and everyone can take a short break from "worrying" Uncle Sam might default on his debt.
So it looks like it's back to over-spending as usual. Not surprisingly, the dollar's year-long fall has resumed velocity.  
Then again … maybe the dollar's fall (and gold's rise) is part of a bigger story which has nothing to do with U.S. business-as-usual deficit spending …
Gold-backed yuan already finding friends
As we recently noted, China announced plans to settle its oil trade in yuan.
And to entice sellers to accept yuan, the Chinese are backing it with that "barbarous relic" … gold.
Days later, oil-rich Venezuela announced they'd start using yuan … and other currencies … to "free us from the dollar."
It's no surprise Venezuela would jump at this.  After all, just two weeks earlier President Trump signed an executive order sanctioning Venezuela … whose economy is 95% oil.
But as we note in our Real Asset Investing report, China began its plan to supplant the dollar way back in 2010.  So none of this is new.
And the first country to sign a bilateral trade agreement to "renounce the U.S. dollar" was … wait for it … Russia … followed by Brazil, Australia, and a LONG list of others.
We think this is a HUGE story that few in mainstream financial media are covering.  But we are.
In fact, we're putting together an emergency conference call with Brien Lundin and Chris Martenson to discuss the ramifications … so stay tuned for that!
Is the U.S. dollar doomed?
This is the big WHY IT MATTERS … especially for Americans and everyone denominating wealth in American dollars.
Like Hurricane Irma, no one can say exactly if, when, or how disaster will strike.  And it's possible the winds will change and the storm will miss your portfolio.
But what if it doesn't?  Right now, the winds appear to be headed your way.
Are YOU ready?  Are you getting ready?  Many people don't even know what ready looks like.  That was us 10 years ago.
It's a complex problem so there's no simple solution.  If there was, it probably wouldn't be a problem.
Peter Schiff has been warning about this for years. As has Robert Kiyosaki, Richard Duncan, Simon Black, Chris Martenson, Jim Rickards, David Stockman … and the list goes on and on.
Each has their own ideas about when … and how to prepare.
There's no one-size-fits all answer because everyone's situation, portfolio, investing IQ, advisory network, access to deals, and investment objectives are different.
MISSION: POSSIBLE
Your mission, should you choose to accept it, is to get informed, educated, connected and activated … as quickly as possible.
And if you think getting educated is time consuming and expensive … it's nothing compared to being ignorant and apathetic.
When storm clouds form on the horizon, some decide to pay attention and take pre-emptive steps.  There's no guarantee of safety, but their odds are better.
Others only hope for the best, but don't prepare for the worst.  Yet the higher the stakes, the more important it is to be preemptively cautious.
The storm warnings are loud and clear … for everyone paying attention.
But storms often approach slowly … and because most blow over … it's easy (yet dangerous) to assume every storm will.
Slowly at first … then all at once
Longtime listeners know we've been watching this whole story unfold for years.
We talked about the very real possibility of China making a run at reserve currency status almost two years ago.  We said then we'd keep you informed and so we are.
Now things are picking up speed.  So if you're new or haven't been all that interested … NOW is the time to accelerate your understanding.
If you've read this far, we trust you're interested and concerned … as you should be.
So we STRONGLY encourage you to SERIOUSLY consider attending BOTH Brien Lundin's New Orleans Investment Conference (coming up FAST!) and The Real Estate Guys™ 2018 Investor Summit at Sea™.
These events each feature lots of big brains … with critical perspectives every serious investor needs to have to help understand and navigate these stormy times.
Sure, these events are capitalist ventures … we each make some money producing them.
But we're not after your money … we simply use to it for event costs and to pay some bills along the way.  Your support makes these events possible.
We organize events so we can get brilliant minds in one place at one time.  And the only way to make it affordable for us … and you … is to share the cost with hundreds of others.
So yes, we need your help.  And in exchange YOU get access too!
With that said, these events are happening with or without you. Your absence or presence, while nice for us, could be LIFE-CHANGING for YOU … and that's true of most important ideas, opportunities and relationships.
So with the winds of sea change blowing fiercely on the horizon, it's a good time to consider carefully whether or not investing in preparation is a good idea.
We think it is.
Until next time … good investing!
---
 More From The Real Estate Guys™…
The Real Estate Guys™ radio show and podcast provides real estate investing news, education, training and resources to help real estate investors succeed.
While American media is focused on the chances of a Thanksgiving weekend terrorist attack (not to make light of those concerns)…a group of international bureaucrats will be meeting to decide if the world will take a step closer to a Chinese yuan reserve currency.
On Monday November 30th, the International Monetary Fund (IMF) votes on whether the yuan (the currency of China, also known as the renminbi) gets into the Special Drawing Rights (SDR) basket.
Who cares?
China does.  They care a LOT.  And YOU should probably care too…even if you don't know it yet.
What is an SDR?
Special Drawing Rights (SDR) are the currency of the International Monetary Fund.
The SDR "basket" is a collection of "premium" currencies whose values collectively determine the value of the SDR using a special formula.
Confused already?  That's okay.  Just don't give up….
Remember all those real estate investors in 2005 that didn't pay attention to Wall Street…thinking what do stocks, bonds and derivatives have to do with Main Street real estate investing?
In 2008 we all found out.  Oops.
So here's a quick primer on the situation (for a better understanding, read Jim Rickards' books Currency Wars and Death of Money)…
In the U.S., when an individual bank runs low on cash, they can borrow from the central bank (the Federal Reserve).  All major countries have a similar system.
But where do central banks go when they need to borrow?
So here's where it gets a little complicated. But stick with us because we plan to show how it matters to you and your Main Street investing.
A little history…
What is the IMF?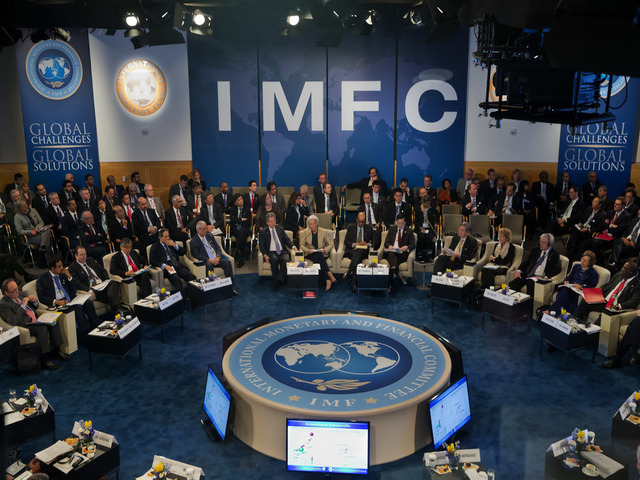 Prior to 1944, countries settled trade in gold.  So if you imported more than you exported, you owed someone a pile of shiny yellow metal.   Or at least a claim ticket for it.  Makes sense.
After two world wars, most of the world's gold and remaining production capacity was primarily in the United States.
After all, it's hard to export anything when all your production capacity and infrastructure was bombed to smithereens.  So almost by default (not that Americans weren't smart and didn't work hard) the U.S. had the world's dominant economy.
In 1944, at the Bretton Woods conference, a NEW financial order was set up…and the U.S. took over for Great Britain as the financial capital of the world.
Remember the golden rule?  "He who has the gold, makes the rules."
That's what happened in Bretton Woods.  The U.S. had the gold, so King Dollar was crowned.  For most folks reading this, it's the only system you've ever known.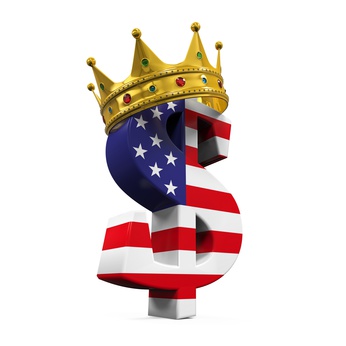 But that doesn't make it permanent.  In fact, history tells us that dominant economies, currencies, governments and systems eventually change.
Anyway, the idea of a central bank for the central banks also came out of Bretton Woods.  They called it the International Monetary Fund or IMF.
Five years later, it launched.  Keep in mind that these things take time.  It's easy to miss…or forget…that fundamental change is happening.
Basically, the IMF is the central bank to the central banks.
Twenty years later, in 1969, the idea of a special currency for the IMF came up.  They called it "Special Drawing Rights" or SDR.
Lame name, but lucky timing (probably just a coincidence…) because just two years later, in 1971, the U.S. defaulted on the Bretton Woods agreement with the "Nixon shock".
That's when President Richard Nixon shocked the world on national TV announcing he was closing the gold window "temporarily".  (Still closed today by the way…)
But don't take our word for it…watch Nixon make the announcement yourself:
The ORIGINAL Bretton Woods deal was that countries holding paper dollars could turn them into Uncle Sam and get real gold.  In essence, the dollar was as good as gold.
But when Nixon suddenly changed the deal (reminds us of the exchange between Darth Vader and Lando Calrissian in Star Wars – The Empire Strikes Back below), it meant all countries holding U.S. dollars formerly redeemable for U.S. gold now simply held green pieces of paper with pictures of dead U.S. leaders.
Now…to no surprise…no one wanted or trusted U.S. dollars.  So the dollar crashed.  Gold and inflation soared.  The U.S. economy and stock market tanked.  "Stagflation" became the term to describe a new strain of economic malaise.
Research it yourself.  There are many important lessons to be learned about how a major economic policy change ripples through economies.
And sometimes the UNTHINKABLE happens.
For example, in a vain attempt to contain the inflation unleashed by his default on the gold dollar, Nixon instituted a wage and price freeze: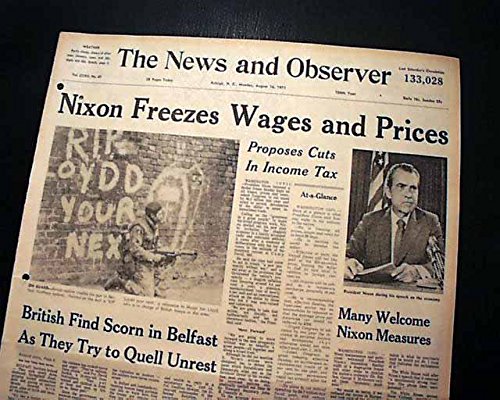 Who would think that in the Land of the Free, it would be a FEDERAL CRIME to give an employee a raise…or to raise the price of the merchandise in your OWN store?!?
But it happened.  In America.
The point is that defaulting on the Bretton Woods promise to redeem dollars for gold was a HUGE reset.
The gold dollar was dead.
BUT…the U.S. still had a strong balance sheet, a big army, huge manufacturing capacity…and a plan.
Shortly thereafter, the petro-dollar was born.
"Petro-dollar" just means that the U.S. dollar became the currency which worldwide oil transactions were settled in.  It created a huge and ever-present permanent new demand for U.S. dollars.
Now there's SO much more to say about that…but not today.
Again, we encourage you to study the history of the dollar, gold and oil.  Or come to a live event and buy us a beer or two or three…and we can talk about all this until the wee hours (that's what happens after a few beers…)
Back to our story…
So now we're in the petro-dollar era and the IMF is there with its SDRs and the SDR value is based on a "basket" of currencies it's indexed to.
The SDR basket is made up of all the "best" currencies…the U.S. dollar, the British pound, the Japanese yen, and the European Union's euro.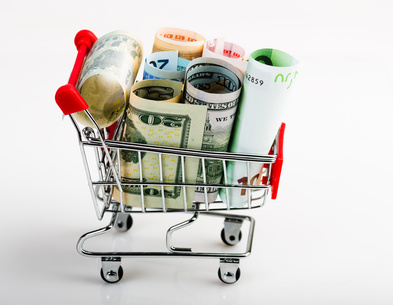 That's a pretty exclusive club considering there are 190+ countries out there.
But at the last vote in 2010 (these things only get looked at every 5 years), they got voted down.
Not dissuaded, China went to work.  We chronicle much of this in our special report on Real Asset Investing.
But this time, it seems China has a Plan B…in case the IMF slams the door again.
So while they're working to comply with IMF requirements, China's also taken steps to go independent if need be.
Does China want a yuan reserve currency?
We don't know.  If Beijing calls us with a heads up, we'll be sure to pass it along.
But how often can you trust anything ANY government says?  It's better to WATCH what they DO.
Right now, it seems to us that China looked at what the U.S. did to be top dog at Bretton Woods and are copying it as best they can.
It's a long list, but some notable items are:
Pay close attention to that last one.  We think this will be a BIG story in the not too distant future.
In 2015, China formed its own international bank (the AIIB – Asian Infrastructure Investment Bank) in spite of U.S. resistance…and wooed dozens of countries to join, including Uncle Sam's "pal", Great Britain.
It's kind of like, "If you can't join them, beat them."  Or at least show you're ready to beat them if necessary.
But no one wants to fight the U.S. toe to toe…including China.  Better to get voted in with a yuan reserve currency.
Of course, the U.S. has an effective veto with over 16% of the IMF voting rights (it takes 85% to pass).  So even if Uncle Sam's buddies don't back him again, he can still stop China from getting in the club.
But we think China's ready for that.  And we think Uncle Sam knows China's ready.  So we wouldn't be surprised if Uncle Sam cries…well, uncle.
But who knows?  We'll find out soon enough.
THEN…it will be interesting to see what happens next.
If China gets in, it's like adding a new stock to the S&P 500. It creates an immediate spike in demand for the new stock…and something gets dumped to make room.
Art Cashin, Director of Floor Operations at UBS and famed commenter on CNBC has been quoted saying…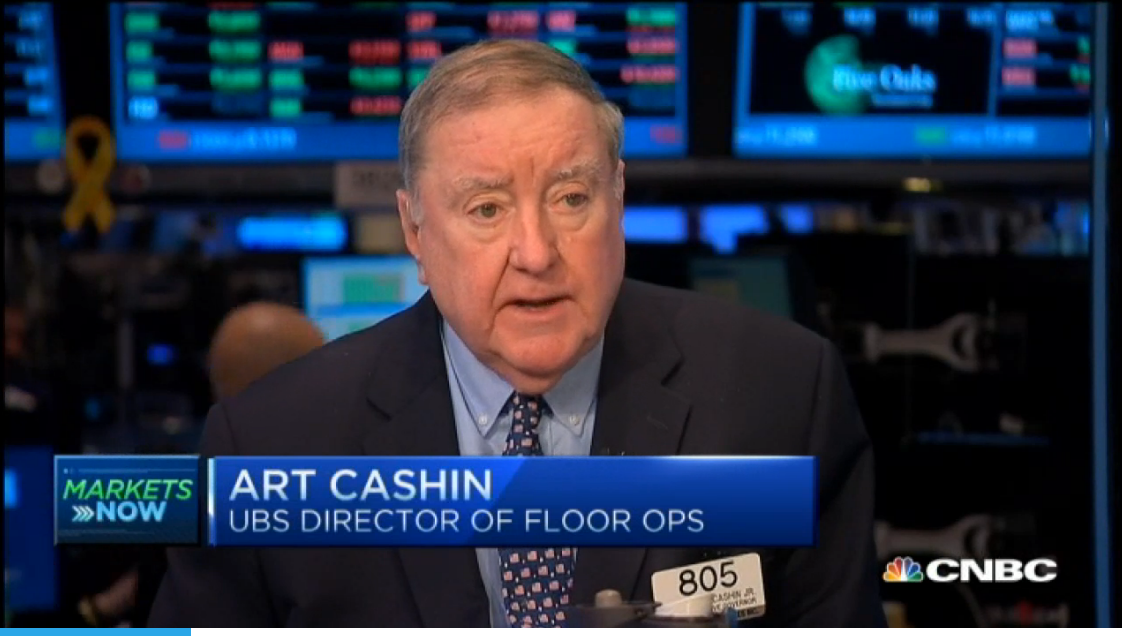 "If [SDR] approval were given, we could be looking at shifts in the trillions of dollars."
We're not that bright, but when a BIG shift happens we know to pay attention.
In that same article, Lombard Street Research's chief economist and head of research, Diana Choyleva was quoted…
"'If the yuan goes in the basket, then the likelihood is that the Chinese would prefer a gradual depreciation of their currency against the US dollar.'"
And if the yuan is NOT accepted?
Choyleva says…
"The Chinese leadership is not going to wait another five years…And they will not be so keen to be such a responsible global citizen….If the yuan is not accepted in the SDR, they will go for a one-off large devaluation and that would then be … a financial crisis, specifically, a real-economy crisis with the resulting impact on the …markets."
Another financial crisis doesn't sound like any fun.
It SEEMS like Uncle Sam and China are actually working closely together to gently ease a Chinese yuan reserve currency into the club.
But like raising kids, adolescents always think they're ready too soon…and parents always hold on too long.
China's clearly growing up.  And China's financial decisions affect Americans…even real estate investors on Main Street.
This headline is a case in point:
"…U.S. Steel blamed the temporary closure on tough market conditions 'including fluctuating oil prices, reduced rig counts and associated inventory overhang, depressed steel prices and unfairly traded imports.'"
"Earlier this year, U.S. Steel permanently shuttered a longtime plant outside of Birmingham, Alabama, laying off 1,100 workers. That closure came on the heels of a string of layoffs in Texas, Arkansas, and Indiana, among other states."
Those are all working class jobs in great rental property states.
Getting closer to home now?
The article continues…
"[China's] recent slowdown threatens to exacerbate problems for American steelmakers, as Chinese policymakers look to boost exports and more steel hits the global market."
The Chinese policies referred to include tweaking the relative strength of the yuan…because a cheaper yuan means cheaper goods into the U.S., which costs U.S. jobs.
And this is just ONE industry.  Think of ALL the other industries China is involved in…especially in any markets YOU are invested in.
So what's an investor to do if there is a Chinese yuan reserve currency?
Pay attention.
Watching two elephants dance isn't exciting.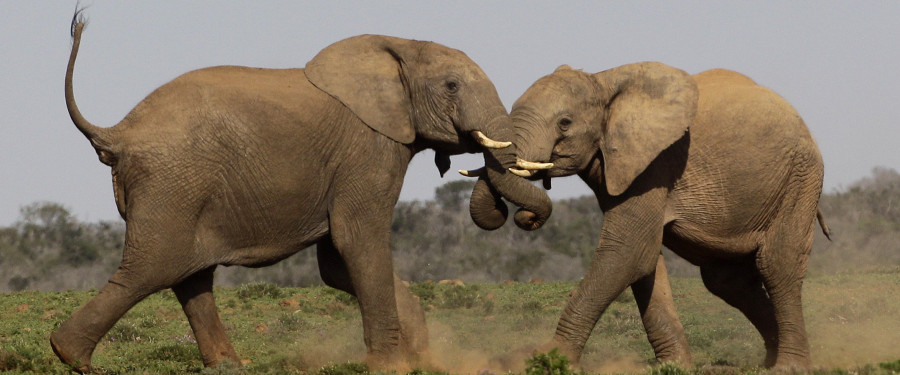 They aren't graceful and they move slowly.
But when you're locked in the same economy and those elephants can crush you, you're wise to stay alert.  And everyone knows we need more lerts. 😉
So REALLY get to know YOUR markets, demographics, ultimate income sources, and critical dependencies.
You want to see weakness or opportunity before others so you can move in or move out ahead of the crowd.
Remember, it takes time to tweak a real estate portfolio.  Of course, compared to the dancing elephants, you're a water bug.  But you still need to be looking and moving ahead
Focus on macro trends.
China's been working on getting into the SDR club more than a decade.  The dollar's recent strength is an aberration in a well-chronicled 100 year slide.
You'll lose sleep…and hair (we know)…trying to understand every tick in some chart.  Looking at the big picture smooths out a lot of  the noise.
Watch for game changers.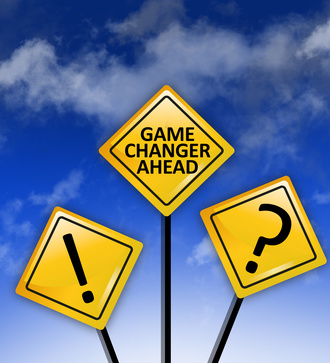 Bretton Woods in 1944 was a game changer.  A fundamental change to the global financial system.
The Nixon Shock in 1971 was a game changer. Another fundamental change to the global financial system.
China's ascension has been a slowly developing game changer.
It used to be Americans could just go about their business.  The rest of the world was too puny to really severely impact the mighty U.S. economy and dollar.
Now, when China gets a cold, so does Uncle Sam.  You can read it in the news everyday.
Is adding the Chinese yuan into the IMF SDR a game changer?
We don't know yet.  Could be.
Or maybe the Chinese will do a reverse Nixon shock. We're pretty sure THAT would be a game changer. (Think about it…)
Invest in things that are REAL and ESSENTIAL.
It's our recurring theme.  Housing, food, energy, commodities.  All have roots in real estate.  Sure, they can go boom and bust.  But they're ALWAYS needed.  Pets.com?  Not so much.
Use financial structures which can withstand economic pull backs.
The flirty girl at the frat party might get a lot of attention, but she's not the one you take home to Mama.
Bubbles and leverage create lots of sexy opportunities, but when the glitter rubs off, you want to be with markets, product types, demographics and teams which are in it for the long haul.
Credit lines, equity and buyers all can (and usually do) disappear when you need them the most.  They're fickle.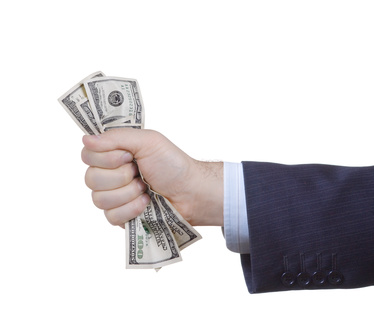 A little cash on hand can be your best friend in a downturn.  If you have your chips on the table and get a bad roll, you're out.  Donald Trump told us he learned it's ALWAYS good to have some cash available in the down times.
So don't envy the guy getting lucky with the hot deal when it's all sunshine.   Otherwise, you'll certainly be envying the guy with the stable portfolio when the clouds come.
Now if you've read this far, we're guessing you're SERIOUS about understanding these chaotic times.  We are too.
So if you REALLY want to jump start your learning…
We invite you to invest a week to sharpen your understanding of economics, investing and real asset portfolio strategies aboard our 14th annual Investor Summit at Sea.
One of our discussion topics will be The Future of Money and Banking…with Robert Kiyosaki, G. Edward Griffin and experts in economics, precious metals, crypto-currency and alternative banking.  Not to mention real estate, tax and estate planning, asset protection and more.  Your brain will hurt.  But you'll LOVE it.
>>> Click here now to learn more about the next Investor Summit at Sea.
Meanwhile, stand by….and we'll let you know whether there's a Chinese yuan reserve currency in your future.
In this edition of Clues in the News™, we take on the biggest story most real estate investors are ignoring…and discuss why we think it matters to real estate investors…
In the studio to discuss China's latest moves and the potential impact on U.S. real estate investors…
Your clued in host, Robert Helms
His clueless co-host, Russell Gray
The world is in constant flux.  There are SO many variables moving around out there. It can make your head spin…even more than a thick, frosty imperial IPA. 😉
To make sense of it, we try to take all these events we read about in the news…and put them into major categories.
In this case, today's episode is really about the future of the U.S. dollar…specifically as the world's reserve currency…and how a change might affect every day real estate investors on Main Street.
So let's start with the Big Picture…
Out with the Old and In with the New
Virtually all active real estate investors today only know one financial world.  The U.S. is the dominant economy and the dollar is the world's reserve currency.
This means that interest rates, job creation, access to capital have always stood on the foundation of U.S. financial dominance.  And not just in the U.S., but around the world too.
BUT…this has been slowly changing…and the evidence is right in front of you IF you take the time to look at it.
There hasn't been anyone for the U.S. to be accountable to for decades.  Uncle Sam can just go into debt and wage war endlessly. No one can stop him.
Understanding Economic Cones
When it comes to your real estate investing, the LOCAL economy is what really matters.
Of course, your local economy may be VERY much connected to macro and even global factors.  To figure all that out, you need to understand the concept of an economic "cone".
A "cone" or Primary Driver in any geographic market is something that brings money into the region from the outside.
Think of Google or Apple.  They're based in Silicon Valley, but bring in revenue from all over the world, which creates jobs, incomes and spending in Silicon Valley.  Google and Apple are "cones" that funnel outside money into the local region.
Now think about Walmart or Costco.
Sure, Walmart and Costco sell all over the world…but each location only sells to local customers.  That means the income is generated in the local community.  So when the people who work in the local store spend they wages in the local economy, it's simply a recycling of local money.
The idea is that when a Walmart or Costco is located in a place like Silicon Valley, the OUTSIDE money is funneled into the local economy through the employees who work at Google or Apple is then spent at Walmart and Costco.
In other words, if Google or Apple went away, it's likely that business at the local Walmart or Costco would decline.  That is, the overall region would have LESS prosperity because they only would be trading among themselves…instead of pulling in money from around the world.
Make sense?
So think about how the U.S. government affects the flow of money into the local communities where YOU invest in real estate...and what would happen if the government was no longer able to go deeper and deeper into debt just to keep on spending.
What happens to YOU if Uncle Sam's credit card is cut off?
Military
If you own properties near military bases or defense contractors, you've been an indirect beneficiary of Uncle Sam's blank checkbook.
Money flows through those operations into the local community…directly as wages which are spent on rent…and indirectly when the military, its contractors, their suppliers and employees all trade with each other locally.
Are YOU invested in an area where many of the employers are directly…or INDIRECTLY…nursing on Uncle Sam's…checkbook?
Section 8
If you own Section 8 housing, you've been a direct beneficiary of government subsidies.  How often do you worry about your Section 8 check bouncing?
But if Uncle Sam is forced into "structural reform" and "austerity"….with is geo-political jargon for shutting down spending programs and cutting costs…what happens to YOU if the Section 8 program gets a big haircut…or completely shut down?
College Loans
What about college towns and student housing? There's been hundreds of billions of dollars of government subsidized student loans which feed the college towns.
Your student tenants might be using their loan proceeds to pay their rent.  Or maybe Mom and Dad are using the tuition savings to pay the rent on behalf of the kids, while the student loan pays for the tuition.
And of course, if you're renting to employees of the school and they depend on tuition paid by student loans and the student loans stop…then what?
How exposed are YOU to austerity in student loans?
Social Security
What about senior housing? Do you have tenants who are collecting social security and using it to pay the rent?
Disability, Food Stamps
There are RECORD numbers of people on disability and food stamps in the U.S. right now. But Uncle Sam already admits that the disability fund will be insolvent in 2016.
How many of your tenants are depending on these subsidies to survive?  What happens to their ability to pay you rent if their benefits are cut off?
Real Estate Loan Subsidies…Fannie, Freddie, Ginnie, VA, FHA; plus down payment assistance
For decades, homeowners and real estate investors have benefited from cheap mortgage money.
In fact, the risk premium (interest rate) on those funds wasn't enough to compensate for the risks, and that's why these programs always teeter on insolvency. Fannie, Freddie have both been bailed out by Uncle Sam…with BORROWED funds…because Uncle Sam doesn't have any savings.
It's Greek to Me…
So…what happens if the U.S. can no longer go into endless debt?  What happens when the U.S. is accountable…say…like Greece?
Right now, Greece is broke. Their Prime Minister came right out and said, "We're broke and we can't pay the ECB (European Central Bank)".
How many times has the U.S. said, "Hey, we're broke. We can't pay our debt?"
Okay, so they SAY it…but it's never been an issue because they can always…
Raise the Roof!
Actually, the U.S. has threatened to "default" a few times…but then Congress simply raises the debt ceiling.
In other words, they just borrow more. It's like applying for a new credit card every time you run out of money…rather than deal with the fact you have a spending problem.
How is it the U.S. can do that and Greece can't?
It's because the U.S. gets to print the world's reserve currency, the U.S. dollar.
And when places like China produce more than they consume and produce excess, they keep their saving in U.S. Treasuries.
In other words, the world "saves" by loaning money to Uncle Sam.  What a deal for the U.S!
How did the U.S. get this sweet deal?
Way back in 1944… in a place called Bretton Woods… the world "agreed" to allow the U.S. to be the world's banker.  And why not?  Uncle Sam had the biggest army and biggest stash of gold.
Because…back then, gold was money. And U.S. dollars were redeemable for gold…
Well, not by citizens.  Because in 1933, Franklin Roosevelt used an Executive Order and took away the right for citizens to own gold.
But other countries COULD turn in their dollars for shiny yellow metal.
So all international trade would be settled in dollars, and then the holder of those dollars could go the U.S. and redeem those dollars for physical gold.
The ability to redeem dollars for gold kept the United States accountable to not printing too many dollars…at least that's the way it was supposed to work.
But it didn't.
Handed a virtually unlimited credit line, the United States began spending like crazy…the same way we do today…on endless wars and social programs.  In the 60's it was the Vietnam War and Lyndon Johnson's War on Poverty…also known as the Great Society.
So the U.S. printed billions of dollars (which was a lot back then) and as they made their way around the world, holders would come and redeem them for gold.
Before long it was apparent that the U.S. was running out of gold.
So on August 15, 1971 President Richard Nixon announced to the world that he was "temporarily" suspending the redemption of dollars for gold….and…we're still waiting for the "temporary" ban to be lifted.
In the next few years after that, the dollar crashed (gold went from $35 per ounce to $850), interest rates soared (and creative real estate was born)…as the world figured out how to conduct business in this new financial environment.
But they did figure it out.  People are amazingly resourceful.
Along the way some people got rich. Other people got wiped out. That's what happens when financial systems re-set. People who are prepared and paying attention do well. Those who aren't…don't.
Right now, the wheels are in motion for a changing of the global financial guard. We've been monitoring this for the last couple of years and wrote about it in our Real Asset Investing report.
EVERY DAY IT GETS CLOSER.
You may have seen these headlines…
March 17, 2015 NPR – European Allies Defy U.S. in Joining China-Led Development Bank
FOUR key allies…Germany, France, Italy and the UK ("one of American's staunchest allies") all got on board the new Asia Infrastructure Investment Bank (AIIB), despite U.S. opposition…
"The Obama administration opposes the AIIB and has pressured allies such as South Korea, Japan and Australia not to join…says there's no need for another international lending institution."
"It's believed China is prepared to put half of the initial $100 billion budget, probably giving it veto power, much the same as the U.S. has with the World Bank and International Monetary Fund."
March 23, 2015 (Reuters) – China's Premier asks IMF to include Yuan in SDR basket
SDR = Special Drawing Rights – it's an international reserve currency made of dollars, yen, euros and pounds.  Now China wants a seat at the SDR table…
"China hopes to, through the SDR, play an active role in the international cooperation to maintain financial stability and promote the further opening of China's capital market and financial area."
The IMF's Managing Director is reported to have said, "China's yuan at some point would be incorporated in the SDR currency basket".
The Reuters article concludes with "The yuan's inclusion could be seen as diminishing the dollar's standing internationally."
March 24, 2015 (Reuters) – UK Official says IMF inclusion of yuan a very live issue
"The yuan is the world's fifth most-used currency in trade, and Beijing has made almost weekly strides this year in introducing the infrastructure needed to float it freely on global capital markets."
"Almost weekly strides this year"!  In other words, things are happening FAST.
March 28, 2015 (Reuters) – More countries join China backed investment bank.
"Russia, Australia and the Netherlands became the latest to…join the China-led Asian Infrastructure Investment Bank…adding clout to an institution seen as enhancing China's regional and global influence."
"Other countries such as Turkey and South Korea have also said they would join. Brazil, China's top trading partner, said it would sign up."
"China's Finance Ministry said Britain and Switzerland had been formally accepted…Austria had also applied."
"The AIIB has been seen as a significant setback to U.S. efforts to extend its influence to balance China's growing clout and assertiveness."
April 6, 2015 (Reuters) – Larry Summers has a major warning for the US economy and everyone should be paying attention.
In an op-ed piece published in The Washington Post, former Treasury Secretary Larry Summers wrote, "This past month may be remembered as the moment the United States lost its role as the underwriter of the global economic system."
"So while the US has been the dominant global economic power of the last 50 years, the point is that now countries across the globe are seemingly falling over themselves to be more closely aligned with China."
Summers said, "I can think of no event since Bretton Woods comparable to the combination of China's effort to establish a major new institution and the failure of the United States to persuade dozens of its traditional allies, starting with Britain, to stay out."
The article concludes, "The global economic tide has started receding from the US and moving toward China."
And what happens if the US loses its role as the "underwriter of the global financial system"?
The U.S. loses the ability to go into endless debt and it becomes more like Greece, dependent on the largess of global central bankers.
Up to now, the U.S. has been the dominant force in global banking.  The headlines say…along with Larry Summers…that that's in the process of changing.
What will it mean for real estate investors?
We're not completely sure…but you can bet we'll be discussing it with the biggest brains we can find.
It seems like government spending will need to be reeled in, so if your real estate portfolio is heavily dependent on government subsidized tenants or industry, you may want to diversify.
Long term inflation is a very serious concern…even though it may not seem like it now. So long term debt (30 year fixed mortgages) seems smart, as does owning real assets…like cash flowing real estate.
The most important thing is to be aware things are changing…to watch carefully as events unfold… and constantly ask, how does this affect me? And where are the opportunities?
James Rickards said in his best-selling book, The Death of Money, that the SDR is the most logical choice for replacing the U.S. dollar as the world's reserve currency.
Of course he said that years ago and now it's making it's way into the mainstream news.
We're guessing more of this stuff will be popping up in the mainstream…which tells us that the changes are getting closer.
We're EXCITED!
History tells us that most of the great opportunities are found in the midst of change. But the prizes go to those you are aware, prepared, nimble and fast to react.
So stay tuned for more insights as this important trend continues….
Listen Now: 
The Real Estate Guys™ radio show and podcast provides real estate investing news, education, training and resources that help real estate investors succeed.