Boots-on-the-Ground Market Insights: Belize
September 2020
From Ambergris Caye to Placencia … we hear about all Belize has to offer for investors, retirees and even those seeking a different pace of life.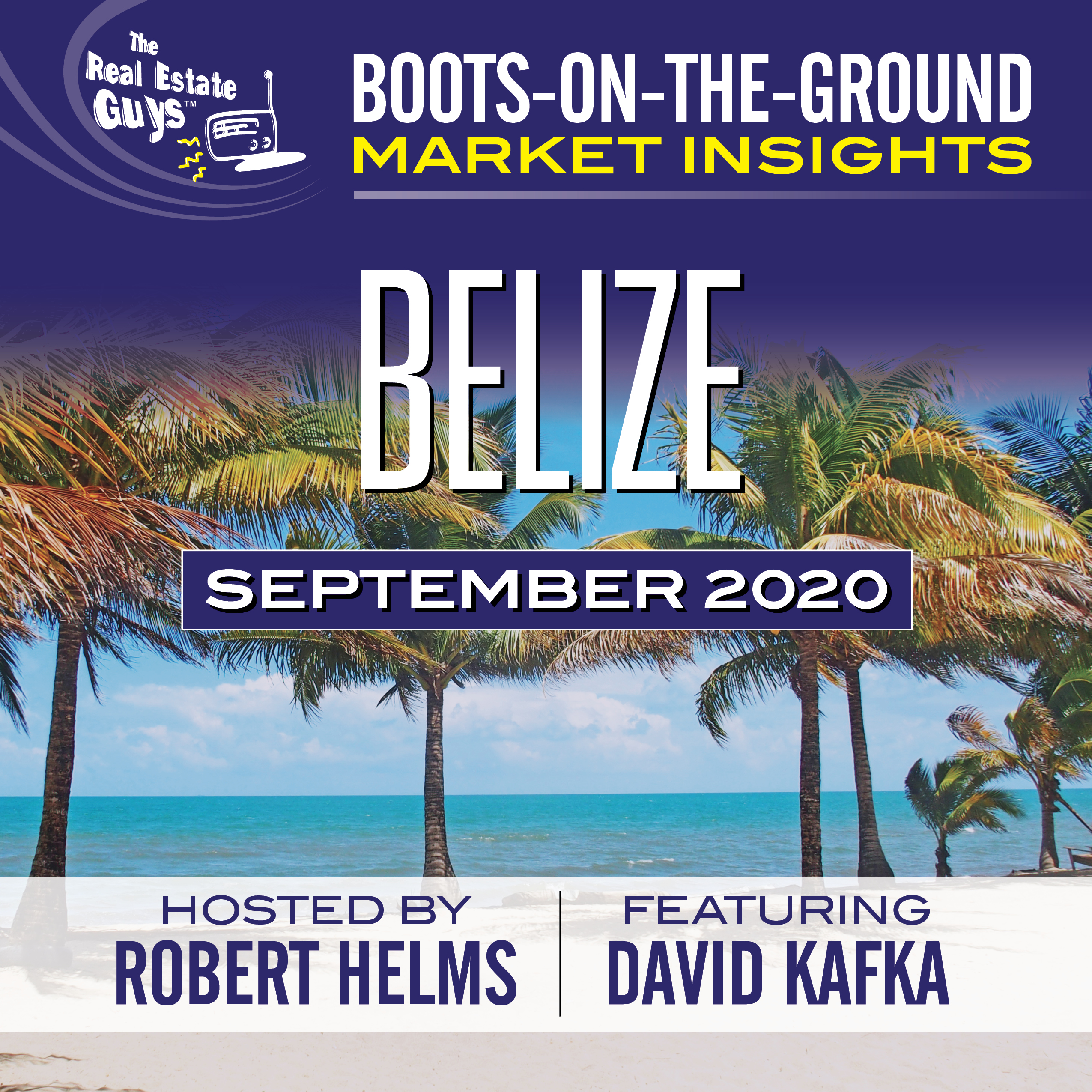 Belize has long been a popular retirement destination for Americans, Canadians and Europeans looking to enjoy great weather and a peaceful lifestyle for considerably less than what they might pay in other markets. Another great aspect is that Belize does not have income or property taxes, making it an ideal escape for those who want to live in or simply invest in paradise … especially during an era of overcrowded cities and creeping taxation. 
For investors interested in owning foreign real estate, Belize can be considered a buyers market. Whether it be for residential, commercial or rental properties … opportunities are available. Robert Helms, Host of The Real Estate Guys™  Radio Show, talks with David Kafka about the current state of the market in Belize and what investors can expect when (and even before) the borders open. 
Hearing all about: 
Retirement Opportunities

Cost of Living

Financing Options

Reduced Sale Prices

Eviction Rates
And MUCH more!
Simply fill out the form below to access this edition of Boots-on-the-Ground Market Insights: Belize …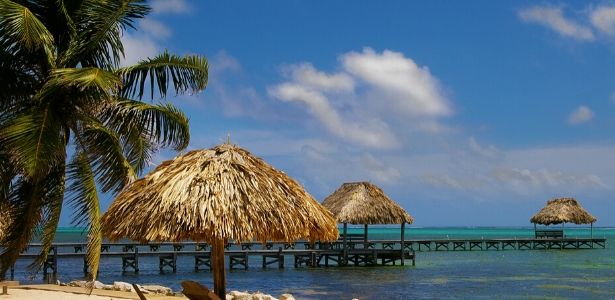 We can't say enough about resort property investing. 
Like all real estate investing … everything starts with market selection. You're looking for the right mix of supply, demand, location, team, and demographic. 
Belize is one of the most uniquely positioned resort markets in the world … and it checks A LOT of boxes. 
We're visiting with a U.S. expat who is very active in the Belize real estate market. Is now the right time to put paradise in your portfolio?
In this episode of The Real Estate Guys™ show, hear from:
Your resourceful host,

Robert Helms

His last resort co-host,

Russell Gray
From RE/MAX 1st Choice Belize, David Kafka
---
Listen
---
Subscribe
Broadcasting since 1997 with over 300 episodes on iTunes!
---
Review
When you give us a positive review on iTunes you help us continue to bring you high caliber guests and attract new listeners. It's easy and takes just a minute! (Don't know how? Follow these instructions).
Thanks!
---
Welcome to Belize
One of our personal favorite opportunities is markets that are outside of the norm. Today, we're going to talk about investing internationally … specifically in beautiful Belize. 
For many years, Belize was basically undiscovered. We first started visiting about 15 years ago. 
Since then, Belize has really grown. It's definitely been discovered … but there are still great opportunities to ride the wave. 
It's easy to see the possibilities for the future when you look at Belize through the lens of Cabo San Lucas, Mexico, or Hawaii. 
So, the next thing to do is your homework … making sure that the underpinnings, the things that you think you see, are really there. 
When we first went to San Pedro, Belize, there were 600 rooms for overnight accommodations. Today there are nearly 2000. 
Until two years ago, there wasn't a single branded hotel on the island. Today, one just opened and three more are opening soon. More airlines are coming too. 
Still, it's not a very populated place. It's a small market. Belize only has about 4,000 people that call it home. 
Belize has a mainland … with beautiful rainforests, the largest Jaguar preserve in the world, and Mayan ruins … and then there are the islands with white sand and palm trees. 
With any new market, there are stories of investors and developers who have come in and failed. But there are plenty of people also seeing an amazing increase in equity and cash flow in tourism. 
We get it. Thinking about somewhere like Belize as an investment opportunity is an adjustment. But you have to learn to think bigger than your local market.
The hotels, airlines … they all go where the people, money, and opportunity is. Why should a real estate investor be any different?
There are also many advantages to organizing your business internationally … like tax laws. Belize has been a tax haven for a long time. 
So, if you think an international investment might be the next step for you … look at the market drivers and dynamics. Find out if it is going to help you accomplish your personal investment goals. 
Then, it's time to build a team. 
Building a Team
You want to find people on the ground who really know the market. 
The best people operate in the market on a daily basis and can help you make tactical decisions and strategic introductions to the resources you're going to need to go from an idea to implementation. 
David Kafka is one of the most successful real estate brokers in the country of Belize. He has one of the largest brokerage offices with about a dozen agents. 
The average real estate office in Belize has less than two people. 
So, how did he end up in Belize?
"Some friends and I decided we wanted to move internationally. I came to Belize on vacation, and I pretty much never left," David says. 
David didn't start off in real estate, but he has always liked it. Several times, he has bought a house, fixed it up, lived in it for a few years, and sold it. 
But once he came to Belize, he was ready to go all in. Now, he splits his time between Placencia and San Pedro. 
David says that one of the unique aspects of Belize is that it is one of the sparsest populated countries in this area of the world … but it has lots of land. 
"It takes an adjustment coming from the bustling United States, but I'd rather have no traffic, no air pollution, great food, and great people," David says. 
The population of Belize is very diverse … ethnically, culturally, and economically. But they all love the area. 
Most of David's customers want to purchase a house or a condo now while there is a market opportunity, rent it out for a few years or use it as a vacation home, then have the option to move in permanently. 
But he is starting to see more investors who see Belize as an investment opportunity and more than just a personal experience. 
Investment Opportunities 
David says there are many investment opportunities in Belize. 
There are standard vacation rentals and a high demand for affordable housing. 
Many people who owned apartment buildings saw a rise in tourism and turned their workforce housing into accommodations instead. 
It makes sense. A unit that might rent for $1000 a month would rent for $250 a night. 
But these changes are displacing the locals. That's where the opportunity lies. So many people come to San Pedro for a job and can't find an apartment within their budget. 
The result is substandard living. 
If an investor can come in and give someone nice, quality living accommodations and affordable pricing, there will be locals, contract workers, and others ready to take advantage. 
The key is … and you've heard us say this a thousand times … great property management. 
When you look at the property management side of the equation, long term rentals are more stable and simple than vacation rentals.
So, there's a balance either way. 
The good news is that there is no reason investors can't do a little bit of both. 
And don't forget, there is a lot of land in Belize that is suitable for agriculture, development, or commercial investment. 
"There's always some land for any budget," David says. 
To find out about more opportunities for putting paradise in your portfolio … tune in to the full episode!
More From The Real Estate Guys™…
The Real Estate Guys™ radio show and podcast provides real estate investing news, education, training, and resources to help real estate investors succeed.
---
Love the show?  Tell the world!  When you promote the show, you help us attract more great guests for 

your

 listening pleasure!
Welcome to our annual edition of Halloween Horror Stories … real world accounts of real estate deals gone horribly wrong.
We're honored our guests chose to share their horror stories with us. They also discuss what they discovered in the process … so YOU can learn what NOT to do.
In this Spooktacular episode of The Real Estate Guys™ show, you'll hear from:
Your spooky host, 

Robert Helms

His spooked co-host, 

Russell Gray

Investors 

Sep Bekam
Todd Sulzinger
Michael Manthei
Brad and Emily Niebuhr
Silvana Shull
Lane Kawaoka
David Kafka

and

Ryan Gibson
---
Listen
---
Subscribe
Broadcasting since 1997 with over 300 episodes on iTunes!
---
Review
When you give us a positive review on iTunes you help us continue to bring you high caliber guests and attract new listeners. It's easy and takes just a minute! (Don't know how? Follow these instructions).
Thanks!
---
The shot heard 'round the neighborhood
Our first story comes from investor Sep Bekam. Sep bought a 36-house parcel and started making repairs and raising rents to market price.
But this made one particular tenant less than happy.
You see, the existing tenant was occupying two houses … one for personal use and one for their daycare business … and the rent raises meant they had to downsize.
But that's life. Sep put a Section 8 tenant into the newly unoccupied property and thought that was that.
Six months later, he found out there had been a drive-by shooting. Turns out the Section 8 tenant had a teen involved in gang and drug activities … not the kind of thing you can find out on a background check.
The Section 8 tenant moved out shortly afterward, and Sep started the process of putting a third tenant in the house. But the old tenant … the daycare owner … still wasn't happy. They started interfering with the leasing agents, trying to scare off prospective renters.
Still, Sep found a new tenant and everything seemed okay again … until about a month later, when the tenant heard loud shots.
Turns out the disgruntled neighbor had fired a paintball gun at the new tenant's house … then told them about the previous drive-by shooting.
The solution … Sep made an agreement with the new tenants to put in a state-of-the-art security system so they would feel safe.
The takeaways … Crime sometimes happens, no matter how many safeguards you have in place. Sep says it's important to mitigate the problem WHEN it happens so it's not associated with the neighborhood.
And keep in mind, Sep has a portfolio of over 100 houses. He reminds investors to not get discouraged … these kinds of horror stories are the exception, not the rule.
The bankrupt builder
Todd Sulzinger started investing his self-directed IRA funds in 2011.
He found a developer building fourplexes who was looking for hard-money loans and decided to sign on.
A few months later, one of the developer's major suppliers went bankrupt. And then … the developer went bankrupt too.
Because Todd was only in on a portion of the fourplex, he couldn't foreclose.
The solution … Todd did his best to fight for the money held in the construction management company. Unfortunately, he never recovered all of his money, and what he did get back didn't return until years later.
The takeaways … "Don't do a hard-money loan on a fourplex," Todd says. Know exactly where your money is going BEFORE you make a loan, and understand what will happen in a worst-case scenario.
Also, make sure you can foreclose on a property. And evaluate the risks of any loan or investments. If you're unsure … ask questions. The vetting process should take time if you're doing it right.
The mysterious doorman
Michael Manthei's troubles didn't start when he bought a 10-unit building in a rougher neighborhood … they started when he replaced one tenant with an older gentleman who seemed like a nice guy.
Soon after the tenant moved in, water started leaking from the apartment into the commercial space downstairs.
Then, there was a death in the apartment.
Turns out, the new tenant had been charging homeless people $10 to shower at his place. He let one woman stay overnight … and she overdosed and died. The man was even running a prostitution operation from the apartment.
The solution … "We kindly asked him to leave, and he complied," Michael says. That wasn't the end … the apartment was in bad shape and had to be gutted and cleaned.
The takeaways … Don't trust your intuition more than the process.
Michael now makes sure new tenants complete an application, do a full criminal and eviction background check, and supply references and employment history before he will even consider them.
He considers that process an investment … on getting quality, long-term tenants.
The curious sucking sound
Brad and Emily Niebuhr do a lot of mixed-use deals. But in one property they bought a few years ago, things went terribly wrong.
First, there was the love triangle. One tenant had her boyfriend added to the lease … but a few months later, the boyfriend moved into the apartment of a DIFFERENT tenant.
But that's not the horror story.
People started to hear lots of noise and banging … including odd sucking sounds … coming from the second tenant's apartment. Then, water started to leak from the apartment into the commercial space below.
Turns out, the tenant and her new boyfriend had jaunted off to Alaska, but not before illegally subletting the apartment.
The subletter had an issue with the bathtub drain … but since he didn't want anyone to know he was there, he was using a Shop Vac to drain water from the bathtub, sometimes as many as 13 times a day.
Even worse … the new subletter was allegedly a drug dealer who brought an unverified service dog onto the property.
The solution … Emily and Brad did a property inspection and gave the subletter notice, and he quickly moved out. They also fixed the drain issue.
The takeaways … If you couldn't tell, Brad and Emily were managing the property without the help of a property management team. They told us that now, they wouldn't go without one.
They also realized that investments are about more than the numbers. Even though the mixed-used property had amazing cap rates and returns, it was in a rural area, and they couldn't find a property manager.
Although they finally have property management now, it took a lot of searching. "There's a learning curve to the due diligence process," the couple says.
When disaster strikes
In 2008, Silvana Shull had a successful business in Japan … a large retail furniture and interior design operation. She bought and designed a custom showroom because the numbers made sense.
But right after, the economy started to shift.
She was able to manage for about three years … until 2011 and 2012, when Japan was struck by a series of natural disasters, including tsunamis and earthquakes.
The operation was destroyed.
Silvana had to make a decision … cut her losses and try to rebuild, or close her business entirely and try to recover what she could.
The solution … Silvana sold the building she bought for less than 10 percent of what she originally paid. She shipped all her remaining inventory to Hawaii, where she eventually was able to sell everything … but the entire process took seven years of daily, dedicated effort. And she did it all while taking care of her two small children.
The takeaways … Running an international operation isn't easy and requires a team. "I didn't listen to advice and thought I could do anything," Silvana says.
If she were to do it again, she would listen more and move slower. Although it's impossible to control natural disasters, Silvana says it probably didn't make sense to expand in Japan, considering she was living in Hawaii at the time.
The incredible shrinking IRA
Lane Kawaoka is a podcaster, like us. His show is called Simple Passive Cashflow.
He is also an investor who has made a few mistakes.
When he was starting out, Lane wanted to use his self-directed IRA to invest in a passive deal, but he didn't know many people.
So, when he got a referral, he didn't do much investigating. Lane invested $43,000 … almost his entire IRA fund … in a deal that looked pretty good on paper.
But then he started networking with other limited partners and heard the operator wasn't the most scrupulous person. A year later, Lane got a letter that said his deal had gone south.
Lane was left with a property that needed $20,000 worth of repairs in a tertiary market with long selling times.
The solution … Lane wrote off the loss and eventually fire-sold the property. He was left with only $7,000 in his IRA fund.
The takeaways … "Don't work with someone you don't know, like, or trust. And don't lose focus on building relationships with other peer investors," Lane says.
Trouble in paradise
This story comes from an investor outside of the U.S. … David Kafka. David is located in Belize.
One day, David got a call from an employee. The police needed him to identify a body. Turns out, it was a client of David's … he had just listed and sold her house.
There were some questions floating around about whether the client had actually wanted to sell, and David had the keys to her house. He was worried he might be a suspect. But he was even more worried about finding the actual killer.
The solution … Eventually, David ended up closing the deal. And he realized he wasn't a detective and couldn't solve the murder. He had to extricate himself.
The takeaways … Dot your I's and cross your T's, says David. When the unexpected happens, you want to put yourself in the best possible position.
Also, remember that sometimes bad things happen to good people … and that many things are simply out of our control. So, be compassionate and have fortitude, but keep your nose out of things that aren't in your jurisdiction.
A red-hot deal
Our last horror story comes from investor Ryan Gibson.
Ryan invested in a condo-conversion development opportunity, converting an existing single-family home into condos.
He had great insurance … probably a little too much, he says. But that insurance came in handy when someone broke in and started a fire two months before the condos were set to be finished.
Ryan was on vacation in Hawaii when he got the call, but he had a local contractor on the ground who could help manage the situation.
The solution … Ryan immediately sent an email out to his investors. He also informed his lender, a bank, right away. And he submitted an insurance claim, which luckily covered the damage to the dollar.
The fire extended the entire process by about three months, but in the end, Ryan was able to offer his investors a return over 50 percent.
The takeaways … "If it can go wrong, it probably will," says Ryan. So always be over-insured. And remember, "Bad news doesn't get better with age."
Be transparent and handle problems as quickly as possible … and make sure you have eyes and ears on the ground to help you out when times get tough.
How to handle a horror story
In stressful times, attitude plays a big role. But what really matters is asking the right questions:
What

happened?

Why

did it happen?

How

can I resolve it?

What

can I learn?
That way, you can turn your horror story into a learning experience that will help you be an even smarter investor.
---
More From The Real Estate Guys™…
The Real Estate Guys™ radio show and podcast provides real estate investing news, education, training, and resources to help real estate investors succeed.
---
Love the show?  Tell the world!  When you promote the show, you help us attract more great guests for 

your

 listening pleasure!