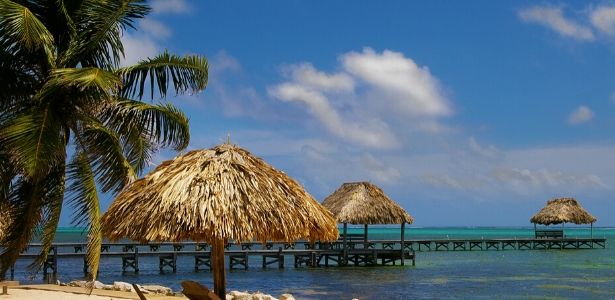 We can't say enough about resort property investing. 
Like all real estate investing … everything starts with market selection. You're looking for the right mix of supply, demand, location, team, and demographic. 
Belize is one of the most uniquely positioned resort markets in the world … and it checks A LOT of boxes. 
We're visiting with a U.S. expat who is very active in the Belize real estate market. Is now the right time to put paradise in your portfolio?
In this episode of The Real Estate Guys™ show, hear from:
Your resourceful host,

Robert Helms

His last resort co-host,

Russell Gray
From RE/MAX 1st Choice Belize, David Kafka
---
Listen
---
Subscribe
Broadcasting since 1997 with over 300 episodes on iTunes!
---
Review
When you give us a positive review on iTunes you help us continue to bring you high caliber guests and attract new listeners. It's easy and takes just a minute! (Don't know how? Follow these instructions).
Thanks!
---
Welcome to Belize
One of our personal favorite opportunities is markets that are outside of the norm. Today, we're going to talk about investing internationally … specifically in beautiful Belize. 
For many years, Belize was basically undiscovered. We first started visiting about 15 years ago. 
Since then, Belize has really grown. It's definitely been discovered … but there are still great opportunities to ride the wave. 
It's easy to see the possibilities for the future when you look at Belize through the lens of Cabo San Lucas, Mexico, or Hawaii. 
So, the next thing to do is your homework … making sure that the underpinnings, the things that you think you see, are really there. 
When we first went to San Pedro, Belize, there were 600 rooms for overnight accommodations. Today there are nearly 2000. 
Until two years ago, there wasn't a single branded hotel on the island. Today, one just opened and three more are opening soon. More airlines are coming too. 
Still, it's not a very populated place. It's a small market. Belize only has about 4,000 people that call it home. 
Belize has a mainland … with beautiful rainforests, the largest Jaguar preserve in the world, and Mayan ruins … and then there are the islands with white sand and palm trees. 
With any new market, there are stories of investors and developers who have come in and failed. But there are plenty of people also seeing an amazing increase in equity and cash flow in tourism. 
We get it. Thinking about somewhere like Belize as an investment opportunity is an adjustment. But you have to learn to think bigger than your local market.
The hotels, airlines … they all go where the people, money, and opportunity is. Why should a real estate investor be any different?
There are also many advantages to organizing your business internationally … like tax laws. Belize has been a tax haven for a long time. 
So, if you think an international investment might be the next step for you … look at the market drivers and dynamics. Find out if it is going to help you accomplish your personal investment goals. 
Then, it's time to build a team. 
Building a Team
You want to find people on the ground who really know the market. 
The best people operate in the market on a daily basis and can help you make tactical decisions and strategic introductions to the resources you're going to need to go from an idea to implementation. 
David Kafka is one of the most successful real estate brokers in the country of Belize. He has one of the largest brokerage offices with about a dozen agents. 
The average real estate office in Belize has less than two people. 
So, how did he end up in Belize?
"Some friends and I decided we wanted to move internationally. I came to Belize on vacation, and I pretty much never left," David says. 
David didn't start off in real estate, but he has always liked it. Several times, he has bought a house, fixed it up, lived in it for a few years, and sold it. 
But once he came to Belize, he was ready to go all in. Now, he splits his time between Placencia and San Pedro. 
David says that one of the unique aspects of Belize is that it is one of the sparsest populated countries in this area of the world … but it has lots of land. 
"It takes an adjustment coming from the bustling United States, but I'd rather have no traffic, no air pollution, great food, and great people," David says. 
The population of Belize is very diverse … ethnically, culturally, and economically. But they all love the area. 
Most of David's customers want to purchase a house or a condo now while there is a market opportunity, rent it out for a few years or use it as a vacation home, then have the option to move in permanently. 
But he is starting to see more investors who see Belize as an investment opportunity and more than just a personal experience. 
Investment Opportunities 
David says there are many investment opportunities in Belize. 
There are standard vacation rentals and a high demand for affordable housing. 
Many people who owned apartment buildings saw a rise in tourism and turned their workforce housing into accommodations instead. 
It makes sense. A unit that might rent for $1000 a month would rent for $250 a night. 
But these changes are displacing the locals. That's where the opportunity lies. So many people come to San Pedro for a job and can't find an apartment within their budget. 
The result is substandard living. 
If an investor can come in and give someone nice, quality living accommodations and affordable pricing, there will be locals, contract workers, and others ready to take advantage. 
The key is … and you've heard us say this a thousand times … great property management. 
When you look at the property management side of the equation, long term rentals are more stable and simple than vacation rentals.
So, there's a balance either way. 
The good news is that there is no reason investors can't do a little bit of both. 
And don't forget, there is a lot of land in Belize that is suitable for agriculture, development, or commercial investment. 
"There's always some land for any budget," David says. 
To find out about more opportunities for putting paradise in your portfolio … tune in to the full episode!
More From The Real Estate Guys™…
The Real Estate Guys™ radio show and podcast provides real estate investing news, education, training, and resources to help real estate investors succeed.
---
Love the show?  Tell the world!  When you promote the show, you help us attract more great guests for 

your

 listening pleasure!