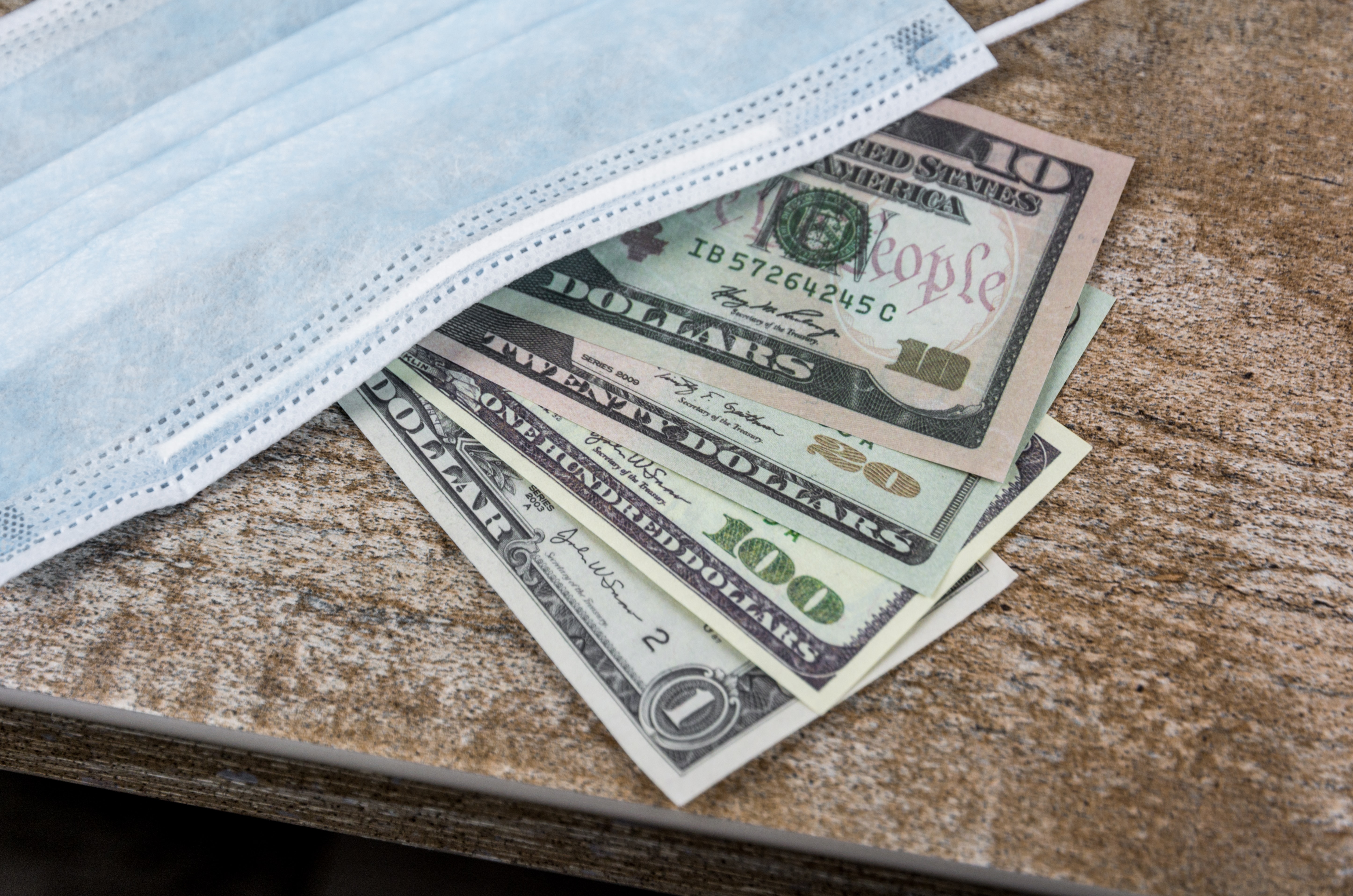 The COVID-19 pandemic means the economy has slowed down … way down in some cases. 
So, central banks led by the Fed are conjuring TRILLIONS of fresh dollars out of thin air. And Uncle Sam is making sure they get into circulation. 
The question on many investors' minds is, "WHAT IS GOING TO HAPPEN?" 
Will prices rise or fall? Can the economy grow if it's locked down? Or are we headed into depression?
And of course, one of the biggest questions of all … will the world trust a dollar being diluted by the trillions on a monthly basis?
In this episode of The Real Estate Guys™ show, hear from:
Your inflated host,

Robert Helms

His depressing co-host,

Russell Gray
PhD economist and best-selling author, Richard Duncan
---
Listen
---
Subscribe
Broadcasting since 1997 with over 300 episodes on iTunes!
---
Review
When you give us a positive review on iTunes you help us continue to bring you high caliber guests and attract new listeners. It's easy and takes just a minute! (Don't know how? Follow these instructions).
Thanks!
---
Looking at the bigger economic picture
All investments float in the economic sea. If you only look at real estate … instead of taking a step back to look at the bigger economic picture … you may run into trouble. 
The situation we find ourselves in today with COVID-19 is different than other economic situations we have faced in the past … 2008 included. 
This health crisis has manifested in a global economic lockdown. Instead of a credit crisis coming first and leading to job losses, we have job losses right out of the gate in a bigger fashion than we've ever seen in our lifetime. 
And not just in the United States … around the world. 
So, it makes a lot of sense for us to talk to someone today that looks at the world from the understanding of credit markets on a global level and how all of those things play together. 
Richard Duncan is a PhD economist and author. He was an advisor to the International Monetary Fund (IMF), and he really sees a much bigger picture than the average investor. 
Whether you agree with the opinions he shares today or not, Richard is qualified to have an opinion. 
If you concentrate hard on listening to what he has to say, processing the data, and understanding his logic, you might gain some great insights and actionable intelligence. 
If nothing else, you may learn to anticipate the potential consequences that can come when the people behind the financial curtain start pulling on their levers. 
Recession or depression?
"The thing that is going to determine whether this is just a recession or a full-fledged 1930-style depression is going to be the speed and magnitude of the government's fiscal and monetary policy response," Richard says. 
COVID-19 has put the economy into a complete freefall, but Richard says that we have been really fortunate in the U.S. because the government acted quickly. 
The government has come to through with almost $3 trillion of fiscal rescue bills with more money potentially on the way. 
Meanwhile, the Fed has radically expanded the amount of money that is created. In 2020, the Fed has created $2.75 trillion in new money. 
Basically, the government is spending money to replace all the money that's not being spent by households and businesses … they're holding the economy together. 
"If the government spends enough and the Fed continues to print enough, there's no reason that we have to collapse into a protracted, decade-long depression the way we did in the 1930s," Richard says. 
But, it's going to be absolutely crucial that the government keeps spending. 
If they do, Richard thinks that the economy will survive and come out of this crisis looking very similar to the way it looked before COVID-19. 
But if not, then the U.S. could be headed for a depression-style economic catastrophe that could extend far into the future. 
That's why it is absolutely essential, in many economists' view, that the government continue propping up the economy and holding the economy together the way that it has so far. 
But what happens when, say, $10 trillion more works its way into the economy?
Looking back at 2008, we see that the expansion of government debt and the expansion of the Fed's money printing didn't cause inflation at the consumer price level. 
It DID cause inflation at the asset price level, but that was part of the plan. They needed to push up asset prices to create a wealth effect, boost consumption, and keep the economy growing because the private sector was weak. 
So, looking ahead based on that experience, Richard says it is by no means certain that we are going to move into a period of significant inflation at the consumer price level. 
Although he adds, we may see property prices go higher and stock prices go higher as a result of the new money and the government spending. 
All of this remains true as long as globalization remains intact. 
For example, before the outbreak of the virus, tensions with China were already strained. Now things are … even more so. 
In the U.S., we have realized that we don't have the manufacturing in place to manufacture medical supplies that we need. So, a certain amount of manufacturing has been brought back during the pandemic. 
That's a good thing … but it's hard to tell to what extent that localization is going to be reversed. If globalization breaks down entirely, Richard says there is a chance that America will move back to a period of high inflation rates. 
The future of the dollar
Moving forward in terms of the dollar, Richard says that there really is no alternative to the dollar standard. 
"The reason the dollar is the global reserve currency above all else is because the U.S. has such a large trade deficit," Richard says. 
For instance, in recent years China's trade surplus with the United States has been more than $1 billion every day. 
That means that China sells its goods in the United States. It gets paid in dollars. It takes those dollars back to China … and it has a few choices. 
"It can burn them. It can bury them under the Great Wall, or it can buy dollar-denominated assets with them like treasury bonds," Richard says. 
So, as long as China wants to keep selling things to the U.S. and have that surplus, it's going to have to take those dollars and invest them either in government bonds or something riskier. 
That's not going to change. There's nothing they can do about it as long as they want to keep selling things in the United States … and their economy depends on it. 
For more on Richard's thoughts about the world economy and where things are headed … listen to the full episode!
---
More From The Real Estate Guys™…
The Real Estate Guys™ radio show and podcast provides real estate investing news, education, training, and resources to help real estate investors succeed.
---
Love the show?  Tell the world!  When you promote the show, you help us attract more great guests for 

your

 listening pleasure!
While a lockdown stops the economy and slows everything down … putting downward pressure on prices … central banks led by the Fed are conjuring TRILLIONS of fresh dollars out of thin air. And Uncle Sam is making sure they get into circulation.
Will prices rise or fall? Can an economy grow when it's locked down … or will it recede perhaps even into a dismal depression?
And how long will the world trust a dollar that's being diluted by the trillions on a monthly basis?
Tune in and find out when we talk all this and more with PhD economist and best-selling author Richard Duncan.
---
More From The Real Estate Guys™…
The Real Estate Guys™ radio show and podcast provides real estate investing news, education, training, and resources to help real estate investors succeed.
---
Love the show?  Tell the world!  When you promote the show, you help us attract more great guests for 

your

 listening pleasure!
Even as building slows, the Fed is pumping purchasing power into housing. Short supply plus increased purchasing power could put upward pressure on prices. Of course, it all hinges on demand … will buyers be willing to take on a mortgage in such an uncertain jobs market? After all, even a zero percent mortgage payment is hard to make with no income. … continue reading, click here >>
Another not-so-subtle clue in the news … Fed chair Powell warns that commerical real estate values could plummet because of crisis … if "financial system strain's re-emerge". Notice Powell makes a distinction between the economy and the financial system. Health crisis > Economic Crisis > Financial System Crisis (credit markets and banks).
The economy needs to generate revenue to make payments on the ginormous debts. If debts go bad, asset values collapse taking bonds and banks with them. Our guess is the Fed will print as many dollars as it takes in an attempt to stop it. Is the dollar strong enough to do it? What if it's not? Get ready … to continue reading, click here >>
The Fed seems committed to propping up housing with nearly free money.  It's probably a good idea to grab all you can and lock it in long term while you have still have equity.  Always nice to borrow cheap and long …  to continue reading, click here >>
Last week the Fed pumped over $200 billion of freshly printed cash into the repo market.
Since then, the Fed's upped the ante to $400 billion … and counting.
For those young or asleep during the 2008 financial crisis …
… back then, the Fed provided an infusion of $85 billion per month to keep the wheels on the financial system bus.
Today, they're pumping in nearly that much PER DAY.
That's MIND-BOGGLING.
They're trying to keep interest rates DOWN to their target. Of course, interest rates matter to real estate investors. We typically like them low.
But this isn't about real estate. It's more about banks who hold debt (both mortgages and bonds) on their balance sheets.
As we explained last time, when interest rates rise, bond values fall …
… and a leveraged financial system with bonds as collateral is EXTREMELY vulnerable to collapse if values drop and margin calls trigger panic selling.
The Fed seems willing to print as many dollars as necessary to stop it.
And that brings us to an important question …
If the Fed can simply conjure $400 billion out of thin air in just a week … is it really money?
This matters to everyone working and investing to make or save money.
For help, we draw on lessons learned from our good friend and multi-time Investor Summit at Sea™ faculty member, G. Edward Griffin.
Ed's best known as the author of The Creature from Jekyll Island. If you haven't read it yet, you probably should. It's a controversial, but important exposé on the Fed.
In his presentation in Future of Money and Wealth, Ed does a masterful job explaining what money is … and isn't.
In short, money is a store of energy.
Think about it …
When you work … or hire or rent to people who do … the energy expended produces value in the form of a product or service someone is willing to trade for.
When you trade product for product, it's called barter. But it's hard to wander around town with your cow in tow looking to trade for a pair of shoes.
So money acts as both a store of value and a medium of exchange.
The value of the energy expended to create the product is now denominated in money which the worker, business owner, or investor can trade for the fruits of other people's labor.
This exchange of value is economic activity.
Money in motion is called currency. It's a medium of transporting energy. Just like electricity.
When each person in the circuit receives money, they expect it has retained its (purchasing) power or value.
When it doesn't, people stop trusting it, and the circuit breaks. Like any power outage, everything stops.
So … economic activity is based on the expenditure and flow of energy.
This is MUCH more so in the modern age … where machines are essential to the production and distribution of both goods and information.
Energy is a BIG deal.
This is something our very smart friend, Chris Martenson of Peak Prosperity, is continually reminding us of.
Here's where all this comes together for real estate investing …
New dollars conjured out of thin air can dilute the value of all previously existing dollars.
It's like having 100% real fruit juice flowing through a drink dispenser.
If someone pours in a bunch of water that didn't go through the energy consuming biological process of becoming real fruit juice in a plant…
… the water is just a calorie free (i.e., no value) fluid which DILUTES the real fruit juice in the dispenser.
Monetary dilution is called inflation.
Legendary economist John Maynard Keynes describes it this way …
"By a continuing process of inflation, government can confiscate, secretly and unobserved, an important part of the wealth of their citizens."
Inflation waters down real wealth.
Fortunately, real estate is arguably the BEST vehicle for Main Street investors to both hedge and profit from inflation.
That's because leverage (the mortgage) let's you magnify inflation's effect so your cash-on-cash ROI and equity growth can outpace inflation.
Plus, with the right real estate leverage, there's no margin call. Meanwhile, the rental income services the debt.
Even better, the income is relatively stable … rooted in the tenant's wages and lease terms. Those aren't day-traded, so they don't fluctuate like paper asset prices.
Effectively, you harness the energy of the tenant's labor to create resilient wealth for yourself. And you're doing it in a fair exchange of value.
Of course, the rental income is only as viable as the tenant's income.
This brings us back to energy …
Robert Kiyosaki and Ken McElroy taught us the value of investing in energy … and markets where energy is a major industry.
First, energy jobs are linked to where the energy is. You might move a factory to China, but not an oil field. This means local employment for your tenants.
Your tenants might not work directly in the energy business, but rather for those secondary and tertiary industries which support it. But the money comes from the production of energy.
Further, energy consumers are all over the world, making the flow of money into the local job market much more stable than less diverse regional businesses.
It's the same reason we like agriculture.
While machines consume oil, people consume food. Both are sources of essential energy used to create products and provide services.
So when it comes to real estate, energy, and food … the basis of the investment is something real and essential with a permanent demand.
Though less sexy and speculative, we're guessing the need for energy and food is more enduring than interactive exercise cycling.
Real estate, energy and agricultural products, are all real … no matter what currency you denominate them in.
And the closer you get to real value, the more resilient your wealth is if paper fails.
Right now, paper is showing signs of weakness. But like a dying star, sometimes there's a bright burst just before implosion.
Remember, Venezuela's stock market sky-rocketed just before the Bolivar collapsed.
Those who had real assets prospered. Those who didn't … didn't.
Are we saying stocks and the dollar are about to implode? Not at all. But they could. Perhaps slowly at first, and then suddenly.
If they do and you're not prepared … it's bad. It you're prepared and they don't … not so sad. If they do and you're prepared … it could be GREAT.
Real assets, such as well-structured and located income property …
… or commodities like oil, gold, and agricultural products (and the real estate which produces them) …
… are all likely to fare better in an economic shock than paper derivatives whose primary function is as trading chip in the Wall Street casinos.
So consider what money is and isn't … the role of energy in economic activity … and how you can build a resilient portfolio based on a foundation of real assets.
"The time to repair the roof is when the sun is shining."
John F. Kennedy
Until next time … good investing!
More From The Real Estate Guys™…
The Real Estate Guys™ radio show and podcast provides real estate investing news, education, training, and resources to help real estate investors succeed.
---
Love the show?  Tell the world!  When you promote the show, you help us attract more great guests for 

your

 listening pleasure!
It's been a busy week of alarming financial news!
Of course, events that rattle financial markets sometimes barely register to real estate investors. That's because rents and property values aren't directly involved in the high-frequency trading casinos of Wall Street.
So while paper traders frantically scramble to avoid losses or skim profits from currency flowing through the machinery …
… real estate investors calmly cash rent checks and wonder what all the fuss is about.
However, as seasoned investors discovered in 2008 …
… Wall Street's woes sometimes spill over and become Main Street blues … primarily through the linkage between bond markets and mortgages.
So even though the Saudi oil almost-crisis garnered a lot of attention …
… something BIG happened in an obscure corner of the financial system which has alert observers concerned …
Repo Market Chaos Signals Fed May Be Losing Control of Rates
Bloomberg, 9/16/19
Repo Squeeze Threatens to Spill Over Into Funding Markets
Bloomberg, 9/17/19
And no, this isn't about people losing their cars or homes. It's about a systemically important part of the financial system.
Before you tune out, remember …
… when you see words like "chaos" and "losing control" and "spill over" in the context of interest rates and funding markets … it's probably worth digging into.
When credit markets seize up, asset prices collapse. While this is troublesome for Main Street … it's DEVASTATING to the financial system.
And when the financial system breaks down, it affects EVERYONE … even smug real estate investors who might think they're immune.
So grab a snack and let's explore what's happening …
Wall Street operates on obscene amounts of collateralized leverage. Real estate investors use leverage too, but there's an important distinction.
There are no margin calls on real estate. So when property values collapse temporarily for whatever reason, positive cash flow let's you ride out the storm.
Not so in bond markets. When the value of a bond that's pledged as collateral falls, the borrower faces a margin call.
This means the borrower needs cash FAST. This is a risk of the game they play.
But when traders are confident they have ready access to cash at predictable and reasonable prices, they stay very active in the market.
This is important because healthy markets require an abundance of assets, cash, buyers, sellers, and TRUST to keep things moving.
When any one falters, markets slow down … or STOP … credit markets can freeze, economic activity stalls, and it hits real estate investors too.
The head Wizard at the Fed says not to worry … just like they said about the sub-prime problem back in 2007.
Fool us once, shame on you. Fool us twice, shame on us.
But we're far from expert on the repo market, so we encourage you to read up on what it is and why everyone's talking about it.
Meanwhile, we'll hit the high notes to get you started …
In short, the repo market is where short term borrowing happens. It's like a pawn shop where market participants hock bonds to raise some cash.
But when repo rates spike like this …
Source: Bloomberg
… it means there's not enough cash to go around.
Cash is like oxygen. You can live for a while without food (profit) or water (revenue) … but when you're out of cash, it's game over.
No wonder Wall Street freaked out …
'This Is Crazy!': Wall Street Scurries to Protect Itself in Repo Surge
Bloomberg, 9/17/19
Of course, we don't really care if Wall Street takes it on the chin.
But when craziness on Wall Street has the potential to spill over to Main Street, we pay attention.
In this case, the situation is dire enough the Fed stepped in with $53 billion of emergency cash … in ONE day.
This is the first time since the 2008 financial crisis the Fed's needed to do this.
The next day they added another $75 billion.
Then the Fed announced another rate cut … and hinted at more rate cuts … and suggested a willingness to print more money.
Then the VERY next day …yet ANOTHER $75 billion.
$53 billion here. $75 billion there. Pretty soon you're talking serious money … in this case about $200 billion in THREE days … and quite possibly a serious problem.
So what? What does any of this mean to real estate investors?
Maybe not much. Maybe a lot. We certainly hope the Wizards behind the curtain pull the right levers the right way at the right times.
But if this is a pre-cursor to The Real Crash Peter Schiff is concerned about, things could become more complicated than "just" a 2008-like collapse of asset prices.
As we chronicle in the Real Asset Investing Report and the Future of Money and Wealth video series, the world's faith in the Fed and dollar were shaken after 2008.
Meanwhile, negative interest rates on nearly $17 trillion in global debt is a symptom of a huge bond bubble today.
Here's why …
Just as rental property cap rates fall when investors bid prices up … so do bond yields fall when investors bid bond prices up.
And just like when over-zealous real estate speculators bid property prices up to negative cash flow … so over-zealous bond speculators have bid bond prices up to negative yields.
Negative yields are a symptom of a speculative bubble.
These unsustainable scenarios typically end badly when there's no greater fool left to bid the price up further.
And then, when the market goes "no bid" … prices collapse. Bad scene.
Remember, bonds are the foundation of the credit market and financial system.
This repo problem is like finding a big crack in the foundation of your favorite property.
The bigger concern is the size of the building sitting on the faulty foundation … and how much it might take to patch the crack.
So here's the inspection report …
Global debt is around $250 TRILLION. These are bonds … many of which are pledged as collateral for loans … creating an almost incomprehensible amount of derivatives.
Worse, many of those pledged bonds are subject to margin calls.
This is a HIGHLY unstable situation and operates largely on trust.
Think about what happens if bond prices fall …
Borrowers who pledged bonds are upside down and need to raise cash fast.
When they get to the market, they find there aren't enough dollars to go around. Cash starved sellers start discounting to attract buyers … causing rates to rise.
Again, it's just like trying to sell an apartment building in a slow market. As you lower the price, the cap rate (yield) goes UP.
As yields rise, bond values everywhere fall … triggering more margin calls, more demands for cash, more desperate sellers … and a dismal downward death spiral.
And then it spreads …
As the demand for cash grows, anything not nailed down is offered for sale … often at a steep discount to compete for a limited supply of dollars.
This is contagion … falling prices spreading like wildfire across daisy-chained balance sheets.
Yikes. (Of course, if you have cash, it's a shopping spree)
Enter the Fed's printing press to save the day. But this ONLY works long-term if the market TRUSTS the Fed and their printed product.
In 2008, the world worried as the Fed took its balance sheet from $800 billion to $4.5 trillion. And that was just to paper over the now relatively small sub-prime mortgage mess.
It worked (temporarily) partly because the world didn't have much choice. Dollars were the only game in town.
Today is much different than 2008. The world is wiser. Alternatives to the U.S. dollar and financial system exist or are being developed.
And the SIZE of the potential implosion is MUCH bigger than 2008.
Meanwhile, the Fed has already returned to lowering rates … and now is injecting substantial amounts of fresh cash into the system.
The question is … can the Fed print enough dollars to paper over a serious bond implosion … and if they do, will the world still trust the U.S. dollar?
Perhaps this is why central banks have been loading up on gold.
Coming back down to Main Street …
Whether the repo market is a canary in the coal mine signaling looming danger … or just a friendly wake up call to stay aware and prepared for something else later …
… there are some practical steps Main Street real estate investors can take to build a little more resilience into their portfolios.
First is education. The more you understand about how things work and how to recognize warning signs, the sooner you'll see shifts so you grab opportunity and dodge problems.
It's why we constantly encourage you to study, attend conferences, and get into meaningful conversations with experienced investors.
Next, it's important to pay attention.
Most of what's happening is widely publicized. But things are easy to miss when events don't seem directly relevant to your Main Street life. They often are.
From a practical portfolio management perspective, it's probably a great time to lock in low rate long-term financing, cash out some equity and retain a good level of liquidity.
When prices collapse, cash is king … and credit doesn't count.
Be attentive to cash flows in current and future deals.
Invest in keeping your best tenants and team members happy. Look for ways to tighten up expenses and improve operations. Cash flow is staying power.
Focus on affordable markets and product niches supported by resilient economic, geographic, and demographic drivers.
Real estate is not a commodity or asset class. Certain markets and niches will outperform others. Be strategic.
Most of all, stay focused on the principles of sound fundamental investing. Be careful of having too much at risk on speculative plays.
As we've said before, an economy can be strong based on activity, but fragile based on systemic integrity.
If the system breaks down, then economic activity slows … sometimes dramatically … and if you're only geared for sunshine, the storm can wash your wealth away quickly.
Until next time … good investing!
More From The Real Estate Guys™…
The Real Estate Guys™ radio show and podcast provides real estate investing news, education, training, and resources to help real estate investors succeed.
---
Love the show?  Tell the world!  When you promote the show, you help us attract more great guests for 

your

 listening pleasure!
The real estate story behind Walt Disney World in Florida has a valuable lesson for investors today … and it's not what you think.
If you're unfamiliar, Walt Disney decided to create a new and improved East Coast version of his epic California Disneyland. But he needed land … LOTS of it.
So he went to Florida.
By then, Disney was a household name and the success of Disneyland was well known. This created a problem for Disney.
If local landowners realized Disney was behind the assemblage of land needed to build another park, it could take a lot more time and money to get the project done.
So even when the land deal hit the news in May 1965, Disney waited months to announce his plan to build Disney World.
The obvious lesson is to avoid showing deep pockets when the other party has leverage.
But that's not why we're talking about it today.
There's something else going on in the world … something we've been watching for some time … that could become one of the biggest financial stories in the last 50 years.
So while financial reporters hang dutifully on every word that proceeds out of the mouth of Jerome Powell today…
… there's another voice in the marketplace only a few nut jobs (like us) are paying attention to.
Gold. And yes, this matters to real estate investors.
But it's not what gold is doing in response to what the Fed says. It's about what gold is saying about the state of the system that the Fed is not.
Of course, there are implications for you and your investments … real estate and otherwise.
The quandary for pundits everywhere is why the Fed is considering lowering interest rates in the midst of "the greatest economy ever".
Typically, interest rates are lowered to stimulate a sluggish economy.
Sure, it's possible the economy could be far less robust than claimed.
You probably know this is now officially the longest "recovery" on record … so perhaps a preemptive boost is a good idea.
Maybe the Fed is simply yielding to President Trump's pleas to go tit for tat with those pesky currency manipulators … to help keep America's exporters competitive.
If you read the financial news, it's easy to get lost in all the conjecture surrounding the dollar, the Fed, the economy, and interest rates.
But while people are bickering about political intervention in monetary policy, and what it all means to asset values …
… central banks around the world have been quietly stocking up on gold at the fastest pace in 50 years.
So what?
Think of Wall Street and insider trading. When insiders of a corporation buy or sell … it's often because they know something others don't.
Savvy stock traders watch these moves for clues about the future of the stock.
When it comes to money … or more accurately, currency … you can't get much more "inside" than central banks.
It's reasonable to think they know something.
Most "investors" look at gold as a trading vehicle … something to buy and sell in order to create currency "profits" in the same way a flipper trades houses to generate currency profits.
But central banks can print currency … at next to no cost. They don't need to trade gold or anything else to generate currency. They can print all they want.
Think about that.
Could it be gold has another role in international finance?
Apparently, China and Russia think so. Along with Poland, Hungary and Malaysia … to name just a few. The list is long.
Another notable advocate for putting gold back in money is Judy Shelton. Shelton is President Trump's latest nomination to the Federal Reserve Board.
It's also notable that of ALL the things Fed Chair Jerome Powell could say in his limited testimony to Congress, he chose to warn them against a return to the gold standard.
Maybe it's just us, but reminds us of this admonition from the Wizard of Oz …
"Pay no attention to that man behind the curtain!"
So what does all that have to do with Disney?
Remember, Disney wanted to accumulate land without anyone realizing what he was really up to. Everyone just looked at each deal as a one-off.
Disney and his team were careful to be sure no one saw the master plan until he unveiled it.
(Of course, people playing close attention figured it out … but by the time the masses knew, the deal was done).
But think about this …
If YOU had an unlimited credit card, no ethics, and knew you were about to go bankrupt … might you use your credit to buy and stash things of real value before the card is shut off?
If the players in the casino know the house is about to go bust, there's a mad dash to cash in the soon-to-be-worthless chips.
Just remember, these are big, lumbering central banks and a worldwide financial system. "Soon" can take months … or years.
So no one knows exactly when the tipping point comes. It's slow at first … and then all at once.
We've been watching this story develop since we first wrote about it in our Real Asset Investing report in 2013.
We discuss it in more detail in the videos of our more recent Future of Money and Wealth conference.
It's clear there's SOMETHING going on …
The ultimate currency insiders are aggressively acquiring gold. Nations who had entrusted their gold to third parties are steadily repatriating. Perhaps not so trusting anymore?
Lots of things going on geo-politically have no apparent rhyme or reason, until you look past the chatter about democracy and human rights … and just follow the gold and oil.
Richard Nixon shocked the world on August 15, 1971 when he changed the entire global monetary system in a "temporary" defense of the dollar.
Gold and oil spiked as the dollar collapsed. Interest rates were eventually hiked to over 20% to save the dollar. Every individual and business on the planet was affected.
Some people lost fortunes while others made them. The difference was (and still is) awareness, preparation, and a willingness to act when others stand paralyzed.
Some people noticed the exploding debt of the 60's, the silver coming out of the coins in 1964, and the French President's public warning about misplaced faith in the U.S. dollar.
People paying attention back then positioned themselves to prosper in spite of … or more accurately, because of the turmoil.
That's why we attend and produce investor mastermind events like the New Orleans Investment Conference and the Investor Summit at Sea™.
It's where we talk with alert investors and savvy thought leaders … searching for actionable intelligence in a noisy, chaotic world.
Though largely ignored and misunderstood by many on Main Street, there's a very public and aggressive global search for alternatives to the U.S. dollar.
Whether it's gold, crypto, the yuan, or something else … if and when a viable alternative to the dollar is embraced by the rest of the world …
… Americans could well be faced with spiking interest rates (the Fed will lose control), a collapsing dollar, rising asset prices in dollar terms (inflation), falling values in real terms, and a contracting economy (recession).
Those with low fixed-rate debt, real assets (including gold), cash-flow producing investments (like rental property), are likely to be big winners.
The world didn't END when Nixon reset the system. It just changed.
So this isn't doom and gloom … it's hope and opportunity … IF you're among the aware, prepared, and prone to act.
After all, if you own solidly cash-flowing properties in affordable markets, while holding a chunk of your liquid reserves in gold (with no counter-party risk) …
… and nothing happens, how are you worse off?
But if gold is the canary in the coal mine signaling that the Wizards are up to something, it might be smart to be hedged.
Until next time … good investing!
More From The Real Estate Guys™…
The Real Estate Guys™ radio show and podcast provides real estate investing news, education, training, and resources to help real estate investors succeed.
---
Love the show?  Tell the world!  When you promote the show, you help us attract more great guests for 

your

 listening pleasure!
A very big real estate story splashed across mainstream news recently, but got buried underneath (insert the sensational political headline you're sick of) …
Oregon Okays First Statewide Mandatory Rent Control Law
 Associated Press, 2/28/19 
Okay, we admit this is a government policy … so it's political.
But politics is easy to laugh at when it's happening in cyberspace.  It's a little less funny when it hits hard on Main Street.
For thousands of Main Street landlords in Oregon, politics just landed hard … right in their portfolio.
Of course, as is often the case, there's more to the story than meets the eye.
So even if you don't own property in Oregon … or won't for much longer 😉 … there's a lot to glean from this watershed legislation.
We could debate whether or not government should step into a "free" market and regulate the price of anything … from housing to healthcare to haircuts.
But it doesn't matter if WE think they should or shouldn't.  They do.
And as a broken financial system keeps growing a wedge between haves and have-nots … we're guessing more politicians will try to legislate affordability.
So like it or not (we don't), rent control is something every investor everywhere should be watching out for.
Let's take a look at how rent control works in the real world …
Real estate investors buy property to produce income and build long-term wealth.  The more income a property produces, the more it's worth.
In order to create more wealth, real estate investors need to create more income … which means creating more value that a tenant is willing and able to pay for.
The essence of real estate investing is using capital to acquire long-term cash flow.  This is how real estate investors think.
Make sense so far?
Politicians, whom we're guessing are NOT real estate investors, think investment starts and ends at acquisition.
Unless you're Warren Buffet, paper asset investors don't buy stocks with the intention of improving the cash flow.
You just buy, own, and sell.  Maybe collect some dividends along the way.
But when value-add real estate investors buy properties in poor condition with lousy amenities …
… they're excited about the potential to make further investments into the property AFTER the acquisition.
For example, a property without a washer and dryer might rent for $50 a month less than one with that amenity included.
So for perhaps $600 per unit additional capital invested, a landlord could acquire $600 per year cash flow.
That's a good ROI.  It's also a nice amenity for the tenant.
You could say the same about covered parking, self-storage, a laundry room, a workout room, free wi-fi, and on and on.
Rent control caps the owner's ability to create positive returns by improving properties.  So guess what?  They don't.
So crappy properties stay crappy … because the incentive to improve them is removed.
And as nicer properties deteriorate, there's not much incentive to maintain them above the bare minimum.
With profit potential capped on the revenue side … and no cap on the fixed expense side …
… as margins get squeezed, property owners have no choice but to cut services and defer maintenance.
So rent control makes both landlords and properties cheap.  In a bad way.
And because there's always more people on the low-end of the economic scale (part of the reason Oregon is doing this) …
… there will always be a line of people waiting to get into these "affordable" rentals … even though they're crappy.
And with little market pressure on landlords to compete for tenants, there's even less incentive to improve properties, add services and amenities, or lower rents.
But it gets "better" … or actually worse …
As property values decline … or stagnate relative to rising costs of labor and materials … incentives for developers to build new inventory declines too.
Rising values are what attract developers to create more supply … which is the answer to moderating rising values.
Yes, it's sad when marginal tenants' incomes don't grow as fast as rents … or other inflating necessities.
But capping the property's growth doesn't pull the tenants up.  It pulls the properties down.
It's a bad scene. That's why nearly every investor we know stays away from rent control areas.
But it's also important to consider WHY this is happening …
The Fed dropped interest rates to zero for nearly a decade, then pumped trillions of dollars into the financial system … primarily to inflate asset values (stocks, bonds, real estate).
It worked … at least for some people.
Those paying attention, with both resources and financial education … snapped up the money, rode the equity train, and got much richer.
You might be one of them … or hope to join them.  We hope you succeed.
You can't blame people for playing the game using the rules and circumstances in their own best interests. But politicians do.
But the real issue is the financial policy wizards thought these now richer folks would then spend the money … and build businesses … and prosperity would trickle down to Joe six-pack and Larry lunch-bucket. 
In many ways, it worked.  The problem is the wealth didn't allocate very evenly.  It never does.
Certain markets got a disproportionate share of the goodies. 
And even though Oregon wasn't really on the list … it was nearby … and so became a collateral beneficiary /victim.
Lots of cheap money ended up in tech stocks, which blew up real estate values in tech hubs like Seattle and Silicon Valley.
As prices shot up, folks in those uber high-priced markets got pushed off the back of the bus … and gravitated to nearby "affordable" places like Oregon, Nevada, and Arizona.
Of course, the folks already in those nearby affordable areas end up competing with the new people who see everything as cheap … and easily bid things up.
It's a regional variation of gentrification … with its roots in paper asset bubbles blown up by cheap stimulus money.
But politicians are notoriously myopic when it comes to "fixing" things … especially financial problems.
As Peter Schiff says, "Good economics is bad politics, and good politics is bad economics.  That's why you always get bad economics from politicians."
Sadly, there are signs it could get worse as politicians try to contain the consequences of an over-financialized economy.
So even though we tout the opportunity to invest in affordable areas ahead of the crowds, it's REALLY important to stay aware of the political climate.
If you bought into Oregon ahead of the migration …
… you're now the proud owner of a property where the state government views you more as a public utility to be regulated than a free entrepreneur to be incentivized.
So you'll either need to get out while the getting's good … or not as bad as it could get … or start brushing up on your C-class property management skills.
Until next time … good investing.
More From The Real Estate Guys™…
The Real Estate Guys™ radio show and podcast provides real estate investing news, education, training, and resources to help real estate investors succeed.
---
Love the show?  Tell the world!  When you promote the show, you help us attract more great guests for 

your

 listening pleasure!
We're just two weeks removed from an epic educational and networking experience at the New Orleans Investment Conference.
While we were there, we threw a little private party and Robert Kiyosaki, Peter Schiff, Chris Martenson, and Brien Lundin all showed up to hob-nob with our listeners.  Very fun.
During the conference, Robert Helms emceed a fascinating panel called The Future of Money, with panelists Doug Casey, Danielle DiMartino Booth and Chris Martenson.
(Side note: Chris Martenson, Brien Lundin and Peter Schiff are all confirmed for the 2018 Summit at Sea™ … and we're still recruiting several other VERY notable speakers.)
It's clear the future of money and wealth is on the threshold of MAJOR change.
For most people "the dollar" is synonymous with money because their income and wealth are denominated primarily in dollars. So the future of the dollar is an important topic.
Right now, the U.S. dollar is the world's reserve currency … and Treasuries are considered the safest, most liquid place to save excess dollars.
Treasuries are Uncle Sam's IOUs.  They're technically called bills, bonds, and notes … but they're all debt.
Treasuries also play a major role in how market interest rates are determined … so if you're a user of debt, the future of Treasuries affects you also.
Yields (rates) and prices of Treasuries are a function of supply and demand.
Like apartment buildings, when investors bid prices UP, yields (like cap rates) fall. 
You may already know it, but just in case, the math is simple:  Income / Price = Rate
For example, $60,000 net operating income on an $800,000 property is a 7.5% cap rate. 
If investors bid the property up to $1 million, it's $60,000 / $1,000.000 = 6% cap rate.
So high demand creates upward pressure on prices, and downward pressure on yields (cap rates).  Make sense?
The same with Treasuries.  As long as demand is robust relative to supply, interest rates are low.  Strong demand for Treasuries means low interest rates.
If anything substantially alters the supply / demand equilibrium in Treasuries, YOUR asset values and interest rates will feel it.
Lots of government debt means lots of Treasuries for sale.   We're pretty sure that's not changing soon.
But TOO MUCH supply means lower prices.  Just like when lots of houses in a neighborhood are for sale at the same time.
DEMAND for Treasuries comes from private investors (small and large), and political investors (governments and central banks).
Private investors buy Treasuries to park large amounts of cash, use as gambling chips in the Wall Street casinos, or serve as collateral in complex financial transactions.
Governments also buy Treasuries as a place to park their reserves.  China and Japan are at the top of the list with over $1 trillion each. 
Treasuries are denominated in dollars.  So countries buy dollars with their own currency, or sell things to the United States and get paid in dollars … then use those dollars to buy Treasuries.
To keep the worldwide economy going, Uncle Sam issues lots of Treasuries and the Fed prints lots of dollars.
As long as everyone trusts the dollar, it's all hunky-dory.  And this is why so many of our big-brained friends are concerned. 
As we chronicle in our Real Asset Investing special report, China's been making substantial moves to undermine the dollar as the world's reserve currency.
We recently commented on this … and the story continues to unfold.
Here's the quick backstory …
When the dollar became the most trusted currency on earth in 1944 it was backed by gold.  In 1971 Uncle Sam defaulted on the gold backing.
Not surprisingly, the world dumped dollars which triggered excessive inflation (rising prices, loss of purchasing power).  The U.S. quickly came up with a plan to save the dollar.
Uncle Sam made a deal with Saudi Arabia … for oil to ONLY be sold for dollars and the Saudi's would invest their profits in Treasuries.  Clever.
Then the Fed raised rates to nearly 20% to "break the back of inflation."  If you wonder why inflation is scary, look at life in Venezuela right now.
Inflation is caused by too many dollars in circulation relative to goods and services available.
High interest rates slow borrowing.  It's a long story, but new dollars are born when you borrow.  Reducing borrowing slows the birth of new dollars.
High interest rates also suck excess dollars into banks and Treasuries, as people and nations save for yield (interest).
These moves shifted demand for the dollar from Uncle Sam's savings (gold) to the oil and bond markets. 
Back then, the U.S. had the biggest manufacturing economy, most productive workforce, the strongest military, and very little debt.
Of course, MANY things have changed … and more change is likely coming to an economy near you.
Today, no one cares about gold … except China and Russia, who are accumulating hundreds of tons a year.  Hmmm… that's interesting.
Coincidentally, Russia and China are the #2 and #3 military powers in the world behind the United States.
China is now the largest manufacturing economy and top importer of oil.  Russia is the #2 seller of oil … behind (wait for it …) Saudi Arabia.
Russia and China recently made a deal to trade oil in Chinese currency (the yuan) … instead of dollars.   
China already has major oil producers Iran and Venezuela on board the petro-yuan train.
And now there's talk China will "compel" the Saudi's to deal in yuan too.  When you're the big customer, you have negotiating leverage.
China also recently announced plans to create a yuan-denominated oil contract, which some say is a big step towards creating a robust yuan-backed bond market.
And to top it all off, it's been reported China is flirting with the idea of backing those petro-yuan contracts with gold.
The Chinese are infamous for seeing a good idea and copying it. 
Right now, it seems China has reverse-engineered the dollar's rise to dominance and is simply copying it … and it looks like they're making steady progress towards their goal.
The BIG questions are …
What does it mean to YOU and what can YOU do to grow and protect YOUR wealth?
Of course, that's a HUGE discussion and we're working on something BIG to address it.
For now, when you think about the future of money and wealth, here are some things to consider …
Investors, many probably born after 1971, are piling into Bitcoin … driving it up at an insane rate.
Motives we've heard for Bitcoin-mania include moving wealth into an "asset" which can't be simply printed out of thin air.
Interestingly, Bloomberg reports that online searches for "buy Bitcoin" have exceeded "buy gold." 
Some use the border-less nature of Bitcoin to escape capital controls and discreetly move wealth out of totalitarian jurisdictions. 
Of course, some are buying Bitcoin simply because "it's going up" and they want to strike it rich in dollar terms.
Meanwhile, plans have been announced to launch a Bitcoin futures market … just like already exists for gold.  
Ironically, futures markets are the very mechanism many pundits claim gold prices are suppressed with … to discourage those concerned about the dollar from seeking safety in gold.
We'll see what happens to Bitcoin.  Meanwhile, Russia, China and several other nations continue to accumulate gold.
As for the U.S., it's all about the red-hot stock market.
Of course, as our friend Simon Black points out, the top performing stock market is Venezuela. So a booming market isn't necessarily the bellwether of a healthy economy.
Where does real estate fit into all this?
History says real estate fares pretty well when shift happens.
Even in chaotic financial times, people still need a roof over the head, crops still need to grow, commerce goes on … and real estate is at the center of human activity.
Of course, that doesn't mean all real estate investors everywhere make it. 
We took it hard in 2008 because we weren't prepared for a sudden shift.  We're working hard to be better prepared today.
One thing's for sure … there's never been a more important time to get SERIOUS about your financial education and strategic network.
Until next time … good investing!
---
 More From The Real Estate Guys™…
The Real Estate Guys™ radio show and podcast provides real estate investing news, education, training, and resources to help real estate investors succeed.