In a complex financial eco-system, there are MANY components, dependencies, and inter-dependencies …
… any of which can be the catalyst for a seismic economic earthquake.
The flip side and basis of real estate's stability is real estate's relative lack of liquidity as compared to publicly traded securities.
After all, you can't hit a buy or sell button and execute a real estate transaction in seconds like you can with stocks, bonds, currencies and options.
Real estate moves slowly.
That's why real estate prices and rents don't bounce around on a daily basis after a Presidential tweet, an executive faux pas, a jobs report, or even a Federal Reserve interest rate pronouncement.
It's also why so many Mom and Pop investors come home to real estate when the Wall Street roller coaster ride becomes a little too nauseating.
But because most minor economic waves tend to break harmlessly against the breakwater of real estate's stability…
… real estate investors can get bored of watching the horizon for the occasional financial tsunami.
And boredom's not the only problem.
There's also the issue of overwhelm. In today's complex world, there's not only a lot more to watch, there's a lot more chatter.
While lots of information is generally good, some stories get lost in the noise. And entering an election year, there's a LOT of noise out there.
But it's a mistake to tune out and assume all is well. Or to put blind faith in the "smart" people whose hands are on the controls.
Sometimes, those in control are the very people creating and downplaying the problems.
Remember, it was then Fed chair Ben Bernanke who assured the world in 2007 that the sub-prime crisis was contained and didn't pose a threat to the economy.
We all know how that ended.
Current Fed Chair Jerome Powell recently assured the world that the U.S. economic expansion is sustainable.
Perhaps.
But there's a long list of alarm bells going off … in bond markets, in oil, in trade, the dollar, geo-politics, and the resumption of easy money (just don't call it QE).
Okay. Take a breath. Yes, Halloween is coming up, but we're not trying to scare you … much.
It's unwise to unplug a blaring smoke alarm because it's interrupting your sleep.
If you're trapped in the wrong slow-moving real estate and you wake up late to a developing problem …
… you may not be able to rearrange your portfolio fast enough to avoid losses and capture opportunities.
Remember … a bend in the road isn't the end of the road unless you fail to make the turn … and problems and opportunities exist concurrently in any transition.
Events are often only as good or bad as your personal awareness and preparation make them.
So back to our threat assessment …
You're going to be hearing more about problems with pensions.
But before you check out because you think pensions don't have anything to do with you … think again.
You may not have a pension. But lots of people do.
More importantly, pensions control a HUGE chunk of assets in the economy, including stocks, bonds, and real estate.
While there may be many reasons for any particular pension fund's failure, there are a couple of undeniable macro-factors common to all …
… artificially low-interest rates and an aging population.
This one-two punch has many pension plans on the ropes.
Recently, General Electric (GE), an iconic company once revered for its great management, announced it's freezing workers' pensions.
GE is FAR from alone.
Both public and private pension programs, not to mention Social Security, have been on a slow motion collision course with insolvency for many years.
There are many potential ramifications for real estate investors. Some good. Some not so much.
Starting with the not so good …
Loss of purchasing power creates a ripple effect in any economy … affecting which states, cities, neighborhood, product types, and price points people can afford for housing.
Jobs and wages are important. But neither have a direct impact on retired people living on fixed income.
When costs tenants can't control rise for essential items such as energy, healthcare, food … they're forced to cut back on big things they can control, like rent.
Think about that when you jump on the senior housing bandwagon. Not all senior housing communities or investments are created equal.
Also, for investors with properties in retirement markets … even if YOUR tenants aren't depending on pensions and social security directly …
… those retirement checks still provide the economic fuel for the local economy.
After all, your tenants might work at the restaurant, gas station, grocery store, dry-cleaner, auto shop, or landscaping service providing services to retirees.
When retirees cut back, it affects those tertiary businesses and their employees (your tenants). Pay attention to these dependencies.
Bigger picture, failing pension plans mean potential bailouts.
While the Federal government can (for now) still print unlimited amounts of dollars, local municipalities cannot.
So failing local government pensions create a huge temptation for local officials to increase property taxes and the costs of municipal services.
Landlords are easy targets for pandering politicians in cash-strapped towns.
And while you might not pay directly for all municipal services, it doesn't matter. If the tenant's costs go up, it puts downward pressure on their ability to pay you rent.
It's a complex eco-system and we're all inter-connected.
Bailouts also could mean big federal tax increases, or perhaps even worse … loss of faith in the dollar, rising interest rates (pressure on both you and the tenants), and a general decline in the economy, jobs, and wages.
Robert Kiyosaki tells us failing pensions are one of his biggest concerns right now.
There's more to watch out for, but before you go into a full-fetal coma, let's end on a high note …
The flip-side of any crisis is opportunity.
When asset prices collapse, those who are liquid, educated, well-connected, and emotionally prepared can acquire quality assets at bargain prices.
So note to self: Now is the time to get liquid, educated, well-connected, and emotionally prepared.
Sadly, many retirees will sell homes to raise cash, then enter the ranks of renters. So just like 2008, demand for rentals in the right areas could actually increase.
Therefore, it's important to really understand your markets, their drivers and demographics, and to be mindful of the product types and price points favored by an increasingly large retirement population.
For example, multi-story homes can be less desirable to seniors. Warm weather is a plus … who wants to shovel snow in their 70s?
Great local medical services are also really important to seniors.
And if retirees have moved away from friends and family in search of affordability, great transportation infrastructure is another valuable market "amenity".
And of course, areas with an overall lower tax burden help those fixed incomes stretch further.
It's not rocket science, but you do have to think.
That's why we attend conferences and listen to smart people talk about all these things from different perspectives.
It's also why we host the Investor Summit at Sea™ each year, where we get together with big-picture thinkers together and street-level niche experts to find ways to think big but invest small and smart.
Whether you join us at these events or find your own tribe, we encourage you to take your nose off the grindstone a few times a year and confer with the smartest investors you can find.
Because even though you can't possibly watch it all and see every threat or opportunity forming, your tribe can. And you can all learn faster together.
Until next time … good investing!
More From The Real Estate Guys™…
The Real Estate Guys™ radio show and podcast provides real estate investing news, education, training, and resources to help real estate investors succeed.
---
Love the show?  Tell the world!  When you promote the show, you help us attract more great guests for 

your

 listening pleasure!
While most Americans are fixated on the brouhaha surrounding the government shutdown, we're thinking about something even MORE slimy …
Oil.
Long time followers know we've been watching oil for quite a while … and for a variety of reasons over and above the amazing tax breaks.
Oil and energy have a substantial impact on the economy, inflation, geo-politics … even the health of the financial system. 
We've observed that as oil prices rise and fall, the specific area of their impact shifts.   There are important clues and opportunities to be gleaned from watching these dynamics.
When oil prices rise, it's a drag on economic growth and can also be a sign of inflation.   It's no secret President Trump wants to lower cost inputs to help fuel economic growth.
The Trump formula is lower taxes, lower oil, lower interest rates, a weaker dollar, and less regulation.  Labor is the only input he wants to see rise.
You may agree or disagree, but that's what Trump wants.  Of course, there are some conflicting goals in the Trump recipe …
Specifically, low interest rates and a weaker dollar generally mean rising prices (inflation) … and oil is one of the first places it shows up.
Also, more economic activity leads to more energy consumption, which means higher demand … and rising prices.
So … the only way to keep oil prices low in an environment like this is to increase oil production to where supply overwhelms both higher demand and a weaker dollar … and pushes oil prices down anyway.
Perhaps obviously,  a domestic agenda which needs lower energy costs will affect U.S. relations with oil rich nations.
We think Trump's stance towards Saudi Arabia … in spite of denials … makes it clear low oil prices are a high priority for the White House.
It's consistent with what Trump told us when we asked him about his vision for housing and real estate.  He said, "Jobs".
Remember, oil and energy were the largest drivers of job growth in the United States coming out of the 2008 financial crisis.
Many real estate investors who recognized this trend and got involved in Texas real estate in 2009 …and  have done very well over the last 10 years.
We think that party's probably not even close to over.
One less obvious, but very important connection between oil and real estate is in the financial system … specifically, the debt markets.
As we've discussed several times over the years, LOTS of loans were made to oil companies when oil prices were over $100 per barrel.
But when interest rates rise and oil prices fall … it's the worst of both worlds for heavily indebted domestic oil producers.
MANY billions of oil-related debt has the potential to go bad … and crater the financial system just like bad mortgage debt did in 2008.
And when credit markets seize for whatever reason, liberal users of debt, such as real estate investors … are directly affected.
We don't think it will happen.
First, there's too much upward pressure on oil prices.
Second, as we're about to discuss, there's BIG motivation to stimulate domestic production … which provides a lot of cash flow to service debt.
Of course, we could be wrong … as Ben Bernanke was about the dangers of sub-prime … so real estate investors should pay attention to oil.
Using the gas pump as an indicator, you probably already know oil prices have been a little soft.
Of course, businesses and consumers (including your tenants) LOVE this because it makes everything more affordable.
U.S. car manufacturers love it because it means they can sell more gas guzzling SUVs and trucks.
But bigger picture … oil and energy are major cost inputs on virtually all products.
After all, it takes energy to manufacture and transport everything.
And many products are made from petroleum derivatives, such as plastic, roof shingles, and asphalt.
So even though energy is left out of the "core inflation" index, the effects of changes to oil pricing are still reflected in it.
And so partly due to subdued oil prices, concerns about excessive inflation have been muted … even in the midst of a red-hot economy.
Obviously, sellers of oil would prefer higher prices. 
But you can only charge what the market will bear … which is a factor of supply, demand, and capacity to pay.
It's also important to note that energy, like real estate and food, isn't a discretionary purchase.
People MUST have energy to survive and thrive.  Therefore, demand for energy is ever-present.
So when it comes to oil … the thing to watch is supply and capacity to pay.
Breaking out capacity to pay from the traditional supply and demand model is something we started doing a long time ago … because there's no effective demand without it.
Just because you want something, doesn't mean you can afford it.  Think of it like debt-to-income ratios and interest rates in real estate.
Just because someone makes an offer on a house (demand), if they can't quality for the loan (capacity to pay), there's no sale.
And when mortgage rates rise, but wages don't, the dynamic negatively impacts qualifying ratios … thereby decreasing capacity to pay and ultimately, effective demand.
That's why observers often expect rising interest rates to lead to decreased housing demand.
It's similar with oil.
When oil prices rise and wages don't, then lack of  "real" wage growth (incomes outpacing inflation) makes it hard for the market to bear price increases.
That's why the recent blowout jobs report was notable.
Not only were lots of jobs created, but wages grew at the best rate since 2008.
That means capacity to pay improved.
As you may recall, Saudi Arabia (the leader of the middle-eastern oil cartel OPEC and one of the largest oil producers in the world) INCREASED production …
… which meant MORE supply and LOWER prices (and thanks from President Trump).
But just recently, Saudi Arabia reversed course, calling for a target price of $80 per barrel … and a REDUCTION in production to make it happen.
Now before your A.D.D. kicks in … remember, this ALL has ramifications for real estate investors …
The point is there's some real pressure on oil prices to rise … and a lot of motivation by President Trump to take steps to push prices down.
We think BOTH will happen and lead to interesting opportunities for real estate investors … in spite of the pressure higher oil prices puts on your paycheck-to-paycheck tenants.
If you invest in oil for the tax breaks and oil prices go up … there's big potential for a double dip … tax breaks and profits.
Nice.  You can use both for your next down payment.
Higher oil prices reduce the risk of oil debt imploding credit markets.  Healthy credit markets are essential to vibrant real estate markets.
If oil prices rise on the international stage, we'd bet President Trump will do whatever he can to further stimulate domestic production to counteract it.
And that means more U.S. jobs and robust regional economies … with increased demand for real estate to in those areas.
All this to say, we think it's smart to pay attention to oil … as an investment, as an economic gauge, and as a treasure map to potentially hot markets.
Oil will be a big topic of discussion on our upcoming Investor Summit at Sea™.
Until next time … good investing!
More From The Real Estate Guys™…
The Real Estate Guys™ radio show and podcast provides real estate investing news, education, training, and resources to help real estate investors succeed.
---
Love the show?  Tell the world!  When you promote the show, you help us attract more great guests for 

your

 listening pleasure!

It's the most wonderful time of the year… a time to be THANKFUL…
And something all real estate investors should be thankful for is private property rights.
That's because a foundational pillar of freedom is the unalienable right to own property.  It's what allows real estate investors to build personal wealth and financial independence.
Today, most people around the world take this right for granted.  But they shouldn't.
For most of human history, the right to own property … and all the power such ownership entailed… belonged only to an elite few … the royalty.
In fact the phrase "real estate" means "The King's property."  Maybe you knew that.  Maybe you didn't.  But we should NEVER forget it.
Imagine what happens to your hopes and dreams if the right to own the property you're betting your financial future on is taken away … or severely limited.
Of course, all that sounds like fantasy … not possible … won't ever happen.
After all, in the United States, the Fifth Amendment says in part,
"No person shall be … deprived of life, liberty, or property, without due process of law; nor shall private property be taken for public use, without just compensation."
But if you're paying attention, you can probably think of several instances where private property is being seized … arguably without due process.
"Yeah, but only to bad people … like people accused of drug dealing or terrorism."
Maybe.  But what's "terrorism"?  Posting fake news on Facebook?  Dissenting with whatever the politically correct position is on some controversial policy?
We're not here to debate public policy … even though we're HUGE fans of passionate, intellectual, civil debate.
We're just two guys with microphones and keyboards that love talking about real estate investing … and anything that might affect real estate investors.
And in case you haven't noticed, the world is changing …FAST.
One thing we started paying attention to years ago is globalism … both for its opportunities and for its risks.
Globalism affects labor markets … which directly impact jobs and wages.  These are things real estate investors care about.
Globalism affects capital markets … which directly impact credit markets and interest rates … and mortgages.  Something else real estate investors care about.
Globalism affects banking and financial privacy … which directly affects asset protection and tax mitigation (NOT evasion) strategies.  These are things big time real estate investors care about.
Globalism affects property rights … which directly impact what property owners can and can't do with their private property … including development opportunities, mineral and water rights, and more.
Globalism often asks individuals and countries to subordinate their rights for the "good" of the world.
So if you're a real estate investor … globalism affects YOU.
Does that mean globalism is all bad?  Probably not.  Just like subordinating certain individual freedoms for the good of the community is part of being a good citizen.
It's a matter of degrees and motives.

But when you're not paying attention, it's easy to lose valuable rights before you even know what's at stake.
And that's the point of this message.  Pay attention.  Look below the surface.  Consider the sources and their motives.
Most importantly, as our friend Robert Kiyosaki taught us … stand on the edge so you can see BOTH sides of the debate coin.
We're about to shut the book on 2016 to enter a brand new year full of hope, danger, opportunity and challenges.
In 2009, the U.S. entered the Obama years … lots of blue with an aggressive agenda and the power to pass it.
As a result, Americans lost some freedom in terms of health care choice.  The idea was for individuals to subordinate their right to choose for the "good" of the many.
Was Obamacare good or bad?  That's a personal preference.  The fact is it happened … whether you liked it or not.
It impacted the economy.  Some say for the better … some say for the worse.  It most certainly created challenges and opportunities … for both businesses and individuals.
To see both the opportunities and challenges, you have to pay attention … and isolate your personal preferences from what's actually happening.
In 2017, we begin the Trump era … amid the largest sea of red the U.S. has seen in decades.  That means there's a lot of power to change things quickly.
Will it be good or bad? 
Who knows?  Those are relative terms.  One person's "good" is another's "bad."
One area to watch is globalism.  After all, Trump was elected largely from a groundswell of nationalistic populism.
Will Trump push back on global initiatives?  We wouldn't be surprised.
Domestically, will Trump use the power of the Federal government to dictate to private business and property owners what they can and can't do with their private businesses and property?
He might.  But maybe as a former real estate guy, he'll be sympathetic and supportive of real estate investors and developers.  We'll see.
Maybe he'll back the U.S. up from certain global initiatives which are already moving forward … and likely to have adverse impacts on individual property rights.
Or maybe, Trump will make a deal … and in the interest of jobs, fiscal stimulus, austerity, the environment, or international diplomacy … he'll support something with negative consequences for individual property rights.
We have NO idea.
So we're not going to figure this out in a newsletter.  We probably couldn't get it done in a few hours over a couple of frosty brews … though we'd sure be willing to give that a try!
We're just here to stimulate your thinking about things which could directly affect your investments … things you may not have been already paying attention to.
Globalism may well be one of our topics of discussion on our 2017 Investor Summit at Sea™.
We'll be almost exactly 100 days into the new Trump administration, so we'll have an inkling of the direction he's headed.
And we'll have nearly 200 investors from around the world… all with their own unique perspectives.  Not to mention our amazing faculty.
You can bet we'll be talking all about what's happening now, what's coming on the horizon, and what moves can be made to capitalize on the ever-changing times.
But whether or not you join us on the Summit, we encourage you to get away from the daily grind from time to time.
Get together with smart people from diverse backgrounds to share ideas, discover new information, and build strategic relationships.
Because one thing's for sure … the world is changing quickly … and some of it has a direct impact on you and your investments … even if you're unaware of it at the moment.
More From The Real Estate Guys™…
The Real Estate Guys™ radio show and podcast provides real estate investing news, education, training and resources to help real estate investors succeed.
Oil matters to real estate investors.  And not just for the obvious impact on the price of gasoline and your tenants' budgets.
It's MUCH bigger than that.  Let's take a look…
On November 13th we saw this headline:
This caught our attention because we've been watching oil for many reasons.
First, we like the idea of investing in passive income generated by essential commodities like food and energy.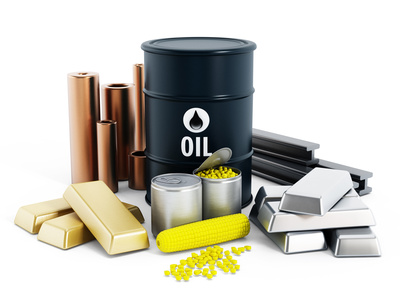 It's a way to diversify income away from wages.  We wrote about that in our special report on oil.
Oil, like gold, is one way to both monitor inflation and hedge against it.  As the dollar gets weaker, oil rises in dollar terms because it takes more dollars to buy the same oil.
Of course, inflation hasn't hit dollar denominated oil or gold yet, but that doesn't mean it won't.  And if the long term trend of the dollar is down, then a temporarily strong dollar could be a buying opportunity for things like oil and gold.
In the case of gold, Russia, China and India are gobbling up most of the world's production.  Americans are buying record amounts.  Yet the price drops…in spite of low interest rates and trillions of dollars of QE.
Weird.  We thought prices went UP when demand grows faster than supply…and especially when the currency supply increases too.  Hmmm….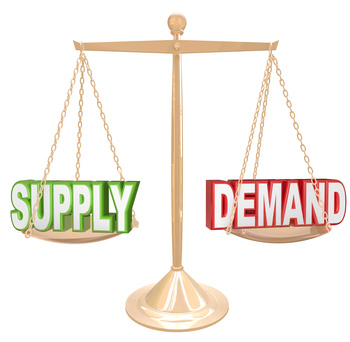 In the case of oil, some argue the price collapse was the result of a huge and sudden surge of supply against a sudden decrease in demand.
Odd that no one saw that coming when there are plenty of smart people bird dogging both production and consumption.
But maybe there's something else affecting oil? Let's take a look at why oil prices are down.
Like the dollar, oil has developed into a useful weapon in geo-political conflicts.
It's been reported the Saudi's are using the price of oil against Russia and U.S. frackers.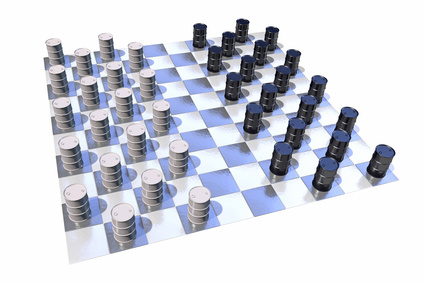 Collateral damage are countries like Venezuela, who are heavy oil exporters too.  In fact, it looks like low oil prices are forcing Venzuela to sell its gold to raise cash to pay its bills.
Wow.  That's great timing.  Just when supplies of gold were shrinking relative to demand…a bunch of gold is coming to market.
But U.S. real estate markets depending on the fracking business…like North Dakota…aren't as lucky.
That's why we didn't get too excited about North Dakota's real estate boom.  Too much of a one trick pony.  More diversified markets like Dallas and even Houston are probably better bets.
Sure, they feel the pinch of a depressed oil industry, but there are other strong economic drivers to prop those markets up.
BUT…there's a part of the oil story which has the potential to affect real estate investors EVERYWHERE.
That's why THIS Business Insider headline caught our attention:
ANY time we see the word "default" in this hyper-leveraged daisy-chained world, we pay attention.
That's because financial markets are FULL of debt derivatives.  These are the things Warren Buffet described as financial weapons of mass destruction.
Simply defined, a derivative is a debt instrument secured by a debt instrument… secured by a debt instrument secured by a debt instrument …through MANY layers…until finally you get to someone real…who actually owes the original debt.
Remember how back in 2008, Joe Lunchbucket's sub-prime mortgage set off a chain reaction of derivatives implosions?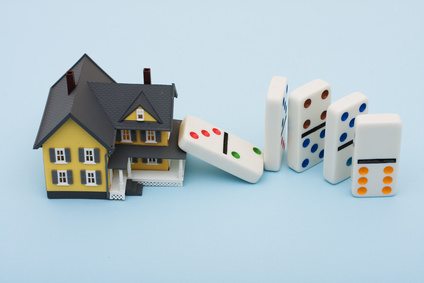 The entire house of cards was erected on the fundamental belief U.S. real estate prices were so solid they could support the weight of trillions of dollars of derivatives.
After all, hyper-leverage is highly profitable…as long as prices hold up.
Of course, when prices pull back, leverage is a double-edged sword…which can create HUGE losses.
Yet even when sub-prime mortgages started to blow up, markets were told not to worry.
Check out these now infamous assurances from former Fed chair Ben Bernanke: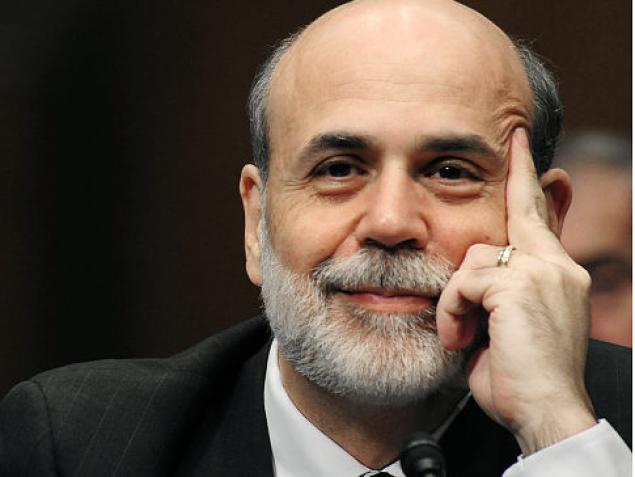 "Given the fundamental factors in place that should support the demand for housing, we believe the effect of the troubles in the subprime sector on the broader housing market will likely be limited, and we do not expect significant spillovers from the subprime market to the rest of the economy or to the financial system," said Bernanke, according to a text of his remarks posted on the Federal Reserve web site.
Source: http://www.builderonline.com/money/mortgage-finance/bernanke-subprime-fallout-wont-spread_o 
No surprise the Fed has taken down the page with the speech transcript the article originally referred to.
Could it be that oil companies are the new Joe Lunchbucket?
After all, no one expected the Saudi's would launch an all-out price war against Russia and U.S. frackers.
But they did.
And now, according to this Business Insider article based on the work of a JP Morgan analyst…
"…one in seven loans to oil and gas companies are edging toward default."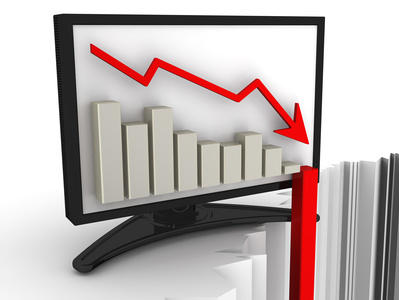 And…
"It is likely to get worse still for banks. The SNC review was done in the second quarter, and there have been further credit rating downgrades, defaults, and oil-price drops since then."
That's just peachy.
A month prior, Business Insider published another article based on comments by Deutsche Bank…
DEUTSCHE BANK: A wave of defaults may be just around the corner
"The credit markets have been showing signs of contagion, as Chinese growth concerns and slumping commodity prices lead to widespread selling.  That has Deutsche Bank wondering if there is likely to be a wave of companies failing to pay interest on their bonds."
These are the same questions which were raised about Greece and Puerto Rico when they were defaulting on their debt.
You may recall, we weren't overly concerned about those.
After all, everyone KNEW those guys were broke…so we didn't think the Wall Street gamblers were reckless enough to lever up on them.
But like the U.S. real estate market, we're concerned Wall Street might have been more confident in oil companies.
After all, what could go wrong with oil?
Here's the point (and thanks for sticking with us to the end)…
Real estate values – and especially housing – are VERY influenced by credit markets.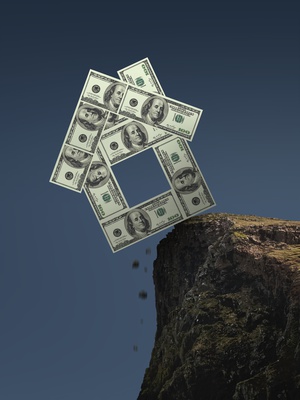 When credit gets tight, values fall.  When credit is loose, values rise.
Real estate investors and homeowners have been watching equity happen since 2009 as credit markets loosened.
But if something comes along…like oil bond defaults…credit markets might seize up again.
Of course, this is no big deal if you're prepared. In fact, it's a great time to go bargain shopping.  Lots of people made a lot of money buying in the wake of the 2008 crisis.
But if you're illiquid with thin equity and tight cash flow on your properties, you might end up trapped with no capacity to take advantage of the sale.
We're not saying oil bond defaults will be the new sub-prime that triggers a crisis.  But they could. And, it always helps to understand the bigger picture as to why oil prices are down.
So if you can see the writing on the wall…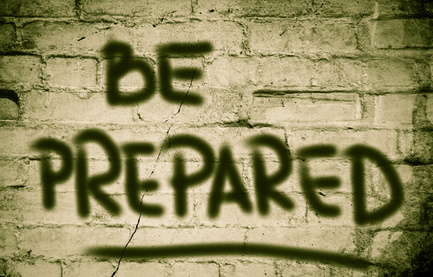 Better to be prepared and have it not happen…than to have it happen and not be prepared.
We'll continue to watch this situation…and suggest you do the same.
Ahhh…real estate investing used to be so simple.  But no more.
Today, it's wise to pay attention to the broader financial markets and industries which have the potential to severely impact interest rates, employment and credit markets.
And if you want to compress your learning curve, we invite you to invest a week to sharpen your understanding of economics, investing and real asset portfolio strategies aboard our 14th annual Investor Summit at Sea.  Click here now to learn more.
Until next time, good investing!
Unless you just stepped out of a flying Delorean, you've probably heard that China has ascended to the threshold of taking its place among the economic elite in the world.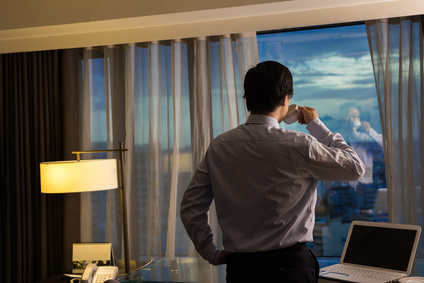 But the story in the East is even bigger than China…
In The Real Estate Guys™ radio show covered wagon to look East and talk investing:
Your wagoner host, Robert Helms
His wagon pulling Co-Host, Russell Gray
Special Guest, Sovereign Man's Chief Investment Strategist, Tim Staermose
Way back when, Europe…and England in particular…was the mature, established economic power of the world.
The explorers, pilgrims, pioneers and settlers made their way West…and a little upstart continent called America became the dominant economic, political and military force on the planet.
Today, a shift East is happening…or we suppose you could say the shift West has crossed the Pacific…in any case, Asia…led by China…is rapidly ascending onto the world's economic stage.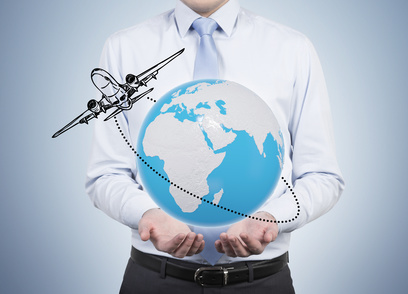 The rise of China as an economic and manufacturing powerhouse…and the growing population and affluence of places like India…creates demand for capital, commodities and other resources.
This demand has a direct impact on the cost of those resources…ALL OVER the globe…including the USA.
Additionally, the wealth being created in the East is finding it's way West.  That is, wealthy Chinese have been buying up U.S. real estate…and the Chinese government has been buying up farmland, forests, mines and gold.
Of course, to pay for all these assets, China has all but stopped accumulating U.S. dollars and Treasuries.  This DECREASES the demand for dollars and treasuries, which affects the pricing…which affects you, your loans, your tenants, your asset prices, and your cash flow.
So some days, you need to focus on the tasks at hand…nose to the grindstone, eyes in the weeds…
Other days, you need to look up and out…and consider what's out on the horizon.  Because sometimes there's a wave coming that you can ride…or can wash you away.  And often the difference is whether you're paying attention and prepared.
So listen in to our conversation with global investment strategist Tim Staermose of Sovereign Man…and consider how what's happening in the East could create opportunities for you.
Listen Now:
The Real Estate Guys™ radio show and podcast provides real estate investing news, education, training and resources that help real estate investors succeed.