The Real Estate Guys™ just returned from the New Orleans Investment Conference where we (and some of our listeners) had a chance to hear from the Maestro himself, Dr. Alan Greenspan.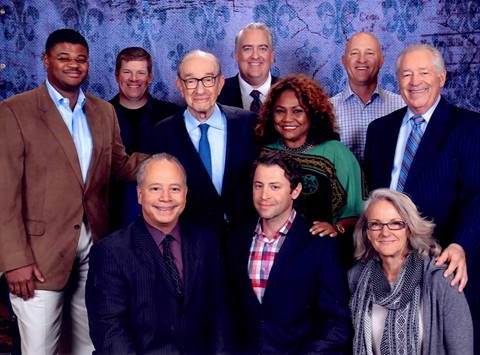 If you're a long time follower of The Real Estate Guys™ radio show and blog, you know we pay close attention to the Federal Reserve because of it's strong influence on interest rates, the value of the dollar, and asset prices (like real estate).
In fact, many economists and market pundits believe Alan Greenspan's policies when he headed up the Fed (1987 to 2006) led to the real estate boom and ultimate bust in 2008.
Coming into the conference, we'd heard rumors that Greenspan was singing a strikingly different tune…about a great many things…than when he was at the helm of the most powerful financial institution on the planet.
Now it should be plainly obvious that Fed policy is hugely important to everyone who owns an asset, runs a business, earns a paycheck, has a savings account or pays on a loan.
So now that he's on the outside, knowing exactly how it works on the inside, what is Alan Greenspan saying today about the Fed, the dollar, the future of interest rates, and what investors can and should do?
First, he says the bond-buying program known as QE didn't help the "real economy" (i.e., jobs for the middle-class, real wage growth, or increasing purchasing power and consumer demand).
However, he admits QE did boost asset prices.  So stocks, bonds and real estate are all artificially higher because of easy money.
In other words, the Fed helped the rich get richer, while doing nothing for the middle-class and poor.
But as if THAT admission wasn't enough, the Wall Street Journal's article covering Mr. Greenspan's speech to the Council on Foreign Relations on October 29th said this:
"He also said, 'I don't think it's possible' for the Fed to end its easy-money policies in a trouble free manner."
Shortly after Greenspan's comments, the Fed announced the end of its bond-buying program known as Quantitative Easing (QE).
Does this mean trouble is coming?
(Before you hit the panic button, remember that the flip side of every problem is an opportunity, so "trouble" is usually only bad for the unprepared…)
As real estate investors, not only do we care about jobs, wage growth and purchasing power (after all, it's hard for unemployed poor people to pay rent), but we also care about interest rates.
So what does Alan Greenspan have to say about the future of interest rates?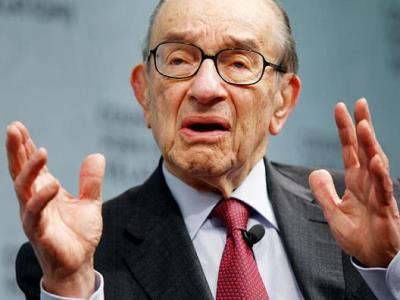 Back to the Wall Street Journal article…
"He said the Fed may not even have that much power over the timing of interest-rate increases."
"'I think that real pressure is going to occur not by the initiation of the Federal Reserve, but by the markets themselves,' Mr. Greenspan said."
What does THAT mean???
We've covered this in detail in previous blogs (just search our site for "Fed"), but the short of it is that without the Fed using QE to create demand by bidding (and buying) U.S. bonds, someone (the market) is going to have to step up and buy them…because if they don't, the lack of bidding will cause bond prices to drop.
And when bond prices drop, interest rates rise.  So if the markets don't bid strongly enough on bonds, then no matter what the Fed says, the markets will decide when and how much interest rates rise.
In other words, how the market feels about the quality of the debt (the likelihood of being repaid) AND the quality of the currency the debt is denominated in (purchasing power) makes a BIG difference in what yield investors will demand from the borrower.
Right now, investors still consider U.S. Treasuries as "safe".  That is, there's very little probability of default…in spite of past political posturing over debt ceilings. That's because the Fed can print as many dollars as it takes to pay off the debt.
But when that happens, it reduces confidence in the dollar itself (the quality of the currency).  Because just like when a company issues more shares of stock against the same earnings and assets, the value of each share (in this case, dollar) is diluted.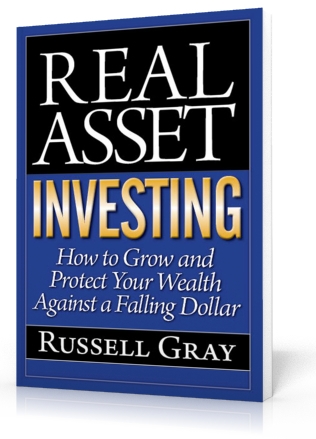 As we chronicle in our special report, Real Asset Investing – How to Grow and Protect Your Wealth in the Face of a Falling Dollar, there's already been substantial moves away from the dollar and dollar denominated assets and trade.
China has signed bi-lateral currency swap agreements with virtually every major country, which essentially facilitates their international trade without having to use dollars.  And China is the world's second largest economy to the U.S….and closing fast.
Meanwhile, China and Russia have been stocking up on gold as fast as they can.  It seems they'd rather hold their savings in a tangible asset versus a paper asset…like the U.S. dollar or dollar denominated Treasuries.
And what does Alan Greenspan have to say about gold?
Back to the Wall Street Journal article….
"Mr. Greenspan said gold is a good place to put money these days given its value as a currency outside of the policies conducted by governments."
It seems Alan Greenspan is a fan of real assets.  He sounds more like Jim Rickards (author of The Death of Money) than a former chairman of the Federal Reserve.
Yet gold tanked after the Fed quit QE!  And other real assets like real estate and oil have also been sliding.
So is Greenspan wrong…or does he know something is coming that will change the value of the dollar?
It seems that Greenspan is warning us that interest rates are likely to rise before the Fed is ready.  And if that happens, the Fed is likely to get back in the bond buying business to stop it.  Peter Schiff says there will be more QE programs than Rocky movies.
And every time the Fed exits QE, only to come back and do it again…and again (remember, this was QE3 with an Operation Twist thrown in between 2 & 3 for good measure), at some point the world loses faith in the dollar.
When THAT happens, interest rates go up, the dollar falls, and real assets like gold, housing, farmland and energy will be in demand…not just for their utility, but for their ability to retain value as currencies like dollars, euros and yen fail.
Fortunately, real assets are on sale right now.
The Real Estate Guys™ radio show and podcast provides real estate investing news, education, training and resources that help real estate investors succeed.
Whatever you may think about the Federal Reserve or its motives and contributions, one thing is certain:  The Federal Reserve has a profound impact on the supply and cost of capital.  This alone makes paying attention to the Fed an important part of any investor's routine market vigilance – and real estate investors are no exception.
While attending Freedom Fest in Las Vegas, we caught up with a 2012 Summit at Sea™ faculty member who was one of several keynote speakers – along with Steve Forbes, Peter Schiff , Robert Kiyosaki, Andrew "Judge" Napolitano and Mark Victor Hansen.
Coming to you from Las Vegas, Nevada:
Your straight dealing host, Robert Helms
Your royally flushed co-host, Russell Gray
Special guest and best selling author of The Creature from Jekyll Island, G. Edward Griffin
This is G. Edward Griffin's second appearance on The Real Estate Guys™ radio show.  Last October, as part of our Halloween theme, we traveled to Southern California to interview Mr. Griffin – and didn't quite know what to expect.  After all, his signature book, The Creature from Jekyll Island – A Second Look at the Federal Reserve, is somewhat controversial to say the least.
But after spending a week on our 2012 Summit at Sea™ with both G. Edward Griffin and Robert Kiyosaki discussing the Fed, banking, investing and real estate, we were excited to reunite with both of them at Freedom Fest.
We took advantage of the opportunity to sit down with Mr. Griffin one more time, in the wake of several Freedom Fest speakers (including Robert Kiyosaki, Peter Schiff and yours truly) talking about the Fed and its impact on real estate.
Whether or not you subscribe to the notion that the Fed is a nefarious cartel of international banks bent on world domination, or a misguided but very powerful 4th branch of the U.S. government; or a necessary, effective and benevolent steward of the U.S. dollar – no one seems to disagree that when then Fed expands the money supply (quantitative easing), that new currency flows through the economy and ultimately has an affect on all types of asset classes, including real estate.
Therefore, we ask Mr. Griffin to give us a short review of the history and mechanics of the Fed.  Since he literally wrote the book on the subject, he's one of the best qualified people we've met to help us with this essential understanding.
While Ed's position is that the Fed is a problem (hard for us to disagree), we also know that for every yin (negative) there's a yang (positive), so (parents, cover your children's eyes) we enjoy pulling out our yang (the force is strong with us) and discussing the opportunities that the Fed's shenanigans create for real estate investors.
It's a topic we've covered before, but as we listen to Peter Schiff and other financial pundits turn up the warnings of a falling dollar, we can't help but smile.  After all, there is no better financial vehicle with which to short the dollar than a low interest 30 year fixed rate mortgage on an income producing property in the right market.  In fact, that was the topic of our presentation at Freedom Fest.
It's one thing to walk around talking about market cycles and how what goes up must come down and vice-versa.  It's another thing to understand the mechanics of money from the Fed to Wall Street to Main Street so you can see the wave coming and ride it.  And it starts with understanding the Federal Reserve Banking System.
So listen and learn as we discuss banking, monetary policy and real estate with G. Edward Griffin.
LISTEN NOW:

Want more? Sign up for The Real Estate Guys™ free newsletter
Don't miss an episode of The Real Estate Guys™ radio show! Subscribe to the free podcast!
Stay connected with The Real Estate Guys™ on Facebook!
The Real Estate Guys™ radio show and podcast provides real estate investing news, education, training and resources that help real estate investors succeed.
As we're guiding our real estate sailing ship through the choppy economic seas of the past few years, we've learned the wisdom of having a lookout watching the horizon for threats and opportunities.
We also like to compare notes with other sailors – especially those whose lookout platforms are higher up than ours.  They can see more and farther than we can.  That's very helpful when trying to catch a wave or avoid a storm.
So we dove at the chance to interview some high profile people – to find out what they can sea, sea, sea from their higher vantage point.
In beautiful Miami, sitting on the dock of our radio bay, watching the tide roll away:
Show host and captain of the good ship Equity, Robert Helms
The cut rate first mate, co-host Russell Gray
Chief Economist of the National Association of Realtors®, Dr. Lawrence Yun
Vice President and Associate Director of Research for the Federal Reserve Bank of Atlanta, Thomas Cunningham, Ph.D
President Elect of the National Association of Realtors®, Moe Veissi
Wow!  What an all star line-up!  After watching each of their presentations to the Congress, we decided to chase them down for a quick conversation that we could share with our listeners.  Though they're all busy men, each was gracious enough to sit down for some one on one with Robert.
Dr. Yun kicks off the show with some comments on the US housing market.  He's the first economist on earth to see and analyze the housing data gathered by the National Association of Realtors®.  He's also able to combine the statistical data with lots of relevant anecdotal data – since he interacts regularly Realtors® around the country.  He points out some of the reasons he believes the worst of the storm is past.
Next, we talk to Thomas Cunningham of the Federal Reserve Bank of Atlanta.  Unless you've been in a coma the last two years, you know that the Fed has been very active in trying to stimulate the economy with lower interest rates, expanded credit facilities to banks and that mysterious "quantitative easing".  What does it all mean?  Our mission is to find out!
While economics and monetary policy is interesting, it's pretty high in the clouds.  So we wrap the show up with a lively conversation with the energetic President-elect of the National Association of Realtors®, Moe Veissi.  Moe shares his thoughts as he transitions from local real estate practitioner to the helm of the world's largest trade association.
It's all good stuff, so listen in – and be sure to tell a friend!
The Real Estate Guys™ Radio Show podcast provides education, information and training to help investors make money with their real estate investments.
Listen Now: