We're just winding up a multi-part real estate investing webinar series we're doing for our friends Chris Martenson and Adam Taggart at Peak Prosperity.
The webinar series is called Real Estate Investing for Profit and Safety.  
The first episode, The Case for Real Estate, is nearly two hours long and free of charge.  You can check it out here.  If you love it, share it with your friends.  If not, let us know.
Our theme, which we think is an important one, is how real estate creates RESILIENT wealth when strategically located and structured.
Of course, if you're a seasoned real estate investor … meaning you've lived through at least the 2008 financial crisis … you may already be convinced.
Even if you're in the group who lost a bunch in 2008 (we feel your pain), hopefully by now you've realized there were lots of people who not just survived … but THRIVED.
So obviously, real estate wasn't the problem.
If you're an active or aspiring syndicator, you may find the series useful for explaining to your prospective investors why real estate is an attractive investment vehicle … and the value YOU bring to them by helping them get in the game.
Of course, for anyone who cares about their financial future, the daily news is full of reasons to look for ways to create stability in their portfolio.
Wild stock market price swings … rampant (seemingly systemic) corruption in large financial institutions … highly uncertain geo-political tensions …
… unprecedented levels of government, corporate, and consumer debt … severely underfunded private and public pensions … Social Security …
Yikes. 
So there's a LOT to be worried about … IF you're betting your financial future on fickle and fleeting asset PRICES.
And with "safe" havens like banks and bonds paying very low to no interest for over a decade, many Mom & Pop investors (and their financial planners) have succumbed to "buy low, sell high" as the means for creating spendable cash. 
Think about that.
"Buy low, sell high" is an investment strategy that tempts amateurs into the rigged casinos to compete with the pros.  
Trading also produces commissions for Wall Street, capital gains for the IRS, and cash float deposits for bankers (who lever it up 10-20x for fat profits so they can afford all those big fines).
And the challenge with "buy low, sell high" is it's SUPER volatile and unpredictable.  Unless you're tethered to the news with lightning fast judgment and reflexes, it's easy to be late to enter or exit the party. 
The "solution" offered Mom & Pop investors is to buy trading software to compete with the pros … 
… or "invest for the long haul in a well-diversified portfolio" because the long-term upward (inflationary) "trend is your friend".
Thanks to the Fed's printing press, buy and hold works for boosting your balance sheet.  But it's only PAPER wealth … unrealized gains.  You can't spend it. 
To have real spendable money to live on, folks need CASH.
To get it … and avoid capital gains taxes … they borrow (confident in their paper wealth).
Or they liquidate capital (eating "the golden goose") …. or take on substantial counter-party risk by purchasing higher yielding, riskier bonds.
Of course, if you're a real estate investor, this is all foreign to you.  It's a game you don't play.  But MILLIONS of people do. 
And as baby boomers pile into retirement in a debt-ridden world where low and falling interest rates are a necessity of systemic survival … 
… finding inflation-hedged, asset-backed sources of reliable, resilient, high-yield, tax-advantaged income is the Holy Grail. 
While not perfect, there's nothing better than income-producing real estate to meet this huge and growing need.
Of course, as we often point out, small-time real estate investing is far too troublesome and inefficient for busy or retired folks to take on personally.
That's why we keep beating the drum for the HUGE opportunity for real estate savvy entrepreneurs to get into the syndication business. 
Syndication isn't just about making money.  It's an important industry to help solve some of the most pressing economic problems facing the United States.
In fact, it's SO important that both the Obama AND Trump administrations took bold action to remove barriers and stimulate the flow of capital into real estate syndications.
THAT alone should tell you something.
You may wonder why the mainstream financial press isn't reporting on this. 
But think about it …
How many mainstream financial journalists are real estate investors or syndicators?
Not many. 
And who buys all those expensive ads on mainstream financial programs?
Big Wall Street firms.
But whether there's some grand conspiracy to herd an unsuspecting public into the sheering pens of the Wall Street / banking cartel's casinos …
… or if it's just big money using their clout to buy ads and exposure for their products and services …
… it's clear most Main Street investors don't understand or appreciate the power of income producing real estate to create resilient wealth. 
But if YOU do, then YOU have a BIG opportunity … both as an investor and as an entrepreneur.
So be careful about getting paralyzed by the daily drama of mainstream financial news … especially when it's related to real estate.
After all, most real estate commentary on mainstream news is directed at homeowners and people buying home builder stocks.
But when home ownership is down, prices are high, or builders aren't building and selling as much … it's all GOOD for landlords.
Besides, no matter what happens economically …
As long as there are people, they'll need real estate … for homes, offices, food, and distribution centers to get products to consumers.  And people always needs places to relax, play, and heal.
Your mission is to acquire the skills, knowledge, and relationships to build a resilient portfolio …
… whether you manage only your own investments, invest through others, or create a business to help others take advantage of all that real estate provides. 
Time will tell … but it seems the global financial order is in the process of concurrent major disruptions. 
For some it will be traumatic and chaotic.  For others it will be exciting and profitable.  
The difference, of course, depends on awareness, preparation, and effective action.
And if it all turns out to be a lot of hype over nothing … well, better to be prepared and not have a crisis … than to have a crisis and not be prepared.
Chaos or calm, real estate is a historically proven place to effectively build, protect and pass on real, resilient wealth.  Tell a friend.
Until next time … good investing!
More From The Real Estate Guys™…
The Real Estate Guys™ radio show and podcast provides real estate investing news, education, training, and resources to help real estate investors succeed.
---
Love the show?  Tell the world!  When you promote the show, you help us attract more great guests for 

your

 listening pleasure!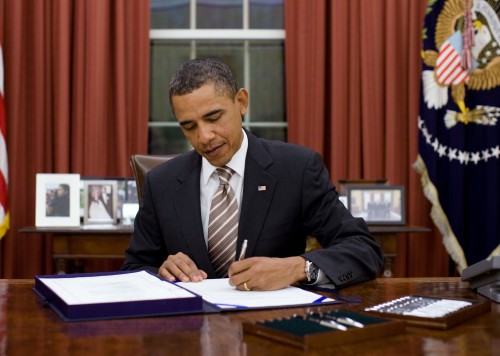 Speaking at Julius Caesar's funeral, Shakespeare's Marc Antony gave one of the most iconic eulogies in literary history …
"Friends, Romans, countrymen, lend me your ears; 
I come to bury Caesar, not to praise him. 
The evil that men do lives after them; 
The good is oft interred with their bones …"
Now here we are … at the end of the Obama years … and time will tell how history will remember the 44th President of the United States.
From what we've seen, it seems that President Obama's "signature" achievement, Obamacare, could likely end up undergoing a major overhaul in 2017 … maybe even a complete repealment and replacement … at least if one is to believe all of the campaign rhetoric of soon-to-be President Trump.
Frankly, we're HAPPY all the attention is on Obamacare. Hopefully, it means no one will mess with what we think will go down as President Obama's REAL signature achievement …
The JOBS Act.
More specifically, the provision of the JOBS Act which lifted the restrictions on soliciting investors into private placements.
When it passed in 2012, we said it would be huge.
When the first set of regulations was released at the end of 2013, we spoke on this topic at the New Orleans Investment Conference.
Shortly thereafter, we published a special report, New Law Breaks Wall Street's Monopoly.
We're doing our best to get the word out so ambitious real estate entrepreneurs can get in on the action.  But of course, these things move at their own speed.
For some, it's forgetfully slow.  For others, it's frighteningly fast.  It just depends on how you respond to opportunity.
If you take a "wait and see" approach, you're bored waiting for the action to start.
But if you have a "plan and do" personality, you've been madly paddling into position so you can ride the wave as it breaks.
Personally, we think "Plan and Do" is better than "Wait and See."
You can read the report for a better understanding of why the JOBS Act is so huge for real estate investors … and ultimately for all kinds of investors.
The short of it is that U.S. securities laws have largely served to protect the market-making monopoly of Wall Street … and herd Main Street investors into the paper-asset casinos.
Read that again and let it soak in.
By making it very dangerous and expensive for purveyors of private investment opportunities … like folks putting a group together to buy an apartment building or hotel … the old law discouraged real estate entrepreneurs from offering those deals to Main Street investors.  Those deals went to Wall Street banks or a select few insiders.
So as a Main Street investor, if you wanted to get in on real estate, you either had to figure out how to do it yourself, or have an inside relationship with someone who had deals … or do a Wall Street version of real estate like REITs or mortgage-backed securities.
But now, purveyors of private placements can advertise their deals directly to Main Street investors … completely bypassing Wall Street. We like it.
Some entrepreneurs are investing a lot of time and money into building special market-making software called crowdfunding platforms.
Those take a lot of money to build … and there's a fair amount of regulations you need to contend with.  Being a crowdfunding entrepreneur is not for the light of wallet or faint of heart.
And at the end of the day, to make crowdfunding work, you still need deal flow and a crowd.  Those cost money to build, too.
Somebody will probably figure how to become the Amazon.com of real estate crowdfunding.  But remember how much time and money Amazon spent to get there?  Yikes.
For street rats like us, we think there's still tons of money to be made leveraging the new law into taking good old-fashioned syndication to the next level.
In fact, we'd prefer it that way.  Think of all the problems created by too much concentration of power in corporations and governments.
Sure, we understand the benefits of economies of scale.  But when things get big, accountants and politicians move in and manage for numbers … forgetting the human element.
Call us old school (we've been called worse) … but we much prefer Main Street investors doing business with Main Street entrepreneurs and doing Main Street deals.  Small.  Local.  Personal.
And if we're all doing enough Main Street business well, it slows down how fast someone can build a new monopoly that forgets the people.
When corporations get big, they lobby for laws which are used to protect their monopolies and crush competition.  That's bad.
So when we look back on the Obama years, we're happy for the JOBS Act … and the freedom to do business Main Street to Main Street … completely circumventing Wall Street.
Of course, not using a freedom is almost like not having it at all.  So we hope LOTS of people will get on board and keep driving the Main Street to Main Street revolution.
If YOU want to get in on the action, come learn the Secrets of Successful Syndication on March 3-4 in Dallas, Texas.  Not only will you learn, but you'll meet lots of people who are out there doing it successfully already. Why not join them?
Remember, Plan and Do is better than Wait and See.
Until next time … good investing!
More From The Real Estate Guys™…
The Real Estate Guys™ radio show and podcast provides real estate investing news, education, training and resources to help real estate investors succeed.
As the U.S. presidential elections rapidly approach, there's a lot of talk about economics and economic policy.  You probably noticed.
At their convention, the Democrats invoked the spirit (and oration) of ex-President Bill Clinton.  The GOP conjures up wistful visions of Reagonomics.  Dire predictions of fiscal cliffs, debt-ceilings, defaults, hyper-inflation, depression, civil unrest and other calamities pepper the debate.
It seems that EVERYONE has an opinion about what the future holds.  But what does history say?
To find out, we sit down with another big brain (one you've probably never heard of) in sunny Las Vegas, Nevada.
Tossing their own rhetoric into the radio ring for this episode of The Real Estate Guys™ Radio Show:
Your who-would-you-rather-have (rhetorically speaking) host, Robert Helms
Your his-mom-wanted-him-to-be-a-reality-TV-star (not really) co-host, Russell Gray
Special guest, Associate Professor of History and Economics at San Jose State University, Dr. Jeffrey Hummel
In our likely never to be written book, "It's Not Obama's Fault", we'd put forth the idea that Mr. Obama, like every President before him, are victims or beneficiaries of "the economic cycle", or what Jeffrey Hummel calls "the business cycle".
Now we're not picking sides here (life is too short for that). And if you're into blaming Presidents for economic conditions, then Bush and Obama are both well deserving.  And if Romney wins, we're sure he'll have his turn in the barrel too.
But rather than try to find consensus on theories and concepts, Jeff persuades us that it's useful to take a look at the history of the business cycle.  Everyone might disagree about what might happen if this or if that.  But since history has already happened, there's less to argue about – and more to learn.
So why should real estate investors care?  Yes, you guessed it, it's a somewhat rhetorical question. 😉
Obviously (we hope), the ups and downs (cycles) of the economy affect jobs, incomes, interest rates, asset values and the confidence of consumers, builders, lenders, employers, buyers and tenants.   And ALL of those things affect real estate and therefore provide important context to our investing decisions.
For example, some pundits have expressed grave concerns about the possibility of debt-burdened states defaulting.  But did you know that way back in 1840 there were four states that repudiated their debt and four more that defaulted?  Like today, they turned to Uncle Sam for help, but then-President Martin van Buren blocked the bailouts.  OMG!  What's going to happen?
Oh, wait.  It already happened.  So we don't have to guess.  We can look at history and find out.  But if you don't know, then you'll have to listen to this episode and hear what Professor Hummel tells us.
What we like about looking at history is that it helps us calm down.  When we are so focused on the now, we sometimes forget that markets have been cycling for a lot longer than we've been around.  We're guessing they'll still be cycling long after we've gone.
So even though there are many very real things to be concerned about, sometimes talking a giant step back and a few deep breaths can give us enough perspective to press forward when everyone else is running scared.
When we look at today's real estate market, we keep coming back to the same thing.  Properties are selling below replacement costs, interest rates are at historic lows, there's a growing renter population and still not enough new product coming on the market to meet the population growth.  Put all that in a blender and it looks pretty good for investors.
Add to this the notion that even though this down cycle has lasted longer than most, history teaches us that sooner or later the cycle will take the economy back up – and when it does, those investors who are actively acquiring bargains today, while properties are on sale, are going to come out the big winners…no matter who wins in November.
So listen in to our extremely interesting interview with Professor Jeffrey Hummel – and consider what your personal history will look like 20 years from now, depending on what you choose to do (or not do) today.
Listen Now:
 Want more? Sign up for The Real Estate Guys™ free newsletter
Don't miss an episode of The Real Estate Guys™ radio show! Subscribe to the free podcast!
Stay connected with The Real Estate Guys™ on Facebook!
The Real Estate Guys™ radio show and podcast provides real estate investing news, education, training and resources that help real estate investors succeed. Visit our Feedback page and tell us what you think!
Do you remember the old "new" economy? That was the one where technology companies could go public without profit.  In some cases, they didn't even need revenue. Ahhhh, those were the days.
The new "new" economy (the Great Recession one) hasn't been nearly as fun – unless you're an old school entrepreneur.  That's the kind who looks at problems as opportunities.  Guys (and gals) like that are having a lot of fun right now because there are opportunities galore coming out of the Great Recession.
The Real Estate Guys™ headed off to Freedom Fest in Las Vegas a few weeks back.  We heard that money manager / economist / author / Senate candidate Peter Schiff would be there (among many other people with very strong opinions about the U.S. economy) and we wanted to do some interviews.  We're happy to report we got lots of great stuff, including Mr. Schiff and the CEO of Forbes Magazine, Steve Forbes.  Watch for those interviews in future broadcasts.
So we fly into Las Vegas in our private jet (the one operated by Southwest Airlines), and get to the convention venue and start setting up our booth.  Before the event had even started, a man stops by and sees our banner for Belize (we were promoting our upcoming field trip to Belize) and asks a few questions.  The short of it is that we find out he's working on a very exciting project in the Caribbean – one that solves a problem we've been trying to figure out too.  Russ gets so excited that he hugs the guy. Very weird.
After the appropriate apologies and some follow up male bonding, our new friend agrees to do a radio interview.  And that's what this broadcast is all about.
Manning the microphones for this edition of The Real Estate Guys™ Radio Show:
Your host, the Larry King of real estate radio, Robert Helms
Co-host, our "I love you, man" booth babe, Russell Gray
Special Guest, Investment Banker, Entrepreneur and assault victim, Jeff Villwock
Any time we get around smart people, we jump on the opportunity to talk with them. In this case, Russ literally jumped on Jeff.  When Jeff recovered, we got him on the mic, so you can listen to what he's doing, where he's doing it and why.  There's lots of lessons to be gleaned!
Freedom Fest is an event that attracts people with strong political opinions.  In many of the interviews we did there, those opinions come out.  Great!  We think the world works better when people respectfully debate important issues.  Sharing ideas is among the most sacred of our freedoms, especially if you're radio guys.
We also realize that the U.S. (the bulk of our audience) is pretty polarized right now.  Now, we love our entire audience and our show isn't political.  However, policies affect economics and economics affects real estate. There shouldn't be a serious student of real estate who can look at the last several years and deny that.  So politics are going to get into the discourse from time to time, which is a very good thing.
We think these Freedom Fest interviews are great.  If you disagree with the political views of our guests, don't let that get in the way of hearing what's being said.  Here's why:  a big part of real estate investing is understanding demographics and human nature. How people think and believe affects where they (and their money) will be moving.  Even if you disagree with them, if they believe it, it will affect their actions. So YOU need to understand them (even if you disagree) if you want to anticipate their behavior.
Did we mention that Jeff's project is in St. Kitts?  It just so happens that St. Kitts is one of the stops on our upcoming 9th Annual Summit at Sea!  So we ask Jeff if we can visit his project as part of our already planned real estate shore excursion in St. Kitts. Not only does Jeff agree to allow us to visit, he says he'll meet us there and show us around.  Awesome!
Once again, we're reminded of the importance of getting out of our cubicles and into the world where real people are. No doubt that virtual networking is powerful, but just as phones did not replace face to face meetings, neither will social media replace conventions as a great place to make important connections.  This is one of the reasons we attend trade shows and promote our field trips and the Summit at Sea™.  It's a great way to get to know great people in the real world.  We hope to see YOU at one very soon!
Listen Now
Don't miss a show!  Subscribe to the Free Podcast
Want More?  Sign Up for The Real Estate Guys™ Free Newsletter!
What do these two topics have to do with each other?  Well, certainly after the mortgage meltdown the US economy is in need of health care.  Not reform.  Just getting healthy!  But that's not the topic of this post.  Instead the question is: What lessons from the mortgage meltdown can be applied to the health care debate?  And, as a real estate investor, why should you care?
Without going into an extensive history lesson, here's a quick recap of the mortgage meltdown:
Government decides to "help" the free market for mortgages by establishing Fannie and Freddie to buy mortgages in the secondary market.
Assured of a buyer for their mortgages, mortgage originators aggressively market them.  They sell it silly.  People buy houses. Values go up and more people buy. Equity happens and life is good.
Private industry sees opportunity and wants to play, but find themselves competing against the "Government Sponsored Enterprises" (GSE's) Fannie and Freddie.  Mortgage rates are dictated by risk and the implied government guarantee of Fannie and Freddie means mortgages that "conform) (i.e., conforming loans) are cheaper than private industry.  Of course, the consumer will buy the cheaper loan.
Private industry expands into "non-conforming" (i.e. Jumbo, sub-prime, etc) in order to be in the mortgage business without having to compete directly with the GSE's.  They make money.
In 1999, the Clinton Administration says, "Fannie and Freddie, you need to make it even easier for people to get home loans", which is code for "lower your standards".  Fannie and Freddie comply.
Home ownership surges under George W. Bush.  He's an economic genius.  Home values soar.  Private industry says, "I want some more!" and recruits foreign investors to plow money into "super safe" mortgage backed securities.  The money is directed at sub-prime, alt-a, investors, jumbo, etc.  Now equity is REALLY happening!
Reality sets in.  People who shouldn't have gotten loans do what people who shouldn't have gotten loans do: they default.  The sub-prime crisis sets off a chain reaction of well chronicled events that set off The Great Recession.  As a result, the private mortgage business is almost wiped out.  Fannie and Freddie survive on the backs of the taxpayers (the working private sector).
Obviously, there's a lot more to the story, but what are the lessons?  Here are two of the most important ones:
1. In a capitalistic society, the objective of enterprise is to make a profit.    It's what motivates the brightest people to work hard and sacrifice to create solutions to society's problems – solutions that can be sold for a profit.  Profits are what allow people to pay taxes, give to charity, invest in product development and new enterprises that create jobs and enrich society. Profits are not evil, they are essential.
2. When the government, though well intentioned (giving it the benefit of the doubt) enters into competition with private industry, with the goal of making a product or service "more affordable"  (code for reducing or eliminating those evil profits), the result is a) private industry is crushed, taking its jobs with it; or b) private industry is forced to compromise sound business practice in order to survive (like loaning money to people who can't afford to pay it back) and eventually those unsound business practices result in failure – and the loss of jobs.
And the correlation to healthcare?
The President of the United States has gone on record as stating that one of the "benefits" of a public option is to create a health care insurance program "without a profit motive" to compete with private industry.  When you follow that thought track to its logical conclusion, does anyone see a train wreck?
When you think about how big the health care industry is, you can imagine how many private sector jobs would be lost if it were to melt down too.  And since the private sector economy is the one that pays 100% of the taxes, the smaller it gets, the larger the tax burden will be on those who remain.
Loss of private sector jobs and higher taxes have a DIRECT impact on your real estate investments. When more private sector capital is sucked into government, there is less of it available for private purposes. And what is available becomes more expensive (higher interest rates).
So even though "homes and healthcare for all" are noble and compassionate causes that everyone can support, the methodology of undermining the private sector to accomplish them is counterproductive in the long term IF one is operating in a CAPITALISTIC society.
There is no debate about whether we all want people to have homes, healthcare and abundance.  We all want that.  The debate is whether or not we are committed to capitalism.  If we are (and you should be as a real estate investor), then the solution will be found in the private sector as entrepreneurs work every day in their "enlightened self-interest" to invent, build and sell homes, health insurance, health services and whatever other products or services enhance the human experience.
Diesel engines run great on diesel fuel. Regular gas engines run great on regular gas.  But when you put diesel fuel in a regular gas engine or vice versa, it might run for a little while, but it won't run well.  Eventually, it will break down and not work at all.
Until someone re-writes the Constitution of the United States, the US is a capitalistic society.  Let's be careful about injecting incompatible "fuel" no matter how noble the motive.