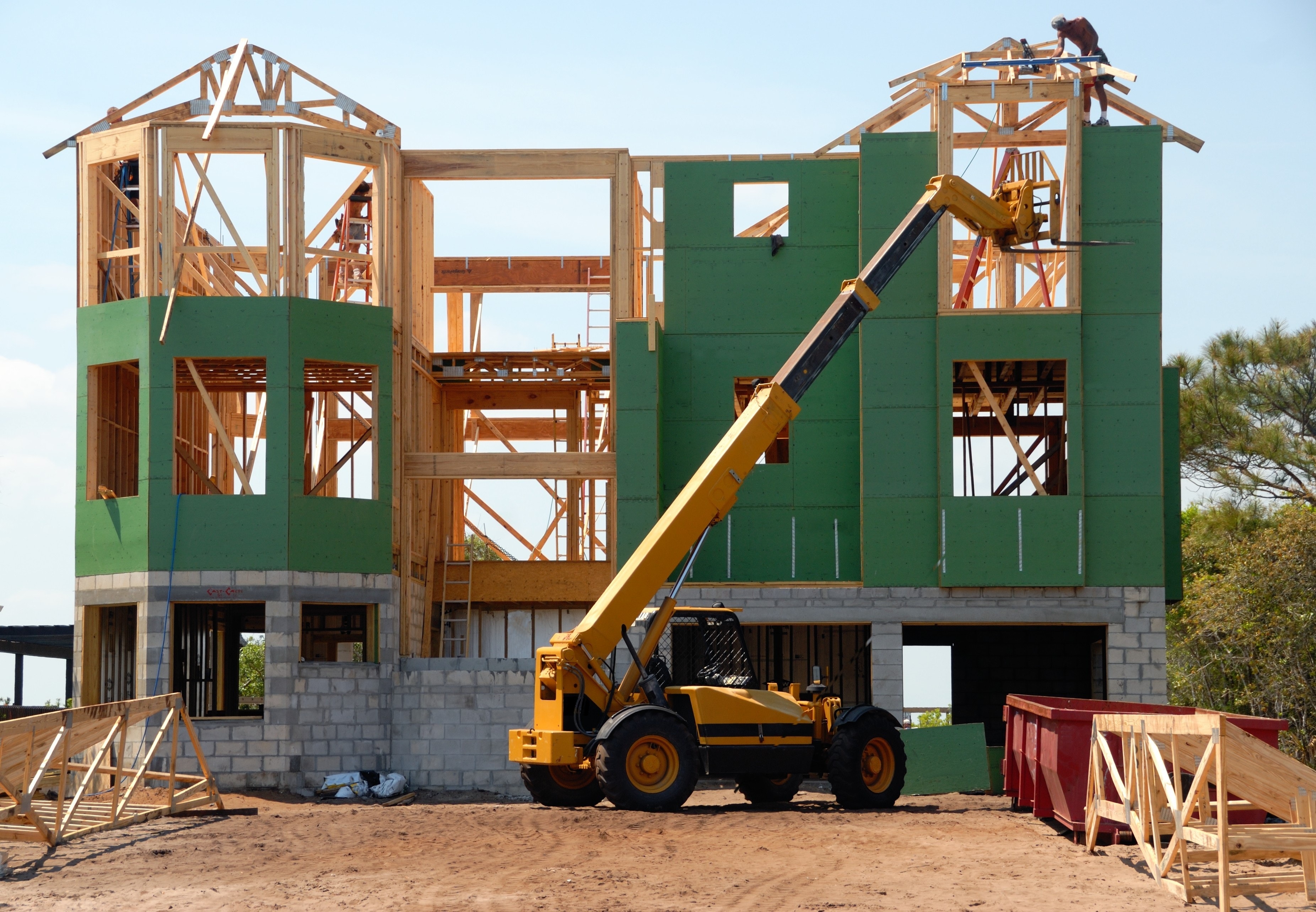 Vacancy is the enemy of real estate investment. But no fear!
You can invest in a property with zero deferred maintenance and a whole lot of attraction to tenants. 
Smart builders are helping real estate investors dramatically reduce the risk of vacancy and expensive repairs. 
Listen in as we chat with a man who is creating build to rent properties in some of the best rental markets in the United States … and see what opportunities await investors like YOU.  
In this episode of The Real Estate Guys™ show, hear from:
Your helpful host,

Robert Helms

His deferring co-host,

Russell Gray
From Fourplex Investment Group, Steve Olson
---
Listen
---
Subscribe
Broadcasting since 1997 with over 300 episodes on iTunes!
---
Review
When you give us a positive review on iTunes you help us continue to bring you high caliber guests and attract new listeners. It's easy and takes just a minute! (Don't know how? Follow these instructions).
Thanks!
---
Discover build to rent
Today we're going to talk about an interesting niche within real estate. 
More and more, we're seeing builders who don't build property to sell to an owner occupant … they're selling to investors instead. 
It's called build to rent. 
With millennials fighting student debt and not forming households or buying property as soon in their life, it's a great time to get into the rental game. 
We've dabbled in this niche ourselves … though it wasn't firmly established at the time. 
We'd catch a builder in a phase of development and say, "What if we came in and bought the rest of your inventory?"
It was a real win-win. The developer no longer had to question which properties would sell … and investors could get inventory that they otherwise wouldn't. 
The tenants benefitted too. They got to move into these brand new, beautiful properties. 
As the niche has grown, it has only become better. 
Now, you have builders building with the landlord and the tenant in mind … which means you can do some value engineering that maybe you wouldn't do if you were selling to owner occupants. 
All of this means bringing product at a more competitive price … which means a better ROI. 
Our guest today is Steve Olson of Fourplex Investment Group (FIG). FIG builds brand new fourplexes in a variety of markets … ready for investors to swoop in and swoop up profits. 
Creating a valuable niche
The days of buying a home for less than it costs to build are gone. In many cases, developers, builders, and investors are finding that it's more economically viable to just build new. 
If you want to be in the investment property business … you've got to find somewhere to get inventory … and you have to look at shifts in the marketplace. 
Two major demographic shifts are happening. 
One, baby boomers are looking for something more convenient … a managed community with some amenities to it. 
Two, millennials are more likely to rent than to buy … homeownership is getting more expensive, and many of them have a distaste for it. 
So, people want to live in these build to rent properties … you just have to pick the right markets. 
"More importantly, I think, you need to pick the right sub-markets within those solid markets. You've got to get to know the neighborhoods," Steve says. 
And when you are building to rent, you've got to be able to look out at the horizon and be confident that there will be tenants in the area in 18 months … or more … however long it takes to get property standing. 
Steve and the team at FIG build brand new fourplex units … beautiful homes that are attached and have parking. 
They are an upscale rental … built in communities that allow them to offer amenities and services. 
"The idea is that we have to balance two worlds. We have a bunch of different investors but the feeling of a cohesive community. We do this by creating uniform standards through an HOA," Steve says. 
As far as the tenant knows, they're in a townhome complex or apartment complex. They have amenities. There is a property manager they report to … the same experience across the board. 
HOAs aren't always popular … but that's usually because homeowners are too busy to be bothered to come to meetings and be involved. 
Investors aren't like that. 
Owners that are investors are very interested in the long-term health and viability of the complex. 
This type of investment is especially suited for someone who thinks a little more long term. The average investor doesn't come in, buy a fourplex, and flip it to another guy in a year. 
With FIG's approach, there is a certain amount of value engineering that can take place. 
"We deliver units cheaper than almost anybody I know of, but you have to strike a balance so you aren't paying for it down the line," Steve says. 
For example, Steve and his team have started using as a standard luxury vinyl tile floor … it's meant to take a beating. 
"It looks good, like wood, but you can drag a couch across it. The dog can run around on it, and it's still going to last a long time," Steve says. 
But everything else is meaningless if you don't talk about markets. 
The right markets for fourplex investment
A market is where we find tenants … so Steve and the team at FIG are very conscious of the markets they choose to build in. 
"Strategically, we're looking for population growth. We're looking for employment. You can get past a lot of things if you have those two things," Steve says. 
FIG started in Utah in the Salt Lake City metro. Then, they expanded into markets in the Houston metro and into Boise, Idaho. 
Boise has tons of growth with jobs coming in from the Northwest and other less business-friendly states … and the vacancy is really low across the board. 
The team is also moving into the Phoenix metro area. 
For more information on this investment niche, listen in to the full episode!
More From The Real Estate Guys™…
The Real Estate Guys™ radio show and podcast provides real estate investing news, education, training, and resources to help real estate investors succeed.
---
Love the show?  Tell the world!  When you promote the show, you help us attract more great guests for 

your

 listening pleasure!
As major markets grow and mature, residents and businesses start to feel the financial pinch … and follow their wallets to greener pastures.
Savvy investors recognize trending, emerging markets and migrate there in search of value.
It's all about monitoring where people are moving … and moving faster.
Listen in as we visit with a multi-market investor to find out why and where he is looking for opportunities.
In this episode of The Real Estate Guys™ show you'll hear from:
Your moving-up host, 

Robert Helms

His moving-over co-host, 

Russell Gray

Fourplex Investment Group consultant, 

Steve Olson
---
Listen
---
Subscribe
Broadcasting since 1997 with over 300 episodes on iTunes!
---
Review
When you give us a positive review on iTunes you help us continue to bring you high caliber guests and attract new listeners. It's easy and takes just a minute! (Don't know how? Follow these instructions).
Thanks!
---
Metros on the move
One of the most crucial tasks for a real estate investor is finding a market that matches their real estate philosophy.
As an investor, you must think about the personality and culture of your portfolio … then find a location that offers opportunities for growth and cash flow.
On your own, you can do high-level research on rent prices, population growth, job creation, and infrastructure … but you need a team on the ground to succeed.
A local team is in touch with the minute details of a market. They can point you to the specific areas of a metro that are best for your investment.
We rely on people on the ground to help us understand what markets our listeners should have on their radars. Steve Olson is one of those people.
As a consultant for Fourplex Investment Group, Steve oversees several up-and-coming markets … and he is here to introduce us to three metros attracting attention now.
Salt Lake City, Utah
There are a lot of exciting things happening in this rocky mountain metro.
The greater Salt Lake City area encompasses a lot of cities … each with unique investment opportunities and cultures.
This long, skinny metro follows the mountains of the Wasatch front … and houses a little over 2 million people.
A high birth rate paired with large numbers of people migrating from other states is a testament to the metro's family-friendly and business-friendly culture.
With mountains on both sides, the area is a hot spot for skiing and other winter sports. In the summer, hiking and biking are popular attractions.
From a real estate perspective, Salt Lake has been a stable market for some time now … but it's growing faster and faster.
Two key areas that draw investment attention are Silicon Slopes and the Northwest Quadrant.
Silicon Slopes is home to towns like Lehi, American Fork, and Draper. The nickname refers to the large number of tech companies that have set up shop there.
Organizations like Adobe, Ancestry.com, and even the National Security Agency (NSA) have built major hubs in the area.
With a rapid influx of new residents, there have been some growing pains for the tech towns … but infrastructure is catching up and new construction is BOOMING.
The Northwest Quadrant is what Steve calls "an interesting opportunity." Being surrounded by mountains leaves only so much space for new growth.
"For many years, you would just consider it a barren wasteland," Steve says, "but now it is the only direction to go."
The Northwest Quadrant is near the Great Salt Lake and the Salt Lake City International Airport.
"If you want land in any kind of quantity that's affordable, that's the direction you have to go," Steve says.
Businesses recognize this and are embracing the blank slate. Amazon recently built a new shipping facility in the area, and so did UPS.
Thousands of new jobs mean new residents … and those residents are looking for affordable places to live.
The two main cities in the Northwest Quadrant are West Valley City and Magna.
In the past 15 years, only ONE new apartment complex has been built in those cities … and it is operating at 97 percent occupancy.
Steve says the location has lots of potential. Tenants can enjoy new, clean, affordable places to live and get to downtown Salt Lake City in 15 minutes.
"You're going to look at that area in 5 to 10 years and not even recognize it," Steve says.
Houston, Texas
Houston, Texas, is a go-to market for many investors … but a recently completed toll road is opening new parts of the area for investment opportunity.
After Hurricane Harvey, the fate of the Houston metro housing market was uncertain. But just four weeks after the storm, home sales had rebounded and seen the greatest rental activity of all time.
More and more growth is flowing into the northwest part of the Houston metro. For many tenants, Cypress, Texas, is the destination.
This suburb has become one of Houston's largest communities and recently ranked 50th in the top 100 highest-income urban areas in the country.
The oil and gas industry have a major presence in the area, as well as the healthcare, aviation, and distribution sectors.
With a diverse, expanding economy, Cypress is on track for significant job and population growth … a great sign for real estate!
Boise, Idaho
You don't normally hear a ton about this market because it isn't a giant metro. As of 2018, about 700,000 people call Boise, Idaho, home.
But Steve says if you dig into the stats, you'll feel very confident in its potential. People who are tired of metros like Portland and Seattle are going to Boise.
"Boise is more business friendly, but you're still in the Pacific Northwest," Steve says.
Quality of life in the area is marked by access to plenty of outdoor activities like biking, rock climbing, water sports, and skiing.
The metro is notable for its population and job growth … triple the national average … and is landlord-friendly. And who could forget the low taxes?
New residents are moving into suburbs like Nampa and Meridian and targeting new construction.
Find your niche and your market
No matter where you invest, there are many ways to put your money to work for you … and these markets are no exception.
The approach Steve takes with Fourplex Investment Group is a particularly unique niche.
By building brand-new apartment buildings on empty land, Steve and his team can meet rising space needs and offer great incentives and returns for investors.
That means instead of buying the 40-year-old fourplex down the street, you can buy four units in a 100-unit, brand-new apartment complex.
And you're not at the mercy of apartment or commercial financing!
Whatever your investment approach and chosen market, remember that it is all about finding an opportunity that matches YOUR philosophy and works for YOU.
---
More From The Real Estate Guys™…
The Real Estate Guys™ radio show and podcast provides real estate investing news, education, training, and resources to help real estate investors succeed.
---
Love the show?  Tell the world!  When you promote the show, you help us attract more great guests for 

your

 listening pleasure!
Salt Lake City

The Beehive State is BOOMING. Get in on a record-breaking growth cycle and reap high returns in this stable market.

When pioneers first settled in the Salt Lake Valley they were greeted by a wide expanse of empty desert … but today, the Beehive State is BOOMING in every way.
Utah has claimed the title of fastest-growing population in the country from 2010 through 2018 and has steadily high birth rates.
The state has also consistently had the fastest growing labor force of any state since January 2010. Rapid business growth in the corridor south of the Great Salt Lake has brought thousands of workers to the state.
More workers mean more consumer spending … and more need for real estate.
The potential for long-term, reliable tenants is high. Utah's workforce is more educated on average than the rest of the United States.
Salt Lake City is a Rocky Mountain hub for travel, entertainment, and business.
A $3.6 billion first phase of construction on a new Salt Lake City International Airport opens in late 2020. When construction is completed, the airport will be an updated and enlarged transportation hub with state-of-the-art facilities.
From Salt Lake City, individuals have easy access to Utah's 14 world class ski resorts and five national parks.
Music lovers can enjoy Broadway shows at the Eccles Theater or visit Abravanel Hall, the home of the Utah Symphony. Sports fans can catch a Utah Jazz game at Vivint Smart Home Arena.
Shoppers find retail escape by visiting the hundreds of storefronts that make up City Creek Center and The Gateway.
With generous tax incentives, many major corporations call the Salt Lake Valley home … and more are moving in every day.
Salt Lake City's financial district hosts Wells Fargo Bank, American Express, Goldman Sachs and Co., and Fidelity Brokerage Services.
The Silicon Slopes tech movement is expanding, with global tech companies like Adobe, EMC, Micron, Intel, Facebook, and Microsoft operating from Salt Lake City headquarters.
With Amazon and UPS moving thousands of workers to the Salt Lake area, housing is in demand … and that demand is growing every day.
Take advantage of record-breaking growth and reap in Rocky Mountain-sized returns.
Discover whether Salt Lake City, Utah is right for your next real estate investment. Get started with our selection of helpful resources …
Radio Shows
Reports and Articles
Market Field Trips & Property Tours
Boots-on-the-Ground Teams
Clues in The News
Magna, UT Market Report
Find the next big boom town in the Beehive state. Make your mark in Magna, Utah!
Utah is a market defined by consistent and rapid growth … the population is exploding and jobs are popping up at a record-breaking pace.
New tenants are flooding the towns in the valleys south of the Great Salt Lake … and Magna, Utah, is particularly magnetic.
Magna is tucked right in the middle of a growing industrial space. It's down the road from the expanding Salt Lake City International Airport, new UPS and Amazon centers, and all the amenities of Salt Lake City.
Plus, take advantage of new tax breaks for real estate investors by investing in this SLC suburb … Magna is one of Utah's Opportunity Zones.
In this special report, the team at Fourplex Investment Group shares the most relevant data on the Magna market. Find out:
Growth trends and predictions for the Salt Lake City area

Future building projects and investment opportunities

Stats on economic and business expansion

And more!
Discover whether Magna is the market for you! Get started by filling out the form below to access the Magna Market Report.
The blessing and curse of real estate is that trends develop slowly. 
This makes them easy to catch, but also easy to miss … unless you make it a priority to pay consistent attention.
We scour the news daily.  We're always looking for opportunities, lessons, and trends.  But they're not always obvious.  In fact, they usually aren't.
So it's not answers we're looking for.  It's better questions.  The clues in the news simply capture our attention so we can dig deeper.
And because real estate trends move slowly, there's often plenty of time to investigate … and then move into position to take effective action.
This recent headline reminds us of the process, and some great lessons for real estate investors …
Salt Lake City Tops U.S. In Diversity of Jobs; Las Vegas is Last 
– Bloomberg 2/15/19
Now Salt Lake City isn't necessarily a market normally associated with diversity, but according to this report, it's tops for diverse job opportunities.
Of course, jobs are uber important to real estate investors.  After all, jobs are the best way for tenants to get the money to pay rent.
Plus, any market with abundant jobs is going to attract more people … adding to the demand for rental properties.
Perhaps even more importantly … a diverse selection of job types is probably a good indication an area has multiple economic drivers.
Economic diversity is a very important component of stability and resilience.
This should be obvious, but it's amazing how many investors rush into markets chasing a trend driven by only one big story.
Of course, if that one big story changes for whatever reason, then so does the trend in the market.
Consider how things worked out for real estate investors who rushed in for the oil boom in North Dakota's Bakken or the Amazon HQ2 boom in New York.
Time will tell, but we're guessing while some Opportunity Zones will be fantastic successes … some will end up being big busts too.
One story usually isn't enough.  And there's no need to move too fast when it comes to catching an uptrend in a real estate market.
Sure, when you take a measured approach, you might miss out on quick gains gleaned from front-running the fast-to-act speculators.
But if you view real estate as a long-term investment, then you're looking for long-term trends.  Best to let the trend strengthen before getting in too deep.
Besides, there's plenty to do while you're watching the trend develop.
Consider our approach to Salt Lake City … since this is the focal point of the headline we're talking about today.
Salt Lake City popped up on our radar a few years back and we started watching.  The more we saw, the better it looked.
In 2017, Salt Lake City appeared in a report of metros with a low percentage of rent burdened population.
In a related commentary about why we think this metric matters, we pointed out …
"… markets with increasing affordability, and stable rents and occupancies, should probably end up on a short list of markets to pay a visit to."
We suggested to …
"Look for metros which are affordable locally based on a low percentage of rent burdened population, with increasing affordability … and also affordable nationally when compared to the average rents of other metros."
Markets that looked interesting based on this metric were Kansas City … along with Oklahoma City, Cincinnati, Louisville, and Salt Lake City.
Since then, and perhaps to no surprise, we've built relationships with boots-on-the-ground teams in both Kansas City and Salt Lake City.
Sometimes it takes time to identify and study a market, then get to know the right people … rather than just jumping into a "good" deal in a "hot" market.
Sure, when the market ends up being great, you'll always wish you moved faster …
… so it's wise to get good at seeing opportunity, doing your homework, and building relationships sooner.
But again … the blessing of real estate is it moves slowly.  So you don't have to be a racehorse to win the real estate investing derby.
Nonetheless, you do need to move.  You can't win or finish a race if you're still standing at the starting gate.
So when you see a positive market metric, be quick to start the process of exploration … but cautious about leaping into a deal before you look.
And as you explore a market's potential, whether you're just starting out or already have a sizable portfolio, consider how to use diversification as a tool for building resilient wealth.
There are several ways to diversify …
Choose economically diverse economies to reduce your exposure to any one industry or sector of the economy.
Invest in multiple units when you can.  More doors provide multiple streams of income and less dependency on any one tenant.
Invest in multiple markets.  Even diverse individual economies can suffer setbacks, so being in more than one market can help mitigate the risk.
Syndicate or invest in syndications to become even more diverse faster.
Syndication pools your money with others' … and provides scale you might not have on your own … so you can own more units, in more places, with professional management.
The bottom line is real estate is a great "basket" to put all your eggs in … while also providing the ability to create resilient wealth through strategic diversification. 
Until next time … good investing!
---
More From The Real Estate Guys™…
The Real Estate Guys™ radio show and podcast provides real estate investing news, education, training, and resources to help real estate investors succeed.
---
Love the show?  Tell the world!  When you promote the show, you help us attract more great guests for 

your

 listening pleasure!
The winds of change are swirling like a tornado … even if they're outside your personal horizon at the moment.
That's why we stay up on the lookout perch … watching for clues in the news and shouting out what we see … so you have time to make smart moves.
A couple of things popped up that we think are noteworthy for real estate investors …
Private Equity is Moving in on Single-Family Rentals – NREI Online 2/4/19
"In the past, individual investors owned more than 80 percent of single-family rentals. Since then, the number has fallen significantly."
"…individual landlords have been increasingly marginalized by big institutional investors."
"When banks started to foreclose on mortgages, institutional investors swooped in, leaving individual landlords with new, outsized competition."
If you're an active Main Street individual investor, you know inventory is hard to find in major markets … and it's even harder to make the numbers work.
Of course, the article's author runs a crowdfunding platform, so his implied solution is to join the crowd and invest in a bigger deal.
While we agree with the premise of going bigger, crowdfunding is only a solution for small-time passive investors because of government imposed limits.
So if you're passive and want to go bigger, you need a better answer.  More on that in a moment.
But if you're an active investor, then what?
Starting your own crowdfunding platform is a heavy lift.  You need tech, special licensing, and a crowd.  None are cheap or easy.
So how can an active Main Street investor compete, when the big boys are marginalizing the little guy?
You'll need to find a way to go big and invest outside the box.
For us, that comes in two forms …
First, perhaps the best way for an active Main Street real estate investor to go big is to syndicate private capital.
It's like crowdfunding … without the crowd or tech.  It's still work, but doable for a Main Street individual.  In fact, we know MANY are doing it.
And for passive investors who need in on bigger deals without arbitrary limits, and want to be more than just a face in a crowd or number on a spreadsheet …
…. investing in syndicated private placements opens a world of opportunity.
So the synergy between active and passive Main Street investors should be obvious.  That's why it works.
When it comes to investing outside the box …
… it's REALLY important to pay attention to developing trends … and then paddle quickly and get in position to catch a wave.
For example, there's a huge demographic wave known as the baby boomers.
You've probably heard of it. 😉
Boomers are getting old.  So real estate niches that cater to seniors is a hot sector … in both residential and commercial.
If you're a passive investor, you can invest in a senior housing REIT, a crowdfunded big box project, or a privately syndicated residential facility.
They each have pros and cons.
But right now, margins on residential facilities are pretty fat.  That's because the big boys are playing at the big box level … for now.
When we speak at Gene Guarino's Residential Assisted Living Academy training, we point out … big money won't ignore fat profits forever.
Big money's already moving aggressively into single-family homes … bidding prices up and squeezing out late-to-the party individual investors.
Those who saw the big boys coming and paddled into place early are riding a nice equity wave.
This could easily happen with residential assisted living.  So it's a bit of a land grab right now.  The good news is there's .
That's just one way to invest outside the box.
Another is to pay attention to economic trends and migration patterns.
Think about it …
As big players gobble up inventory in major markets, smaller investors … and eventually big money … will migrate outside the box into secondary markets.
For example, though Dallas is still a solid single-family market … deals are few and far between.
It wasn't always that way.  When we started going to Dallas 10 years ago, it was the front end of a real estate boom that's been GREAT for early adopters.
Today, markets like Kansas City, Salt Lake City and Cleveland are on our radar … each for a different reason, but they're variations on a theme.
These markets have affordable price points with strong cash flows for investors.
They're also attractive to Millennials (another important demographic to watch) who've been priced out of primary markets.
But it's not just the young and cash-strapped who move for financial reasons.
There's another important economic trend we're watching closely, and it's alluded to in this Washington Examiner article …
Cuomo's woe: More taxation means more out-migration
Caution:  This is an opinion piece and you may not agree.
But the point is high-earners are leaving New York to escape high taxes they can no longer deduct from their federal tax bill.
This Bloomberg article elaborates …
Cuomo Blames Trump Tax Plan for Reduced New York Tax Collections
"Governor says wealthy New Yorkers are giving up residences …"
"…leaving for second homes in Florida and other states …" 
Once again, these trends are easy to see coming, watch develop, and then act on … BEFORE they pick up a lot of steam.
We've been excited about Florida for some time … and this whole tax thing just makes it better … especially for nicer properties.
So here's the point …
We got a HUGE wake-up call in 2008 … and it wasn't any fun.  But those lessons help us see trends and opportunities early instead of late.
The key is to pay close attention to clues in the news …
 … then get around REALLY smart people who can help you understand what you're seeing … so you can act decisively.
Because if all you are is aware, but you don't act … you might as well watch game shows.
But when you see a trend and have the right relationships, you can identity opportunities and take effective action quickly.
Everyone's smart in hindsight.  But can you see the future?
Until next time … good investing!
More From The Real Estate Guys™…
The Real Estate Guys™ radio show and podcast provides real estate investing news, education, training, and resources to help real estate investors succeed.
---
Love the show?  Tell the world!  When you promote the show, you help us attract more great guests for 

your

 listening pleasure!
If the first property you bought as a real estate investor was a single-family home, you're not alone.
This property type is a popular first choice for many … maybe even most … real estate investors.
But eventually, you'll want to take your investing to the next level. If you're at that point, this episode of The Real Estate Guys™ show is for you!
We'll be chatting with our special guest about how investors can get started with multi-family properties … from duplexes to fourplexes.
Listen in! You'll hear from:
Your next-level host, 

Robert Helms

His level-one co-host, 

Russell Gray

Consultant at Fourplex Investment Group,

Steve Olson
---
Listen
---
Subscribe
Broadcasting since 1997 with over 300 episodes on iTunes!
---
Review
When you give us a positive review on iTunes you help us continue to bring you high caliber guests and attract new listeners. It's easy and takes just a minute! (Don't know how? Follow these instructions).
Thanks!
---
From house-flipper to investor
A bit about our guest … Steve Olson got his start in real estate at the tail end of his college career, when he flipped his first house.
He's now an experienced investor who works to help other investors add value to multifamily investments.
We asked him for his thoughts on flipping now that he's moved on.
"It's not a bad thing to do," he says, although he acknowledges flipping is not really real estate investing because you have to trade time for dollars.
"You have to know what you're getting into," he says. For many investors, flipping can be a great way to generate capital, but it's not always sustainable.
Steve would recommend that new investors talk to someone who's flipped houses before they consider that option seriously.
Taking the leap to multi-family properties
If you've started out in single-family housing … or even if you haven't … multi-family properties are an excellent next step.
Steve specifically recommends two-, three-, and four-family apartments.
Why stop at fourplexes? For a good reason … Fannie Mae has loan options for investors that stop at four-family apartments.
These slightly bigger investments are the perfect next step up. And they allow you to fully maximize a Fannie Mae mortgage.
They also provide a more sustainable income source. Think about it … single-family properties are either 100 percent occupied or completely vacant.
But with a fourplex, even if you have one vacancy, you have a 75 percent occupancy rate.
There's one problem with multi-family properties, though … and that's demand. Because demand in the housing market is high right now, even for properties bought primarily by investors, cap rates are being pushed up.
Some investors resort to buying properties in bottom-of-the-barrel neighborhoods … but that's a risky bet.
A return for a low-priced property might look great on paper, but a low return that actually happens is far better than a high return on paper that never happens.
Tenant quality is worth it for the peace of mind.
So how do investors find great properties … that aren't in C-class neighborhoods? Steve has two options for investors.
Find lower cap rates with a value add
Cap-rate compression is driving prices up … but rents aren't rising. Steve recommends that investors navigate today's market by finding value-add opportunities.
Finding a respectable cap rate takes some maneuvering, he says.
He names two options:
Buy a run-down apartment for a low price and add value after purchase.

Buy land pre-construction and then add value by building new apartments.
With the Fourplex Investment Group (FIG), Steve helps investors navigate the second option.
He recruits investors before properties are even built—a win for investors, who can get a better cap rate, and for developers, who get risk removed from their plate.
So how do investments with FIG work?
FIG operates in four markets: Salt Lake City, Houston, Boise, and Phoenix. They are cautiously investigating new markets as well.

New projects start with a tract of land and a developer. Then FIG puts together a pro forma and releases the new project to investors four to six months before the build date.

Investors put down a deposit to reserve their spot, and FIG sets them up with construction financing.

Fourplexes (as well as some three-plexes and duplexes) are built in groups. Construction usually takes about 12 months. Investors get two to four brand-new townhomes … and one tax ID.

The average fourplex runs from 650k to 800k, depending on the market. Investors put 25 percent down and refinance when construction is complete.

FIG requires investors to use an in-house property manager, at least for the first two years of their investment. This provides stability and maintains the integrity of rents.

FIG sets up an HOA to preserve the appearance … and value … of the townhouse-style properties. Exterior maintenance of the properties is included.
"The fourplex model does well when the market isn't doing well," says Steve … and that's the ultimate measure of whether your investment is a good choice.
Steve shared lots of details about how investors can get started in multi-family properties with FIG … but if you're interested in more information about how YOU can make the jump to multi-family properties, please click here to request a report he compiled especially for listeners of The Real Estate Guys™ show.
Words of wisdom
We asked Steve what he wished new investors knew going in to a multi-family deal. He gave us a few words of wisdom:
"The pro forma is only as good as the neighborhood."

"You're not buying treasury bonds." Steve says nothing … including a return … is guaranteed.

"When something goes wrong, that IS normal." Investors have to accept there will be bumps in the road and …

View real estate investments through a long lens. A few months are not indicative of a long-term trend. Investors should be patient, Steve says.
We hope you gleaned some new perspectives from our conversation with Steve. We certainly did!
We believe in education for effective action … which is why we encourage you to seek out many different perspectives and relate them back to your personal investment philosophy.
The more ideas and perspectives you're surrounded by, the more likely it is you'll hit on something that perfectly aligns with your own goals as an investor.
So keep on listening!
---
More From The Real Estate Guys™…
The Real Estate Guys™ radio show and podcast provides real estate investing news, education, training and resources to help real estate investors succeed.
"Live where you want to live, 
but invest where the numbers make sense."
– Robert Helms
Nice quote.  But it assumes you know what numbers to look at … and whether or not they make sense.
Many times, investors focus primarily on numbers related to the PROPERTY …
… things like rent ratio, gross-rent multiplier, cap rate … and of course cash flow after debt service.
Those are all SUPER important … and you should pay attention to those.
BUT (you knew it was coming) …
Individual properties exist in local markets, which are affected by both macro and regional factors.
Macro factors are things like interest rates, tax rates, and how other markets compare to yours.  Sometimes people move to find greener pastures.
Regional factors include local taxes, landlord laws, economic drivers, supply and demand fundamentals, net migration trends, etc.
So it could be a mistake to focus solely on the property's numbers.  The market's numbers matter too.
If your prospective property is in an area with downward trending regional factors, you might end up … as stock traders say … catching a falling knife.
Think Detroit many years ago …
Once the RICHEST city on the planet, Detroit boasted a population of about two million people.  Strong incomes, lots of prosperity, a robust real estate market.
Slowly … for many reasons we won't delve into now … Detroit's regional drivers began to weaken.
So even though the numbers on a property in Detroit back then might have looked good at some point during the decline …
… the regional market trend was working against you over the long term.
And just as a rising tide lifts all boats, a receding tide lowers them.
So we think it makes a lot more sense to pick your market BEFORE you pick your property.
Our approach is to pick a market first, then build a local team, and then let the local team help find the right properties.
This way, when you're running numbers on a specific property, it's in the context of a market you think has a stable or rising tide.
One market metric we suspect will become increasingly important going forward is rental affordability.
That's because the long-term trend of net "real" prosperity for working class people has been down … and that's probably not changing any time soon.
Of course, even if we're wrong … and we'd love to be … being in affordable markets isn't a liability.  Again, a rising tide lifts all boats.
But if an area is NOT affordable, you may not have a healthy supply of tenants able to pay your rent …
… and you risk being on the wrong end of a price war to maintain occupancy.
Of course, determining a market's rental "affordability" is a tad more complicated than just running a pro forma P&L on a specific property.
For example, if rents are low, is the area automatically "affordable"?  Or if rents are rising, is the area becoming less affordable?
Not necessarily.
Affordability is about the ratio between wages and incomes, how many people in an area can afford the area's rent, and comparing one market to another.
Maybe in an area where rents are rising, wages are going up even faster.  More people start moving in to earn those higher wages, which increases the number of people who can afford the rent.
So rents could be rising, yet the area is becoming more affordable.
Like we said … it's a little complicated.
Fortunately, there are smart people who study these things and produce fancy reports we can peruse for clues … about markets, trends, and where opportunities are.
New York University's (NYU) Furman Center cranks out all kinds of research related to housing … including their recently released 2017 National Rental Housing Landscape report.
Page 10 of this report caught our eye because it charts 53 big city areas ("metros") and compares "share of renter households that were rent burdened" in 2015 versus 2012.
They define "rent burdened" as those tenants paying 30% or more of their income on rent.
Obviously, when a smaller percentage of people in a region are rent burdened, it means a greater percentage can afford to pay whatever the going rent is … and absorb increases in rent or other living expenses.
This puts a little recession insulation in your income property portfolio.
So a number that "makes sense" for a market could be a low percentage of renters who are rent burdened.
Of course, it's also wise to understand why rents are low relative to incomes.
It could be driven by falling rents (bad), rising wages (good), increases in rental stock (maybe bad), net in-migration (good), or any combination of those and other factors.
So we're not here to suggest simply because an area is becoming more affordable, it's automatically a great market to invest in.
But it's a clue … and worthy of further investigation.
What's nice about the NYU Furman report is it compares 2012 to 2015 … so you can see whether a metro is trending better or worse for this particular metric.
If a market is more affordable in 2015 than it was in 2012, it's positive in terms of the number of people who can afford to pay the going rent.  More qualified prospective tenants is a good thing.
Of course, if affordability is driven by primarily by falling rents and rising vacancies, it's a red flag.
But markets with increasing affordability, and stable rents and occupancies, should probably end up on a short list of markets to pay a visit to.
We'd probably further narrow the list to cities where median rents are in the middle to lower price range compared to other markets …
… because if there's macro-pressure on renters … say rising expenses in food, energy, healthcare, taxes, or interest … they may move to more affordable areas to find some budget relief.
In tough times, people don't typically move to more expensive areas. They look for places that are more affordable compared to where they are.
Again, it's EASY to invest in a rising tide.  But it's always smart to be ready for if (when) the tide goes out.
All things being equal, a market with rents to the mid-to-low range on a national scale is probably safer when sailing into uncertain economic seas.
So have some fun in the report … toggling between page 6 (median rent by metro) and page 10 (share of rent burdened households).
Look for metros which are affordable locally based on a low percentage of rent burdened population, with increasing affordability from 2012 to 2015 …
… and also affordable nationally when compared to the average rents of other metros.
Kansas City is best for lowest population of rent burdened, with a solid improvement from 2012 to 2015 … and it's more affordable nationally than two-thirds of the list.
Oklahoma City, Cincinnati, Louisville, and Salt Lake City all also look pretty strong based on these metrics.
Again, this isn't a final conclusion about great housing markets.  But it's one set of numbers to consider when looking for markets to investigate.
Until next time …. good investing!
---
 More From The Real Estate Guys™…
The Real Estate Guys™ radio show and podcast provides real estate investing news, education, training, and resources to help real estate investors succeed.