We're back from what Robert Kiyosaki described as our BEST Summit at Sea™ so far.  It's hard to disagree.  And no, this isn't a pitch for the Summit.
In fact, alumni already grabbed about 40% of the available spots … before we even got off the ship!
While there's no way to describe the magic of the Summit, there are a few valuable ideas worthy of mention.
Developing social capital
New Summit faculty members Chris Martenson and Adam Taggart (The Crash Course and Peak Prosperity podcast) shared the importance of "social capital."
After a compelling presentation about the inevitable collision between exponential growth and finite resources (a fascinating topic!), Martenson and Taggart suggested your prospects for prospering will rely heavily on your network of relationships.
That's true whether a crisis strikes tomorrow or 100 years from now.
And it's not just knowing a large quantity of people … it's who those people are and how well you know them.
But even if a crisis NEVER hits, it's wise to invest in quality relationships.
Surprise faculty member, Ken McElroy often says, "If you want to change your life, change the people you hang around with."
This year, we had several young people take advantage of our Young Adult Program.  It allows a limited number of young adults ages 18-25 to get into the Summit for only $2,500.
More importantly, it gave these young people close personal access to many highly successful investors and thought leaders.
Our other surprise faculty member, Simon Black of SovereignMan.com joined Kiyosaki and McElroy for a one-hour private session with these young adults.
Simon said it was the most powerful experience in his four years of being a part of the Summit.
Going forward, we're dedicating up to 30 seats on next year's Summit to our Young Adult Program.
We believe investing in young people is one of the BEST investment we can make.  And we're thrilled our super-star faculty agrees!
But whether you're young or not-so-young, if you're interested in taking your education, business and investing to the next level, it's wise to put concerted effort into developing good relationships with great people.
Summit faculty member and legendary sales trainer Tom Hopkins (How to Master the Art of Selling) reminded us the key is being of service to others.
So it's not what you GET that matters most … it's what you GIVE.
That's easy to say, but often hard to do when our own urgent needs are clamoring for attention.
Tom says always remember, "Use money and serve people.  Don't use people and serve money."
A billion-dollar boo-boo
Consider the recent flap over United Airlines handling of an overbooked flight.
It's a case study in forgetting the MAIN thing.
Unless you've been off-planet for the last few days, you know a ticketed customer was forcibly removed … literally dragged … from a plane because the airline wanted his seat to reposition their own staff.
The details are all over the news, but the bottom line is the airline decided to "save" money by not raising the bid to buy people off the plane, or making other (presumably more expensive) arrangements to get their staff where they needed them.
In short, they served money and used people.  Oops.
Of course, the horrific decision and resulting disastrous PR resulted in a nearly BILLION dollar loss of market value.
And that's probably just the beginning of losses which will include customers, employees … plus money spent on public relations, training, and let's not forget … LEGAL.
It's shocking a mature business could be so short-sighted.
Relationships are the REAL asset
The beauty and danger of real estate is it's not traded in impersonal, highly automated exchanges.  It's a very PERSONAL business.
If you've got a good reputation and great relationships, real estate is actually pretty easy.
If your reputation is poor and your relationships are weak, you're almost always looking at leftovers.
But it's not just about deal flow … or even raising money.
Relationships provide access to ideas, perspectives, wisdom, encouragement, and inspiration.
Relationships change who you are, how you see yourself, what you reach for, and what you believe you can achieve.
We spoke on the Summit about Roger Bannister, the first human to run a mile in less than four minutes.
Until he did it, it was commonly believed it wasn't physically possible.
But once he did it, others soon followed … because he broke the mental barrier holding so many people back.
If this can be done in the world of athletics, where a certain level of physical skill is required … imagine what can be done in a less demanding arena like real estate investing.
During the course of the Summit, we heard from investors who started with next to nothing … and grew portfolios of THOUSANDS of rental units in just a few years.
Until you're around them, it SEEMS impossible.  But when you meet them and hear their stories, it opens your mind to the possibilities.  It EXPANDS your dreams and beliefs.
An epic experience
There were so many GREAT sessions including Peter Schiff on navigating the Trump economy, G. Edward Griffin on how the Fed affects everyone, Fannie Mae's chief economist Doug Duncan on the state of the U.S. economy and housing … and MANY more.
We had nearly 25 faculty members … our biggest ever!
Perhaps one of the best parts of the Summit were the eight expert panels featuring some of the biggest brains on banking, precious metals, marketing, real estate niches, the next crash, and more.
In the information age, panels are really powerful.
It's one thing to HEAR a great mind share big ideas.  But you can do that online.
It takes you to a whole new level when you watch several great minds DISCUSS big ideas. And to be a part of the conversation yourself?  Priceless!
With limited space on each year's Summit, we realize it's not possible for everyone to be there.  Hopefully someday, YOU can join us!
But in the meantime, we encourage you to seek out the smartest, most accomplished people you can … and find a way to get into high quality, win-win relationships.
They'll expand your thinking, show you possibilities you didn't know existed, open doors and make introductions to people and places you might otherwise take months or years to get to.
There's nothing we know of that can help you accelerate your success faster than smart investments in building social capital.
Until next time … good investing!
---
More From The Real Estate Guys™…
The Real Estate Guys™ radio show and podcast provides real estate investing news, education, training and resources to help real estate investors succeed.
Bzzzzz …. Can you hear the cross-pollination with some of the best and brightest brains in real estate?
Just like bees, we've been busy spreading ideas, making connections, and getting our minds blown AGAIN and AGAIN.
In this second installment, live from the 15th Investor Summit at Sea™, we share more insights of our stellar faculty members. We hope some of the ideas they share will pollinate your mind, too!
In this episode of The Real Estate Guys™ show you'll hear from our friends and mentors:
Your psyched-at-sea host, Robert Helms
His slightly psycho (about the Summit, of course!) co-host, Russell Gray
Debt and equity expert, Michael Becker
Brand and marketing strategist, Kyle Wilson
The foremost expert in residential assisted living investing, Gene Guarino
Entrepreneur and sustainability champion, David Sewell
Sales legend and international sales trainer, Tom Hopkins
Best-selling personal finance author and guru, Robert Kiyosaki
Active investor and syndication expert, Victor Menasce
Financial strategist and life insurance expert, Patrick Donohoe
Real estate investment expert, Kathy Fettke
Nationally recognized apartment investor, Brad Sumrok
Precious metals expert and host of the New Orleans Investment Conference, Brien Lundin
The "gold guy," rare coins and precious metals expert, Dana Samuelson
Last but not least, the Godfather of Real Estate, Bob Helms
---
Listen
---
Subscribe
Broadcasting since 1997 with over 300 episodes on iTunes!
---
Review
When you give us a positive review on iTunes you help us continue to bring you high caliber guests and attract new listeners. It's easy and takes just a minute! (Don't know how? Follow these instructions).
Thanks!
---
Last man standing: Michael Becker
We call Michael Becker the "last man standing" because he's usually the last man standing … at the bar.
All the rubbing shoulders Michael did gave him a good insight … he remarked that people attend the Summit for its content, but leave with conTEXT. Like many other attendees, Michael felt he came with acquaintances and left with friends.
Although Michael noted that Summit attendees did hear a lot of (truthful) doom and gloom, there's still strategic opportunity out there.
"Everything's local," he told us. If you buy in the right markets and structure your deals properly, you may find the market still holds great potential.
It just takes foresight.
Attending with an open mind: Kyle Wilson
Second-time attendee and faculty member, Kyle Wilson has impresses us with his marketing know-how. Sales and marketing, he told us, is all about seeing what people need and adding value.
Kyle remarked on the pricelessness of the community and relationships he found at the Summit and the information presented.
"I took so many notes," he commented. "You're really smart if you're inquisitive and you want to learn; you're not so smart if you just want to defend your ideas."
Kyle recommends open-mindedness … asking questions and being genuinely curious about how other investors think and work.
The biggest kick: Gene Guarino
Gene is our resident expert in residential assisted living investment.
We think Gene's field is fascinating. It's clear the way the numbers are trending in terms of aging … the elderly constitute the fastest growing segment of the U.S. population.
Clearly Gene's in a field with potential. But he's not in it solely for the money.
"The biggest kick I get is teaching people how to do this themselves," says Gene. He's proud he's taught people all over the country how to provide comfortable, affordable in-home care for the elderly.
Like his company motto says, he's in this to "do good and do well."
Gene shared a remarkable anecdote about his son, who came to his first investor Summit "ready to quit, curl up in a ball, and do nothing."
The Summit, Gene says, changed his life … he went home, read 50 books, and now he's a successful real estate agent.
You've gotta love the transformative power of real estate!
Serious about sustainability: David Sewell
David Sewell runs specialty cacao and coffee farms and is our go-to expert on agricultural investing.
His business philosophy has three pillars:
Economic sustainability. "If you don't make money, you can't stick around to do your thing."
Environmental sustainability. "It's about more than just thinking green … it's leaving nature better than you found it."
Social sustainability. "Get yourself a team."
David shared more insights about his social sustainability model during the Summit. Working with teams of local experts is what allows him to relax on a cruise ship for a couple of days … he relies on his team to keep his business functioning.
Why everyone is in sales: Tom Hopkins
"I truly believe," Tom Hopkins told us, "that if I got out of a plane in a city where I knew no one and started knocking on doors, making calls, and building business, that within 90 days I would have a profit center."
"How?!" You might ask.
Because of the 80/20 rule, Tom would tell you. Which is 80% of people will make 20% of the wealth, and 20% will make the other 80%.
And then there's the super special 5% who put themselves in the right place and accomplish a high degree of wealth because they are superstars and champion salespeople.
"Everyone is in sales," Tom says.
Why? Because sales is simply the ability to communicate and persuade effectively.
And if you doubt you have what it takes, look at Tom. He started with 90 days of college and little knowledge of sales, and within three years he had sold 365 homes in one year.
Tom credits his success to his own hard work … and the mentors he was blessed to find.
"Every person has greatness inside him (or her)," Tom told us. Sometimes it just takes a little nudge from someone else to let that greatness out.
Sales is not a four-letter word: Robert Kiyosaki
We really look up to Robert Kiyosaki, so when he says sales is an essential skill, we listen!
If you've read Robert's books, you probably know his experience. Robert grew up in a home where "sales" was a dirty word and salespeople were seen as the scum of the earth.
When he came back from Vietnam in 1973 and told his mentor he wanted to be an entrepreneur, his rich dad told him he needed to know how to sell.
Robert was reluctant at first … but he came around (eventually). Listen in for his moment of reckoning!
Robert no longer thinks sales = #!?%. Sales = income! And if you don't have income? Well, it's probably because you can't sell.
Successful startups: Victor Menasce
Victor's a Canadian investor and author of Magnetic Capital.
He gave us some wisdom from his newest book, Startupology, which discusses how to transform a startup into a big business overnight.
Sound impossible? It might be, if you go the traditional route. Only about 10% of startups succeed, and even then, it takes on average seven years to reach profitability.
"My advice, if you want to start a startup: Don't do it," Victor told us.
We can hear you saying it now: "Wait! I thought Victor was going to give me the key to success!"
Here's the key … "If you have an idea that could transform the industry, it's better to find an adjacent business that already has revenue and customers. Your chances of success go up by a factor of eight. It's that simple." Bam.
Bringing the kids on board: Patrick Donohoe
"It's your environment and network that shape a lot of who you are," Patrick told us.
That's why this year, he brought his daughter to the Summit. "There's a dynamic that exists when you're confined to one area with the same people for a week." Believe it or not, that dynamic is packed with motivation and stimulation, said Patrick.
Patrick's daughter Megan first read a tiny version of Rich Dad, Poor Dad when she was six … and now she's got a great head start on becoming a successful real estate investor. Just like dad!
Make very, very wise decisions: Kathy Fettke
Kathy Fettke has been educating folks for a very long time about real estate investing. She runs the Real Wealth Network and has been an investor for years.
So we can say she's seen a lot.
If you weren't investing before 2009, "You need to know there's a lot you don't know," Kathy said.
How do you get that knowledge? Talk to people who've been through down cycles!
These days, Kathy looks for guests to feature on her podcast, The Real Wealth Show, who've been investing for a while … at least thirty or forty years, ideally.
Interested in investing now? Kathy offered some advice. In much of the market, she said, we're in the ninth inning … but not all. You have to know which markets are strong.
And you need to be prepared. "It's a very different game when things turn around, and they always do," said Kathy.
"Now is the time to make very, very wise decisions. The market could be very different next year this time."
A good year for apartments: Brad Sumrok
We asked Brad, a guru on multi-family investments, about market cycles right now. He echoed some of the themes we've been hearing from our other faculty.
"If you're looking at the right markets," Brad told us, "there are still opportunities to be found."
It's those secondary and tertiary markets that folks should really be exploring right now, he added.
Precious info on precious metals: Brien Lundin
Brien runs the longest running investment conference in the U.S., the New Orleans Investment Conference. He's also a precious metals expert.
What do precious metals have to do with real estate? There's actually a lot of crossover between both of these tangible assets.
Long-term depreciation of the dollar and other currencies corresponds with long-term increases in precious metal prices (and values of other assets).
We asked Brien about metal market cycles. He told us that buyers interested in using precious metals as their savings plan should look to buy at interim low points, but true investors really have to watch the cycles carefully.
He also gave us the lowdown on getting involved in the early stages with precious metals … by investing in actual mining companies.
This move can give investors "tremendous leverage," Brien says … just don't forget that with great potential rewards comes great potential risks, too.
Politics and precious metals: Dana Samuelson
Dana also specializes in precious metals, particularly coins.
His current take on the metal space? "People buy all the time, but some people are smart and buy the dips."
For his own part, Dana's waiting to see how the new administration will translate. "Things could be choppy right now," he told us.
Dana also explained his enthusiasm for coin collecting. Coins are little pieces of history. As a collector, "the coin you've held in your hands may have been held by Alexander Hamilton, founder of our monetary system." How cool is that?
15 Summits: Bob Helms
We're proud that the godfather of real estate has joined us for every single summit from the very beginning.
Speaking to the Summiteers, he said, "Hopefully the things you've learned have made it worthwhile."
And he gave all of us some words of wisdom … "Invest in yourselves."
Sowing in fertile ground: Russell Gray
Last but not least, Russ recapped his experience for us. The thing he's most proud of? The Summit's young adult program.
We can't think of a better investment than investing in the next generation.
The environment we've been blessed to create as The Real Estate Guys™ is very nurturing, accepting, and open.
We believe sowing the fertile ground of a young mind can really change the course of a young person's life. Now imagine that influence magnified across all the lives each young person will touch!
Every investor who participated in the Summit this year has had a similar chance to make a profound impact … simply by being willing to learn from each other.
We don't know what seeds will germinate from this Summit, but we do know it'll be good.
We have the most amazing Summiteers, faculty and attendees alike. If you didn't attend this year, the only thing missing was you!
Once a year our producers let us out of the studio to hang out on a cruise ship with an enthusiastic contingent of listeners…and some of the biggest brains in investing and economics.  And we always have a GREAT time!
Our tradition is to record a radio show in front of a live studio audience and ask many of our faculty members to share their reflections on the week.
We're always humbled and honored that so many incredibly successful people donate over a week of their very busy lives to inspire and educate our fun-loving collection of investors from all over the globe.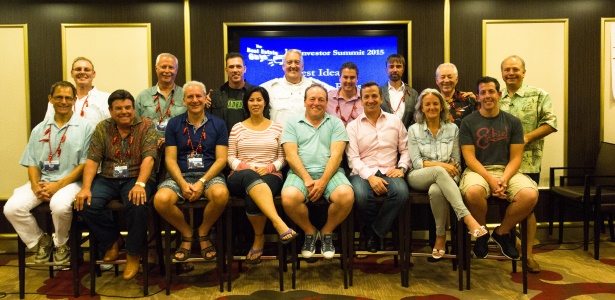 Behind the microphones from a luxurious cruise ship somewhere in the Caribbean Ocean:
Your captain of conversation, host Robert Helms
His first mate, co-host Russell Gray
The founders of Rich Dad, best-selling authors and avid investors, Robert & Kim Kiyosaki
The inspirational and legendary master of salesmanship, Tom Hopkins
World class real estate investor and best-selling author, Ken McElroy
Financial pundit, best-selling author and multi-million dollar fund manager, Peter Schiff
International real estate developer, Beth Clifford
Social entrepreneurs and Rich Dad Advisors, Josh and Lisa Lannon
International entrepreneur, David Sewell
Asset protection and estate planning attorney, Jeffrey Verdon
Financial strategist Patrick Donohoe
Oil and gas investing expert, Paul Mauceli
Private placement attorney and asset protection strategist, Mauricio Rauld
Strategic metal investing expert, Knut Andersen
The Godfather of Real Estate, Bob Helms
Whenever we have a chance to to get around uber successful investors and entrepreneurs, we notice an interesting and encouraging paradox…
First, they're not really bigger than life.
Even though they are doing amazing things…that many of us only dream about…they're just people…like everyone else.
In fact, if you didn't know they were so accomplished in their respective fields, you probably wouldn't even realize they're special.
So it isn't something inherently superior about these people that makes them successful.  In other words, if THEY can do it…you can too!
THAT'S encouraging.
Next, they tend to be curious, respectful and genuine.  They aren't at all the greedy, egotistical, deceptive manipulators TV and movies portray as the stereo-typical ruthless rich person.
That's inspiring.  You can be rich… and still be a decent human being.
So once you're no longer afraid of becoming rich…and yes, MANY people are subconsciously afraid of success…perhaps because of the negative brainwashing about what successful people are and aren't…
The next thing to do is learn and adopt the attitudes and activities which successful use to achieve above and beyond the average person.
So how do you learn to think like a multi-millionaire?
We think one of the best ways is to invest as much time as you can in listening to, talking with, watching and working with as many high achievers as you possibly can.
Everything The Real Estate Guys do is about creating those opportunities for our listeners…whether it's the broadcasts,  our recommended reading or any of the many live events we wither produce or promote.
In this episode, you get to hear how these high achieving faculty members process the Summit at Sea experience.
But listen carefully…because often the best lessons are subtly woven in to what often sound like casual off-hand comments.
Remember, the difference between where you are today and where you want to be in 10 years are the thoughts you think, people you meet and the actions you take.
But it all starts with your thoughts.  So be sure you invest some time every day putting good ideas into your mind.
To secure YOUR place on the next amazing Summit at Sea…click here now.
Listen Now: 
The Real Estate Guys™ radio show and podcast provides real estate investing news, education, training and resources that help real estate investors succeed.
Salesmanship is an essential survival skill.
Really.
Think about it.  If you can't sell yourself, you can't attract a spouse, an employer, a customer, a lender or an investor.
Even if you think you can successfully delegate the responsibility for sales to someone else, don't you have to sell them on the idea of selling for you?
As a real estate investor (or any kind of entrepreneur), you must attract resources, lead your team (employees, vendors and advisors), and negotiate deals.  All of these activities require sales skills.
Now you may not realize it, but salesmanship is a SKILL that can be learned.  More importantly, it's a PROFESSION which should be taken seriously.
If you like to play tennis or golf, you might go out on the weekend and hit a few balls.  But if you wanted to compete at a high level, you'd need to get professional training and practice diligently, right?
Of course.
So if the ability to persuade people when leading a team, negotiating a deal or recruiting capital is an ESSENTIAL part of being a real estate investor, doesn't it make sense that you would need professional training in order to perform at a high level?  And you want to perform at high level, don't you?
Our friend Ken McElroy says, "Sales solves nearly every problem."  Now Ken is one of the most successful real estate investors we've ever met. So if he says something's important, we listen.
That's why we're headed to Las Vegas, Nevada on August 22nd-23rd to take part in Tom Hopkins 2 day Sales Academy.  And we can't wait!
We've been huge fans of Tom Hopkins since the early days of our careers.  We already knew his training works.  But after spending a week with him on our 2014 Summit at Sea™ we found out that he's just as amazing off the stage as he is on the stage.
So we HIGHLY ENCOURAGE you to join us in Las Vegas as we attend the Tom Hopkins Sales Academy.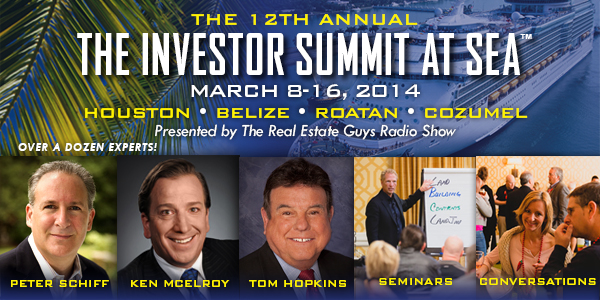 World leaders and banking elite have sometimes secret summits to make their plans for managing the global economy.  What they decide affects YOU…whether you like it or not.
Isn't it time YOU and other investors got together with the best and brightest experts to make YOUR plans to grow and protect your wealth from whatever the central planners decide?
We think so.
That's why we're proud to bring you the 12th Annual Investor Summit at Sea™ featuring an amazing line up of speakers like Peter Schiff, Ken McElroy, Tom Hopkins and MANY, MANY more!  And NEW!!! Simon Black of Sovereign Man will be with us in 2014!!!
There are experts in real estate investing, economics, precious metals, oil & gas, infinite banking, asset protection, syndication, real estate development, and even sales.
It's intense. But it's fun.
Robert Kiyosaki came in 2012 and loved it.  But don't take our word for it. Click here to hear directly from Robert.
The timing couldn't be more important.  The world is changing at an amazing pace.  The Summit is your opportunity to discover trends, develop strategies, make connections and get away from the daily grind to focus on your future.
Where else on earth can you go to get a week with this caliber of thought leaders?  Nowhere.  It doesn't exist.
And this Summit won't exist for long either.  The ship is filling up and even the Summit isn't until March, we're running out of space.
We know it's a big decision.  It's a lot of time and money.  But in the past 11 years we've never had anyone say it wasn't worth it.  So we want to strongly encourage you to seize the day and reserve your spot today.
Click here now

to learn more about the Summit.
Or fill out the form below to schedule a personal consultation.
In this episode, The Real Estate Guys™ answer your question with our questionable answers. 😉
And at the end of the broadcast, a living legend in the real estate business answers the question we get asked more than any other.  So tune in and listen up for another exhilarating and informative edition of Ask The Guys!  To put your question in our email grab bag for the next Ask The Guys show, click here to visit our cleverly named Ask The Guys page.
From the Rich Dad Radio Show studios in chilly Scottsdale, Arizona (thanks to our good friend Robert Kiyosaki and his amazing team!):
A man who asks nothing and knows everything, your host Robert Helms
A man knows nothing and answers everything, co-host Russell Gray
A living legend in real estate who shall remain anonymous until revealed at the end of the episode, Mr. X
Okay!  We've got another great bunch of questions…thanks to YOU and our email room manager, Walter.  If you know Walter, it's amazing he can even carry the email bag, much less pull anything out of it.  But he's a resourceful little pecker…
So right out of the gate we get a question about LEVERAGE.  This is SUCH a great tool in every investor's toolbox…and we love to talk about it.
The question is simple enough, but the answer, like a fine cut diamond, is multifaceted.
Should you pay cash or get a loan?
Mmmmmm….there's a lot there.  And to blog on this topic is to write a chapter in a book, so we won't do that.
Instead, we'll give you some things to think about, then encourage you to listen to the show.  And if you can, get your hands on a used copy of our temporarily-out-of-print-while-we-look-for-time-to-update-it book, Equity Happens.  We spend a lot of time on the topic of leverage in the book.  It's also covered in our Real Equity Home Study Course. available here.
Here some of the FEATURES and BENEFITS (that's sales speak) of leverage:
Leverage allows you to own more real estate for less of your own money.  Instead of 100% down on just one property, you can put 20% down on 5 properties.  It's not complicated…more is better.
Leverage allows you to enjoy 100% of the appreciation of a property with only a fraction of your own money in the deal.  So if you put 20% down, you pay for 1/5 a property.  The loan pays for the other 4/5.  But when the property goes up, you get 5/5 of the gain.  Nice!
Leverage allows you to SHORT THE DOLLAR.  If you believe that the dollar will continue to fall in value against things that are real (like food, energy, real estate, cars, clothes, labor, etc…), then you don't want to save dollars, you want to convert them into things that are real.  Ideally into things that produce income.  Even better to go to go into the future and bring dollars into the present and buy more real assets today.  This is called "shorting the dollar".  Confused?  Click here to get a copy of our special report on Real Asset Investing and see if it helps.
Leverage allow you to arbitrage your cash flow.  Arbitrage is just a fancy word for making money on the spread, like a bank does when they pay  you a paltry 1% on your savings and then buy Treasuries at 2.5%.    You can do the same thing when you borrow at 5% and then use the proceeds to buy 8% cash flow (like a rental property), you make 3% profit on the spread.  Fun!
We could go on and on (can you tell?), but hopefully you get the gist of it.  Real estate is a financial tool and leverage is an important financial concept that every investor needs to understand.  So study it.
And when you get good at understanding leverage, you'll want to enjoy Multiple Mortgasms.
Sorry.  It's a little crude, but after all, we are The Real Estate Guys, not The Real Estate Gentlemen.  Besides the line was too good to pass up.
So what are we talking about?
In residential real estate, the mortgage market is subsidized by the Federal government.  It's kind of like what's happening with healthcare under Obamacare.  The government wants to "help" by make housing more available to the little guy, so Uncle Sam created agencies to "help" the private sector make mortgages cheaper.
How? By providing more liquidity through a guaranteed buyer of mortgages in the secondary market.  That's where mortgage originators go to sell the mortgages they make.  Remember that while we, as investors, think of mortgages as liabilities…paper investors think of them as assets.  When you OWE the money, it's your liability.  When you are OWED the money, it's your asset.
The street names for these agencies who buy (or guarantee) the mortgages are Fannie and Freddie.  Since their introduction to the market (among MANY unintended consequences), most residential lending conforms (a "conforming" loan) to their lending guidelines.  Even when the originator doesn't plan to sell the loan to Fannie or Freddie.  It's just nice to have a backup exit strategy.
One of the Fannie / Freddie "conforming" guidelines is they won't lend to anyone who has more than 10 Fannie or Freddie loans already.  So when you get to 10, you're "Fannie'd out".
The point is that if you want to maximize your investing by taking advantage of these cheaper loans, you need to manage your loan portfolio carefully.  So when our listener told us they had just two properties with four loans on them, we knew he didn't get this concept.  So we talk about it to be sure that everyone learns.
Of course, the segues into the next topic…
With so many properties, vendors and tenants, what software can be used to keep track of it all?  Great question!
Sadly, there isn't a one-size-fits-all great answer.  And keeping track of all the moving parts is the bane of any business person, real estate or otherwise.  Unfortunately, complexity is the price we pay for prosperity.  Sometimes you just can't remember all the properties you own or where they are.
Our short answer is to know that most property management platforms are PROPERTY centric.  Most CRM (Customer Relationship Management) platforms are CONTACT centric.  Of course, brilliant developers are constantly creating new and innovative products.  And each year, the products become more specialized as developers target specific niches.  That's the good news.
The bad news is that there are still so many demographics bigger than the real estate investing community, so no product has come across our desks that we feel we can call, "Neo"…(from the Matrix…"the One")…
The biggest problem we see with software is that it tries to be smarter than you.  In our case, that's not too hard.  But when the software locks you into a process, it's hard to adjust to changing conditions.
So our general advice is to go with something inexpensive, highly supported (lots of gurus who know how to tweak it), and very customizable.  This way, you can adjust it on the fly as you figure out how to use it to best manage your unique situation.  So if you start out with single-family homes, then get into self-storage or Christmas tree farms, your software can be made to fit your needs.
When you buy a program tightly designed for one niche, it may not fit the other.  But you can customize, you can add fields and functions to suit your investing fancy.  You don't want the technology tail to wag the investing dog.  Investing is the main thing.  Technology is a support function.  Duh.
Lastly, we get a question from someone who just drank the real estate Kool-Aid and wants to make real estate a profession.  We get this one ALL the time.
So rather than recycle answers we've provided several times in the past…and because we happen to be in Scottsdale, Arizona…we give a shout to our friend, hero and 2014 Summit at Sea faculty member, the legendary Tom Hopkins.  Tom is gracious enough to drop everything and come into the studio to share a small portion of his immense wisdom.
But we won't do you the disservice of trying to transcribe Tom's sage advice, except this Yoda-like notion:  when you decide to do something, don't try.  Commit.  And when you do, you'll be successful.  Too many people "try" real estate sales or investing.  Too few "commit".   "Do.  Or do not.  There is no try."
So commit to listen to this episode, and then take the next steps to enhance your education, grow your network, and build your support team.  We're committed to providing all kinds of opportunities to help you, including events, resources and episodes full of great ideas and information.  Thanks for listening to The Real Estate Guys™ radio show!  Tell a friend!
Listen Now:
Want more? Sign up for The Real Estate Guys™ free newsletter
Don't miss an episode of The Real Estate Guys™ radio show! Subscribe to the free podcast
 Stay connected with The Real Estate Guys™ on Facebook!
The Real Estate Guys™ radio show and podcast provides real estate investing news, education, training and resources that help real estate investors succeed. Visit our Feedback page and tell us what you think!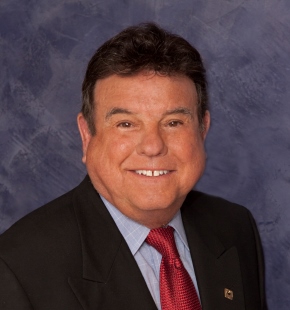 We all have people who've made a big difference in our lives.  Sometimes they're people around you.  Other times, it's a someone "out there" – an author, speaker, talk show host (hey, we can dream), or even a politician (okay, that's REALLY pushing it).  But you get the idea.
For us, Tom Hopkins is a guy we really didn't know personally, but whose ideas made a HUGE impact in our lives.  And that was WAY before we became The Real Estate Guys™.
So you can imagine how excited we were when Tom agreed to be our in-studio guest for a full hour (and then some) of face to face conversation.   And when it was all over, Tom agreed to join the faculty for The Real Estate Guys™ 2014 Investor Summit at Sea™. WOW!  Double prizes!
From the Rich Dad Radio studios in Scottsdale, Arizona for this star-struck episode of The Real Estate Guys™ radio show:
Your happy host, Robert Helms
His giddy sidekick, Russell Gray
A living legend in real estate and sales training, Tom Hopkins
We kick off this episode gushing about the role Tom Hopkins has played in each of our lives.  We've been recommending Tom's signature work, How to Master the Art of Selling, in the Sales and Business section of our Recommended Reading area since we first set up our website.
Now before you tune out because you're not a salesperson, think again.  EVERYONE is a salesperson.  And everyone is better off for being more skilled in the art of persuasion.
Think about it.  Whether you're looking for a job, asking for a date, recruiting a team member or negotiating the family budget, if you want to be successful, you'd better be able to persuade the other person.
And in addition to being a legendary sales guru and prolific author, Tom Hopkins is also an avid, lifelong real estate investor.  His perspectives have been shaped over decades of selling real estate, investing in real estate, training real estate professionals and being connected to people at all levels of the real estate industry.
With that kind of resume, it's a shame we only had Tom for an hour.  But did we mention, he's agreed to join us for an ENTIRE WEEK on the 2014 Investor Summit at Sea™?  We can't wait!
Tom reminds us that for sales pros (or anyone wishing to persuade another), the tools of the trade are words.  And the good news is that unlike heavy equipment, computers and power tools, words are FREE.  But that doesn't mean you don't need to be diligently trained and practices in their safe and proper use.
Sadly, because the barrier to entry is so low, many people end up in sales who are unskilled with their words.  The result is misunderstandings, ruffled feathers and awkward moments.  Or worse.
On the other hand, because so many people are unskilled with their words, when YOU take the time to master your craft, it's easier to excel.  And while persuasion is an art, it's also a skill.  So even people lacking "natural talent" (whatever that is), can become proficient persuaders.
Consider how handy it would be to be skilled when negotiating your next deal, partnership, vendor contract or loan.  The applications for sale skills are endless.
So before you label yourself as "just not a salesperson" or "a natural salesperson", think long and hard about what it means to be a professional in getting teams built and deals done.  Can you really afford not to be a proficient persuader?  How much more profitable might you be with better skills?
If you're not already the type of person who invests early and often in your own education and skills, we hope you'll begin to do so right away.  As Ben Franklin said, "An investment in knowledge pays the best interest."  Wise words.  No wonder he's on the hundred dollar bill!
Listen Now:
Want more? Sign up for The Real Estate Guys™ free newsletter
Don't miss an episode of The Real Estate Guys™ radio show! Subscribe to the free podcast
 Stay connected with The Real Estate Guys™ on Facebook!
The Real Estate Guys™ radio show and podcast provides real estate investing news, education, training and resources that help real estate investors succeed. Visit our Feedback page and tell us what you think!