---
More From The Real Estate Guys™…
The Real Estate Guys™ radio show and podcast provides real estate investing news, education, training, and resources to help real estate investors succeed.
Low-hassle affordable housing + land banking + triple-net leases = what? There's only one answer to this real estate investing equation, and that's mobile home parks.
In the second episode in our Profitable Niches series, we venture into the land of mobile home park investing.
We chat with super syndicator Andrew Lanoie about why he ventured into this niche and what benefits investors can find in the mobile home space.
In this episode of The Real Estate Guys™ show you'll hear from:
Your mobile host, 

Robert Helms

His unmovable co-host, 

Russell Gray
Experienced syndicator, Andrew Lanoie
---
Listen
---
Subscribe
Broadcasting since 1997 with over 300 episodes on iTunes!
---
Review
When you give us a positive review on iTunes you help us continue to bring you high caliber guests and attract new listeners. It's easy and takes just a minute! (Don't know how? Follow these instructions).
Thanks!
---
An expert investor in a unique space
Do we know what's going on in the mobile home space? We've got some general knowledge … enough to form some hypotheses.
But to test our hypotheses, we turned to Andrew Lanoie, principal partner at Park Place Communities. He's been in the mobile home space for the last five years.
Why mobile homes? Two reasons:
Increasing demand for affordable housing in the marketplace.

Adequate supply of mobile home properties for sale, often by owners suffering from lazy landlord syndrome … which means many properties also have a value-add opportunity.
These two reasons are the main factors Andrew has made a place for himself in the mobile home space.
He started out in single-family homes but realized things weren't penciling out after several years in the space. Andrew then tried multi-family properties … same problem.
Prices were escalating while returns were decreasing. So, Andrew started looking at different asset classes, eventually arriving on mobile home parks.
Today, he looks for distressed assets where he can buy low and add value.
Are mobile homes actually "mobile"? Not really. Ninety percent of mobile homes stay in place for the entire life of the home. Most residents sell their homes and buy new ones instead of paying pricy moving fees.
Why are mobile homes in demand? This class of affordable housing offers a lot of square footage for each resident's dollar.
Think about it … the standard double-wide mobile home is equivalent to a 3-bedroom, 2-bath apartment. For $500-600 a month, that's a lot of bang for a renter's buck.
Plus, residents don't have to share walls.
Pros of mobile home investing, and where to step cautiously
There are many benefits for investors, too. For example, Andrew says one big difference between a multi-family property and a mobile home community is the expense ratio.
"The expense ratio is reduced in mobile home communities because you only have to deal with below-the-ground issues." That's because generally, residents own the mobile home they live in, while investors only own the ground beneath their feet.
Owners' biggest costs will be infrastructure costs, like sewers, water systems, roads, and electrical setups. Another cost is the cost of vacancies, although buyers can bring that down by renovating and reselling non-performing homes.
One area for upside is rent increases, although investors should be very careful in this space. In the affordable housing sphere, "You cannot just gauge rents up," says Andrew.
However, investors can make slow and steady rent increases … as long as they are making other improvements to increase the value of the property to residents.
How does tenant-landlord law work? In most cases, residents are paying a pad rent plus an additional lease amount if they don't own the mobile home outright. If a mobile home owner can't pay their pad rent, operators can essentially put a lien on the mobile home.
"It's usually a 90-day process to get someone out," notes Andrew. In many cases, operators can make a deal with residents before it gets to that point. But if necessary, it is relatively easy to expel a non-paying and uncommunicative tenant.
While there are many benefits to buying a mobile home community, Andrew recommends caution as an overarching strategy when purchasing. Deferred maintenance and other issues crop up often in older properties, so buyers should do thorough due diligence before buying.
Another thing to consider is the path of progress. Some mobile home properties increase in value as cities grow around them. "I wouldn't plan on that as an exit strategy, though," warns Andrew.
One tough aspect of mobile home investing is that commercial lenders are almost always unwilling to offer loans for this investment class when occupancy rates are low. Investors interested in distressed assets will have to find alternate financing sources.
One option? Syndication. This is the model Andrew uses to buy and operate mobile home investments. Keep reading to learn about his strategy!
A peek at Andrew Lanoie's prolific syndication portfolio
With his team at Park Place Communities (PPC), Andrew has almost 1100 operating units in 15 communities spread throughout 8 different states.
"We get the most traction in the Midwest and Southeast," says Andrew.
Many of his investments aren't in major metros … but towns can't be one-trick ponies, either. He's looking for markets with multiple employers and diverse, stable populations.
An essential part of running this kind of operation is building a stellar team. Andrew has people on the ground in every state to search for and buy new properties.
Because this asset class is often difficult to operate and there isn't a property management company that could fill all PPC's needs in every state, Andrew and his team have built out their own management team.
They've also formed a construction company to renovate homes at new sites. For Andrew, renovations are the "low-hanging fruit" when adding value.
PPC also works with manufacturers when a lot needs new mobile homes … the cost of which investors can potentially recoup when they sell to residents. These homes do not need to be paid for with cash, but can be mortgaged, freeing up money for the investor.
Once the construction crew is done and units are in place, the marketing department takes over to find residents. Once residents are found, they're sent to PPC's lender, who looks for a history of on-time rent payments and an ability to pay the rent going forward.
One other essential relationship is with brokers. Andrew and his team have built great relationships with brokers, which allow them to access off-market deals and pocket listings.
Andrew's operation has a TON of moving pieces … which allows the PPC team to leverage efficiencies for maximum return.
For the average mom-and-pop real estate investor, running an operation like Andrew's is out of the question. That's why PPC syndicates deals … so investors can access a high-cap-rate investment passively.
Another pro to this investment class? It grows slowly and steadily … even during downturns.
We asked Andrew what potential investors need to know. His number-one piece of advice is to do your due diligence before jumping into a deal.
Interested in learning more about investing in the mobile home space? Listen in to the show to get access to Andrew's curated report on mobile home park investing. He's compiled a detailed overview of why he and his team are bullish on affordable housing and mobile home communities … and why you should be too.
We encourage you to do your own research and learn more … and keep listening to the Profitable Niches series to step off the beaten path and learn more about other lucrative, but as-yet unexploited asset classes.
---
More From The Real Estate Guys™…
The Real Estate Guys™ radio show and podcast provides real estate investing news, education, training and resources to help real estate investors succeed.
---
More From The Real Estate Guys™…
The Real Estate Guys™ radio show and podcast provides real estate investing news, education, training, and resources to help real estate investors succeed.
Tenants, toilets, and termites … real estate investing isn't always pleasant.
But we have good news for you … real estate is more than just single- and multi-family properties (although we're big fans of those investment classes too).
In our new Profitable Niches series, we'll explore a variety of niches in detail so you can find the asset class that best fits your investing needs.
This episode explores a fascinating niche … self-storage properties. We'll dive into the reality and myths of this tenantless niche with a multi-talented investor, Dave Zook.
In this episode of The Real Estate Guys™ show you'll hear from:
Your nice host, 

Robert Helms

His niche co-host, 

Russell Gray

Real estate investor and instructor

Dave Zook
---
Listen
---
Subscribe
Broadcasting since 1997 with over 300 episodes on iTunes!
---
Review
When you give us a positive review on iTunes you help us continue to bring you high caliber guests and attract new listeners. It's easy and takes just a minute! (Don't know how? Follow these instructions).
Thanks!
---
How and why to invest in self-storage properties
Dave Zook doesn't pigeonhole himself into one asset class. He started out with multifamily and single-family homes, but has since then expanded to resort community development and ATM investing.
He also runs The Real Asset Investor, where he finds and curates real asset investment opportunities for investors who want to build wealth.
Dave's latest venture has been self-storage units, so we sat down to discuss some need-to-know characteristics for this asset class.
First, what should investors look for in a self-storage investment?
Investors need to make sure everything pencils out. Demand for self-storage units varies drastically depending on the market and its demographics … and demand and profitability also change over time.
Some markets are overbuilt. Investors need to do a comprehensive market analysis. Investors can look at population growth, strength of economy, and the local job market.
Dave Zook says his one go-to metric to figure out whether a market is over- or underbuilt is comparing the square footage of existing storage space to the square footage needed per person in the average market.
We asked Dave whether self-storage investing has gotten too hot for investors to get in. His answer is a definite "no." "There's still opportunity, especially in tertiary markets, to get in," he says.
Like all real estate investing, there's a smart and a not-so-smart way to go about investing in self-storage. Dave says that just like in multi-family investing, a key component of a profitable investment is purchasing a property with value-add opportunity.
For Dave, the best way to go is purchasing a property in a desirable location, whether unbuilt or with B- or C-class storage buildings, and then reviving the property and adding value and square footage.
How can investors choose what type of self-storage units to invest in? After all, there are a lot of options, including business/commercial storage and air-conditioned/climate-controlled storage.
A lot depends on the geographic area in which you're investing, says Dave. For example, you'll find far more climate-controlled storage facilities in Florida than elsewhere in the country.
We talked with Dave about what makes self-storage investing so great. There are several pros:
Tenant/landlord laws don't apply when your tenants are boxes. This changes your risk parameters immediately.

Self-storage facilities are commercial spaces, not residential. It's a lot easier to shut down a non-performing tenant under commercial rules.

Self-storage renters tend to use spaces long term. Although the average self-storage tenant

intends

to stay 3 to 6 months, most stay between 28 and 30 months.
Another bonus? Self-storage investments are accessible to mom-and-pop investors who come in alongside a syndicator. In fact, Dave specializes in syndicating opportunities for smaller investors … read on for details about his syndication program.
Investing the Zook way
Dave follows the 10,000-hour rule. According to Malcolm Gladwell, it takes 10,000 hours of practice to be world-class in any given field.
How, you may ask, has Dave spent 10,000 hours learning the ropes of every asset class he invests in? The answer … he hasn't.
Dave calls himself a generalist. He dabbles in many different areas, but when it comes to down-and-dirty details, Dave relies on a team of specialists to operate investment properties.
Dave says his "shortcut" to becoming a great investor is finding a team and rallying around them. "Doing business with a great team can turn your investment experience from a nightmare to something really enjoyable," he says.
Currently, Dave partners with Reliant Real Estate Management to operate ongoing and future self-storage investment syndication deals. These experts have a proven track record of profitable management … a must-have for Dave and his investors.
Dave's most recent self-storage deal is quite spacious … 70,000 feet. Dave is expanding the 526-unit property to add approximately 400 more units.
Dave purchased his latest property for approximately $8 million, with $4 million down. Once construction is completed, he and his team will be at about 75 percent loan to value.
Obviously, self-storage owners need to provide a mix of unit types and sizes. Although it can be a challenge to figure out exactly what you need, Dave says he relies on historical data … and expert analysis … to predict demand and occupancy.
Most investors aren't going to buy a 70,000-square-foot property solo. So we asked Dave what is looks like when investors come alongside him in a syndication deal.
The timeline for Dave's deals is typically 60 days from contract to close. The first 10-15 days are spent structuring the deal, and then investors typically have 45-60 days to join in.
Investors contribute a minimum of $100,000 and must be accredited.
It can be hard to find opportunities like those Dave offers, so connection is key. The best way to find deals is to connect with people entrenched in the space you'd like to invest in.
Looking for more information on investing with Dave? Listen in to the show to get access to a complimentary self-storage report from Dave Zook himself.
For a thriving portfolio, understand asset classes
There are a lot of ways to play the real estate game. For those just getting started, the wide array of options can be confusing.
And for established investors, it can be easy to choose an asset class and stick with it!
That's why we created the Profitable Niches series … to break down the various types of asset classes in a detailed but understandable way so YOU can do the best deals.
Dave is a great example of someone who's taken our motto, "Education for effective action," and put it to work.
He's also a great example of someone who knows he might not be the smartest person in the room when it comes to a particular asset class … and acknowledges the value of building a great team to fill in the details.
Want to be more like Dave … an experienced investor who has stayed out of the weeds and developed a diverse, thriving portfolio? Keep listening to the series!
Learning more about each asset class will allow you to do a thorough zero-based analysis of your current portfolio so you know whether you would do it again … and what you need to change to build wealth and satisfaction, your way.
---
More From The Real Estate Guys™…
The Real Estate Guys™ radio show and podcast provides real estate investing news, education, training and resources to help real estate investors succeed.
---
More From The Real Estate Guys™…
The Real Estate Guys™ radio show and podcast provides real estate investing news, education, training, and resources to help real estate investors succeed.
It's tax time!
For most people, the month before April 15 is the only time they think about taxes. Today, we'll chat with Tom Wheelwright, CPA, about why you should change your mindset.
We'll discuss the implications of the recent tax reform bill and how YOU can plan strategically to bring down your taxes — and increase your wealth.
Taxes are the price you pay for making an income … but that doesn't mean you can't manage your tax liability and get smart about how much you're paying.
In this episode of The Real Estate Guys™ show you'll hear from:
Your tax-talking host, 

Robert Helms

His taxing co-host, 

Russell Gray

Tax advisor for real estate investors

Tom Wheelwright, CPA
---
Listen
---
Subscribe
Broadcasting since 1997 with over 300 episodes on iTunes!
---
Review
When you give us a positive review on iTunes you help us continue to bring you high caliber guests and attract new listeners. It's easy and takes just a minute! (Don't know how? Follow these instructions).
Thanks!
---
How does the tax reform bill affect you?
Tom Wheelwright is a personal tax advisor for The Real Estate Guys™ and Robert Kiyosaki. His goal is to help real estate investors build wealth … without losing it all to taxes. He even wrote a book on the subject, Tax-Free Wealth.
Tom has read the new tax law not once, but twice! We're comfortable calling him an expert on the subject.
Is the tax law out to get you? Absolutely not.
Tom says the first few pages of the tax law cover ways to raise revenue. The rest is a series of incentives … and that's true in EVERY country.
If you want to know what your government wants you to do, look at the tax law. Take a closer look, and you'll see built-in real estate incentives.
That's because real estate is the preferred investment vehicle for many governments. Why? Because it provides necessary housing.
The tax law gives you a ROAD MAP to reduce your taxes.
So, instead of complaining about how the government is taking all your money and then doing nothing about it, PARTNER with the government. Figure out what incentives are available … then take advantage of them.
What about the 2018 tax reform? Tom says to remember that some parts of the bill are effective retroactively. For example, if you bought a car between October and the end of the year, you may have a big tax break coming.
By using the home office deduction, you can double your car purchase deduction. A big key for April 15, says Tom, is to make sure you take ALL the deductions you're entitled to.
And don't get worried about the impacts of the new tax bill. Tax changes move slowly. Realize that your tax strategy and your investment strategy impact each other … and recruit an accountant to help you fine-tune your plan.
Start thinking about next year's taxes NOW
We asked Tom how to approach next year's taxes in light of this year's reform.
"There are so many big changes," says Tom.
For example, Section 179 now applies to residential real estate. This allows you to deduct equipment … including roofs, HVAC systems, security systems, and more.
So when you're improving your properties, an important factor to take into consideration is the tax impact and potential deductions.
Another huge change is that bonus depreciation now applies to used property. So, you could get a huge deduction in year one.
Another change that affects you is the 20 percent deduction for pass-through businesses. That deduction absolutely applies to real estate investors … if you have a positive net income.
To make sure you're getting maximum benefits, sit down with your tax provider and lay out your plans for the next year. The right tax professional will help you figure where there is the most permanent tax benefit … instead of pushing options that will be lucrative in the long term but counterproductive in the short term.
To do depreciation recapture, Tom says you need to get your tax advisor involved. If you're doing it right, ultimately there should be very little recapture … and thus very little taxable income. To avoid paying taxes on properties, you can do a 1031 tax exchange.
And as every real estate investor knows, borrowing does not create taxable income.
How to choose the right tax advisor
When speaking at conferences, Tom likes to ask whether attendees' accountants have told them NOT to take the home office deduction.
If the answer is yes, that's a sign you're ready for a new accountant. "You don't want an accountant who is afraid of the IRS," says Tom.
HOW you pick a tax advisor depends on WHAT you want one for. If you want someone to record historical information, any accountant will do.
But if you want someone to reduce your taxes going forward, you should look for someone who asks you questions about what is happening now and what will happen in the future.
It's essential that you're paying attention to the future … because your tax picture WILL change. According to Tom, "Most people have really good business strategy, but almost no investment strategy."
A good tax advisor will help you project what will happen 5-10 years down the road. Why? Because you can't change the past … but you can change the future.
The right tax professional will also reach out to you with updates on a regular basis. You shouldn't have to bug him or her to get information.
Outside of your spouse, your tax advisor will have more impact on yourself, your future, and your financial situation than any other person. So build a relationship with an excellent tax professional.
And if your current accountant doesn't sound like the professional we've described above … you may have outgrown them.  
Want to know more about how to choose the right tax professional? In his book, Tax-Free Wealth, Tom describes 10 questions you should ask your accountant … and 10 questions your accountant should ask you! He's making this chapter free to listeners of The Real Estate Guys™ radio show. Listen in to the show to find out how to get your complimentary copy!
More about our favorite wealth strategist
We also asked Tom about his new platform, WealthAbility. The site is a collection of tools and educational resources to help people like YOU earn more … and pay less in taxes.
The platform is paired with a global network of accountants and firms that understand tax-free wealth strategies.
If you want to hear more from Tom, check out WealthAbility or his wealth strategy firm, ProVision™. Also consider coming to our brand-new Future of Money and Wealth conference, where Tom will be a speaker.
Some final words of wisdom
Remember that different investments have different tax ramifications. Gold and silver is very different from real estate. A couple single-family investments will be very different than a dozen multifamily properties.
And residential real estate is a world away from commercial. Whatever investment class you choose, don't forget … there's always a tax advantage.
One thing we know about taxes … "Experts predict tax laws will always change OR stay the same in the future," says Robert. Pretty hard to argue with, right?
People in and outside of the government will always try to manipulate markets to get certain incomes. It's your job to set your prejudices aside and focus on the best outcome.
There will be losses … so make sure you're not the one eating them. And there will be winners … make sure you're one of them!
It all starts by getting connected with the right ideas, the right people, and the right environment. That includes that right tax advisor!
---
More From The Real Estate Guys™…
The Real Estate Guys™ radio show and podcast provides real estate investing news, education, training and resources to help real estate investors succeed.
---
More From The Real Estate Guys™…
The Real Estate Guys™ radio show and podcast provides real estate investing news, education, training, and resources to help real estate investors succeed.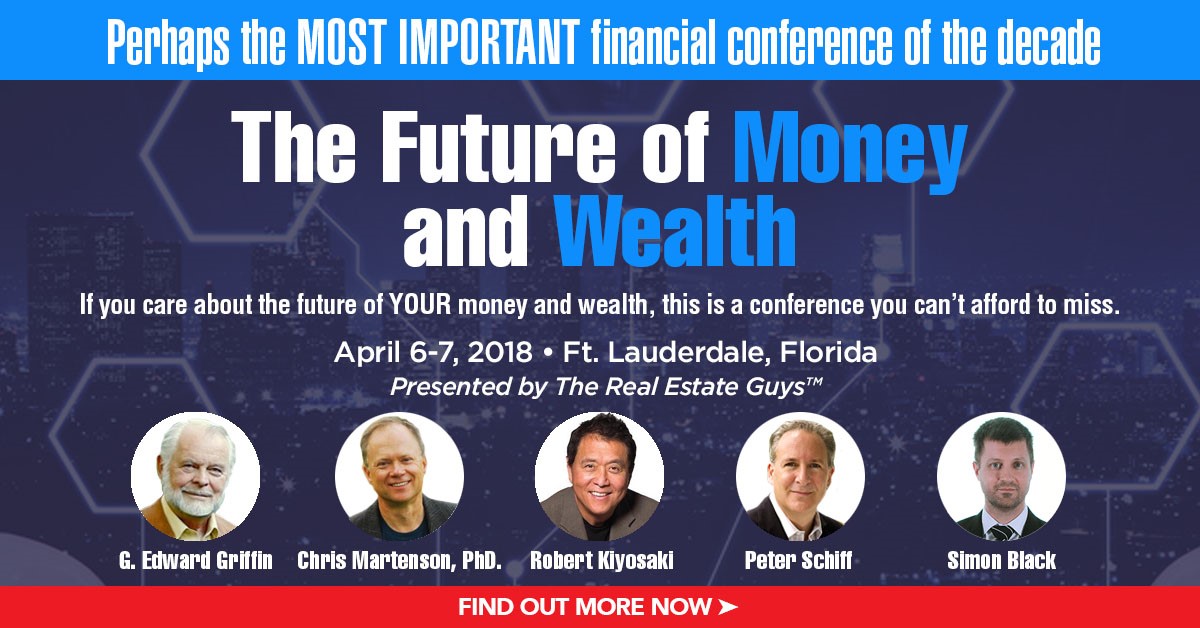 The world economic order is under-going massive change right now.  We're literally watching it unfold in the daily news.
Yet few investors really understand what's happening and why … or what they can do to both grow and protect wealth during these historic times.
"Those who can't remember the past are doomed to repeat it." – George Santanya
In two power-packed days our all-star line-up of notable experts will explain …
How the U.S. dollar is under attack and what it means to Main Street investors

What are the best and worst investments based on what's happening now … and where it's headed

How savvy investors are preparing to be on the right side of an historic wealth transfer most people don't see coming
Remember, the flip side of crisis is opportunity.  But pretending everything is fine … and not being prepared in case it's not … can be dangerous and expensive.
"Maintain unwavering faith you can and will prevail in the end, regardless of the difficulties, and at the same time, have the discipline to confront the most brutal facts of your current reality." – Jim Collins, Good to Great
Warren Buffet. Also known as the Oracle of Omaha, this investing heavyweight spends a lot of his time doing one particular thing.
It's not scoping out new investments. Not chatting with folks in the investment industry. Not attending board meetings … although we bet he does spend a bit of time doing all of those things.
This investing genius spends 80 percent of his time reading.
From trade-specific journals to general financial news, reading and listening to the headlines is essential to staying informed. But just as important is reading between the lines.
That's why we bring you Clues In The News … our take on how recent headlines affect real estate investors like YOU. In this edition, you'll hear from:
Your media examiner host, 

Robert Helms

His (slightly OCD) news peruser co-host, 

Russell Gray
---
Listen
---
Subscribe
Broadcasting since 1997 with over 300 episodes on iTunes!
---
Review
When you give us a positive review on iTunes you help us continue to bring you high caliber guests and attract new listeners. It's easy and takes just a minute! (Don't know how? Follow these instructions).
Thanks!
---
Mortgage rates for single-family homes rising
Many articles are saying it … mortgage rates continue to climb and show no signs of stopping soon. Note, this information applies specifically to single-family homes.
This is important news … but before you react, stop and ask yourself the question, "If interest rates were guaranteed to rise, what would I do?"
The answer is probably buy a deal that makes sense today and lock in the interest rate so you get a competitive advantage.
Data from this Redfin survey shows less than 4 percent of potential homebuyers would cancel their decision to buy if interest rates increased … so people will keep buying even if it squeezes their bottom line.
But buying at a too-high interest rate means high cost inputs, higher rents, and potentially more vacancies. Getting in while the interest rate is lower is an important factor for success.
We also suggest you consider the advantages of adjustable-rate mortgages versus fixed-rate mortgages. Adjustable-rate mortgages may start lower depending on the market, but have no certainty of staying the same.
Fixed-rate mortgages, on the other hand, allow you to lock in a predictable rate that won't rise or fall with the market. And when you're locked into a rate for 10-15 years, having consistency is particularly important.
An equal concern is the strength of the dollar. If rents are sliding upwards faster than wages, your tenants are in trouble.
That's why investing in A-class properties can be a poor strategy (more on that later).
Tighter guidelines plus higher mortgage rates can mean good things for landlords because fewer people are buying their own homes. So pay attention and think strategically … because a large part of success is getting in at the right time.
Is the multifamily sector overheated?
Multifamily properties have attracted a lot of money. We're now hearing from many investors who wonder whether the sector is overheated.
Interest rates are rising, and since multifamily properties typically have 10-15 year loan periods, investors do need to be careful here.
If you're a multifamily investor, you also need to keep in mind that rising interest rates not only affect you … they affect your tenants too.
According to a CNBC article, half of all renter households pay more than 30 percent of their income in rent. That means there's no real wiggle room for inflation … and no real wiggle room if YOU need to raise rents.
One apartment developer interviewed in the article above says, "There is an acute crisis headed our way." We can see this in the high numbers of luxury apartments being developed … and then standing empty.
At the same time, we're seeing a shortage in B- and C-class housing.
Because of today's costs, it's difficult for developers to build new buildings for non-luxury buyers. And Wall Street investors see luxury as a safer investment … even though it typically brings 2-3 percent yields.
If you're a syndicator, all of this information can help you understand the economic world you're operating in. A development explosion in the high-end apartment space DOES NOT mean you should be investing in that space.
This information should be the start of your research. Read between the lines, look for the wise voices, and start following them … but mostly importantly, talk to the people who have boots on the ground.
And remember, just because the economy looks bad does not mean investment options are bad. In fact, a downturn can be the best time to buy.
What's happening on Wall Street?
We like to read trade-specific news. But we also think it's important to read and watch mainstream financial news because that's what everyone else is seeing.
The difference, though, is that we always attempt to delve into what's beneath the headlines.
An article published by Bloomberg notes that Wall Street investors are beginning to snap up cheaper single-family properties they had formerly ignored.
After focusing on a particular niche … "safer" luxury-class homes and apartments … Wall Street is now lowering expectations.
Realize that what Wall Street investors are essentially doing is speculation.
They're trying to "buy low, sell high" without investing the time and effort to research their product and control outcomes the way real estate investors can do.
But Wall Street's foray into single-family homes affects YOU … because sourcing inventory is harder when there are more hands in the game.
It is possible to get in front of Wall Street investors … in fact, Wall Street by nature is essentially following in the steps of smart real estate investors.
But now you know what the big players are doing … and you can think about where you can step in before the market becomes saturated.
All it takes to spot the right clues is a bit of attention.
How does the tech industry affect investors?
The retail apocalypse has caused a huge shift in the industrial and office space. Products are being sold online … instead of in buildings.
But the industry behind this shift can bring boons to real estate investors.
According to the National Real Estate Investor, tech firms continue to seek out new markets for expansion.
Expanding tech companies bring huge job numbers wherever they go … and with jobs comes a need for housing.
Other markets, like office and retail space, are also impacted directly and indirectly with population and industry shifts.
To get ahead of the game, look at what factors make a market appealing to tech CEOs. A great example is Amazon's list of market criteria, although each company will seek out different qualities.
A tech hub creates critical mass. Tech companies not only create tech jobs, but attract and are attracted to various other industries, like airlines and shipping companies.
As you pay attention and understand where businesses are growing, your ability to align yourself strategically with market shifts and new hot spots will improve dramatically.
The headlines in this episode of Clues In The News bring both challenges and opportunities. Now it's your turn … get out there, do some research, and start reading between the lines! It's the only way to get ahead of the game.
---
More From The Real Estate Guys™…
The Real Estate Guys™ radio show and podcast provides real estate investing news, education, training and resources to help real estate investors succeed.