Great news!  Robert Kiyosaki's Rich Dad Radio app has just been released!
If you don't already know, Robert Kiyosaki is the best-selling financial author in the history of earth.  His iconic Rich Dad Poor Dad book has sold many, many MILLIONS of copies all over the globe.  And for good reason. In our abundant travels over the years, we've personally met hundreds of people who tell us the concepts in Rich Dad Poor Dad changed their lives.  Powerful stuff.
But just in case you haven't yet read read Rich Dad Poor Dad, you can get a copy (and many of the other excellent books authored by the Kiyosakis and their advisors) in The Real Estate Guys™ bookstore.
Meanwhile, we encourage you to check out the Rich Dad Radio app by clicking on the image below.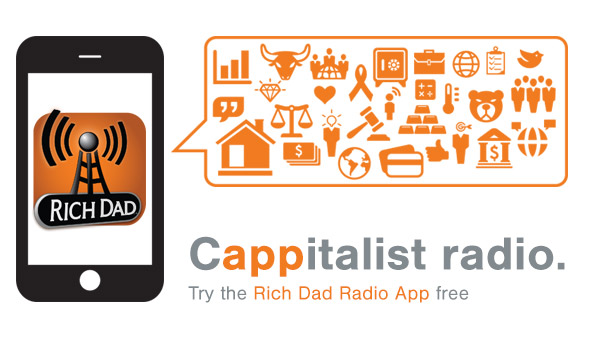 Go ahead.  It's okay.  We're not jealous.  We know you listen to other radio shows (so do we).  The more good ideas you put in your head, the better equipped you will be to navigate the rapidly changing economic world that we live in.  And right now, we think that's a REALLY good idea.
Enjoy!  And then visit our Feedback page and let us know what you think!
And if you're a big fan of Rich Dad Poor Dad, join Robert Kiyosaki's real estate advisor, Ken McElroy on The Real Estate Guys™ 2014 Investor Summit at Sea™.