Last week the Fed pumped over $200 billion of freshly printed cash into the repo market.
Since then, the Fed's upped the ante to $400 billion … and counting.
For those young or asleep during the 2008 financial crisis …
… back then, the Fed provided an infusion of $85 billion per month to keep the wheels on the financial system bus.
Today, they're pumping in nearly that much PER DAY.
That's MIND-BOGGLING.
They're trying to keep interest rates DOWN to their target. Of course, interest rates matter to real estate investors. We typically like them low.
But this isn't about real estate. It's more about banks who hold debt (both mortgages and bonds) on their balance sheets.
As we explained last time, when interest rates rise, bond values fall …
… and a leveraged financial system with bonds as collateral is EXTREMELY vulnerable to collapse if values drop and margin calls trigger panic selling.
The Fed seems willing to print as many dollars as necessary to stop it.
And that brings us to an important question …
If the Fed can simply conjure $400 billion out of thin air in just a week … is it really money?
This matters to everyone working and investing to make or save money.
For help, we draw on lessons learned from our good friend and multi-time Investor Summit at Sea™ faculty member, G. Edward Griffin.
Ed's best known as the author of The Creature from Jekyll Island. If you haven't read it yet, you probably should. It's a controversial, but important exposé on the Fed.
In his presentation in Future of Money and Wealth, Ed does a masterful job explaining what money is … and isn't.
In short, money is a store of energy.
Think about it …
When you work … or hire or rent to people who do … the energy expended produces value in the form of a product or service someone is willing to trade for.
When you trade product for product, it's called barter. But it's hard to wander around town with your cow in tow looking to trade for a pair of shoes.
So money acts as both a store of value and a medium of exchange.
The value of the energy expended to create the product is now denominated in money which the worker, business owner, or investor can trade for the fruits of other people's labor.
This exchange of value is economic activity.
Money in motion is called currency. It's a medium of transporting energy. Just like electricity.
When each person in the circuit receives money, they expect it has retained its (purchasing) power or value.
When it doesn't, people stop trusting it, and the circuit breaks. Like any power outage, everything stops.
So … economic activity is based on the expenditure and flow of energy.
This is MUCH more so in the modern age … where machines are essential to the production and distribution of both goods and information.
Energy is a BIG deal.
This is something our very smart friend, Chris Martenson of Peak Prosperity, is continually reminding us of.
Here's where all this comes together for real estate investing …
New dollars conjured out of thin air can dilute the value of all previously existing dollars.
It's like having 100% real fruit juice flowing through a drink dispenser.
If someone pours in a bunch of water that didn't go through the energy consuming biological process of becoming real fruit juice in a plant…
… the water is just a calorie free (i.e., no value) fluid which DILUTES the real fruit juice in the dispenser.
Monetary dilution is called inflation.
Legendary economist John Maynard Keynes describes it this way …
"By a continuing process of inflation, government can confiscate, secretly and unobserved, an important part of the wealth of their citizens."
Inflation waters down real wealth.
Fortunately, real estate is arguably the BEST vehicle for Main Street investors to both hedge and profit from inflation.
That's because leverage (the mortgage) let's you magnify inflation's effect so your cash-on-cash ROI and equity growth can outpace inflation.
Plus, with the right real estate leverage, there's no margin call. Meanwhile, the rental income services the debt.
Even better, the income is relatively stable … rooted in the tenant's wages and lease terms. Those aren't day-traded, so they don't fluctuate like paper asset prices.
Effectively, you harness the energy of the tenant's labor to create resilient wealth for yourself. And you're doing it in a fair exchange of value.
Of course, the rental income is only as viable as the tenant's income.
This brings us back to energy …
Robert Kiyosaki and Ken McElroy taught us the value of investing in energy … and markets where energy is a major industry.
First, energy jobs are linked to where the energy is. You might move a factory to China, but not an oil field. This means local employment for your tenants.
Your tenants might not work directly in the energy business, but rather for those secondary and tertiary industries which support it. But the money comes from the production of energy.
Further, energy consumers are all over the world, making the flow of money into the local job market much more stable than less diverse regional businesses.
It's the same reason we like agriculture.
While machines consume oil, people consume food. Both are sources of essential energy used to create products and provide services.
So when it comes to real estate, energy, and food … the basis of the investment is something real and essential with a permanent demand.
Though less sexy and speculative, we're guessing the need for energy and food is more enduring than interactive exercise cycling.
Real estate, energy and agricultural products, are all real … no matter what currency you denominate them in.
And the closer you get to real value, the more resilient your wealth is if paper fails.
Right now, paper is showing signs of weakness. But like a dying star, sometimes there's a bright burst just before implosion.
Remember, Venezuela's stock market sky-rocketed just before the Bolivar collapsed.
Those who had real assets prospered. Those who didn't … didn't.
Are we saying stocks and the dollar are about to implode? Not at all. But they could. Perhaps slowly at first, and then suddenly.
If they do and you're not prepared … it's bad. It you're prepared and they don't … not so sad. If they do and you're prepared … it could be GREAT.
Real assets, such as well-structured and located income property …
… or commodities like oil, gold, and agricultural products (and the real estate which produces them) …
… are all likely to fare better in an economic shock than paper derivatives whose primary function is as trading chip in the Wall Street casinos.
So consider what money is and isn't … the role of energy in economic activity … and how you can build a resilient portfolio based on a foundation of real assets.
"The time to repair the roof is when the sun is shining."
John F. Kennedy
Until next time … good investing!
More From The Real Estate Guys™…
The Real Estate Guys™ radio show and podcast provides real estate investing news, education, training, and resources to help real estate investors succeed.
---
Love the show?  Tell the world!  When you promote the show, you help us attract more great guests for 

your

 listening pleasure!
As of this writing, we're not sure what the Fed will do with interest rates, though it's widely expected they'll cut.
So as much as we'd like to talk about what it means to real estate investors, we'll wait to see what happens.
And even though mainstream financial media are finally paying attention to gold and the future of the dollar … these are topics we've been covering for some time.
But if you're new to all this, consider gorging on our past blog posts …
… and be sure to download the Real Asset Investing report …
… and for the uber-inquisitive, check out the Future of Money and Wealth video series.
After all, this is your financial future … and there's a LOT going on.
In fact, today there's a somewhat esoteric and anecdotal sign the world might be on the precipice of its next major financial earthquake.
But before you go full-fetal, this isn't doom and gloom. We're too happy-go-lucky for that.
It's more an adaptation of a principle from Jim Collins' classic business book, Good to Great …
Confront the brutal clues.
Of course, the original phrase is "Confront the brutal facts." But as great as data is, sometimes data shows up too late to help.
So, while facts may confirm or deny a conclusion … clues provide awareness and advance warning.
But just like with facts, you must be willing to go where the clues lead.
In this case, we're just going to look at one clue which has a history of presaging a crack up boom.
For those unfamiliar, a crack up boom is the asset price flare up and flame out that occurs at the end of an excessive and unsustainable credit expansion.
In other words, before everything goes down, they go UP … in spectacular fashion.
Here's a chart of the housing boom that eventually busted in 2008 …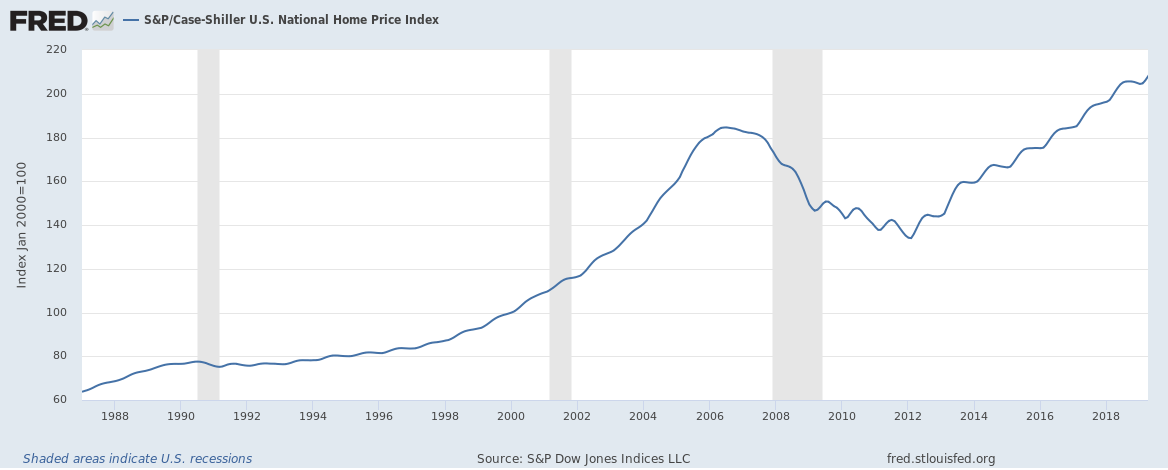 See the bubble that peaked in 2007? It's hard to miss … in hindsight. It's hard to see when you're in the middle of it.
Peter Schiff saw it in 2005 and published his book, Crash Proof, in 2006 to warn everyone. Few listened. Some mocked.
In 2008 it became painfully obvious to everyone.
Of course, for true real estate investors … those busy accumulating tenants and focusing on the long-term collection of rental income …
… asset prices are only interesting when you buy, refinance, or sell.
As long as you stay in control of when you buy, refinance, or sell … you can largely ride out the bust which often occurs on the back end of a boom.
And if you're paying attention, you use boom time as prime time to prep … and the bust as the best time to buy.
Today it's safe to say, just based on asset prices alone, we're probably closer to a bust than another big boom.
But the current run-up could still have more room to boom. As we said, it's hard to tell when you're in the middle of it.
Shrinking cap rates are one of the most followed metrics for measuring a boom.
Cap rates compress when investors are willing to pay more for the same income. That is, they pay more (bid up the asset price) for the same income.
But when the Fed says low-interest rates are the new normal, maybe it means so are low cap rates.
It's one of MANY ways Fed policy ripples through the economy … even real estate.
But there's another sign that's hard to see unless you're an industry insider, and while not scientific or statistical, it still makes a compelling argument the end is nearing …
Lending guidelines.
Think about it … booms are fueled by credit. It's like the explosive fuel which propels rising asset prices.
The only way to keep the boom going is to continually expand credit.
But any responsible head of household knows you can't expand credit indefinitely … and certainly not in excess of your capacity to debt service.
At some point, the best borrowers are tapped out. So to keep the party going, lenders need to let more people in. That means lowering their standards.
We still have a "backstage pass" to the mortgage industry and see insider communications about lenders and loan programs.
When this subject line popped up in our inbox, we took notice …
24 Months of Bank Statements NO LONGER REQUIRED
To a mortgage industry outsider that seems like a lame subject line. But to a mortgage broker trying to find loans for marginal borrowers, it's seductive.
It suggests less stringent lending criteria. Easier money.
Sure, the rates are certainly higher than prime money. But with all interest rates so low, they're probably still pretty good.
And these are loans with down payments as low as 10% for borrowers just 2 years out of foreclosure or short-sale. Hardly a low risk borrower.
Usually, lenders want to see TWO years of tax returns and a P&L for self-employed borrowers. They're looking for proof of real and durable income.
Not these guys. Just deposits from the last 12 months banks statements. And they'll count 100% of the deposits as income, and won't look at withdrawals.
So a borrower could just recycle money through an account to show "income" based solely on deposits.
The lender is making it STUPID EASY for marginal borrowers to qualify.
All of this begs two questions:
First, why would a lender do this?
And second, why would a borrower fabricate income to leverage into a house they may not be able to afford?
We think it's because they both expect the house to go UP in value and the lender is growing increasingly desperate to put money to work at a decent yield.
Pursuit of yield is the the same reason money is flowing into junk bonds.
And if the Fed drops rates as expected, it's likely even more money will move to marginal borrowers in search of yield.
Today, MANY things could ignite the debt bomb the way sub-prime did in 2008. Consumer, corporate, and government debt are at all-time highs.
Paradoxically, lower interest rates take pressure off marginal borrowers … while adding to their ranks.
It's hard to perfectly time the boom-bust cycle.
But careful attention to cash-flow protects you … whether structuring a new purchase or refinance. It means you can ride out the storm.
Meanwhile, it's smart to prepare … from liquefying equity to building your credit profile to building a network of prospective investors …
… so if the bust happens, you have resources ready to "clean up" in a way that's positive for both you and the market.
No one knows for sure what's around the corner … but there are signs flashing "opportunity" or "hazard".
Both are present, but what happens to you depends on whether you're aware and prepared … or not.
Until next time … good investing!
More From The Real Estate Guys™…
The Real Estate Guys™ radio show and podcast provides real estate investing news, education, training, and resources to help real estate investors succeed.
---
Love the show?  Tell the world!  When you promote the show, you help us attract more great guests for 

your

 listening pleasure!
There's a lot of talk in the media about tariffs, taxes, and trade … what does all of that really mean for real estate investors?
As a real estate investor, you need to understand what is going on economically. What's happening at an international level can trickle down to your local playing field.
To help you navigate the news, we brought in our good friend Peter Schiff. Peter is an author, stock broker, and financial commentator … and he has some strong ideas to share.
Learn to more successfully sail the economic sea and weather financial storms.
In this episode of The Real Estate Guys™ show, hear from:
Your financial seafaring host,

Robert Helms

His economically seasick co-host,

Russell Gray

Author, stock broker, and financial commentator,

Peter Schiff
---
Listen
---
Subscribe
Broadcasting since 1997 with over 300 episodes on iTunes!
---
Review
When you give us a positive review on iTunes you help us continue to bring you high caliber guests and attract new listeners. It's easy and takes just a minute! (Don't know how? Follow these instructions).
Thanks!
---
Tariffs and the big picture
If you're the type of investor who reads the headlines … and you should be … then you've probably seen lots of talk about tariffs, taxes, and trade.
But most investors don't understand what these headlines mean for their money.
What's the deal with these three big "Ts" … What are they? How do they work? And why do they impact your business?
As a real estate investor, you've got to understand the economic and financial sea that you swim in.
You need a basic understanding of all things economic.
Tariffs … in particular … are a great place to start.
Before 1913, the United States didn't have an income tax. Instead, we funded our federal government through tariffs.
A tariff is a tax on people that want to sell in our markets … and today, President Trump is using tariffs as leverage in negotiations to level the international playing field.
You may agree or disagree with these politics … but whatever your personal opinions, you still need to know what such action really means for you.
Any kind of tax or tariff affects how much things cost in our economy … and it can also affect where jobs are created … which affects where people live.
By instituting tariffs, the federal government hopes to bring more manufacturing jobs back to the United States … potentially resurrecting manufacturing ghost towns.
Real estate investors need to look out at the horizon and see the bigger picture. You want to be riding the wave … not chasing the trend.
That's why we asked our good friend Peter Schiff to share his knowledge and experience with us.
The US-China trade relationship
Peter says a great place to start increasing your understanding of the current economy is to look at the US relationship with China.
According to Peter, China does TWO big things for the US … they supply us with real goods, and they lend us money.
We get everything from China. It's all manufactured products that make our lives better.
People go to Walmart and buy cheap stuff … and where is it coming from? China, of course.
China is also the biggest buyer of US bonds … which means they are our lender. They are lending us money that we would otherwise not have.
While the federal government talks about losing $500 billion a year to China, Peter thinks the US is still getting the better end of the deal.
China supplies us with real goods … and in exchange the US gives them a stack of paper that is arguably worth less every day that they hang on to it.
So, if the US places tariffs on China and enters a trade war, who is worse off in the end?
Peter says the Chinese will still have all their stuff … and we'll just have a stack of paper.
The US government hopes that by instituting tariffs, companies will make their products in the US instead. Peter says that is easier said than done.
Pulling together the infrastructure, raw goods, and man power to manufacture these products in the US could take years … and it will cost businesses more money … not to mention a major shortage of goods in the meantime.
Peter explains that switching the US back over to a more manufacturing-based economy would require tremendous changes … and most likely result in a huge depression until the new economic flow was established.
"When we were a big manufacturer in the past, we had limited government, lower taxes, fewer regulations, a lot of savings, and a skilled workforce. We don't have that stuff now," Peter says.
Peter does mention that the US is probably going to have to make some of these changes eventually … but proposed tariffs and trade wars would accelerate the timeline in a painful way.
And the United States doesn't realize how painful it will be.
If tariffs make it harder for the Chinese to sell stuff to America … they'll sell it domestically instead.
As the Americans get poorer … the Chinese would be getting richer.
Right now, the Chinese labor, and we get the fruits. Suddenly, they would get both.
And what about our intellectual property?
"They're going to keep ripping off our intellectual property because we can't stop it, but now they're not going to be giving us this big subsidy by loaning us money and supplying us with goods," Peter says.
Preparing for a drop in the dollar with gold
Another notable headline today … the Chinese and Russian governments are buying gold and putting it away.
Peter says that the Chinese and Russian governments recognize that the dollar's day as the reserve currency are numbered.
Nobody knows when the dollar's time will be up … but if it loses its role as the primary reserve asset for central banks, what will take its place?
Right now, what gives a currency value are the foreign reserves … we've got this huge pile of US dollars that gives currency value.
Before central banks used other currencies as their reserves, everybody used gold. That's what backed up your paper.
Originally, the transition from the gold standard to the dollar standard happened because the dollar was as good as gold.
US Federal Reserve notes were obligations of the Federal Reserve to pay. So, foreign central banks held Federal Reserve notes, which were redeemable on demand in gold.
Then, in 1971 the US said it would not give other countries gold for these reserves. The value of the dollar went down … and the value of gold went up.
All the central banks kept holding the dollar as a reserve even though it wasn't backed by gold anymore.
Peter says that the US has borrowed so much money … and printed so much money … that it is heading for a currency crisis.
"In that environment, central banks are going to have to show that their currency is backed by something," Peter says.
Some banks are buying more of other currencies … like the euro or the yen … but if people lose confidence in the dollar, the same could go for other currencies.
"I think that central banks are thinking they better have actual money in gold, because in the future, gold could be a much more important component of their reserves," Peter says.
And if the price of gold continues to rise, the appreciation alone is going to increase the percentage of their reserves that are in gold.
Preparing yourself for the future
So what's an investor to do?
Peter recommends getting out of US stocks in general … and bonds are way over-priced right now.
"If you've been fortunate enough to have invested in US stocks and seen a big gain, you need to cash in. Take that gain before the market takes it away from you," Peter says.
That doesn't mean you shouldn't own stocks … Peter says it just means to think about moving out of dollar-dominated US stocks.
Consider taking a look at foreign stocks … emerging markets and developed markets are looking really good right now.
These stocks are international and derive their revenues outside of the US. If the dollar crashes … these stocks will rise in proportion to that decline.
Peter also believes that investors should have some sort of gold in their portfolio. It's a good way to get diversified.
There's no sure way to know what will happen in the future. We can only do our due diligence and make an educated guess.
Remember that not every strategy works for every investor. Find what works best for you. Always talk to an expert that understands your financial needs and situation.
---
More From The Real Estate Guys™…
The Real Estate Guys™ radio show and podcast provides real estate investing news, education, training, and resources to help real estate investors succeed.
---
Love the show?  Tell the world!  When you promote the show, you help us attract more great guests for 

your

 listening pleasure!
It's your questions and our answers.
That's right. It's time for another segment of Ask The Guys … when we hear about the real-world challenges investors like YOU face every day.
We have another great collection of questions from our loyal listeners … covering everything from infinite returns to gold, proper reserves, compressed cap rates, and cash flow.
Remember … we aren't tax advisors or legal professionals.
We give ideas and information … NOT advice.
In this episode of The Real Estate Guys™ show, hear from:
Your in-the-know host,

Robert Helms

His go-with-the-flow co-host,

Russell Gray
---
Listen
---
Subscribe
Broadcasting since 1997 with over 300 episodes on iTunes!
---
Review
When you give us a positive review on iTunes you help us continue to bring you high caliber guests and attract new listeners. It's easy and takes just a minute! (Don't know how? Follow these instructions).
Thanks!
---
The ins and outs of infinite returns
Our first question comes from Sean in Durango, Colorado, who wants to know more about the ins and outs of infinite returns.
This is a topic we are pretty passionate about … it was even the theme of this year's Investors Summit at Sea.
The idea of an infinite return is pretty simple. It means that you're investing on the house's money.
In other words, you put up some money for a deal … to buy a property or be in syndication or grow crops … and at some point the deal has paid you back … and you're still making money.
Maybe that takes a year or five years … but once you get all of your initial capital off the table, everything else that comes in is an infinite return.
Infinite returns are easy to do in real estate … but it DOES take time.
There are lots of different ways to chase an infinite return, like getting creative with financing and syndication … but the core concept remains the same.
You're earning a return on no money at risk.
Purchasing real estate with other people's money
Teresa in Claremont, California, wants to know more about using other people's money to leverage the purchase of real estate.
Does it only work with people who have lots of money for a downpayment? Are there any lenders willing to finance 100 percent of a deal for a buy and hold?
Using someone else's money doesn't mean breaking into their house in the middle of the night or stealing from their bank account.
It means showing them the opportunity.
One of the primary sources of other people's money are lenders. They're in the business of putting capital to work for their depositors, for their shareholders, and sometimes for themselves.
Lenders put up some of the money for a deal in exchange for some portion of the return or a predictable income stream, like an interest payment.
You can also leverage other people's money through syndication. If you need $1 million to do a deal, you can raise $100,000 from 10 different people.
There are lots of legal and ethical implications to a syndicated route like this … but it can be a great way to get started passively or if you're interested in being a full-time real estate practitioner.
A lot of people think they have to have some sort of money to start with to do a deal. It helps … but you don't have to.
What you do have to have is a deal that makes sense … because it's going to end up being the collateral or the investment that your equity partners come to.
No matter what, you're going to have debt … and you're going to have equity.
The key is to look at how much profit is in the deal and figure out how much of that you can give away to different people for their participation.
And when all of that is done … is there enough leftover for you?
Finding a lender who will cover 100 percent of deal through a loan is tough … and the ones that do will usually be for a primary residence.
Protect your cash flow with reserves
Gary in Scottsdale, Arizona, owns four single-family rental properties.
The question on Gary's mind is how to deal with the reality of net cash flow … one major expense can wipe out your entire annual cash flow.
It's real and it happens. It has even happened to us.
We always … always … put contingencies and reserves in our pro formas.
A pro forma is your plan for the property … what you think the income and expenses are going to be.
There are two major places where you will need reserves.
When you buy the property, you can't put 100 percent of your cash into the down payment and the property. You need to have some in reserve.
Most lenders require this. When you close escrow, they'll want to make sure that you still have money in your bank account.
We also recommend that you take some reserve capital out of every month's payment as the rent comes in.
Perform your vital functions … and then put a little bit aside. That amount depends on your projected plan for your property and what needs you anticipate.
The cause and effect of cap rates and interest rates
With cap rates compressing across the country, it has been said that investors should be careful to still maintain a good spread between the cap rate and the interest rate.
Drew in Chicago, Illinois, wants to know if there is a direct correlation between these two factors or if it's just a general rule of thumb to indicate when a market might be overpriced.
We think this is a great question.
Capitalization rate … or cap rate … is determined using net operating income.
Cap rate doesn't include anything to do with leverage or your loan … so there is zero correlation between cap rate and the interest rate.
But there CAN be cause and effect.
If interest rates are low and you can borrow money for cheap … you want to borrow more.
And if you want to go out and find a property, you're going to find a lot of competition because rates are low.
So, you'll bid up the price for the same amount of income … making the cap rate go down.
Leveraging from gold and real estate
Debra in Alpharetta, Georgia, wants some further insight into leveraging from gold and real estate combined.
Assets like gold and oil are basically proxies for the dollar.
We borrow in dollars. We lend in dollars. We invest in dollars.
When you start looking at the dollar, you see a long-term trend in loss of purchasing power … it's called inflation.
Real estate investors use inflation to get rich by borrowing money from the future and bringing it into the present when it's worth more.
So when you borrow … you have effectively shorted the dollar.
You can accelerate that process with gold.
If you look at the history of gold relative to the dollar, it basically stays the same as the purchasing power of the dollar declines.
Gold gives you the opportunity to hold some liquid wealth outside of the banking system and hedge against the falling currency.
More Ask The Guys
Listen to the full episode for more questions and answers.
Have a real estate investing question? Let us know! Your question could be featured in our next Ask The Guys episode.
---
More From The Real Estate Guys™…
The Real Estate Guys™ radio show and podcast provides real estate investing news, education, training, and resources to help real estate investors succeed.
---
Love the show?  Tell the world!  When you promote the show, you help us attract more great guests for 

your

 listening pleasure!
We're still just a little more than a week removed from a mind-blowing 9-day mind-meld with brilliant thought leaders, niche experts, and seasoned investors and entrepreneurs …
… so we've been busy catching up on the news and looking at the world through our freshly expanded paradigms.
There are two things bouncing around our brains we think are important, but few real estate investors are paying attention to …
Gold and oil.
Sure, both these "commodities" fit well with real estate in a strategic real asset portfolio.  And if you're not sure how all that works, you can start with these past podcasts about gold and oil.
But bigger picture, both gold and oil probably drive more of geo-politics than most casual observers realize … and both are quasi-proxies for the dollar.
In other words, when you understand what's happening with gold and oil, you have insights into the future of the dollar … and some of the things governments are doing to either defend dollar dominance … or break free from it.
Of course, if you earn, invest, borrow, or denominate wealth in dollars, the future of the dollar should be of great interest to you … even if you think of the dollar as being as permanent and reliable as air (it's not).
As real estate investors, our primary interests (besides occupancy and cash flow) are demographics, migration trends, local economic strength, interest rates, taxes, and the supply and demand dynamics in our local market.
But all of that sits on the foundation of a functional financial system with two primary components … credit and currency.  Gold and oil provide insight into both.
Oil is important at both the macro and the micro level.
In the macro, it takes energy to drive economic activity.  When energy's expensive, it drives up the costs of everything and is a drag on economic activity.
At the micro level, high dollar-denominated oil prices drive up the cost of living for your dollar-denominated tenants.
But for metros where oil is big business, oil also means local jobs.  Remember, Texas and its robust energy sector were the primary driving force for U.S. job creation coming out of the 2008 recession.
Investors who realized this (like our pal Kenny McElroy) strategically invested in those markets while most people were hiding under the sheets.
So whether or not you're interested in oil as a direct investment, paying attention to the oil business can be a great way to pick markets likely to hold up well if oil prices rise.
Oil also has a potential impact on credit markets and interest rates.  Billions of dollars of debt has been created to fund shale oil production.
If oil prices drop, it both undermines the ability of regional oil economies to grow … but also for those employers to service their debt.
In the macro, if a big chunk of the debt goes rotten, credit markets could tighten.  Think about what happened in 2008 when sub-prime mortgage debt went bad.
So again, whether you're an oil investor or not, the oil industry has a direct impact on your real estate investing.
Watching oil helps you see what's coming sooner … so you have time to position yourself to capture opportunity and mitigate risk.
Of course, the good news and bad news about real estate is it moves slowly.
So while you have plenty of time to be proactive IF you're paying attention, it's really hard to act fast if you're not.  That's why we pay attention.
What about gold?
On the macro level, gold is a good gauge of how the world feels about U.S. Treasuries and the dollar.
When things get choppy in stocks, paper investors worldwide tend to flee into Treasuries for safety.  After all, Treasuries are backed up by the Fed's printing press.
Of course, what does the Fed print?  U.S. dollars.
But to quote Watto from Star Wars – The Phantom Menace … 
"Republic credits are no good here.  I need something more … real."
That is, when investors worldwide are looking for safety … and they don't trust the paper … they go into gold.
So what does that mean to real estate investors?
Remember, mortgage rates and availability derive from healthy bond markets … most notably, U.S. Treasuries.
The 2008 Great Financial Crisis had its genesis in a broken bond market … mortgage-backed-securities.  When those went bad, frightened investors worldwide piled into Treasuries … and rates fell.
But what happens if investors worldwide don't trust Treasuries?
You don't have to wonder.  China came out in 2009 and scolded Uncle Sam about the size of the deficit and all the dollar printing doing on.
Why did it bother them? Because they own TRILLIONS in U.S. bonds.  They don't want to get paid back in diluted dollars.
But Uncle Sam's debt, deficits, and printing have BALLOONED since then.
So it's no surprise that China … along with Russia and several other countries … have been diligently accumulating and repatriating gold.
They're getting out of dollars and Treasuries to do it.  And who can blame them?
Paper money has an atrocious long-term record as a store of wealth …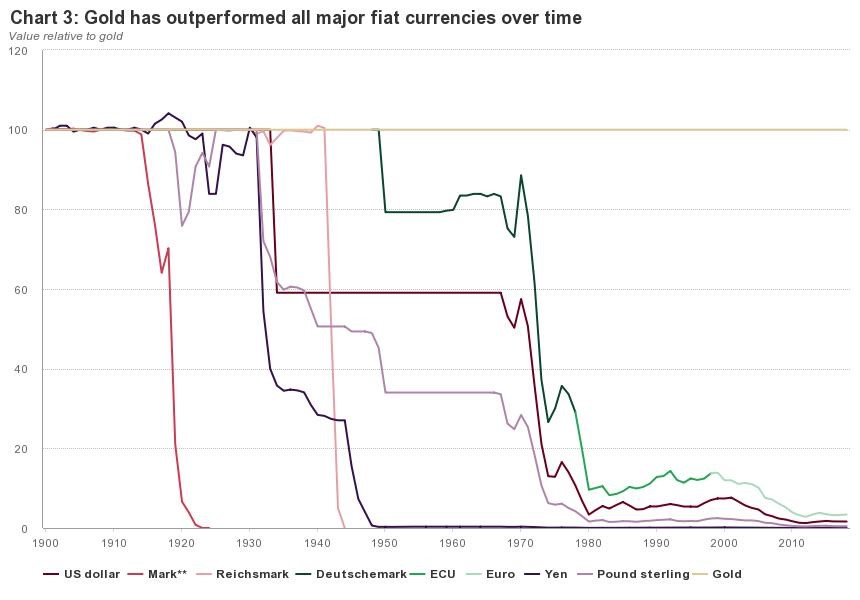 Source:  World Gold Council 
Consider this when you think about where you're storing YOUR long-term liquid wealth.
Meanwhile, there's just a little more to the developing story of gold … and the story behind the story.  It's a little complicated, but interesting and noteworthy.
After the 2008 crisis, the world's bankers got together in Basel, Switzerland to come up with voluntary rules to prevent another financial crisis.  The agreement is called the Basel Accord.
A provision in the agreement, known as Basel III (the agreement's rolled out in phases) allows financial institutions to consider gold "Tier 1" capital.  So adding gold is supposed to make banks more liquid and stable.
This is a bit of a promotion for gold.  Some observers think this means demand for gold will increase, but we're not smart enough to have an opinion on that.
But there are a couple of things we are thinking about …
Perhaps most obviously, international bankers apparently consider gold more valuable than simply a "barbarous relic" with no place in a modern monetary system.
Keep that in mind when you hear people criticize the placement of gold in a portfolio. If gold can make a bank more stable and liquid, can't it do the same for you?
To be clear, we're not fans of gold as an investment.  It's just an alternative to cash … a way to store long-term liquidity while hedging against a declining dollar and bank counter-party risk.
But the more interesting aspect of gold's now elevated role in bolstering the banking system is why it's necessary in the first place.
Is it because the banking system is still fragile and in need of support?  Is it because the world needs more leverage to expand … and so more collateral to lever?  Why not just use Treasuries?
We don't know yet.  But we'll be checking in with our big-brained gold experts to see what they think.
Meanwhile, we encourage you to think outside both the real estate and mainstream financial media boxes.  It seems like oil and gold might be trying to tell us something.
Are you listening?
Until next time … good investing!
More From The Real Estate Guys™…
The Real Estate Guys™ radio show and podcast provides real estate investing news, education, training, and resources to help real estate investors succeed.
---
Love the show?  Tell the world!  When you promote the show, you help us attract more great guests for 

your

 listening pleasure!
Energy is the key input for all economic activity. And as populations and economies grow worldwide, there's an increasing demand for energy.
So listen in as we chat with an experienced oil man and discuss the nitty-gritty of investing in oil and gas for profits and tax breaks.
In this episode of The Real Estate Guys™ show, you'll hear from:
Your well-oiled host, 

Robert Helms

His slightly creaky co-host, 

Russell Gray

Oil and gas businessman,

Bob Burr
---
Listen
---
Subscribe
Broadcasting since 1997 with over 300 episodes on iTunes!
---
Review
When you give us a positive review on iTunes you help us continue to bring you high caliber guests and attract new listeners. It's easy and takes just a minute! (Don't know how? Follow these instructions).
Thanks!
---
How we got into oil and gas
We're often asked how we transitioned from real estate to other real assets.
We started studying economics after the '08 financial crisis. We were looking to see what we could have done … to better survive the crash.
We realized we needed to be more careful about structuring our portfolios so they weren't vulnerable to the ups and downs of Wall Street.
We also realized the dollar, gold, and oil were all interconnected.
And, we looked at the tax benefits, and realized the tax path leads to oil.
Our guest today is basically the Godfather of Gas and Oil. Bob Burr started out in the gas and oil industry working on rigs as a young man in Louisiana.
"It was my life's mission to find out the other end of the business," Bob says.
Well, he's made it … Bob now has several cumulative decades on the money-making side of the oil and gas industry.
And he's still at it … technological innovations and new oil discoveries have made the U.S. one of the top places in the world for oil extraction.
Bob's decades of experience have led him through ups and downs, mistakes and discoveries, and he has come out wiser on the other end. He met us on the Summit at Sea™ … and now he's here to share his knowledge with YOU.
The tax benefits of oil investing
So … why oil and gas?
"The tax shelter is just tremendous," Bob says. Oil and gas investing is the only business today where you can put in a dollar and write off 70 to 80 percent of that, whether you win, lose, or come to a draw.
There are risks inherent to investing in the industry, but the federal government makes it much more approachable by subsidizing heavy tax breaks.
"Every time you drill a well, you're gambling," Bob says. But since oil drives the economy, Uncle Sam is willing to place some bets.
Bob does a lot of due diligence before he even starts digging to make sure a potential well has a high chance to be profitable for him and his partners.
First, he explores the land and picks out a bunch of prospective sites.
Then, he sends those prospects to a third-party geological team and says, "Kill it." Really. If the geological team comes back and says no go, Bob moves on.
After the geological team gives the A-OK, Bob does yet another evaluation. His sons do a due diligence inspection to examine specific site issues.
"We'll have some bad ones regardless, but I'm doing everything to avoid that,"  Bob says.
Oil and gas exploration is a numbers game, but Bob is shaving the odds in his favor. He's eliminating 90 percent of the bad options … before the drilling starts.
Oil and gas investing is an industry that requires high responsivity to partners.
Because it is a high-risk industry, Bob makes sure he is being attentive to his investment partners' needs.
"We need to shut up and listen and let them present the facts," Bob says. If there's ever a point where he disagrees, he consults with specialists and experts first.
Bob has been in the business a long time. "I would be lying if I never did anything wrong," he says. "I had to climb the mountain and fall back down, climb the mountain and fall back down."
But now, "You can't play any tricks on me," he declares.
Who gets a cut?
How does oil and gas investing work for everyone involved?
First, there are the land owners. In usual oil and gas terms, the land owner owns the surface and minerals. The oil extractor … that's Bob … gives the owner a bonus for each acre used, plus royalties … a percentage of the total proceeds.
"You have to look at the economics," he says, in reference to the royalty rate.
If an oil person is pulling in millions of dollars, the reserve rate … what they take home to investors and their own business … will be less, perhaps closer to 50 percent. For a smaller pull, it'll probably be closer to 80 percent.
"You have to play every hand differently," Bob says. There are a lot of variables that affect each situation.
Now, what about the investors?
Becoming a partner to Bob or another oil person requires taking on a lot of risk. But regardless of the outcome, investors still get tax benefits.
Bob says he does turn-key deals on each well, and he takes on the responsibility of figuring out completion costs and risk.
If he runs into problems, he doesn't go back to his investors to ask for more money, he says … but if there is a chance to drill deeper and get much higher profits, he will sometimes give investors an opportunity to put more money in and play the game.
As for the profits? "I've never had one problem having a market for oil at a premium price," he says.
Bob recently got about $70/barrel for West Texas crude, but he says he can make money at as low as $25/barrel … so there's a lot of flexibility. Twenty-five is still a good, solid return, he says.
The oil industry is all about developing relationships … after all, we only got to know Bob through the great relationships we form each year at the Summit at Sea™.
"I'm a team with my partners, and I'm the captain of the team," Bob says. "And I want to score."
Think you want to learn more about oil and gas investing? You can start your research with Bob's custom report. And of course, you can meet Bob and other experienced investors at our annual Summit at Sea™!
---
More From The Real Estate Guys™…
The Real Estate Guys™ radio show and podcast provides real estate investing news, education, training, and resources to help real estate investors succeed.
---
Love the show?  Tell the world!  When you promote the show, you help us attract more great guests for 

your

 listening pleasure!
We're concerned about interest rates … and you should be too.
Consistently rising interest rates affect your ability to borrow money for investments.
In this episode of The Real Estate Guys™ show, we dig into how the Federal Reserve and central banks affect interest rates. We talk about the future of the dollar. And we discuss how rising interest rates affect YOU.
We met with two knowledgeable experts in the economics field. You'll hear from:
Your interested host, 

Robert Helms

His uninteresting co-host, 

Russell Gray
James Grant

, economic expert and author of eight books on the U.S. financial system

Nomi Prins

, former Wall Street analyst, journalist, and six-time author
---
Listen
---
Subscribe
Broadcasting since 1997 with over 300 episodes on iTunes!
---
Review
When you give us a positive review on iTunes you help us continue to bring you high caliber guests and attract new listeners. It's easy and takes just a minute! (Don't know how? Follow these instructions).
Thanks!
---
James Grant on interest rates and securities
James Grant was named by Ron Paul as his likely candidate for Chairman of the Federal Reserve. Over the years, he has been a voice of reason … he calls himself "a 'yes, but' guy in a 'gee whiz' world."
We got right into the subject of interest … interest rates.
Are rates going up? "Rates tend to trend over the long term," James says.
They've been on the down-swing since the 1980s, but they may be on the up-swing again … and although rates are currently rising, James emphasizes we'll have to wait and see whether the trend continues.
James says investors should look to the bond market for clues.
A 10-year treasury bond delivered a yield of 1.37 percent in 2016 … the lowest yield since the year 1311, according to a study by the Bank of England.
In the early 80s, a 30-year security would've netted you a 14 percent yield. That's a big difference.
Today, almost every security is priced next to nothing when investors account for taxes and inflation, James says.
Who manipulates interest rates? The Federal Reserve.
"It's an act of malpractice that the Fed and central banks worldwide are manipulating these rates," he says.
And real estate cap rates are driven by interest rates.
To James, this means we now live in a world of great danger. "We live in a kind of hall of mirrors," he says.
On forecasting the future and investing in gold
James notes forecasts are for people who think they know what's going to happen … when the reality is, no one actually knows.
"We can't know the future, but we can know how it's being handicapped in the present," James says.
He finds it helpful to remind himself of how our descendants will think of us.
And he says, "Successful investing is about having everyone agree with you … later." Investors must imagine plausible outcomes before the market catches up.
We asked him his thoughts on gold investing. "Gold is interesting because it's where people flee," James says. "But it's really an investment, not a flight asset."
Gold is a way to step outside of orthodox institution investments. "Gold is simply money to me. It's a cash balance. It's something the central bankers can't debase."
To hear more from James Grant … and keep your eye on interest rates … check out Grant's Interest Rate Observer, an independent journal covering financial markets.
Nomi Prins on the Federal Reserve and the world market
Journalist Nomi Prins was a member of Senator Bernie Sanders' panel of advisors on Federal Reserve reform. She's coming at this from a different angle than James Grant … but both guests are incredibly informed, with lots of great things to say.
In 2007, Nomi wrote that there could be a problem if financial institutions and the government continued the credit derivative system and high leverage.
No one wanted to hear it. But then '08 happened.
Nomi says that over the last 10 years, "The Fed has subsidized a lot of credit problems that existed before the '08 crisis by creating electronic money."
That has raised the level of artificial leverage.
And THAT means the next market collapse will come from an even higher height than in '08, she says.
Even worse, many central banks around the world created electric money and dropped rates when the Fed did. Nomi examined this situation in her book Collusion.
"We're in a very precarious situation going forward," she says.
Quantitative easing … the introduction of new money onto the market … causes inflation and collapses markets, starting with emerging markets.
In order to retain capital, central banks in these countries have to raise rates and increase the value of their currency. That's what's happening now.
This, in turn, lowers the value of foreign currencies relative to the value of the dollar. So, any debt these countries have has to be paid back or renewed at a higher rate.
Apparently, however, the U.S. is back to quantitative tightening now, says Nomi.
The Fed's statements and its actions and reports tell different stories.
Fed Chair Jerome Powell SAYS current quantitative tightening is official. That means the government will continue to sell … but not re-invest … assets.
But in reality, the Fed is selling much more slowly than they've said they will.
The reason? "They know that if they sell too much too fast, rates will increase too fast, and the value of assets will go down too fast," Nomi says. "They want to be in a holding pattern."
More on quantitative easing, coming crisis
Nomi wants people to know there is NO correlation between GDP growth and quantitative easing. However, there is a very high correlation between quantitative easing and the stock market.
She thinks the next financial crisis will look like a bunch of smaller crises that add up to big gaps in liquidity and credit availability.
Nomi says she sees a few things happening around the world … bond defaults are creeping up in emerging markets, and certain countries are starting to have major credit problems.
"I think all of that will come to bear on the Fed." And because of that, Nomi says, "I think their language will start to move toward growth slowing."
Think two rate raises over the next year, instead of the forecasted four.
She predicts extreme appreciation is not going to happen. Rates will stay low, although they might continue to rise a bit relative to the Fed.
What about real estate? "Commercial real estate may have more leverage, so rate hikes will have more impact."
Instead, Nomi recommends "any area where rent can overcompensate for an increase in cost."
She says there are currently opportunities in emerging markets where there's still room for upward growth in prices.
Mexico City, for example, is a place where prices are low, the government has a strong growth strategy, and there is opportunity in the near team.
Lessons learned
Debt doesn't operate in a vacuum. Interest rates have a HUGE impact on whether your investments will be successful.
You don't need to understand ALL the mechanics … but you should have a basic understanding of WHAT will affect interest rates and WHERE they're headed.
---
More From The Real Estate Guys™…
The Real Estate Guys™ radio show and podcast provides real estate investing news, education, training, and resources to help real estate investors succeed.
---
Love the show?  Tell the world!  When you promote the show, you help us attract more great guests for 

your

 listening pleasure!
"You can't handle the truth!" 
 – Jack Nicholson in A Few Good Men
Neither optimists or pessimists can handle the truth.Optimists refuse to acknowledge the part of reality that's negative …
… while pessimists can't see the ever-present opportunities hidden behind the problems.
While we'd rather be optimistic than pessimistic, maybe it's better to be BOTH."The test of a first-rate intelligence is the ability to hold two opposed ideas in mind at the same time and still retain the ability to function." 
 – F. Scott Fitzgerald 
Here are some thoughts about risk and opportunity from legendary real estate investor Sam Zell …
"People love focusing on the upside.  That's where the fun is.  What amazes me is how superficially they consider the downside."  
"For me, the calculation in making a deal starts with the downside.  If I can identify that, then I understand the risk I'm taking.   Can I bear the cost?  Can I survive it?" 
You can only take calculated risks if you look carefully at both the upside AND the downside.
Today, the entire global financial system is largely based on "full faith and credit" … primarily in the United States dollar.
And there's a gigantic investment industry that's built on perpetual optimism …and a belief non-stop debt-fueled growth FOREVER is actually possible.
Even worse, the entire financial system's fundamental structure literally REQUIRES perpetual growth to avoid implosion.
That's why central banks and governments are COMMITTED to debt and inflation … at almost ANY cost.
But as Simon Black points out in Future of Money and Wealth …
History is CLEAR.  Empires and world reserve currencies don't last forever.
And irredeemable paper currencies and out-of-control debt ALWAYS end badly … at least for the unaware and unprepared.
Optimists can't see this.  So they take HUGE risks they don't even know exist.
Pessimists can't act.  So they miss out on the HUGE opportunities that are the flip-side of the very problems they obsess over.
Robert Kiyosaki stresses the importance of being REALISTS …
… standing on the edge of the coin, seeing BOTH sides … and then being decisive and confident to ACT in pursuit of opportunities while being keenly aware of the risks. 
We created the Future of Money and Wealth to gather a diverse collection of speakers and panelists together … to examine the good, the bad, and the ugly …
… so YOU can have more context and information to make better investing decisions. 
Chris Martenson opens our eyes to the physical limitations of long-term perpetual exponential growth which depends on unlimited supplies of clearly LIMITED resources.
Of course, as these critical resources dwindle, they'll become very expensive as too much demand competes for too little supply.
When you see nation's fighting over scarce resources, it's a sign of the times.
But of course, there's OPPORTUNITY hidden inside of crisis.
And to seize the opportunity, you must understand it … or it just sits there like a hidden treasure under your feet.
But it's not just recognizing trends.  It's also TIMING.  And being a lot early is much better than being even just a little late.
To beat the crowd, you can't wait for the crowd to affirm you. 
To get timing right, it's important YOU know what the signs are.
What does it mean when Russia dumps Treasuries and buys gold?  What caused Bitcoin to sky-rocket in 2017?  Why are there bail-in provisions in U.S. banking laws?
Peter Schiff saw fundamental problems in the financial system back in 2006 … and screamed from the rooftops that the financial system couldn't support the then red-hot economy.
Few listened … then WHAM!  In 2008, the weakness of the financial SYSTEM was exposed … and MANY people were CRUSHED.
Peter insists the REAL crash is still yet to occur … and everything that made the financial SYSTEM weak in 2006 is MUCH WORSE today.
Yet small business and consumer OPTIMISM is at all-time highs.  The ECONOMY appears to be BOOMING … again.  And Peter's still screaming out his warnings.
The Fed is RAISING interest rates to cool things down.  But history says EVERY SINGLE TIME the Fed embarks on a rate raising campaign it ends in RECESSION.
In Future of Money and Wealth, Fannie Mae chief economist Doug Duncan reveals when he thinks the next recession is coming … and WHY.  We listen to Doug because he's got a really good track record.
The 2008 crisis exposed real estate investors to the REALITY that what happens on Wall Street, at the Fed, and in the global economy … can all rain down HARD on Main Street. 
Ignoring it doesn't make it go away.  And you'll die of old age waiting for the storm clouds to blow away.
There will ALWAYS be risk.  There will always be OPPORTUNITY. 
It's not the external circumstances which dictate what YOU get.
It's really up to YOU … and your ability, like Sam Zell, to see both opportunity and risk, so you can aggressively reach for opportunity while carefully navigating risks.
Education, perspective, information, and thoughtful consideration are all part of the formula.
That's why we created the Future of Money and Wealth video series.
Future of Money and Wealth features TWENTY videos … over fourteen hours of expert presentations and panels …
… covering the dollar, oil, gold, real estate, crypto-currencies, economics, geo-politics, the new tax law …
… PLUS specific strategies to protect and GROW wealth in the face of potentially foundation-shaking changes to the financial system.
Just ONE great idea can make or save you a fortune. 
Future of Money and Wealth might just be one of the best investments you'll ever make.
To order immediate access to Future of Money and Wealth … 
More From The Real Estate Guys™…
The Real Estate Guys™ radio show and podcast provides real estate investing news, education, training, and resources to help real estate investors succeed.
Regular followers know we're news hawks.  We scour the headlines for clues about opportunities and threats facing real estate investors.
We look at the good, the bad, the ugly … and consider things at the micro, macro, geo-political, and systemic level.
Even though we watch a broad range of real estate niches … we tend to look at the world through the eyes of a syndicator.
We think raising private capital to invest in real estate is the single BEST opportunity for real estate investors … and one of the best business opportunities in ANY industry.
So it didn't surprise us when the following headline popped up on page one ofYahoo Finance, the most visited financial website on the internet …
Closed-End Real Estate Funds Are Performing Well
"The real estate market is booming … Not surprisingly … funds that focus on real estate have been posting good numbers …"
A "closed-end fund" just means a fund which raises a specified amount of money, then closes to new investors.
This is different than a typical "open-end fund" like a mutual fund which continually accepts new investors.
Our point today is … 
Mainstream headlines are informing the market real estate is a winner …
…and that individual investors can access real estate through funds … versus taking on the personal hassles of tenants, toilets, and termites.
Of course, the aforementioned article is talking about publicly traded funds, which come with a host of risks most Main Street investors are unaware of.
But if YOU are thinking of investing in real estate through a publicly traded fund, OR …
… if you're talking to Main Street investors about investing in YOUR real estateprivate placement (syndication) …
… then you'll find it VERY helpful to understand the risks in public funds.
Publicly-traded real estate funds can be used as gambling chips in Wall Street casinos … just like any publicly traded stock.
This means speculators (gamblers) can short-sell, trade on margin, and use options … all of which add volatility to the share price.
So even if the underlying asset is as stable as the rock of Gibraltar … the share price can bounce all over the place as it's traded in the casinos.
Of course, if you're a long-term buy-and-hold paper-asset investor, maybe that doesn't matter to you … just don't watch the share prices or you might get nauseous.
But MUCH less understood is the counter-party risk every paper-asset investor faces because of the way paper-asset trading is facilitated.
In short, counter-party risk is the exposure you have when an asset on your balance sheet (a stock, bank account, a bond) which is simultaneously someone else's liability.
In other words, they own the the asset and OWE it to you.  YOU own an IOU.
If the counter-party fails to perform or deliver … you LOSE.
Most people understand the concept of counter-party risk … but many don't understand all the places they're actually exposed to it.
And it's a LOT more than you might think.
In the case of publicly-traded securities, like closed-end real estate funds, you're NOT the registered owner … your broker is.
You get "beneficial ownership" through what is effectively an IOU from your broker to you.  The fund doesn't even know you exist.
Of course, this is all fine as long as the financial system supporting all this is sound.  But in a crisis, if the broker fails, you might end up a loser.
It's not unlike what happened in the 2008 financial crisis …
In short, individual mortgages … which are great assets to own … were pooled into securities and made into gambling chips in the Wall Street casinos.
Because the "beneficial ownership" of the mortgages changed hands so quickly, it was all facilitated through a system called Mortgage Electronic Registration Systems (MERS).
When the financial system nearly collapsed in 2008, the flaws of MERS were exposed … as the legal documentation required to affirm clean title to the asset wasn't properly maintained.
Some of the beneficial owners of the mortgages couldn't prove legal ownership and lost when property owners challenged foreclosure in courts. Huge mess.
So there's a BIG difference between "beneficial ownership" and actual ownership.  And the difference isn't exposed until it matters.
Sometimes that's ugly for investors.
The GREAT news for you and your investors is … it's NOT necessary to play in the Wall Street casinos to get into a real estate fund.
In fact, we'd argue it's better if you don't.
If you're following The Real Estate Guys™, you're probably already a fan of real estate and may already be a successful individual property investor.
Maybe you're considering, or have already started, putting together groups of investors to syndicate bigger deals.
Or maybe you're tired of being an active investor … and now you're looking to stay in real estate, but as a passive investor in another investor's deal.
In any case, it's important to understand the BIG differences between public and private real estate fund investing.
As an investor in a private offering, you directly own the entity which directly owns the asset.  There's no counter-party who owes you the shares. YOU own them.
We think when you delve into the differences, you'll agree private offerings are arguably a MUCH better way to go.
Of course, if you're interested in starting your OWN real estate investment fund, the timing couldn't be much better.
Headlines are telling the marketplace real estate funds are performing well.
And when you explain the important differences between public and private funds, we're guessing you'll get more than your fair share of investors interested in investing with YOU.
Main Street investing in Main Street … outside of the Wall Street casinos.  We like it.
Until next time … good investing!
---
More From The Real Estate Guys™…
The Real Estate Guys™ radio show and podcast provides real estate investing news, education, training, and resources to help real estate investors succeed.
A common adage is "treat your investing as a business".  
Good advice!  And at first blush, you might think it means …
Figuring out your mission, vision, values …
Establishing clearly defined goals and objectives …
Developing strategies, tactics, processes, policies and procedures …
Recruiting, training, and leading a team …
Setting up communication and accountability rhythms, and processes for evaluating progress and making adjustments
All true.  But it's also very important to pay attention to the economic environment you're operating in.
A popular business planning tool is SWOT analysis … which stands for Strengths, Weaknesses, Opportunities, Threats.
SWOT helps you make better decisions about where to focus time, attention, and resources.
Most amateur investors focus only on opportunity.  They look for it.  They chase it.  They stretch their limits reaching for it.
And sometimes they end up in dangerous deals by not leveraging their strengths, acknowledging their weaknesses, or recognizing external threats.
In Am I Being Too Subtle?, multi-billionaire real estate investor Sam Zell says a big part of his success is the ability to understand the DOWNSIDE … and still proceed.
Most people ignore threats because they're a downer.  It FEELS better to focus on sunshine.  It's just not smart.
Risk is gloomy.  It doesn't sell seminars, books, or video-courses.  And it can chase away an audience.
So investors are under-served by most gurus, media, and pundits because few talk candidly about threats.
Yet it can SAVE YOUR FINANCIAL LIFE.  So we do it anyway.
Besides, the flip-side of most risk is opportunity.  So when you frame looking at threats as searching for opportunities, it's not so bad.
Part of SWOT is about assessing the environment you're operating in.
We divide investing environments into four categories … Micro, Macro, Geo-Political, and Systemic.
Micro factors include …
The property, parties to the transaction; financing, etc.
The neighborhood, local economy; local laws, taxes, customs, etc.
The local team … property manager, on-site staff, etc.
Micro factors are where most investors start and finish … because micro factors are easiest to see and handle along the shortest path to getting the deal done.
Macro factors include …
Interest rates and factors which drive them
Policies affecting job creation, living costs, real wages, consumer and business confidence
Economic factors affecting energy, materials and commodities costs, currency strength, etc.
Sure … this is some heady stuff …
And if you're only going to play small and VERY conservatively, maybe not worth all the effort to watch and interpret macro factors.
Then again … many small investors got killed when the Tax Reform Act of 1987 changed the tax treatment of rental properties.
They probably wish they'd been more aware and prepared.  When things are changing, a "wait and see" approach can be painful.
But if you plan to play big … and especially if you're going to raise money from private investors … you'll definitely want to invest in your macro education.
Remember … the 2008 crisis which crushed many unprepared investors started at the macro level … before crashing down on the micro level.
Most micro-players (including us), didn't see the storm forming at the macro level until the monsoon hit.  Bad scene.
So … how much advance notice do YOU want when something major is lurking on the horizon?  More is probably better.
Geo-Political factors include …
International treaties (trade, land-use, etc.)
Most people hear about geo-political factors in the news all the time … but don't consider or understand their impact on Main Street micro-investing.
Systemic factors include …
The financial system … currency, banking, bond market, etc.
The environment … energy, climate, water, etc.
We think systemic factors just might be the BIGGEST threat most investors aren't paying any attention to.
Yes, it's a lot to consider.  And maybe you doubt it really matters to your daily real estate investing.
That's what we thought … before 2008.
Then we found out the VERY hard way these things DO affect Main Street investing … so thinking about them isn't just for wonky paper asset pundits.
Let's look at some recent headlines … how they might affect our Main Street investing … and let's just focus on oil …
Is The Oil Industry Repeating A Critical Error – Oilprice.com 7/14/18
 " … Wall Street has been subsidizing the consumption of oil on Main Street."
"… the punishing price decline in oil from 2014 to 2016 … resulted in deep cuts in exploration and development throughout the industry …"
"… there isn't an oil price … both low enough to avoid economic stagnation …  yet high enough … to prevent a decline in the overall rate of production worldwide."
Let's break it down …
Energy is essential to economic activity.  No energy, no growth. Restricted energy, restricted growth.  Expensive energy, expensive growth.  You get the idea.
Energy is a key input into the cost of EVERYTHING.  When subsidies mask rising costs, economic numbers look better than they really are.
Remember …  a strong economy is NOT the same thing as a strong financial system.
Investors make mistakes when they deploy capital based on false readings or temporary circumstances.
Remember what happened to real estate investors who flocked to North Dakota because of the oil boom … a boom only possible because of high oil prices.
When oil prices crashed, so did the North Dakota real estate boom.  Investors only watching micro-factors … and even macro-factors … didn't see it coming.
Whether it was Saudi Arabia attacking U.S. frackers … or the U.S. directing an economic assault on Russia's oil revenue … oil prices fell because of what was happening at the geo-political level.
So today, knowing oil prices affect economic growth, consider these recent headlines …
It takes cheap energy to grow an economy fast.  And with the Fed raising interest rates, Trump's using tax cuts and cheap energy to goose the economy.
He's got to out-run ballooning deficits and rising interest costs.  Cheap energy … even if only temporary … buys some time.
But cheap energy doesn't fund the exploration necessary to replace oil being consumed.  Very few people on financial TV talk about this.
That's why we hang out with brainiac Chris Martenson.  He's a fun guy … a positive guy … but he's a realist.  It's sobering.  Brutal facts can be that way.
At some point, supply and demand take over and prices rise … slowing or reversing economic growth, driving up costs, and probably bankrupting marginal businesses.
Many billions in oil industry debt could go bad.  Remember when sub-prime mortgage debt went bad?
The financial system today is rife with counter-party risk, so bad debt can spread like wildfire through credit markets.
We're not saying it's going to happen, but we're watching.  If something starts to break, we want to see it sooner rather than later.
Of course, we're also watching oil, like gold, for its role in currency wars.  We remain convinced the dollar will be a major story in the next ten years… or less.
A little spooky.  But pulling the sheets over our heads doesn't make it go away.
The good news is there are smart people watching all this … and thinking deeply about what it all means.
That's why we get together with them regularly on our Investor Summit at Sea and the New Orleans Investment Conference.
These are voices mainstream sunshine-sellers don't promote.  It's bad for ratings.
But we put together nearly 14 hours of presentations and panels with all the big brains from our Future of Money and Wealth conference …
So if you missed the live event, you can still see and hear what everyone has to say. Click here to learn more.
Smart business people and investors practice SWOT… and invest in growing their education and network … so they can make better, faster investing decisions … in ANY economic environment.
Until next time … good investing!
---
More From The Real Estate Guys™…
The Real Estate Guys™ radio show and podcast provides real estate investing news, education, training, and resources to help real estate investors succeed.