Self-Directed Accounts: No Longer A One Size Fits All
Free up cash flow to invest with self-directed, tax-advantaged accounts!
Spending can be fun … but saving is important.
You could stash some cash in a box under your bed … or bank it alongside the local teens into a standard savings account … or you could do things the smart way.
Save money and pay fewer  taxes with self-directed, tax-advantaged accounts.
From retirement accounts to Health Savings Accounts (HSAs) and Education Savings Accounts (ESAs) … there are a variety of ways to protect your savings and free up cash flow to invest.
Jason DeBono and his team at NuView Trust Company spend their days helping people get more out of their savings accounts … and they are sharing their tops tips with you!
In this special report discover:
✓ The different types of self-directed savings accounts
✓ How to determine if a specific account is right for you
✓ What tax advantages are available to investors
✓ And more!
Take control of your financial future with self-directed accounts! Get started by filling out the form below to access Self-Directed Accounts: No Longer A One Size Fits All …
We're still just a little more than a week removed from a mind-blowing 9-day mind-meld with brilliant thought leaders, niche experts, and seasoned investors and entrepreneurs …
… so we've been busy catching up on the news and looking at the world through our freshly expanded paradigms.
There are two things bouncing around our brains we think are important, but few real estate investors are paying attention to …
Gold and oil.
Sure, both these "commodities" fit well with real estate in a strategic real asset portfolio.  And if you're not sure how all that works, you can start with these past podcasts about gold and oil.
But bigger picture, both gold and oil probably drive more of geo-politics than most casual observers realize … and both are quasi-proxies for the dollar.
In other words, when you understand what's happening with gold and oil, you have insights into the future of the dollar … and some of the things governments are doing to either defend dollar dominance … or break free from it.
Of course, if you earn, invest, borrow, or denominate wealth in dollars, the future of the dollar should be of great interest to you … even if you think of the dollar as being as permanent and reliable as air (it's not).
As real estate investors, our primary interests (besides occupancy and cash flow) are demographics, migration trends, local economic strength, interest rates, taxes, and the supply and demand dynamics in our local market.
But all of that sits on the foundation of a functional financial system with two primary components … credit and currency.  Gold and oil provide insight into both.
Oil is important at both the macro and the micro level.
In the macro, it takes energy to drive economic activity.  When energy's expensive, it drives up the costs of everything and is a drag on economic activity.
At the micro level, high dollar-denominated oil prices drive up the cost of living for your dollar-denominated tenants.
But for metros where oil is big business, oil also means local jobs.  Remember, Texas and its robust energy sector were the primary driving force for U.S. job creation coming out of the 2008 recession.
Investors who realized this (like our pal Kenny McElroy) strategically invested in those markets while most people were hiding under the sheets.
So whether or not you're interested in oil as a direct investment, paying attention to the oil business can be a great way to pick markets likely to hold up well if oil prices rise.
Oil also has a potential impact on credit markets and interest rates.  Billions of dollars of debt has been created to fund shale oil production.
If oil prices drop, it both undermines the ability of regional oil economies to grow … but also for those employers to service their debt.
In the macro, if a big chunk of the debt goes rotten, credit markets could tighten.  Think about what happened in 2008 when sub-prime mortgage debt went bad.
So again, whether you're an oil investor or not, the oil industry has a direct impact on your real estate investing.
Watching oil helps you see what's coming sooner … so you have time to position yourself to capture opportunity and mitigate risk.
Of course, the good news and bad news about real estate is it moves slowly.
So while you have plenty of time to be proactive IF you're paying attention, it's really hard to act fast if you're not.  That's why we pay attention.
What about gold?
On the macro level, gold is a good gauge of how the world feels about U.S. Treasuries and the dollar.
When things get choppy in stocks, paper investors worldwide tend to flee into Treasuries for safety.  After all, Treasuries are backed up by the Fed's printing press.
Of course, what does the Fed print?  U.S. dollars.
But to quote Watto from Star Wars – The Phantom Menace … 
"Republic credits are no good here.  I need something more … real."
That is, when investors worldwide are looking for safety … and they don't trust the paper … they go into gold.
So what does that mean to real estate investors?
Remember, mortgage rates and availability derive from healthy bond markets … most notably, U.S. Treasuries.
The 2008 Great Financial Crisis had its genesis in a broken bond market … mortgage-backed-securities.  When those went bad, frightened investors worldwide piled into Treasuries … and rates fell.
But what happens if investors worldwide don't trust Treasuries?
You don't have to wonder.  China came out in 2009 and scolded Uncle Sam about the size of the deficit and all the dollar printing doing on.
Why did it bother them? Because they own TRILLIONS in U.S. bonds.  They don't want to get paid back in diluted dollars.
But Uncle Sam's debt, deficits, and printing have BALLOONED since then.
So it's no surprise that China … along with Russia and several other countries … have been diligently accumulating and repatriating gold.
They're getting out of dollars and Treasuries to do it.  And who can blame them?
Paper money has an atrocious long-term record as a store of wealth …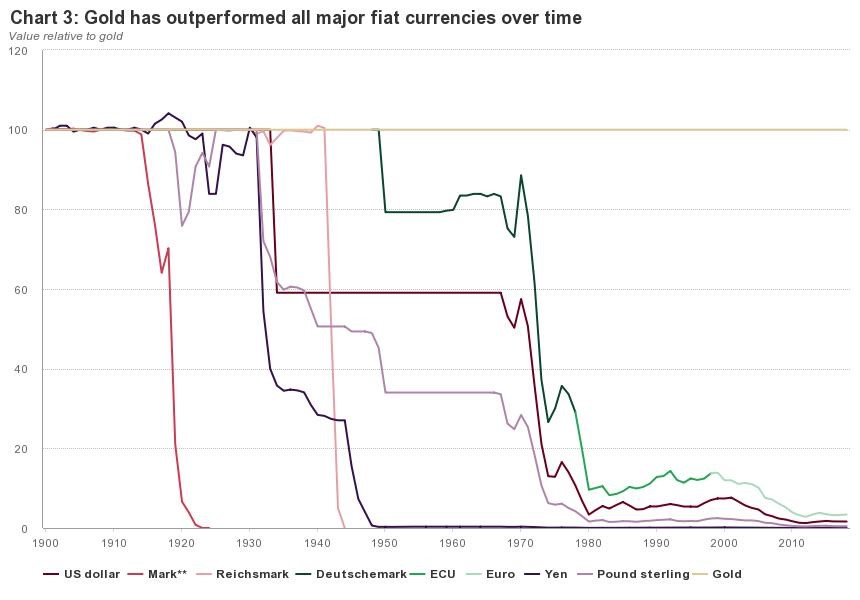 Source:  World Gold Council 
Consider this when you think about where you're storing YOUR long-term liquid wealth.
Meanwhile, there's just a little more to the developing story of gold … and the story behind the story.  It's a little complicated, but interesting and noteworthy.
After the 2008 crisis, the world's bankers got together in Basel, Switzerland to come up with voluntary rules to prevent another financial crisis.  The agreement is called the Basel Accord.
A provision in the agreement, known as Basel III (the agreement's rolled out in phases) allows financial institutions to consider gold "Tier 1" capital.  So adding gold is supposed to make banks more liquid and stable.
This is a bit of a promotion for gold.  Some observers think this means demand for gold will increase, but we're not smart enough to have an opinion on that.
But there are a couple of things we are thinking about …
Perhaps most obviously, international bankers apparently consider gold more valuable than simply a "barbarous relic" with no place in a modern monetary system.
Keep that in mind when you hear people criticize the placement of gold in a portfolio. If gold can make a bank more stable and liquid, can't it do the same for you?
To be clear, we're not fans of gold as an investment.  It's just an alternative to cash … a way to store long-term liquidity while hedging against a declining dollar and bank counter-party risk.
But the more interesting aspect of gold's now elevated role in bolstering the banking system is why it's necessary in the first place.
Is it because the banking system is still fragile and in need of support?  Is it because the world needs more leverage to expand … and so more collateral to lever?  Why not just use Treasuries?
We don't know yet.  But we'll be checking in with our big-brained gold experts to see what they think.
Meanwhile, we encourage you to think outside both the real estate and mainstream financial media boxes.  It seems like oil and gold might be trying to tell us something.
Are you listening?
Until next time … good investing!
More From The Real Estate Guys™…
The Real Estate Guys™ radio show and podcast provides real estate investing news, education, training, and resources to help real estate investors succeed.
---
Love the show?  Tell the world!  When you promote the show, you help us attract more great guests for 

your

 listening pleasure!
If you're an American, unless you've been in a coma or living under a rock, you know the United States just had one of the most energetic mid-term elections in quite some time.
The day after, both sides are disappointed … and both sides are claiming victory.
One of the advantages of being older is we've seen this movie before.
In our younger days, when elections didn't go our way, we thought it was the end of the world.  Today, not so much.
It doesn't mean we don't care.  We do.  And certainly, politicians and their policies have a direct impact on our Main Street investing.
But it's in times like these we're reminded of the beautiful, boring stability of real estate.
Because while all the post-election drama and speculation plays out, people still get up and go to work and pay their rent.
And though the Trump-train just got slowed … like Barack Obama before him, big chunks of his agenda got pushed through early … and are likely here to stay for a while.
In other words, it doesn't look like Obamacare or the Trump tax reform will be repealed any time soon.
More importantly, investors of all stripes … paper and real … now know what the lay of the land is for the next two years.
Early indications (based on the all-green dashboard of Wall Street) reveal there's cash on the sidelines waiting to see what happened … and now that gridlock is the answer… money is pouring into everything.
We know that sounds counter-intuitive.  But while political activists push change … too much change too fast makes money nervous.
Investors and entrepreneurs need to make decisions about long-term risk and reward.  And when the world is changing too fast, those decisions are harder to make.
Way back in the lead-up to the 2010 mid-terms, we penned this piece about a concept we call "healthy tension."  Just change the team colors and it's just as applicable today as it was back then.
The point is that money and markets like gridlock.
At this point, from an investing perspective, it doesn't really matter if any of us like or dislike what happened … politically.  It's done.
Now we all just need to decide what it means to us and how to move forward … because life goes on.
So bringing it all back to Main Street …
We're guessing all the great Trump-tax reform benefits for real estate investors… from bonus depreciation to Opportunity Zones … are here to stay.
And as we said just a week ago …  there's probably a lot more money headed into real estate.  Nothing about this election appears to change that.
So gridlock inside the beltway means stability on Main Street.
Sure, it might be a little boring.  But real estate investors are used to boring.  And when it comes to long-term wealth building … boring is good.
Until next time … good investing!
More From The Real Estate Guys™…
The Real Estate Guys™ radio show and podcast provides real estate investing news, education, training, and resources to help real estate investors succeed.
---
Love the show?  Tell the world!  When you promote the show, you help us attract more great guests for 

your

 listening pleasure!
In the swirling sea of capital that makes up the global economic ocean we all invest in …
… big fund managers are pay close attention to a variety of factors for clues about the ebb, flow, and over-flow of people, business, and money.
Right now … it seems like a BIG wave of money could be headed into real estate.
Of course, compared to stocks, these things aren't simple to see and track.  And they're even harder to act on.
Stocks are easy … if interest rates fall and money floods into stocks, you just buy an index fund and enjoy the ride.
Just remember … the dark side of easy and liquid is crowded and volatile.
So unless you're a seasoned trader, trying to front run the crowd to both an entrance and exit in stocks can be a dangerous game.
But real estate is slow.  It's inefficient.  It moves slowly.  There's drama.
And yet, the BEAUTY of real estate is its messiness.  Embrace it.
So here's why we think more money could be flowing into real estate soon …
Opportunity Zones
We'll be talking about this more in the future, but the short of it is the new tax code creates HUGE incentives for current profits from ANYTHING (including stocks) to make its way into pre-identified geographic zones.
According to The Wall Street Journal,
"U.S. is aiming to attract $100 billion in development with 'opportunity zones'…"
"could be 'the biggest thing to hit the real estate world in perhaps the past 30 or even more years' …"
 Private Equity Funds
 Another Wall Street Journal article says …
"Real estate debt funds amass record war chest"
"Property funds have $57 billion to invest …"
Pension Funds
This Wall Street Journal article indicates BIG pension funds are getting into the game too …
"Big investors like the California teachers pension are backing real-estate debt funds …"
One reason savvy investors watch economic waves is to see a swell building … so they can paddle into position to catch a ride.  It's like financial surfing.
Time will tell where all these funds will land, but it's a safe bet it won't be in smaller properties.  MAYBE some will end up in residential mortgages, but don't count on it.
So what's the play for a Mom and Pop Main Street investor?
Start by watching the flow …
We'll be watching the markets and product types the money goes into.
Then we'll be watching for the ripple effect … because that's probably where the Main Street opportunity will be.
For example, if money pours into a particular geography, it's going to create a surge of economic activity … especially if the funds are primarily used for construction.
But we'd be cautious about making long-term investments in any place temporarily benefiting from a short-term surge … so it's best to look past the immediate impact.
Think about the long-term impact … which is a factor of WHAT is being built.
Fortunately, major projects take many months to complete … so they're easy to see coming IF you're paying attention.
We like to plug into the local chamber of commerce to track who's coming and going in a market place … and why.  The local Business Journal is also a useful news source to monitor.
The kinds of development that excite us include factories, office buildings, industrial parks, and distribution centers.  Those mean local jobs.
We're less excited about shopping centers, entertainment centers, and even residential and medical projects.
Because even though they mean jobs too … they don't DRIVE the economy.  They feed off it.
Of course, we're not saying those things are bad … but they should reflect current and projected growth … not be expected to drive it.
Hopefully, developers are doing solid market research and are building because the local population and prosperity can absorb the new product.
Then again, when money is aggressively pumped in, sometimes developers get greedy … and areas get OVER-built.
So don't just follow the big money.   Be sure you understand the market.
Watch for the over-flow too …
Sometimes money moving into a market creates prosperity only for some … and hardship for others.
Silicon Valley is a CLASSIC example.
As billions flood into the market through inflated stock prices, many people get pushed off the back of the affordability bus.
But even though it's hard for those folks, they end up driven into adjacent markets which are indirectly pushed up.  It's overflow.
That's when you see headlines like these …
Boise and Reno Capitalize on the California Real Estate Exodus –Bloomberg, 10/23/18
"Sky-high housing prices in the Golden State bring an echo boom—and new neighbors—to other Western states."
Sure, in Silicon Valley's case, the flow of money is cheap capital pouring into the stock market and enriching tech companies … and their employees.
But it doesn't matter which door the money comes in when it flows into a market.  That's why it's best to look at ALL the flows into a market.
And when the flow of capital drives up investment property prices in a market (depressing cap rates), even investors will overflow into secondary markets in search of better yields.
The lesson here is to watch the ebb, flow, and overflows as capital pours into both the debt and equity side of real estate through Opportunity Zones, private equity funds, and increasing pension fund allocations.
You never quite know how the market will react, but you can be sure it will.
The key is to see the swell rising early so you can start paddling into position to catch the wave.
We do it by looking for clues in the news, producing and attending conferences, and getting into great conversations with the RIGHT people.
We encourage YOU to do the same.
Until next time … good investing!
---
More From The Real Estate Guys™…
The Real Estate Guys™ radio show and podcast provides real estate investing news, education, training, and resources to help real estate investors succeed.
---
Love the show?  Tell the world!  When you promote the show, you help us attract more great guests for 

your

 listening pleasure!
WOW … the news is FULL of things to keep an investor awake at night.
Some of it's so exciting, you can't wait to seize the opportunity.  Other things are so spooky, you want to pull the covers up and hope it's just a Halloween gag.
Right now, stock market investors are learning it can be a mistake to try to ride the bull all the way to the peak … squeezing every drop of paper profit out …
… falsely believing you can beat the bears to the exit.
Stocks fall for 12 of the last 14 trading sessions – Yahoo Finance, 10/23/18
Yeah, but that's Wall Street …
Existing-Home Sales Decline Across the Country in September – National Association of Realtors, 10/19/18
Oops.  Meanwhile …
Homeowners poised to start tapping $14.4 trillion in equity – CNBC, 10/19/18
Big banks reveal challenges in consumer credit, mortgages – Yahoo Finance, 10/15/18
"banks are seeing challenging headwinds … as charge-off rates – a measure of defaulted balances –  continue to rise." 
So while there are MANY things to like about what's going on in the U.S. economy …
U.S. named world's most competitive economy for the first time in 10 years– Washington Post c/o The Chicago Tribune, 10/17/18
We remind you (and ourselves) … the economy and the financial system supporting it are two VERY different things.
That's why you can have two camps … one saying the economy is strong … and another saying disaster is looming.  And they're BOTH right.
Of course, "disaster" does NOT mean the end of the world … or a descent into some Mad Max post-apocalyptic anarchistic society.
Disaster can be as simple as a rapid shift in asset or currency values that the majority of people are on the wrong end of.
Just like the 2008 crisis ( a warm-up for what Peter Schiff calls The Real Crash which is yet to come) …
… those who were not aware and prepared got CRUSHED … while those who were made MILLIONS.
So "disaster" isn't a universal experience when the economic winds shift suddenly.
It's more a personal choice (often by default from neglect) and depends on the set of YOUR personal financial sail.
You'll either get capsized, face severe headwinds … or you'll catch a gust of wind at your back and sail on to new fortunes.
So watching the changing economic winds is an important responsibility of any serious investor.
Interest rates are the barometer which signals a change in the economic winds.
That's why pro investors fixate on every move or utterance of the Federal Reserve, which is ONE of the most powerful influencers of interest rates … but NOT the only one.
No investor left behind …
 Interest rates are a by-product of the bid on bonds, which are debt securities.
So if the U.S. Treasury decides to borrow money (which they do ALL the time), the bid on those securities sets the yield.
The lower the bid, the higher the yield and vice-versa.
Falling interest rates (yields) come from a STRONG bid on bonds.  That is, there's lots of buyers for bonds relative to the supply of bonds for sale.
When the Fed wants to push rates down, they add to market demand by BUYING bonds … bidding UP the bond price and driving DOWN the yield.
Are you with us so far?
But when the Fed wants to push rates UP, they do NOT bid on bonds (leaving demand up to the open market without the Fed's bid).
Sometimes, the Fed will even SELL bonds they already own ("unwinding their balance sheet") … adding to the supply offered by the Treasury (and other sellers like Russia, China and even Japan).
And more supply and less buyers means bids go down … so yields go UP.  Make sense?
Apparently, government officials aren't concerned about soft demand for Treasuries …
Treasury Secretary Mnuchin: I won't be 'losing any sleep' if China dumps US bonds in retaliation over trade – CNBC 10/12/18
"If they decide they don't want to hold them, there are other buyers …"
Okay then. No worries.  But …
Foreign Buying of U.S. Treasurys Softens, Unsettling Financial Markets –Wall Street Journal, 10/23/18
"Yet it is clear that the foreign pullback has helped fuel a bond selloff this fall, which has driven the 10-year yield to 3.17% and has shaken the nine-year-long rally in U.S. stocks …"
There's a reason stocks are tanking and it has little to do with the economy.  That's why President Trump is so upset with the Fed.
But it seems to us rising interest rates could be bigger than the Fed.  And the world looks different if the Fed loses control of interest rates.
Head spinning yet?  That's okay.  It can be complex.  But there's a reason big money watches the bond market like a hawk.
We try to keep is simple and just focus on the big concepts and how they trickle down to our Main Street investing …
More bonds than buyers mean rates are likely to rise.
For real estate investors, it means downward pressure on values … and more caution when using short-term financing.
Of course, when you can lock in long-term rates, today's debt actually becomes an asset over time.  But that's a topic for another day.
And just in case the ramblings of two dudes with mobile microphones and a fetish for news articles don't make the case …
Last Saturday, we paid a visit to the New York home of former Director of the Office of Management and Budget or OMB (like the OMB numbers you see on your tax forms) … David Stockman.
Of course, we plunked down our mics and recorded a FASCINATING interview at his kitchen table … looking out his penthouse window at the stunning New York City skyline.
If you have any doubt Stockman is a world-class brainiac, buy a copy of his EPIC tome, The Great Deformation.
Bring your lunch and dictionary, but it's totally worth it.  Only Robert Kiyosaki's copy is more highlighted and marked up than ours.
You may not agree with Stockman's politics, but he's well-qualified to have an opinion on economic matters.  So we listen carefully.
Stockman believes even higher interest rates are coming to an economy near you.
So if there's any doubt all this airy-fairy macro-economic babble matters to YOUR Main Street investing … think again.
And be VERY thankful these things roll out slowly.
There's still time to re-arrange your portfolio and activities to fall squarely in the "aware and prepared" camp … and NOT in the "WTF is happening?" camp.
Of course, you can't just float along with the crowd … unless you're very careful to pick the right crowd.
But even then, it's dangerous to fall asleep at the controls of your portfolio.
If you're super studious, you can probably load up on books, podcasts, newsletters, video courses, and news articles … and you'll be ahead of most.
And if you're like us, you'll do all that.
But you'll ALSO invest to get in the right rooms with the right people so you can have portfolio-saving conversations.
Since you've read this far, you should consider joining us at both or either theNew Orleans Investment Conference and the Investor Summit at Sea™.
It's where we go to get around a lot of REALLY smart people for SUPER enlightening conversations.
And it's arguably more important RIGHT NOW than in recent memory …
,,, because for many investors, this is the first time in their investing career they've faced a rising interest rate environment.
You can learn by trial and error (expensive and painful) … or by gleaning wisdom from seasoned investors and well-qualified subject matter experts.
It's probably obvious which one we advocate.
Until next time … good investing!
---
More From The Real Estate Guys™…
The Real Estate Guys™ radio show and podcast provides real estate investing news, education, training, and resources to help real estate investors succeed.
---
Love the show?  Tell the world!  When you promote the show, you help us attract more great guests for 

your

 listening pleasure!
Your reaction to the news of Sears' bankruptcy would tell us a lot about your age and economic status growing up.
But whether you're sad and nostalgic because there's another nail in the coffin of an iconic piece of Americana …
… or you're completely oblivious because the Sears brand has no meaning or relevance in your life …
… there are several important lessons for real estate investors to be gleaned from the slow, painful demise of this 125-year old retail institution.
We could do an entire series on this topic … as each lesson could be an article in its own right.
But with so many things to comment on, we'll keep each lesson short …
Lesson #1:  Evolve or die
Sears revolutionized retailing when it pioneered catalog sales.  Sears was the Amazon.com of its day.
But Sears failed to evolve with technology … and with a shrinking middle-class.
So pay close attention to emerging trends in your niche and do your best to stay ahead of the curve.  Attend conferences.  Talk to other active investors.
Because the world is constantly changing.  For example, the services and amenities desired by today's tenants are very different from even 10 years ago.
And as the Millennial demographic wave rolls through the seasons of life, don't assume they'll mirror the needs of the boomers before them.
Surveys are already indicating it's a whole new ballgame.  So be prepared to evolve … or die.
Lesson #2:  Don't let the fox guard the hen-house 
Maybe this is a little harsh … and we'll admit we only have visibility into the situation from what we've read in the news …
… but it sure seems like the head guy at Sears had a huge conflict of interest.
We're not here to accuse or defend.  Time will tell if he wins or loses, but it seems clear he's on both ends of the deal … so at the very least, the temptation is there.
As your portfolio grows, and more people are involved in helping you operate it, be VERY aware of when someone may be tempted to enrich themselves at your expense.
And be EXTRA careful when you're managing investor money.
Lesson #3:  Consuming equity to pay operating expenses is a cancer.
Because Sears failed to evolve, it managed to lose money for SEVEN YEARS in a row.  It made up the shortfall by going into debt and selling off assets.
We know this is a bad plan because we've done it. (See Lesson #4)
It's one thing to see your net worth shrink as a result of fluctuating asset values.  This is par for the course when you denominate net worth in dollars instead of doors.
But as long as you're playing the long game, fluctuating asset values is a side-show.
And if your cash-flows are solid and your holdings of real assets (doors, tenants, properties, ounces, etc.) is growing, you're on the right path.
When the market gives you a temporary spike of paper equity, it can be smart to quickly convert it into more units of real value.  But that's a lesson for another day.
Our point now is when you start using equity to debt-service or pay operating expenses, your portfolio has cancer.  And you better fix it FAST.
If you don't, your negative cash-flow will eventually consume you … like it has Sears … even though it may take many years.
Lesson #4:  Don't let a strong balance sheet make you lazy.
With lots of assets, including real estate, Sears' management could handle the financial problems their business problems created.
It's like a football team with a big lead that stops playing to win and just tries to protect the lead.
They use the scoreboard to make up for not scoring points on offense or giving them up on defense … hoping the game-clock will win the game.
When your P&L and cash-flow reports tell you that your properties are failing, don't kick the can down the road with your balance sheet just because you can.
Because when your balance sheet is really strong, you might be able to avoid dealing with the real problems for years … sometimes decades.
But you risk losing the momentum, resourcefulness, and relationships you need to turn it around.
As Jim Collins says in Good to Great, you must "confront the brutal facts."  And the sooner, the better.
Uncle Sam, are you listening?
Lesson #5:  You're in the people business, not the numbers business.
Your brand (your reputation … how people feel about you) is your MOST important asset.
When you have lots of people who know you, like you, trust you … then even when you need to change what you sell because of market dynamics … your customers will buy.
Over-time, Sears … like MANY big companies … became more focused on the numbers than on the customers' experience.
When this happens, you not only break trust with your customers … you forget how to innovate.
Innovation comes from looking at everything through the eyes of the customer and asking, "How can we make this better for the customer?"
When you do this, you grow revenue, retention, referrals, and profit. It's an abundance mindset.  And it takes faith.
But when it's only numbers, you ask, "How can we squeeze more profit out of what we're already doing?".  It's lazy (see Lesson #4).
It's also a reflection of scarcity thinking.  It's rooted in fear, and asks the customer to conform to the company's needs.  Bad plan.
Your tenants are customers. They have needs.  They aren't just rent mules who exist to pull your financials to the next plateau.
When you take care of the people and your business model, your numbers take care of themselves.
Lesson #6:  It's not over until it's over.
We got hit HARD in 2008.  In many ways, we're still recovering.  For Sears, Chapter 11 provides some relief while they work on re-inventing themselves.
Sometimes no one believes in you and you're on your own to keep grinding it out to save things.
We don't know anything about Sears' team or relationships.  So we have no opinion on whether they have what it takes to make it or not.
But there are many companies who go into bankruptcy, re-organize, and get back on their feet.  American Airlines is a fairly recent example.
For Main Street real investors and entrepreneurs, it's like Les Brown says …
"Any day you wake up and there's not a white chalk line around your body … it's going to be a good day!"
In other words, where's there's life, there's hope.
So whether you're crushing it now … or being crushed … it's wise to never take anything for granted.  Just keep pushing forward because neither good times nor bad times last forever.
Until next time … good investing!
---
More From The Real Estate Guys™…
The Real Estate Guys™ radio show and podcast provides real estate investing news, education, training, and resources to help real estate investors succeed.
---
Love the show?  Tell the world!  When you promote the show, you help us attract more great guests for 

your

 listening pleasure!
We all have beliefs that guide our investment decisions … even when we don't put much thought into them.
Sometimes we don't even know what we believe, until we're sitting in a pile of rubble asking ourselves, "What the heck was I thinking?"
So sometimes it's smart to slow down to go faster … investing time to form a more cogent investment thesis.
That's why we do our annual goals retreat, and make it a high priority to get away together with other serious investors at conferences and summits.
Plus, you compress time frames by listening to and talking with others … especially those with different perspectives and experiences.
Honest investors will tell you some of their hypotheses proved true, while others didn't.  We've never met anyone who's ALWAYS right.
But if you can be right more than you're wrong … you may lose a few battles along the way, but you'll win the war.
That is as long as you NEVER risk it all on any ONE thesis or deal.
For example, before 2008, it could be said U.S. housing prices had never declined.
Sure, individual properties … even certain areas … had pulled back or dipped.
But across the United States, the average and median prices of homes had been on a 40-year upward trajectory.
So everyone from Wall Street to Main Street had investment strategies based on the premise that U.S. housing prices were highly stable.
Of course, in typical fashion, the wizards of Wall Street leveraged their investment thesis to the extreme … using multiple derivatives of mortgage-backed-securities …
… and by so doing changed one of the important dynamics of stability (sound loan underwriting) … with catastrophic results.
Some saw it coming.  Most didn't.
So again, never bet the farm on one deal, one market, or one thesis.  We know … because we've done it.
Way back in pre-2008, Dallas Texas was one of the most boring major real estate markets in the nation. B-O-R-I-N-G.
But on the 2009 Investor Summit at Sea™, Robert Kiyosaki's real estate advisor Ken McElroy … the master of simple brilliance … told us his investment thesis.
Ken said he thought that coming out of the recession, energy producing economies would create the most jobs, attract the most people, and lead to steady demand for working class housing.
He reasoned those jobs are linked to where the energy is … because you can't move an oil field or huge refineries to China or Mexico to take advantage of cheap labor.
So any region heavily involved in energy would probably do well.
In the fullness of time, Ken's thesis proved correct.  Texas led the nation in job creation and the energy sector was a big part of it.
Dallas … along with other energy markets … boomed.
We understood the concept and wondered what other industries are geographically linked?
We came up with distribution and healthcare.  After all, people need supplies … and those supplies need to be shipped.
People also need healthcare, especially as boomers age, and they're not going to China for it.
And neither supplies or healthcare are highly discretionary either.  People need them in good times and bad.
So things that are necessary at all times, and linked to geography and/or extremely hard to build or move infrastructure …  are more likely to remain stable.
Based on that thesis, we took an interest in distribution markets like Memphis and Dallas (energy AND distribution) …
… which both turned out to be great residential real estate investment markets to this day.
This is just another real-world example of starting with a conversation with a smart investor … forming a simple investment thesis (focus on markets with geographically linked jobs) …
… doing some research, using common sense, and then stepping out and testing the thesis in the real world.
Over time the thesis is either proven or refuted.  In this case, so far so good!
Of course, the "geographically linked jobs" thesis is only about regional industry.
There's also demographics and economics to consider …
Robert Kiyosaki has been warning for years about a shrinking middle class.
Robert's a smart guy.  So we listened, we researched, and we reasoned.
And because it made sense to us, we rolled the premise of a shrinking middle class into an investment thesis described in this 2011 article.
Later, building further on our studies of the shrinking middle class, we found opportunity in something we call the dumbbell effect.
We won't rehash those musing here, but they're worth reviewing today … now that you have the benefit of hindsight.
Lastly, this very recent news article provides perspective supporting another long-held thesis we've had about affordable housing markets.
According to ATTOM Solutions, one of the industry's biggest and most reputable data crunchers …
 "At the moment, demand for rental homes is strongest in less expensive housing markets, which serve households with lower incomes."
"The weakest demand is in the high-end and the strongest demand is in the low-end …"
A "booming" economy might low unemployment and rising wages.
But it can also mean higher interest and energy expenses, which are cost components of EVERYTHING people need to buy.
So the national economy might be booming … but is it showing up for the working class folks on Main Street?  Maybe.
But when it comes to residential real estate, we still feel safer in affordable markets and property types … things like B-class apartments and mobile homes.
Right now, the data seems to support the thesis.
But what about going FORWARD?
Today, investors are facing a rising interest environment for the first time in decades.
At the same time, and perhaps related, the dollar is under attack with a global resistance led by China, Russia, Iran and other nations.
Mainstream financial news pays some attention to these things … but only from Wall Street's perspective.
Yet these events all directly or indirectly roll down to Main Street investing … creating both challenges and opportunities.
While we're still formulating our theses for today's changing world, it seems likely that product classes and markets with higher-yields will become capital magnets …
… eventually driving the yields down, but also creating gobs of equity for people already in the space.
That means now could well be a land-grab opportunity in those key markets and product types.
There's also the changing of the demographic guard as baby boomers sail off into their rest-home years and Millennials become the new pig in the python.
So paying attention to Millennial trends will become increasingly important.
That's why we have an Investor Summit at Sea™ Young Adult Program to get more young people into our conversations.
Another developing trend is the current drive to rebuild America's manufacturing capabilities.
As this leads to a revitalization of the rust belt, it could create a convergence of affordability, demographics, and capital attraction … with lots of opportunity.
The point of all this is the world is changing … as it always does.
Our experience is the most successful investors pay close attention, get lots of qualified input, and then make important adjustments to their core theses so they can stay ahead of the curve.
Until next time … good investing!
More From The Real Estate Guys™…
The Real Estate Guys™ radio show and podcast provides real estate investing news, education, training, and resources to help real estate investors succeed.
---
Love the show?  Tell the world!  When you promote the show, you help us attract more great guests for 

your

 listening pleasure!
Regular readers know we follow the news pretty closely. Well, okay … we're obsessive compulsive news junkies.  But for good reason!
The economy and underlying financial system (two VERY different things) form the environment all our money-making ventures exist in.
When the financial winds change, alert investors adjust their sails to put the wind at their back.
Today's "booming" economy is creating asset price inflation … including stocks and real estate … depressing bond prices (which in turn, drive interest rates UP).
PLUS the Federal Reserve continues to tighten monetary policy by raising its target rate.
Unsurprisingly, as we discussed last time, mortgage rates are rising along with the 10-year Treasury … and this adds to downward pressure on rising real estate prices.
Mainstream headlines tell some of the story.  But we also watch trade publications for clues that don't always make it to the mainstream.
So we opened up our news archive and scanned industry headlines for the last few months to see if there's a discernible trend …
Worst home affordability in nearly 10 years – June 19, 2018
U.S. home prices appreciating at slowest pace in two-years – July 24, 2018
Foreclosure Starts Increase in 44 Percent of U.S. Markets in July 2018 – August 17, 2018
Home flipping returns drop to 4 nearly 4-year low  – September 4, 2018
Rent jumps cool in hot markets, but for how long? – September 11, 2018
Down payments rise with stiff competition for homes – September 20, 2018
Without digging into the weeds of each article (though they're all interesting reads) …
… it seems like home prices have risen to a resistance point … slowing their upward trajectory … while marginal owners are getting pushed off the back of the bus.
Meanwhile, real estate "day traders" (flippers) are finding it harder to get in and out quickly because the rising-price gravy-train is tapering off.
Okay, let's take a breath here and process …
If you're buying real estate for short term passive equity growth, this is probably bad news.  The market isn't just dumping generous portions of equity on to your balance sheet.
Also, if you're in at the high end of hot markets, you may have to hold longer than you thought.  Hopefully, the cash flow is there to help you ride out this phase of the cycle.
Those who went into the high-end of hot markets with thin or negative cash flow … whether as an investor or a home-owner … could find themselves land-locked and bleeding for a while.  No fun.
We'd need to dig deeper, but these are often the source of increasing foreclosures.
BUT … if you're in the middle price range of moderate priced markets, you may end up being the beneficiary of INCREASED demand …
… as folks from higher priced properties and markets, both as buyers and renters, crowd into your space.
Remember, when you're at the top, there's no one above you to move down in tough times to boost demand in a soft market.
That's why we're fans of middle markets … where there are people below you to move up in good times, and people above you to move down in bad times.
And when it comes to apartments, nearly all new builds add to the top of the market …. increasing competition and pushing down prices at that level.
But it's not feasible to build new middle market inventory, so while it's more competitive to buy those properties … there's also good demand from renters once you have one.
Whether it's rising mortgage rates, rising consumer interest rates, price inflation, or rising home prices …
… it seems the stars are aligned for strong demand for rental properties.
Just like the financial crisis, housing horror can be landlord hallelujah.
All that to say that the right properties in the right markets with the right financing, while harder to find, still make a lot of sense.
Just be SURE your underwriting is realistic … because right now, the market is saying the easy money gravy train is slowing down.
It's also probably wise in any market, but especially now, to project growth ONLY on those things you can control (added value) … and not count on a rising tide to lift your boat.
And if you've got great properties with equity … and you want to keep them for the long haul … it might be a good time to look at liquefying some of that equity to keep as dry powder if prices soften.
With rising rates, you can probably lend out some of the proceeds on desirable properties for a high yield (first position with a good chunk of protective equity!) …
… or invest into high-yielding properties or pools (mobile homes, residential assisted living, etc.) where the income from only portion of your loan proceeds can cover the ENTIRE loan.
This lets you store the rest for picking up bargains when the falling tide flushes speculators who are out of position to make it to the next up cycle.
Bottom line is those who are great at managing cash flow will win.  Those who aren't will get flushed.
Until next time … good investing!
More From The Real Estate Guys™…
The Real Estate Guys™ radio show and podcast provides real estate investing news, education, training, and resources to help real estate investors succeed.
---
Love the show?  Tell the world!  When you promote the show, you help us attract more great guests for 

your

 listening pleasure!
It's no secret the United States has been at odds with both China and Russia lately.
So what?  What does it mean to Main Street entrepreneurs and investors?
Maybe nothing. Or maybe a lot more than you think.
Just a few months ago, Russia dumped a majority of the Treasury holdings.
Three out of the last four months, China has reduced its Treasury holdings.
And now Market Watch reports … 10-year Treasury yield hits 4-month high as bond market sells off …
" … investors fear China … could sell its Treasury holdings to push the U.S.'s borrowings costs higher."
Not TWO days later, Market Watch reports … Mortgage rates jump to four-month high as housing hits a bump. 
That's because, as any credible mortgage professional will tell you, mortgage rates track VERY tightly with 10-year Treasury yields.
So you don't need to be Sherlock Holmes to see …
… there's a direct connection between what Russia and China are doing and YOUR Main Street real estate investing.
But it's bigger than interest rates.  Interest rates are more a reflection of currency and bond markets.
The United States has enjoyed … and some might say abused … a privileged status because of the U.S. dollar's status as the world's reserve currency.
China and Russia have both publicly proclaimed their upset over how the U.S. the dollar system … and they're working to dethrone it.
Some people who are well-qualified to have opinions think …
… there's a HUGE danger to dollar-denominated investors if the dollar LOSES reserve status.
According to Bloomberg, famed billionaire hedge fund manager Ray Dalio spells out America's worst nightmare … warning the U.S. "not to take its reserve currency for granted."
"The idea that the U.S. dollar would lose its status as the world's reserve currency is an existential threat unlike just about any other to the U.S. government and financial markets as a whole."
" … for just about everyone's sake, we should hope that he's wrong."
Last time we looked, hope is not a strategy.
We don't make this stuff up.  We pull it right from the headlines.  In fact, we've been covering it closely for more than five years.
The good news is these things move S-L-O-W-L-Y.  The bad news is these things move S-L-O-W-L-Y.  It's easy to fall asleep at the wheel.
It's also easy to ignore or dismiss the people who keep sounding the alarm.
But if you earn dollars, borrow dollars, measure asset values in dollars, or use credit markets in any way … the future of the dollar impacts YOU.
Most Main Street investors aren't paying any attention at all … 
They don't study history.  They don't recognize the warning signs … even though there are clues in the news every day.
They won't see a dollar crisis coming and won't know what to do if it happens.  It will strike them like a thief in the night.
But it doesn't have to happen.  In fact, the more people who are aware and prepared, the less likely it will happen.  And the less severe it will be if it does.
Of course, warnings are only useful if understood and heeded.
Otherwise, you wake up one day and credit markets seize up … asset prices collapse … and all those TRILLIONS in paper wealth everyone is celebrating is WIPED OUT.
Think about how hard you work and study to create profits in your business and investing.
How much time do you invest in studying how to avoid LOSING it all?
If you're like most investors, it's not very much.
Riding an uptrend is an easy way to FEEL like a genius … but TRUE investing genius is revealed in the BAD times.
Warren Buffet's famous quote sums it up …
"Rule #1:  Don't lose money.  Rule #2:  Remember rule #1." 
Okay, so you've read this far.  Now what?
Well, you probably know we can't possibly give you a useful answer in just a few hundred words.
If you REALLY want to know, you'll need to dig in … and invest some time and money in getting up to speed.
It starts with getting your mind around the situation.
If guys like Ray Dalio are paying attention to the future of the dollar … maybe YOU should too.
When it comes to China and Russia's attack in the dollar, we created a VERY affordable 48-minute video and two downloadable PDFs which many people have found helpful …
Click here for info about The Dollar Under Attack video and two related special reports.
The video features the opening presentation from our 2018 Investor Summit at Sea™ … which kicked off with two full days focused on the Future of Money and Wealth.
Not only has nothing changed since the original presentation, but the news continues to indicate things are picking up speed.
So it's not surprising savvy investors like Ray Dalio are concerned and making contingency plans.
Perhaps you should too.  After all, better to be prepared and not have a dollar crisis than to have a dollar crisis and not be prepared.
Until next time … good investing!
---
More From The Real Estate Guys™…
The Real Estate Guys™ radio show and podcast provides real estate investing news, education, training, and resources to help real estate investors succeed.
---
Love the show?  Tell the world!  When you promote the show, you help us attract more great guests for 

your

 listening pleasure!
This past September 15th marked the 10th anniversary of the collapse of the iconic Wall Street investment bank, Lehman Brothers … after 158 years in business.
While there were several notable events which heralded the arrival of the greatest financial crisis since the Great Depression of 1929 …
… Lehman's failure can arguably be considered the "shot heard around the world".
As recounted in David Stockman's epic tome, The Great Deformation, the guys in charge of the Federal Reserve and U.S. Treasury at the time, Ben Bernanke and Hank Paulson, proclaimed …
… "the financial system had been stricken by a deadly 'contagion' that had come out of nowhere and threatened a chain reaction of financial failures that would end in cataclysm."
Apparently, Bernanke and Paulson weren't followers of Robert Kiyosaki or Peter Schiff.
Because both Kiyosaki and Schiff appeared on national television warning people … that in spite of all the rosy economic reports, there was BIG time trouble brewing.
In fact, in this now infamous interview with Wolf Blitzer on CNN, Kiyosaki specifically warned about a Lehman Brothers collapse.
And in this contentious TV appearance, Peter Schiff was mocked by well-known economist, Art Laffer, for his passionate concerns about the dangerous proliferation of sub-prime mortgages.
Of course, Kiyosaki and Schiff both turned out to be right.  But as you may have noticed, they're not on financial TV too often any more.
We're guessing it's because their viewpoints don't fit the Wall Street "sunshine" narrative.
That's why we make it a habit to get together with these guys … and others … who aren't singing from the Wall Street hymnal.
Meanwhile, it's hard to believe Lehman collapsed 10 years ago.
There are Millennials now well into their business and investing careers who were just in high school back then … and have no real recollection of what happened or why.
So just as Americans commemorate the anniversaries of tragic events such as Pearl Harbor and 9/11 to honor heroes, mourn victims, and remember important lessons …
… perhaps the anniversary of the fall of Lehman is a good time to consider what can and should be learned from economic policy gone bad.
"Those who fail to remember history are doomed to repeat it." 
– George Santayana
We're certainly NOT mourning the loss of Lehman.  Extinction is a healthy part of the cleansing process when cancerous enterprises infect a financial system.
And there's probably an argument to be made that Goldman Sachs, AIG, and other foolish actors should have been allowed to fail too.
After all, when you look at how and why they got into trouble, to bail them out is essentially absolving them of the consequences of their reckless behavior.
Worse, it creates moral hazard … enticing Wall Street gamblers to continue to take big chances with their clients' savings …
… knowing they keep all the upside but can push the downside to Main Street, both directly and indirectly through government bailout.
And as many real estate investors discovered the hard way, Wall Street's gambling addiction absolutely impacts our Main Street investing.
Real estate didn't cause the Great Financial Crisis … it was a victim of it.
Of course, the crisis also created fabulous opportunities for the aware and prepared.  There's ALWAYS a bright side for the aware and prepared.
Investors like Kiyosaki and his real estate guy, Ken McElroy, made fortunes buying up bargains in the wake of the crash.
It's usually the smart money that cleans up messes made by dumb money.
But we're not here for a post-mortem on the 2008 financial crisis.  We've covered that extensively and you can find those episodes and blog posts in our archives.
Today is all about facing the future empowered with important lessons from the past …
Lesson #1:  Listen to all points of view with an open mind. 
Be mindful of normalcy bias, confirmation bias, echo chambers, and of course, sales agenda.
When the downside is left out of the discussion, you'll end up with potentially disastrous blind spots.
But if all you see is doom and gloom, you don't act.  And that's bad too.
Lesson #2:  Study and think for yourself. 
Your financial future is too important to rely solely upon the Cliff's notes and conclusions of financial pundits.
There are plenty of understandable investments, including our obvious favorite … real estate.  There's no reason to abdicate the responsibility of understanding to others.
Sure, you can delegate the work of investing to others.  But not the understanding.
YOUR financial education is important, whether you get your hands dirty with the deals or not.  So make financial education a priority.
Lesson #3:  It's never as good as it seems … and it's never as bad as it seems.
It's easy to get lazy in a boom … and paralyzed in a bust …  so keep looking for opportunities and keep your money working … in both economic sunshine and rain.
Lesson #4:  Take what the market gives you.
The market's bigger than you are, so you can't make demands.  It's going to do what it's going to do.  And it will change.
So when the world changes, you'll need to adapt.
Resist the temptation to doggedly adhere to a now less effective strategy simply by taking on excessive risk … or reducing your return on investment targets.
There are almost always alternative opportunities you can move to.
Sure, it takes time and effort to learn new niches.  But so does recovering from a bad deal, or earning back lost opportunity from putting your portfolio in sleep mode until your preferred niche comes back to life.
Lesson #5:  Cash reserves aren't idle. 
They're actively providing insurance coverage for a liquidity crisis.  That's worth something.  Think of the lost opportunity cost as an insurance premium.
So no matter how hot your niche is, be cautious of being over-invested.  If you think having cash reserves is expensive, try being illiquid when credit markets seize up.
Besides, it's no fun staring at a market full of bargains, but without any purchasing power left.  You never know when the market's going to have a BIG sale.
(That's another reason why we LOVE syndication.  When YOU don't have the resources to capitalize on bargains, you can always find investors who do.)
Lesson #6:  The economy and the financial system are NOT the same thing.
There's a big difference between economic indicators … and the strength and stability of the financial system.
Study BOTH for clues about opportunities and risks.  In the boom leading up to the financial crisis, the economy was HOT.  But the financial system was frail.
Sound familiar?  It should.  History may not repeat itself, but it often rhymes.
Lesson #7:  Defense wins championships. 
The old sports adage very much applies to investing.
Billionaire stock investor Warren Buffet says Rule #1 is, "Don't lose money" and rule #2 is, "Remember Rule #1".
Billionaire real estate investor Sam Zell says a secret to his success is his skill at understanding the DOWN side.
Remember, there's ALWAYS a downside.  Ignoring it doesn't make it go away.  And if you don't see it, it just means you're not seeing the while picture.  Get experienced eyes on the deal to help you.
Lesson #8:  You can't make a profit on property you don't own. 
If you fail to buy property because of fear … or you lose a property because of greed … you're not going to grow your portfolio or achieve your financial goals.
So yes, look at the downside.  But then look for ways to mitigate it.
When you're done, weigh the upside against the downside … compare it to other opportunities concurrently available … and if it looks good, do it.
Over-thinking can be just as bad as not thinking.
Lesson #9:  Never over-expose your portfolio to any one deal … no matter how good it looks.
Firewall sections of your portfolio through entity structuring, selective and restrictive use of personal guarantees, and syndication.
As you can see, there are MANY lessons to gleaned from reflecting on financial history … and listening to smart people with diverse perspectives, experiences and expertise.
Until next time … good investing!
---
More From The Real Estate Guys™…
The Real Estate Guys™ radio show and podcast provides real estate investing news, education, training, and resources to help real estate investors succeed.
---
Love the show?  Tell the world!  When you promote the show, you help us attract more great guests for 

your

 listening pleasure!