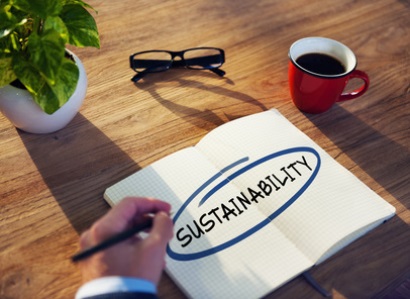 When it comes to cash flow from real estate, we LOVE "sustainable".  There's nothing worse than vacancy and turnover to ruin your income stream.
Of course, your income comes from tenants.  And if the cost of living (food, gas, healthcare) is going up faster than their wages, it puts pressure on your tenants' ability to pay rent.
If it goes on too long, it becomes unsustainable…and that's bad…for both your tenant and for you.
Happily, there's usually a solution to most of our investing dilemmas.
What if your tenants actually benefited from inflation?  And once planted, tended to stay in place for a very long time?
That's the topic of this episode of The Real Estate Guys™ radio show.
Serving up a hot cup of conversation this week:
Your connoisseur of conversation, host Robert Helms
His peon of palaver, co-host Russell Gray
International entrepreneur and investor, special guest David Sewell
Investing 101 says if you buy what everyone else is buying when they are buying it, you're going to pay more…which potentially lessens your returns.
It doesn't mean you can't make money.  And the opportunity window isn't an on/off switch.  There are shades of grey.
As you may recall, demand for real estate slowed, then temporarily died as we entered the Great Recession.
As we've come out of the Great Recession, demand for real estate has gradually grown.  And with that growth, it's been harder (not impossible) to find the same quantity and quality of deals.
Turnkey operators we talk to tell us their margins are shrinking and it takes more offers to land a property.  Simply stated, it's more competitive.
Of course, right now it's still worth doing in many markets…especially where you have properties available at or below replacement costs, relative affordability, low interest rates, and great property management.
With all that said, another tenet of investing is to look for value before others see it.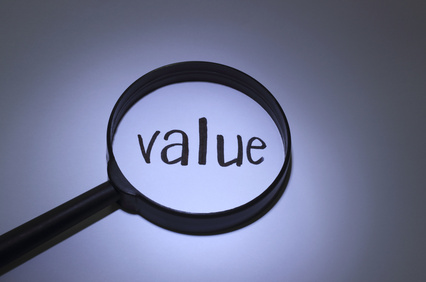 When the real estate market was crashing in 2008-10, our friend and Summit at Sea faculty member Ken McElroy (Robert Kiyosaki's Rich Dad Real Estate Advisor) was on a shopping spree.
During that window of opportunity, he acquired over $300 million of under-performing apartment buildings.  He didn't have a lot of competition, so the price was right.  And he had the capital and operational savvy to immediately improve financial performance.
So Ken and his investors did very well by buying undervalued assets before they were popular.
If course, now in 2014, apartment cap rates (operating cash flow in purchase price) are lower because apartments become popular and more investors started competing for them…driving prices up.
It's a simple concept, but it still amazes us how many people like to wait to buy at the top…all the while ignoring alternative markets and product types that haven't yet attracted mainstream interest.
That's a big introduction to tee up our conversation with David Sewell.
David is a Canadian native, who has been living in Latin America for the last 25 years.  A former Canadian naval officer, David has been around enough of the world to recognize opportunity when he sees it.
In this case, he's discovered an income producing real estate asset class that's under-performing.   And just like Ken McElroy, he's found that by adding capital and operational savvy, there's money to be made.
Except we're not talking about residential apartments.  We're talking offshore coffee farms.
We find the premise…stimulating.
And after meeting David a few years back at a conference, we've been staying in touch.  We've been fascinated by farmland investing and how it fits into a real asset investing strategy.
David's business model is simple: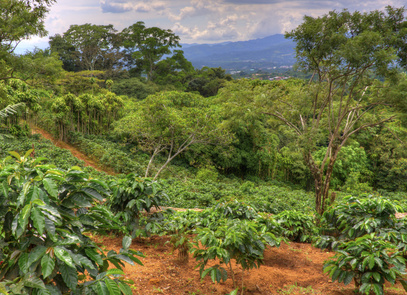 He and his team find and acquire locally owned coffee farms in places renowned for ideal coffee growing conditions.  They subdivide the farmland and sell it off to investors.
A substantial portion of the sales proceeds are used to upgrade the operations and convert the farm from producing lower value commercial coffee to high premium "specialty" coffee.
The idea is to reduce operating expenses, increase volume of production and raise the price per pound of coffee.  When you put that all in the pot and brew it, you get a tasty cash on cash return…without leverage.
Nice.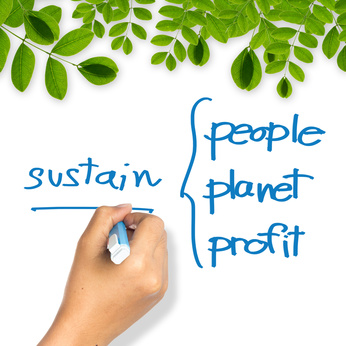 To make it even better, there are some distinct tax and asset protection advantages to owning income producing assets offshore.
And to top it all off, there's a nice social benefit.
When the farm operations rehab is done, the original farm operator makes more money, has better working conditions, enjoys more stability, receives employment benefits and ends up with better skills.
So it's not just the farm being fixed up… and the profit for the investors is more than just money.
Listen Now:
Want more? Sign up for The Real Estate Guys™ free newsletter!
Don't miss an episode of The Real Estate Guys™ radio show!  Subscribe to the free podcast!
Stay connected with The Real Estate Guys™ on Facebook!
The Real Estate Guys™ radio show and podcast provides real estate investing news, education, training and resources that help real estate investors succeed.
Protecting your money in today's highly uncertain economy is surely very challenging. Remember when real estate equity and bank accounts were considered among the SAFEST places to keep your savings?  Today, real estate equity has disappeared – and for many people even getting access to whatever equity they still have is next to impossible.  Boy, do we miss those equity lines of credit with their checkbooks and debit cards!
And even though you can still write checks on your cash deposits at a bank, with record bank failures even that old saying "sure as money in the bank" seems a little outdated.  Add horribly low interest rates and, to compound the injury, taxes on your meager interest earnings, it's enough to make you wonder what this financial world is coming to.
Well, we have good news. There's a new way to look at an old product – one that is time tested and has survived its fair share of economic turmoil.  And we got such a positive response to our first foray into this topic, we decided to re-visit it with a new guest.
In the radio lifeboat for another voyage into broadcasting brilliance:
Host and head lifeguard, Robert Helms
Co-host and lifeboat inflater, Russell Gray
Seasoned sailer of stormy economic seas, the Godfather of Real Estate, Bob Helms
Special guest, "infinite banking" expert, Patrick Donohoe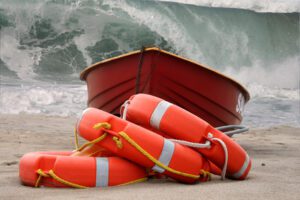 Right out of the gate we need to set the table, which is no small task with the lifeboat bobbing on the waves:  what does life insurance have to do with real estate investing?
Think about what a bank account has to do with real estate investing and you're on the right track.  But unlike a bank account, our guest explains that certain types of life insurance – thought greatly misunderstood – offer far greater flexibility than bank accounts.  And though they aren't FDIC insured, insurance companies are arguably more stable and conservatively run.  Unlike banks right now, you don't hear a lot about record number of life insurance companies failing.
We also address why so many CONSUMER financial gurus are down on cash value life insurance, yet corporations like Wells Fargo and Wal-Mart buy tons of it.  Could it be there are BUSINESS purposes that make it very useful for BUSINESS people?  We say all the time that real estate investing is a business, so it makes good sense to see how businesses are using this financial tool.
For example, how'd you like you to take a tax deduction for making a deposit in your bank account?  Hmmm….that's an interesting concept!  What about getting a loan against your equity without having to qualify?  Try doing that with a property!  And unlike property, the value isn't determined by market forces, so your equity doesn't disappear in a market downturn.
The point of this episode is that insurance can do a lot more than manage risk and pay a benefit. Our job is to expose you to some of the possibilities.  Your mission, should you choose to accept it, is to explore those possibilities, learn how to use this powerful tool, and decide when and where to use it to advance your real estate investing program.  It seems the economic storm isn't over yet, so it might be a good idea to know how to operate the lifeboat.  It's a matter of life and debt.
Listen Now: 
The Real Estate Guys™ radio show and podcast provides real estate investing news, education, training and resources that help real estate investors succeed.
Do you remember the old "new" economy? That was the one where technology companies could go public without profit.  In some cases, they didn't even need revenue. Ahhhh, those were the days.
The new "new" economy (the Great Recession one) hasn't been nearly as fun – unless you're an old school entrepreneur.  That's the kind who looks at problems as opportunities.  Guys (and gals) like that are having a lot of fun right now because there are opportunities galore coming out of the Great Recession.
The Real Estate Guys™ headed off to Freedom Fest in Las Vegas a few weeks back.  We heard that money manager / economist / author / Senate candidate Peter Schiff would be there (among many other people with very strong opinions about the U.S. economy) and we wanted to do some interviews.  We're happy to report we got lots of great stuff, including Mr. Schiff and the CEO of Forbes Magazine, Steve Forbes.  Watch for those interviews in future broadcasts.
So we fly into Las Vegas in our private jet (the one operated by Southwest Airlines), and get to the convention venue and start setting up our booth.  Before the event had even started, a man stops by and sees our banner for Belize (we were promoting our upcoming field trip to Belize) and asks a few questions.  The short of it is that we find out he's working on a very exciting project in the Caribbean – one that solves a problem we've been trying to figure out too.  Russ gets so excited that he hugs the guy. Very weird.
After the appropriate apologies and some follow up male bonding, our new friend agrees to do a radio interview.  And that's what this broadcast is all about.
Manning the microphones for this edition of The Real Estate Guys™ Radio Show:
Your host, the Larry King of real estate radio, Robert Helms
Co-host, our "I love you, man" booth babe, Russell Gray
Special Guest, Investment Banker, Entrepreneur and assault victim, Jeff Villwock
Any time we get around smart people, we jump on the opportunity to talk with them. In this case, Russ literally jumped on Jeff.  When Jeff recovered, we got him on the mic, so you can listen to what he's doing, where he's doing it and why.  There's lots of lessons to be gleaned!
Freedom Fest is an event that attracts people with strong political opinions.  In many of the interviews we did there, those opinions come out.  Great!  We think the world works better when people respectfully debate important issues.  Sharing ideas is among the most sacred of our freedoms, especially if you're radio guys.
We also realize that the U.S. (the bulk of our audience) is pretty polarized right now.  Now, we love our entire audience and our show isn't political.  However, policies affect economics and economics affects real estate. There shouldn't be a serious student of real estate who can look at the last several years and deny that.  So politics are going to get into the discourse from time to time, which is a very good thing.
We think these Freedom Fest interviews are great.  If you disagree with the political views of our guests, don't let that get in the way of hearing what's being said.  Here's why:  a big part of real estate investing is understanding demographics and human nature. How people think and believe affects where they (and their money) will be moving.  Even if you disagree with them, if they believe it, it will affect their actions. So YOU need to understand them (even if you disagree) if you want to anticipate their behavior.
Did we mention that Jeff's project is in St. Kitts?  It just so happens that St. Kitts is one of the stops on our upcoming 9th Annual Summit at Sea!  So we ask Jeff if we can visit his project as part of our already planned real estate shore excursion in St. Kitts. Not only does Jeff agree to allow us to visit, he says he'll meet us there and show us around.  Awesome!
Once again, we're reminded of the importance of getting out of our cubicles and into the world where real people are. No doubt that virtual networking is powerful, but just as phones did not replace face to face meetings, neither will social media replace conventions as a great place to make important connections.  This is one of the reasons we attend trade shows and promote our field trips and the Summit at Sea™.  It's a great way to get to know great people in the real world.  We hope to see YOU at one very soon!
Listen Now
Don't miss a show!  Subscribe to the Free Podcast
Want More?  Sign Up for The Real Estate Guys™ Free Newsletter!
In case you hadn't noticed, the rules of the real estate game have changed a lot over the last 2 years – much of it driven by dramatic changes in where mortgage money comes from and how it gets to market.  In this broadcast, The Real Estate Guys talks about the current state of the union when it comes to residential real estate finance.
The brains in the house for this enriching broadcast are:
Host Robert Helms
Co-Host Russell Gray
"The Godfather of Real Estate" Bob Helms
Certified Equity Happens Mortgage Consultant Marty Sonke
The show kicks off with The Guys talking about how the mortgage meltdown has affected the game of real estate investing.  Then special guest contributor and mortgage originator Marty Sonke calls in to provide a front line update on what loan programs are and are not available today. Hint:  There's one segment of the market where money is easiest to get.
We also talk about the real world ramifications of recent legislation intended to "help" improve the market.  HVCC and MDIA are well intentioned, but also have created some new issues for mortgage originators and borrowers.  What is HVCC and MDIA you ask?  Well, you'll just need to listen to the show! 😉
With so many people unemployed and underemployed, many of whom are starting businesses, Marty gives us the 411 on the new rules for self-employed borrowers.  He also brings us up to speed on two of our favorite tools for freeing up idle equity: HELOCs and Cash Out Re-Fi's.
What about borrowers with less than perfect credit?  Marty tells us about the new options for sub-prime and "Alt-A" borrowers.
We close the show talking about adjusting your expectations to fit the new reality of real estate finance.  The game is far from over and real estate is not dead – it's just different.
Listen to this Broadcast Now