Boots-on-the-Ground Market Insights: Atlanta, GA
September 2020
There's no denying it … Distribution hubs are booming.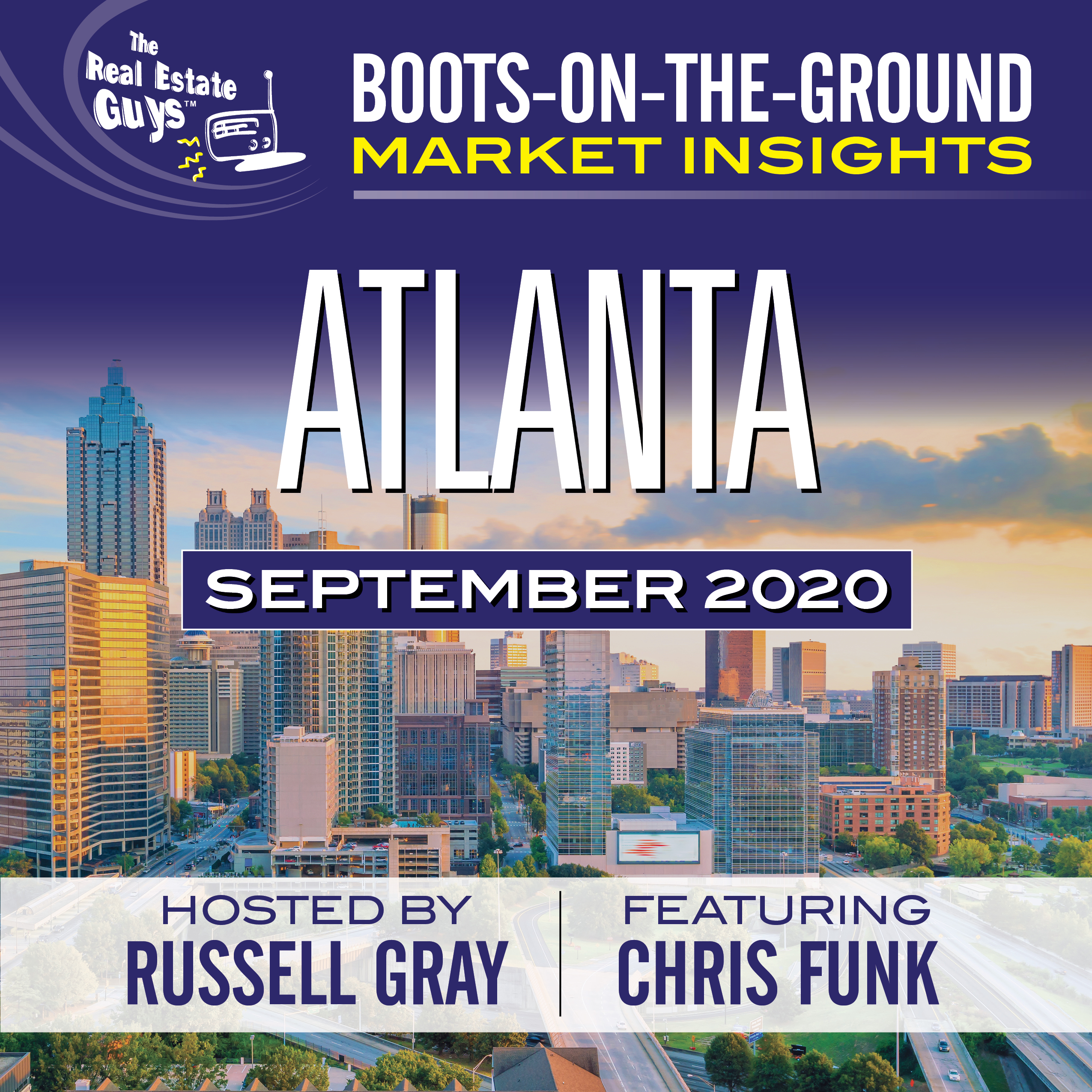 The real estate ecosystem is evolving and it might be in our best interest to evolve with it. We've had our eye on Atlanta for a while and in this interview, we hear why now might be the best time to act. The region has proven to be a strong distribution hub and COVID-19 has only accelerated the profits within the market.
In this Boots-on-the-Ground interview, Russell Gray, co-host of The Real Estate Guys™ Radio Show, talks with Chris Funk to get an update on how Atlanta is faring now that it's home to a number of Fortune 500 companies. We gain insight on Build-to-Rent properties, and how they might prove to be among the best long term holdings. 
Topics discussed include …
Metropolitan Distance

Celebrities Flocking to Atlanta

Occupancy and Turnover Rate

COVID-19 Accelerated Distribution Growth

Inventory Issues and Solutions

Long Term Holdings and Profits
And SO MUCH MORE!

Simply fill out the form below to access this edition of Boots-on-the-Ground Market Insights: Atlanta, GA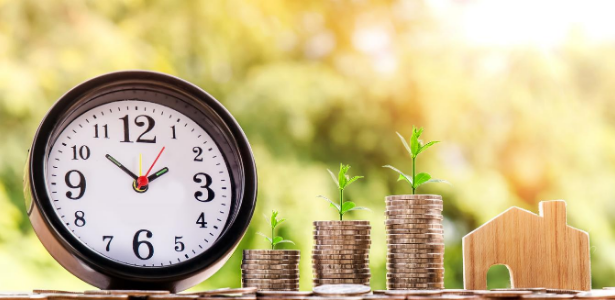 Luck is a misleading term. In our experience, "getting lucky" only happens when preparation and opportunity intersect with decisive action. 
The crazy dynamics of the past several months have actually made the best opportunity in real estate even better. 
Today we're talking about what's happening in the world of real estate investing … and how to prepare so that you can make bold moves and seize the opportunity. 
In this episode of The Real Estate Guys™ show, hear from:
Your best in real estate host,

Robert Helms

His second best co-host,

Russell Gray
Attorney and regular contributor to The Real Estate Guys

™

, Mauricio Rauld
---
Listen
---
Subscribe
Broadcasting since 1997 with over 300 episodes on iTunes!
---
Review
When you give us a positive review on iTunes you help us continue to bring you high caliber guests and attract new listeners. It's easy and takes just a minute! (Don't know how? Follow these instructions).
Thanks!
---
Get ready for big opportunities
Real estate investors are always trying to determine which direction the market is going to take and what product type is going to be the best. 
Today, we're going to share what we believe to be the single best opportunity in real estate right now … and we've got an amazing guest to share his thoughts. 
Whether or not you agree with us, try hanging around for the premise. You just might learn a thing or two. 
COVID-19 has uprooted a lot of real estate. Resort real estate is reeling. Airbnb is having a tough time. A lot of retail and office spaces are struggling. Even the bread and butter options of single-family homes and multifamily housing have been hit hard. 
Meanwhile, there are some bright spots. Nobody wants to celebrate bad things happening, but the fact is that they're happening. 
Big picture … a lot of distressed assets are coming online. When all is said and done, it's going to take money to clean up this mess … and the Fed is printing trillions of dollars to do it. 
As an investor, you should be asking, "How can I put myself in the flow of money? How can I be in a position where all those trillions of dollars come by me?"
You could jump into Wall Street and compete with the sharks. You could apply for loans if you've got some good outlets. 
But if you're out there in the real estate space and you can bring deals to money … you can be in the flow of funds and get some condensation on the pipe. 
And the best way to do that is … and we've been saying this for years … syndication. 
Syndication is the single best opportunity in real estate … and today there is even more opportunity. 
Right now, the marketplace is full of talent. People have been laid off left and right … and they are free to join your team. 
You can get tech experts, financial experts, salespeople, and project managers. You put together the team. You raise the money. And then you syndicate a big project.
The mission is to be an aggregator not just of capital but also of talented people. 
The secret is syndication
Our show today is tailored toward the person who sees the potential opportunity of leading a syndication and raising the money. 
Our guest is attorney Mauricio Rauld. He's here to help you know the pitfalls you need to watch for and the lines you need to respect as you lead a syndication. 
A lot of times lawyers get the reputation of being deal killers … but Mauricio tries to make the deal happen. He watches out for folks and tells them about landmines. 
"All of my clients are syndicators out there aggregating capital. What I've noticed here is that this pandemic has created a lot of opportunity. My clients want to be ready to seize that opportunity," Mauricio says. 
Many of Mauricio's clients are putting together opportunity funds over the next few months so they have readily available cash when it's time to pull the trigger. 
If you have a cash deal … you can close in a week. 
But, you have to be sure your syndication is legitimate. 
Investors may wonder why the SEC is involved in your business when you're trying to buy a piece of property. 
The SEC is involved because the definition of a security is really broad. 
Most people think of securities as stocks, bonds, and mutual funds … but anytime you take money from an investor, you have a security. 
That's why syndicators have to make sure they are compliant with all federal and state securities laws … and that's a big legal arena. 
"You don't have to be paranoid about it. You just have to learn it," Mauricio says. 
The good news is that you don't need to become an attorney to navigate these waters. You just have to hire a great attorney. 
And, you want to have an overall contextual understanding of what you're talking about so you can have an intelligent conversation with your attorney.  
From a mindset perspective, you need to understand that it's no longer just you and your money. Now, somebody else's money is at risk … so you should be that much more careful. 
The basics of securities and syndication
The world of securities laws has three basic approaches … registering your syndication with the SEC, finding an exemption, or it's illegal. 
The registration process takes a very long time. It takes a couple of years to go through the SEC system and costs six or seven figures to do so.
That's why most real estate investors who are working under a deadline decide to find an exemption instead. 
Luckily for real estate investors, Mauricio says that there are a couple of very popular exemptions that allow people to raise capital privately with friends, family, and people they have relationships with. 
Taking this route just means there are a lot of disclosures that the investors have to provide. That's where your attorney comes in. 
"What we need is more high integrity, honest operators in the business, so we want to persuade people to do this right," Mauricio says. 
Get your attorney involved early on in the deal so you can follow all the guidelines given for the exemption you are pursuing. 
For example, many syndicators want to know if they can advertise or post their deal on social media. The answer … it depends. 
Sometimes you can, but sometimes you may be relying on an exemption that specifically prohibits that practice. A good securities lawyer can guide you each step of the way. 
For more syndication tips and essentials from Mauricio … listen to the full episode!
---
More From The Real Estate Guys™…
The Real Estate Guys™ radio show and podcast provides real estate investing news, education, training, and resources to help real estate investors succeed.
---
Love the show?  Tell the world!  When you promote the show, you help us attract more great guests for 

your

 listening pleasure!
Boots-on-the-Ground Market Insights: Alternative Lending
September 2020
There's a lot of competition in the marketplace to find yield … but how long will that stay around?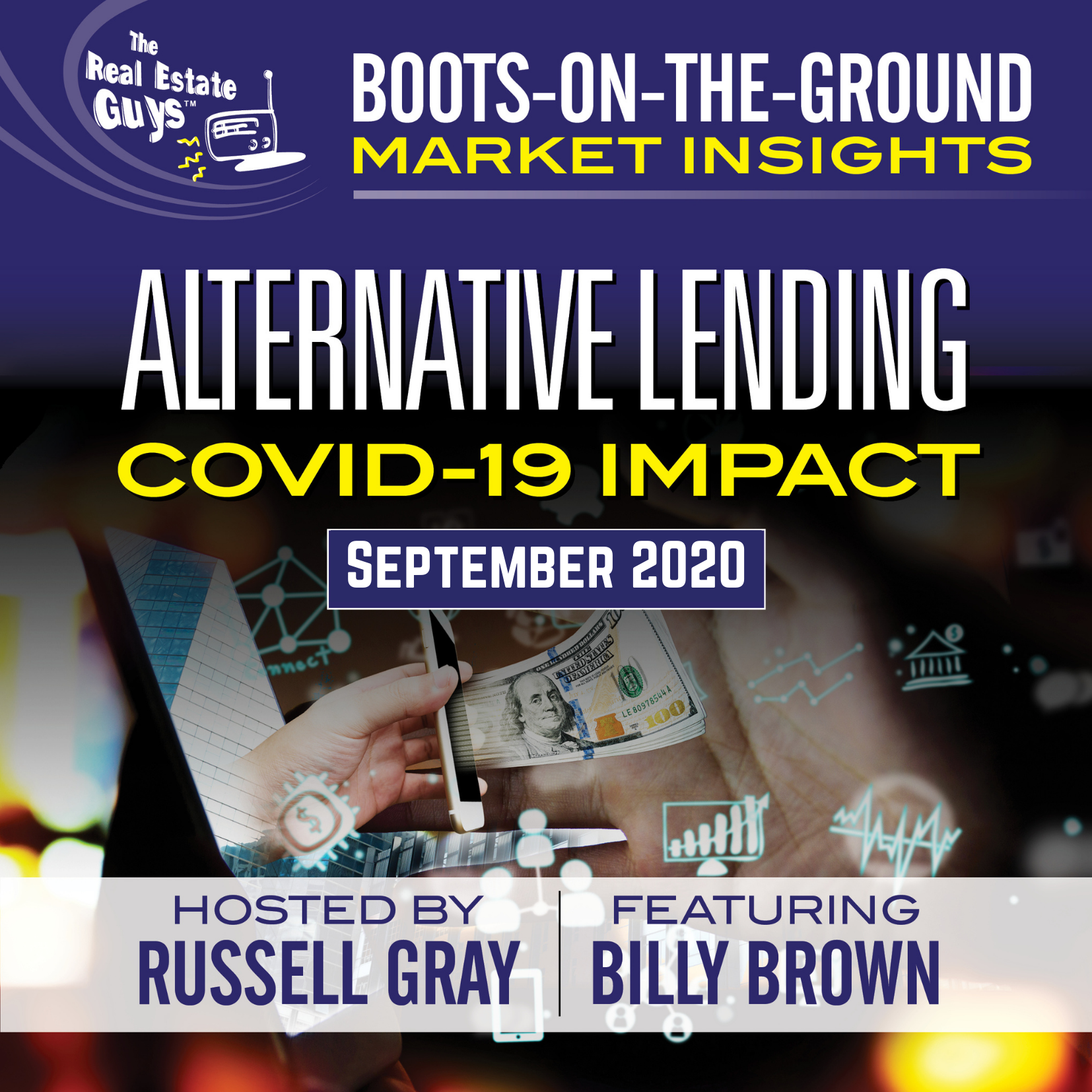 Listen in as Russell Gray, Co-Host of The Real Estate Guys™  Radio Show,  and alternative lender Billy Brown, discuss the mood in the lending world and how you can best position yourself for long term success!
In this month's update, Russ and Billy discuss … 
Current mood of lenders

Refinancing and asset backed loans

Leverage points and underwriting

Single and multi-family new construction properties

Hotels, offices and light industrial properties

And MUCH more!
Simply fill out the form below to access this edition of Boots-on-the-Ground Market Insights: Alternative Lending …
Boots-on-the-Ground Market Insights: Jacksonville, FL 
August 2020
What is happening on Main Street? Is it time to put the pedal to the metal?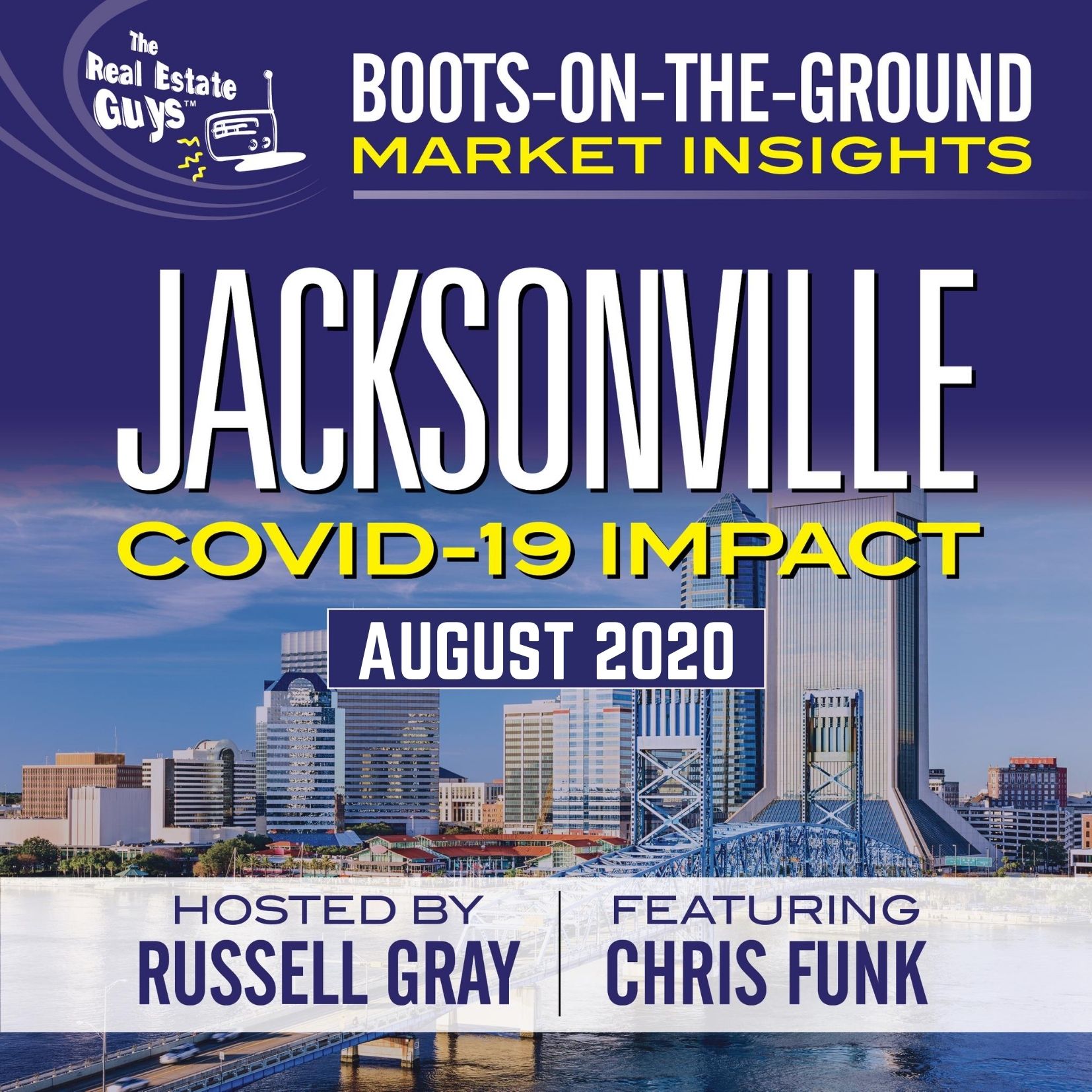 The southeast region real estate market has always looked pretty nice … but, how is it doing these days? We hear how Chris Funk's team is building and managing portfolios for investors in a growth market during the COVID-19 Crisis. It seems they're leasing houses faster than they can build and honestly … that excites us. Russell Gray, Co-Host of The Real Estate Guys™ Radio Show, takes time to sit down for a behind-the-scenes conversation with a successful build-to-rent investor and developer, Chris Funk.
We hear all about:
How to Combat Inflation

Why you might Consider New Builds 

Real Estate Insurance Discounts

Pre and Post COVID-19 Delinquency and Collection Rates

Alignment For the Investor and Property Manager
And MUCH more!
Simply fill out the form below to access this edition of Boots-on-the-Ground Market Insights: Jacksonville, FL … 
Boots-on-the-Ground Market Insights: Mobile Home Parks
May 2020
Explore how Mobile Home Parks will fare as the Coronavirus crisis impact unfolds …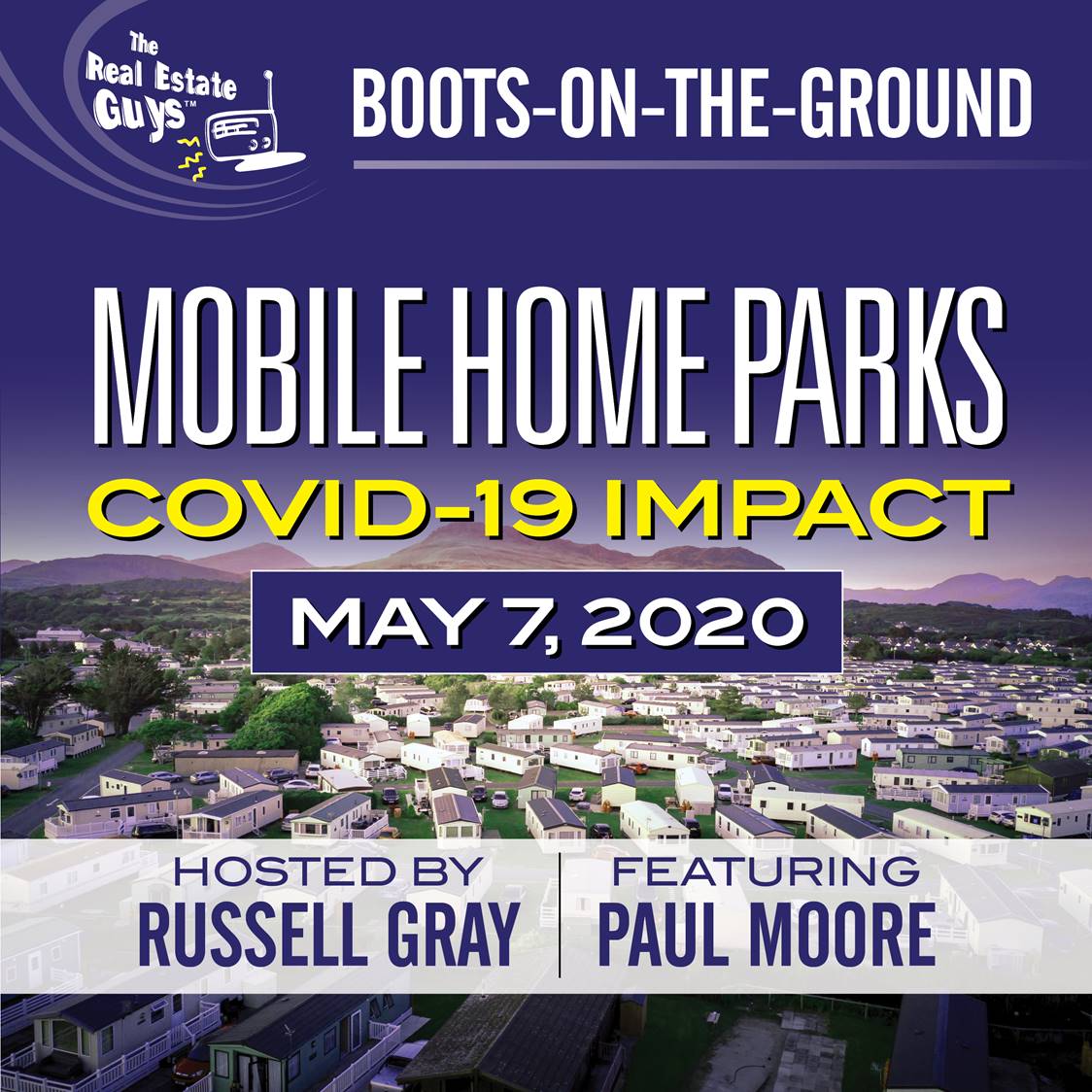 Join Russell Gray, Co-host of The Real Estate Guys™  Radio Show, and Mobile Home Park expert investor, Paul Moore, as they discuss what's going on right now in the Mobile Home Park niche … 
Points of discussion include: 
✓ How to Invest in Mobile Home Parks without the Headaches
✓ How to Find Vetted Deals & Diversification with a Margin of Safety
✓ Warren Buffett's Claim to Fame
✓ Current Macrotrends that Show Economic & Financial Stress
✓ Coronavirus Concerns & Opportunities in Mobile Home Parks
✓ Commentary on Security of Cash Flow
✓ Diversification within Various Mobile Home Parks 
✓ Keys to Investing in the Right Assets at the Right Time
✓ Sourcing Mobile Home Parks
✓ Value of Consolidating for Economies of Scale & Operational Efficiency 
Learn more about how Mobile Home Parks are being impacted and find out if there may be opportunities in this asset class for you … 
Simply complete the form below to access this Boots-on-the-Ground Market Insights: Mobile Home Parks Webinar …
Financial Strategies to Reposition Equity for Maximum Profit & Security
Don't leave money sitting around … put it to work and make some money!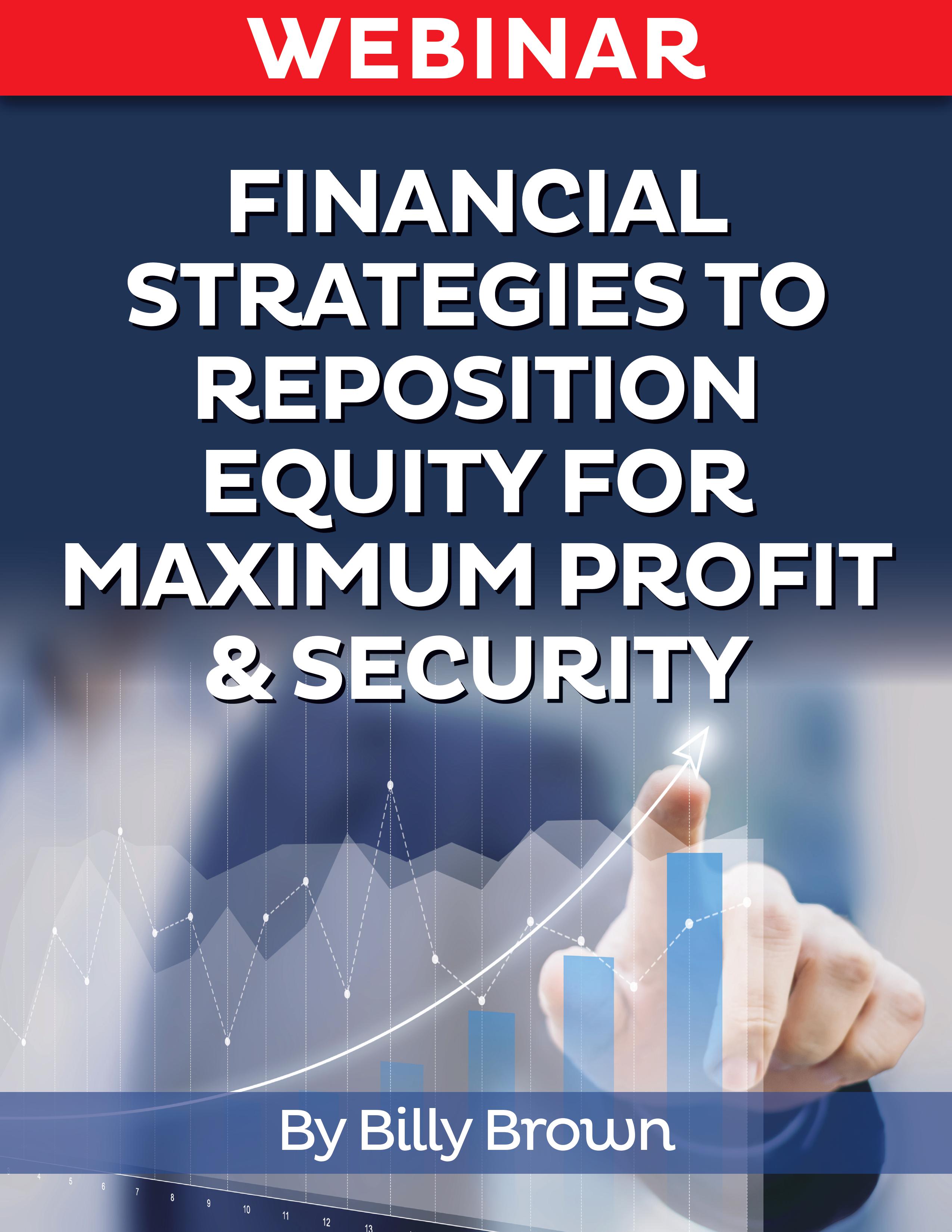 Is your equity lazy?  Is it idly sitting on your balance sheet doing nothing to generate cash flow … It needs to go to work for you!
No one understands this better than Billy Brown. 
Billy is an investor and lending solutions guru who specializes in Bridge and Permanent lending solutions for real estate portfolios. 
They problem solve so their clients get the highest leverage and ROI possible on every deal … and the first step is optimizing your current portfolio.  Not only will you discover higher ROI's … 
But you'll protect your equity from bursting bubbles! 
Sure, you could sell everything and sit on cash … But what's the return on that? Not good.
Or you could reposition your equity for wealth preservation, privacy, and increased cash flow!
In this exclusive webinar, Billy joins with our very own Russell Gray to show investors like YOU how to do just that. 
Watch this webinar to learn:
✓ The pros and cons of non-recourse lending
✓ Strategies for using equity in existing properties as the down payment for a new acquisition
✓ How to protect your equity from bursting bubble
✓ And more!
Keep your money safe AND put it to work for you! 
Get started by filling out the form below to access Financial Strategies to Reposition Equity for Maximum Profit & Security.
We're concerned about interest rates … and you should be too.
Consistently rising interest rates affect your ability to borrow money for investments.
In this episode of The Real Estate Guys™ show, we dig into how the Federal Reserve and central banks affect interest rates. We talk about the future of the dollar. And we discuss how rising interest rates affect YOU.
We met with two knowledgeable experts in the economics field. You'll hear from:
Your interested host, 

Robert Helms

His uninteresting co-host, 

Russell Gray
James Grant

, economic expert and author of eight books on the U.S. financial system

Nomi Prins

, former Wall Street analyst, journalist, and six-time author
---
Listen
---
Subscribe
Broadcasting since 1997 with over 300 episodes on iTunes!
---
Review
When you give us a positive review on iTunes you help us continue to bring you high caliber guests and attract new listeners. It's easy and takes just a minute! (Don't know how? Follow these instructions).
Thanks!
---
James Grant on interest rates and securities
James Grant was named by Ron Paul as his likely candidate for Chairman of the Federal Reserve. Over the years, he has been a voice of reason … he calls himself "a 'yes, but' guy in a 'gee whiz' world."
We got right into the subject of interest … interest rates.
Are rates going up? "Rates tend to trend over the long term," James says.
They've been on the down-swing since the 1980s, but they may be on the up-swing again … and although rates are currently rising, James emphasizes we'll have to wait and see whether the trend continues.
James says investors should look to the bond market for clues.
A 10-year treasury bond delivered a yield of 1.37 percent in 2016 … the lowest yield since the year 1311, according to a study by the Bank of England.
In the early 80s, a 30-year security would've netted you a 14 percent yield. That's a big difference.
Today, almost every security is priced next to nothing when investors account for taxes and inflation, James says.
Who manipulates interest rates? The Federal Reserve.
"It's an act of malpractice that the Fed and central banks worldwide are manipulating these rates," he says.
And real estate cap rates are driven by interest rates.
To James, this means we now live in a world of great danger. "We live in a kind of hall of mirrors," he says.
On forecasting the future and investing in gold
James notes forecasts are for people who think they know what's going to happen … when the reality is, no one actually knows.
"We can't know the future, but we can know how it's being handicapped in the present," James says.
He finds it helpful to remind himself of how our descendants will think of us.
And he says, "Successful investing is about having everyone agree with you … later." Investors must imagine plausible outcomes before the market catches up.
We asked him his thoughts on gold investing. "Gold is interesting because it's where people flee," James says. "But it's really an investment, not a flight asset."
Gold is a way to step outside of orthodox institution investments. "Gold is simply money to me. It's a cash balance. It's something the central bankers can't debase."
To hear more from James Grant … and keep your eye on interest rates … check out Grant's Interest Rate Observer, an independent journal covering financial markets.
Nomi Prins on the Federal Reserve and the world market
Journalist Nomi Prins was a member of Senator Bernie Sanders' panel of advisors on Federal Reserve reform. She's coming at this from a different angle than James Grant … but both guests are incredibly informed, with lots of great things to say.
In 2007, Nomi wrote that there could be a problem if financial institutions and the government continued the credit derivative system and high leverage.
No one wanted to hear it. But then '08 happened.
Nomi says that over the last 10 years, "The Fed has subsidized a lot of credit problems that existed before the '08 crisis by creating electronic money."
That has raised the level of artificial leverage.
And THAT means the next market collapse will come from an even higher height than in '08, she says.
Even worse, many central banks around the world created electric money and dropped rates when the Fed did. Nomi examined this situation in her book Collusion.
"We're in a very precarious situation going forward," she says.
Quantitative easing … the introduction of new money onto the market … causes inflation and collapses markets, starting with emerging markets.
In order to retain capital, central banks in these countries have to raise rates and increase the value of their currency. That's what's happening now.
This, in turn, lowers the value of foreign currencies relative to the value of the dollar. So, any debt these countries have has to be paid back or renewed at a higher rate.
Apparently, however, the U.S. is back to quantitative tightening now, says Nomi.
The Fed's statements and its actions and reports tell different stories.
Fed Chair Jerome Powell SAYS current quantitative tightening is official. That means the government will continue to sell … but not re-invest … assets.
But in reality, the Fed is selling much more slowly than they've said they will.
The reason? "They know that if they sell too much too fast, rates will increase too fast, and the value of assets will go down too fast," Nomi says. "They want to be in a holding pattern."
More on quantitative easing, coming crisis
Nomi wants people to know there is NO correlation between GDP growth and quantitative easing. However, there is a very high correlation between quantitative easing and the stock market.
She thinks the next financial crisis will look like a bunch of smaller crises that add up to big gaps in liquidity and credit availability.
Nomi says she sees a few things happening around the world … bond defaults are creeping up in emerging markets, and certain countries are starting to have major credit problems.
"I think all of that will come to bear on the Fed." And because of that, Nomi says, "I think their language will start to move toward growth slowing."
Think two rate raises over the next year, instead of the forecasted four.
She predicts extreme appreciation is not going to happen. Rates will stay low, although they might continue to rise a bit relative to the Fed.
What about real estate? "Commercial real estate may have more leverage, so rate hikes will have more impact."
Instead, Nomi recommends "any area where rent can overcompensate for an increase in cost."
She says there are currently opportunities in emerging markets where there's still room for upward growth in prices.
Mexico City, for example, is a place where prices are low, the government has a strong growth strategy, and there is opportunity in the near team.
Lessons learned
Debt doesn't operate in a vacuum. Interest rates have a HUGE impact on whether your investments will be successful.
You don't need to understand ALL the mechanics … but you should have a basic understanding of WHAT will affect interest rates and WHERE they're headed.
---
More From The Real Estate Guys™…
The Real Estate Guys™ radio show and podcast provides real estate investing news, education, training, and resources to help real estate investors succeed.
---
Love the show?  Tell the world!  When you promote the show, you help us attract more great guests for 

your

 listening pleasure!
We're back … with an all-new episode of Ask The Guys!
In this series, we answer YOUR questions about all things real estate.
Before you click play, please remember that we are not tax advisors or legal professionals. We offer ideas, not advice … please run any investment ideas past a professional before putting them into action.
Now, listen in to The Real Estate Guys™ show! You'll hear from:
Your pondering host, 

Robert Helms

His pesky co-host, 

Russell Gray
Bob Helms

, the godfather of real estate
---
Listen
---
Subscribe
Broadcasting since 1997 with over 300 episodes on iTunes!
---
Review
When you give us a positive review on iTunes you help us continue to bring you high caliber guests and attract new listeners. It's easy and takes just a minute! (Don't know how? Follow these instructions).
Thanks!
---
Syndication, securities, and accreditation
Susan, from New Hope, Pennsylvania, wants to know what real estate investment opportunities are open to non-accredited investors.
The short answer is A LOT. For the long answer, let's start with a definition.
An accredited investor is someone who has a net worth of over $1 million excluding their primary residence OR someone who has had an annual income of $200,000 for at least two years ($300,000 for married couples).
These requirements allow the SEC to regulate the kinds of investors who get involved in securities investments.
They are a way to verify you've reached adequate financial aptitude and won't run aground by investing in a big deal.
If you're not at that level yet, that's perfectly all right!
You have multiple options:
Employ a tenant-in-common ownership to invest in a property as a group. Make sure you structure the deal so it stays within SEC regulations.

Make friends with a syndicator. Deal makers can work with up to 35 non-accredited investors through the 506B exemption.

Work with an accredited partner to complete your first few bigger deals.

Invest in a publicly traded security in real estate.

Use a crowdfunding site to invest limited funds into a larger project.

Make a private loan to other investors.
HOWEVER … keep in mind that the average beginning investor is NOT accredited. Condos, single-family homes, and other smaller properties are ALL available to non-accredited investors.
In fact, the vast majority of real estate investment opportunities are available to non-accredited investors.
The fundamental piece of the equation is education. You have to know WHAT you're buying and WHO you're doing business with for every deal before you can move confidently into a deal that risks large amounts of your equity.
Michael, from Richardson, Texas, asks a related question … when does a deal become syndication?
Syndication simply means putting together money from a group of individuals.
Things start to get a little tricky when some of those individuals are passive investors, however … because then you have a security and have to make sure investors are accredited, like we talked about above.
When you're working with a group of people to do a deal, make sure you hire a real estate or securities attorney to properly document your deal. We DO NOT recommend the do-it-yourself method here.
Repair first … or sell as-is?
Betty, from Littleton, Colorado, is wondering whether her in-laws should fix the broken foundation of their home before selling or sell it as-is.
Bob reminds us that as-is means as disclosed … it's important to tell a potential buyer EVERYTHING that could be an issue, including any reports you've commissioned.
The best solution in this case might be to get a report on the damage to the foundation … and then decide whether to sell or fix.
There's no automatic best answer here … in a strong market, you can probably get away with as-is, while in a buyer's market, you may have to do more work.
To figure out the best option, sit down with your real estate professional.
Investing to learn
We got a question from Daniel, in Garden Grove, California. He is wondering how to invest in larger deals as a learning endeavor. He wants to expand beyond single-family investments. Like our first questioner, he is not accredited.
Let's start with what you need to do to FIND deals as a passive investor.
Passive investors bet on both the jockey and the horse. In other words, you need to know the details of the deal … AND know who you're doing business with.
That's why networking events are so important. And the TYPE of events you go to are important too … we bet you'll find more dedicated, passionate investors at professional development events than at events where syndicators get together to show off their deals.
If you want to learn, put yourself out there, get to know people, and pick out a few niches you find interesting. Then put a smaller amount of money into multiple deals … instead of putting all your eggs in one basket.
And make sure you're working with a syndicator who is invested in your educational process. You want a syndicator who will let you be a fly on the wall.
Passive investment options for residential assisted living
Bill, in Northbrook, Illinois, asks whether it's possible to invest passively in residential assisted living or AirBnb investment options.
If you're interested in residential assisted living, we recommend looking into Gene Guarino. His educational events have taught many investors how to step into the assisted living field … and many of those investors become syndicators willing to work with investors like Bill.
AirBnb, on the other hand, is something we're not 100 percent sure about yet. There's some legal resistance and the whole industry can be a bit sketchy.
We just don't know enough about AirBnb investing to recommend this option … and we haven't yet found an expert who's really crushing it in that field. For now, this option is just a wait-and-see niche for us.
Book releases and Belize trips
We answer three quick questions from curious listeners …
Ellie in Seattle wonders where she can find a copy of Bob Helm's new book, Be The One Percent.
The book is meant to teach realtors about how to serve investors … and become investors themselves.
To get your hands on a copy, listen in to the show for special access.
John, from San Antonio, Texas, wants to know whether we hold a convention in Belize. While we don't hold a convention … we do conduct Belize discovery trips three to four times a year!
These trips are a great way to get an in-depth perspective on the Belize market … and even if you're not ultimately interested in offshore investing, you'll learn a heck of a lot about market analysis.
Holly, from Pingrove, Illinois, wonders whether we have any Belize field trips scheduled in the near future. To check out upcoming field trip dates, check out the event page.
Finding the truth about private lending platforms
We were excited to hear from a former participant in our mentoring program. Domingo, who's located in San Anselmo, California, wants to know what we think of a particular private lending platform.
He also wants to know what we think about his general economic theory … that there's a strong possibility the market will come down, and that real estate will continue to be a viable investment option during a crash, even if liquidity dries up.
About the lending platform, we can't really comment. There are several peer-to-peer lending platforms that specialize in crowdfunding loans, and these can be a great way to diversify loan types.
But lending is lending … so no matter the loan type, you have to understand the basic underwriting … what you get if a foreclosure happens.
Don't get lost in the weeds. Instead, understand the basics … what are you giving, and what do you get? And if things go wrong, what happens?
As to the economic theory, we think Domingo is on the right track. ALL of our listeners should be thinking about how to position themselves so they can thrive when a downturn happens.
Land brokerage and multi-family investing
Our last question is from Troy, in Millcreek, Washington. Troy is looking to get better as a land acquisition agent … but he also wants to dip his toes into multi-family products.
We haven't been in the land brokerage business, but we think there are a few things to take into consideration.
First, land is not land is not land.
By that, we mean every land bank could lead to a different outcome … so you need to look at where every piece of land will end up, whether that's agriculture or retail development.
Second, every specialty brokerage follows the 80/20 rule … 80 percent of real estate is sold by 20 percent of agents. So, be the 20 percent.
That means you need to be really well educated, have outstanding product knowledge, and build excellent relationship.
To succeed, look for the big players in your field and try to get in a room with them. Pick their brains, learn the language, and build your business.
And ask yourself the most important question … who is my customer? Understand the needs of the person you'll be selling to.
As to multi-family, our friend Brad Sumrock has a wealth of resources. He's one of several multi-family investors on our Summit at Sea faculty … but he also holds a two-day training three times a year in Dallas, Texas.
It's an invaluable learning opportunity, and one we can't recommend enough.
Have a question of your own? Ask us here. Until next time, happy investing!
---
More From The Real Estate Guys™…
The Real Estate Guys™ radio show and podcast provides real estate investing news, education, training, and resources to help real estate investors succeed.
---
Love the show?  Tell the world!  When you promote the show, you help us attract more great guests for 

your

 listening pleasure!
In this episode, we'll be discussing the age-old question … what's the next step for investors who've run out of capital but want to keep growing?
Our answer? Syndication.
Syndication allows investors to move their focus away from earning and saving money toward raising money.
And if you'd rather not spend your time doing deals, syndication is a great option for putting your cash to work … while you do what you love.
But we'll be honest … syndication is a lot of work.
You need to build an investing plan, understand your market, vet your investors, and know what could go wrong … and right … with a deal.
You need to understand not only the business side of each deal, but the legal side.
That's why we invited an experienced securities attorney to chat with us about the ins and outs of syndicating.
In this episode of The Real Estate Guys™ show you'll hear from:
Your secure host, 

Robert Helms

His insecure co-host, 

Russell Gray

Securities attorney, 

Mauricio Rauld
---
Listen
---
Subscribe
Broadcasting since 1997 with over 300 episodes on iTunes!
---
Review
When you give us a positive review on iTunes you help us continue to bring you high caliber guests and attract new listeners. It's easy and takes just a minute! (Don't know how? Follow these instructions).
Thanks!
---
What is syndication? What is a security?
Mauricio Rauld is the founder and CEO of Premier Law Group. A long-time acquaintance of ours, he's worked with us to vet many syndication deals.
We've watched Mauricio evolve into an experienced securities attorney, and we trust him to answer all our syndication-related questions.
Let's start with the basics.
First, what is syndication? Any time you are pooling resources … usually money or capital … to do a deal, you're involved in syndication.
Next, when does securities law come in? If you're the one running the deal, the minute you take a check from someone, your transactions fall under the realm of the securities law.
The structure of the deal doesn't matter … you could write out a profit-share agreement or simply shake hands with your investors, and you'd STILL be dealing with a security.
We asked Mauricio what investors need to be aware of when it comes to securities law and the Securities Exchange Commission (SEC).
He said that when dealing with a security syndicators have three choices:
Register the security with the SEC.

Find an exemption so you don't have to register.

Avoid the two options above and go the illegal route.
Needless to say, we don't recommend the third option!
Most investors are able to choose the second path because the SEC offers multiple exemptions. To get your mind around the major exemptions, Mauricio recommends working with an experienced securities attorney.
An attorney will help you catch any mistakes … before you're head-deep in a deal and it's too late to fix your errors.
Like the saying goes, an ounce of prevention is worth a pound of cure.
If you're going into a syndicated deal as an investor, there are some preventive steps YOU can take as well. Mauricio names two main steps:
Do your due diligence when it comes to the deal sponsor. Check their track record and make sure they have some successful deals under their belt.

Review the sponsor's documentation and paperwork. Missing items can be a huge red flag, Mauricio says. A sponsor who doesn't give you the appropriate disclosure documents is cutting corners.
Syndicators need to draft and publish a private placement memorandum before doing a deal. This document essentially names all the ways a private investor could lose their money.
Private placement memos are specific to each individual deal. To draft one, syndicators need to work with an attorney, who will evaluate all the ways a deal could go wrong.
This documentation is critical whether you're the syndicator or the investor.
If you're the syndicator, make sure your lawyer sits down with you and gets specific details about the deal so they can list every possible risk in the memo.
If you're an investor, it's wise to review this document and the deal itself with your lawyer so you are aware of possible risks before you put your dollars in.
How should syndicated deals be structured?
There are two parts to syndicating a deal.
First you have to raise money, find the deal, and make sure you're in compliance with securities law … and then you have to figure out what you're actually doing with the money you earn.
We asked Mauricio to talk about how syndicators can structure syndicated deals.
He said that first, syndicators have to look at whether they're structuring a deal for equity or for debt. Syndicators should also look to see what their investor pool is looking for.
And syndicators should keep in mind that a deal may be structured differently while there's cashflow versus after the property is refinanced or sold.
When it comes to structuring your deal, Mauricio reminds syndicators to ALWAYS disclose, disclose, disclose. Any way you or your spouse are compensated needs to be disclosed to the SEC.
This is where a securities attorney comes in handy, says Mauricio. If you're a syndicator, a good specialized attorney will spend the time up front to understand your deal and help you structure it … while making sure you disclose the proper info.
Now on to specific deal structures.
The most basic deal structure is to split the profits between syndicator and the investor pool.
The standard split is 80-20 … 80 percent for investors and 20 percent for the syndicator. But that percentage is malleable depending on the deal itself.
Another option is a "preferred return." This means a certain percentage of the original amount invested is set aside for the investor … say, 7 percent, for example. The investor gets all the profits up to that percentage, and the syndicator gets anything beyond that.
You can also do a "waterfall." This means setting up different tiers … up to a certain amount, the profit is split 60-40, and then after that, 70-30, and so on.
Whichever deal structure you choose, there are two basic guidelines you should follow, says Mauricio:
Keep it simple.

A waterfall structure with 10 different tiers is more work for you and more complicated for investors to understand.

Keep it fair.

Evaluate the deal structure based on how much work you're putting in versus how much capital investors are contributing.
One of our favorite things about syndication is that there are basically unlimited options for the type and structure of deals you do!
Interested in building a syndication business but not sure where to start? Mauricio recommends starting by farming for potential investors so you have an investor pool to pick from when you're ready to do a deal.
He also recommends making sure your entity and asset protection structure is in place. This can be done BEFORE you find your deal.
Want more information? Click here to check out Mauricio's exclusive webinar, Practicing Safe Syndications. And consider attending our Secrets of Successful Syndication Seminar, where Mauricio is a staple speaker annually.
We wish you safe syndicating!
---
More From The Real Estate Guys™…
The Real Estate Guys™ radio show and podcast provides real estate investing news, education, training and resources to help real estate investors succeed.