The latest evidence that Fed Chair Jerome Powell's most aggressive interest rate hikes in a generation and spiking mortgage rates might trigger a housing "reset" is the latest earnings report from KB Home, one of the nation's largest publicly traded homebuilders.
What caught our attention in the report was the skyrocketing buyer cancellation rate in the fourth quarter. The rate spiked to 68%, up from 35% in the third quarter and up from 13% in the fourth quarter of 2021. 
"Current conditions remain challenging. High mortgage rates and persistent inflation, together with an uncertain economy, have made homebuyers more cautious since the middle of last year. As such, in the fourth quarter, we prioritized delivering our large backlog and protecting our high margins over taking steps to stimulate additional sales during this seasonally slower time frame," KB Home told investors. For some context, a 68% cancellation rate surpasses even the darkest days of the 2008 housing crash. The average back then was about 47%. 
Nick Gerli, CEO and founder of real estate Reventure Consulting, expanded more on the KB cancelation rate crisis. He said the people walking away from their contracts could spark a massive inventory pile-up. This is a good thing, considering housing inventories nationwide are tight, though too much supply could send home prices tumbling because of an affordability crisis.
Here's more from Gerli:
This is scary. KB Homes, a large home builder, just reported a 68% CANCEL RATE. Meaning that over 2/3 of Homebuyers walked away from their contracts in the quarter. Leaving KB Homes with a massive pile-up of inventory. Last year the Cancel Rate was only 13%.

1) This type of Cancellation Rate is even worse than what happened in 2008 Crash. Back then builders like DR Horton peaked at a 50% Cancel Rate. And we already blew past that in late 2022.

2) The result is a massive pile-up of New Home Inventory. Data from Zonda shows that National Quick Move-In Inventory is now around 32,000. That's up 200% from one year ago. And up 50% from pre-pandemic, 2019 levels.

3) And there's even more New Homes coming in 2023. Because even as builders have cut back on starts, they are still building nearly 800k single-family homes actively under construction. Near the highest level of all-time. Many of which will hit the market in 2023.

4) So here's the fact pattern for Builders: 

Horrible buyer demand. 
Record Cancellations.Current inventory highest since 2015
Future inventory even higher based on homes under construction 

You would think based on that, Builder Stocks would be tanking right? WRONG.

5) KB Homes, the builder with 68% Cancellations, is actually UP on stock price over the last month. And also up over the last 6 Months.

6) DR Horton, the largest builder in America, is trading near their all-time high at $95. And they're up 85% over the last 5 Years.

7) Home Builder stocks are in a massive BUBBLE right now. Homebuyer Demand is literally at its lowest levels since 2008 Crash. Yet Builder stocks are trading near all-time highs. Makes no sense.

8) Until you look at the P/E Ratio for builders. And you realize they're actually "cheap" based on Earnings. DR Horton: 5.8x P/E KB Homes: 4.1x P/E So investors say to themselves, "wow, I can get good value by buying builder stocks. Even in a Housing Crash/Recession."

9) The problem: Home Builder Earnings lag by about 12-18 Months. Through most of 2022, when builders announced earnings, it was income based on contracts signed from buyers in 2021. During the peak of the Housing Bubble. Creating low P/E Ratios and the illusion for "value".

10) But now that the calendar is in 2023, and we've had six months of suppressed sales, and cancel rates are high, builders are going to have some BRUTAL earnings reports coming up. Expect more 50%+ cancel rates. Expect huge YoY declines in earnings.

11) The Builder Stock Bubble is a great example of the mania that still exists today in the market. Fundamentals are clearly saying: big issues for Housing Market and Builder Earnings in 2023. But investors are completely ignoring it.
Recall the National Association of Home Builders Confidence is at its lowest reading since mid-2012.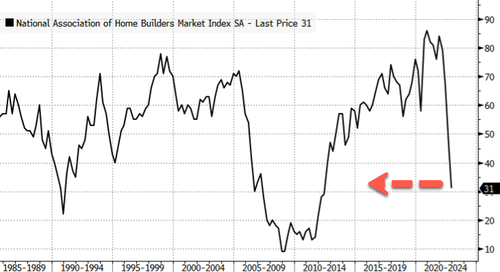 Gerli's latest blog post on Reventure indicates this is a "recipe for a Builder Stock Crash in 2023. Prepare for big declines."
And perhaps the second housing bubble of the 21st century has not just peaked but is over.
---
More From The Real Estate Guys…
The Real Estate Guys™ radio show and podcast provides real estate investing news, education, training, and resources to help real estate investors succeed.
---
Subscribe
Broadcasting since 1997 with over 600 episodes on iTunes!
---
Love the show?  Tell the world!  When you promote the show, you help us attract more great guests for 

your

 listening pleasure!