High inflation, weakening builder sentiment and increasing mortgage rates added to the industry's previous list of headwinds, exacerbating a pullback in the single-family market as multifamily development continues to grow.
According to the U.S. Census Bureau's monthly report, the annual rate for both single-family and multifamily starts fell by about 10% in July compared to June, with single-family starts dropping below one million units (916,000) for the first time in two years. Multifamily starts were reported at 514,000 units, about the same as the average level over the past 12 months but up 17.4% for the year, despite the month-over-month 10% decline.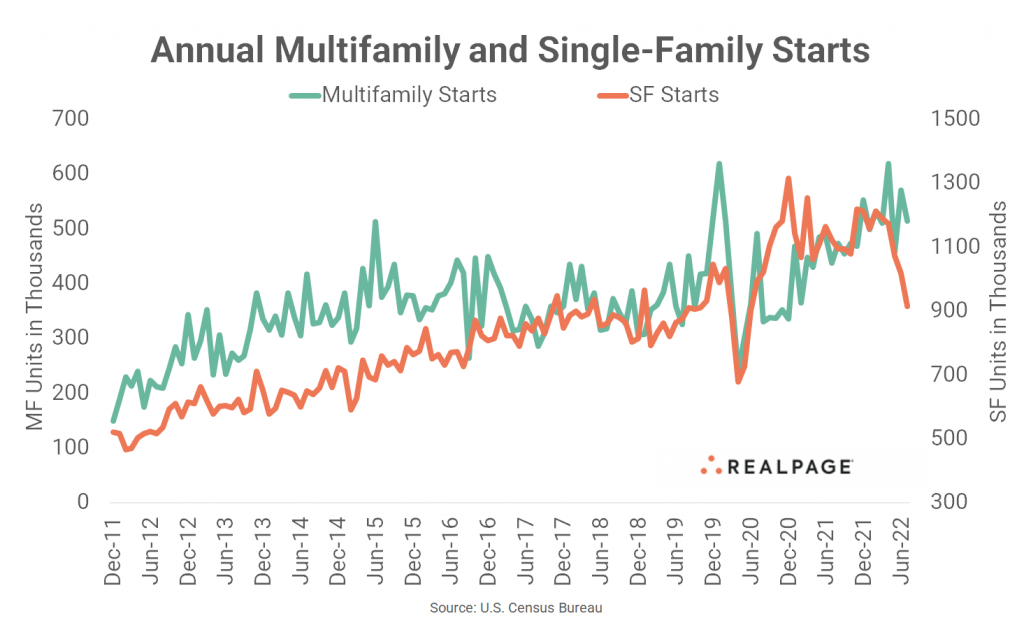 Meanwhile, the forward-looking building permit data showed a decline of 4.3% in single-family permitting from the month before, and an 11.7% decline from last July at 928,000 units. The annual rate for multifamily permitting moved in the opposite direction, increasing 2.5% from June to 693,000 units, and up 26.2% for the year.
Together, total residential permitting (including the small 2-4-unit plex data) is down slightly in July from last month to 1.674 million units but total starts are down 9.6% from June to 1.446 million units. However, total permits are up slightly (1.1%) from last year's pace while total starts are down 8.1%.
Construction delays are continuing, primarily for multifamily projects, as year-over-year multifamily permits authorized but not started shot up 47% from July 2021 to 147,000 units. The number of single-family units authorized but not started has varied little from the current rate of 146,000 units over the past year.
Despite these persistent construction delays, multifamily completions increased 6.7% from June's annual rate to 412,000 units, the third month above 400,000 units in the past 13 months. However, this annual rate is still about 1.9% below last July. Single-family completions slipped just 0.8% to 1.009 million units but were up 7% from one year ago.

The annual rate for multifamily permitting was up in three of the nation's four Census regions from July 2021, with the largest annual increase in the South region (up 53.2% to 353,000 units). The small Northeast region's annualized rate increased 34.9% to 91,000 units. Meanwhile, the Midwest region increased by 17.1% to 79,000 units, while the West region decreased by 7.3% to 171,000 units from last July. Compared to the previous month, permitting was up in the same three regions and down in the West.
Unlike permitting, multifamily starts were down in three of the four regions, with a big increase in the Northeast (514.4% to 149,000 units) bucking the trend as Philadelphia and New York drive annual starts here. Starts in the South were down 14.6% (to 195,000 units) and 12.1% in the Midwest (to 31,000 units), while the West region declined 7.5% (to 139,000 units). Compared to June's seasonally adjusted annual rate, the same pattern emerged, with starts up sharply in the Northeast, and down moderately in the remaining regions.
At the metro level, the national increase in multifamily permitting is reflected across the country. All but one of the top 10 permitting markets returned to the July list from June with only the top three markets remaining in the same spot as last month. New York continues to lead the nation in multifamily permitting with 40,770 units, about 7,500 units more than last year
Austin remained at the #2 spot in July with 25,746 units permitted, followed by Houston in the #3 spot with a total of 22,357 units (an increase of 6,700 units from last year). Dallas moved up two spots to #4, pushing Philadelphia and Seattle down one spot each. All three markets permitted close to 20,000 units for the year-ending July, and each were about 6,400 units greater than last year.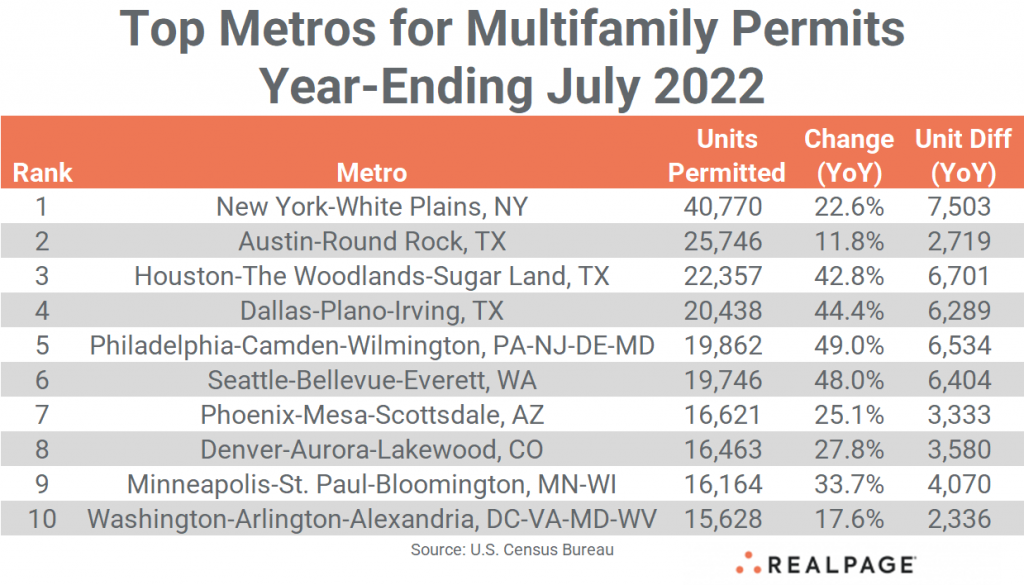 Phoenix also moved up two spots on the top 10 list to #7 with 16,621 units permitted, while Denver and Minneapolis-St. Paul both slipped one spot down the list. These three markets permitted an average of about 16,400 units for the year. Likewise, the average increase for these markets were similar at around 3,600 units.
With an annual permit total of 15,628 units, Washington, DC rejoined the top 10 list, displacing Los Angeles to the #12 spot.
All of the top 10 multifamily permitting markets increased their annual totals from the year before and they were generally large increases, ranging from a low of 2,336 units in Washington, DC to just over 7,500 additional units in New York. Eight of the top 10 markets increased multifamily permitting by at least 3,300 units over last year's pace.
Other markets outside of the top 10 that saw significant year-over-year increases in annual multifamily permitting in the year-ending July were Atlanta (+11,566 units), Richmond (+4,355 units), Colorado Springs (+3,559 units), Orlando (+3,527 units), Jacksonville (+3,287 units), Indianapolis (+3,091 units) and Tampa (+3,048 units).
Significant slowing in annual multifamily permitting occurred in Nashville (-4,926 units), Anaheim (-2,445 units), Madison, WI (-699 units), Louisville/Jefferson County, KY (-575 units) and Eugene, OR (-454 units).
Eight of the top 10 markets had more annual multifamily permits than the previous month, with an increase of 1,476 units in Washington, DC and 1,426 units in Dallas leading the pack. Phoenix also had a significant monthly increase to their annual total, amounting to more than 880 additional units. New York, Houston, Austin, Minneapolis and Seattle had milder gains in their annual permitting totals from June to July.
Philadelphia dropped about 500 units from their annual permitting pace from last month, while Denver slowed by just 184 units.
The annual total of multifamily permits issued in the top 10 metros – 213,795 – was about 30% more than the 164,326 issued in the previous 12 months. The total number of permits issued in the top 10 metros was almost equal to the number of permits issued for the #11 through #37 ranked metros.
Below the metro level, nine of last month's top 10 permit-issuing places returned to this month's list with the first two remaining in the same spot and several others changing places. The list of top individual permitting places (cities, towns, boroughs, and unincorporated counties) generally include the principal city of some of the most active metro areas.
The city of Austin and the city of Philadelphia remained in the top two spots with impressive permitting totals of 17,922 units and 16,351 units, respectively. The unincorporated portion of Houston's Harris County moved up one spot this month to #3 with a permitting total of 9,433 units, moving the city of Houston down to the #6 spot with a total of 8,308 units permitted.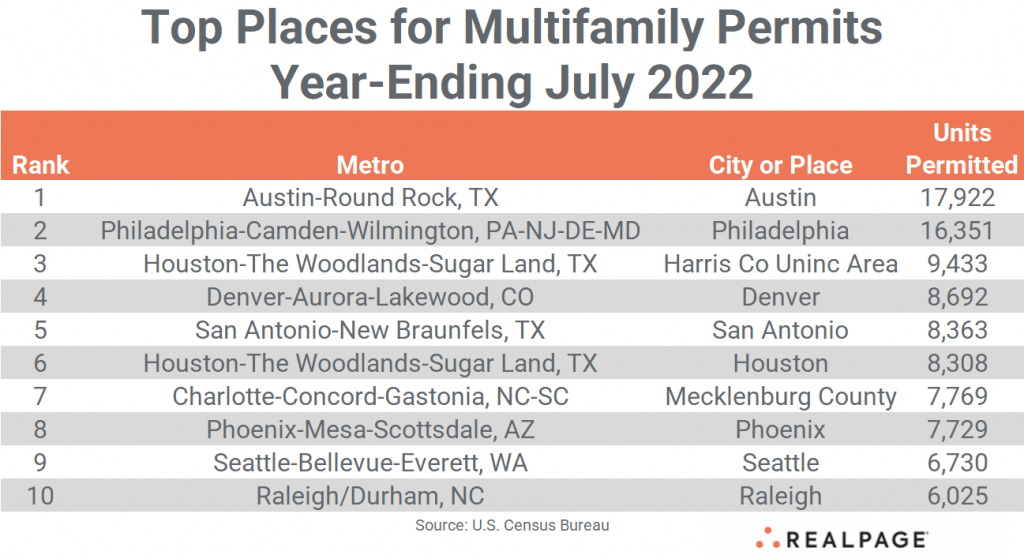 Jumping two spots each (ahead of Houston), the cities of Denver and San Antonio recorded annual permitting totals of 8,692 units and 8,363 units. The cities of Phoenix and Seattle changed places on the top permitting places list at #8 and #9 but Phoenix improved their annual total by 422 to 7,729 units, while the city of Seattle permitted 6,730 units, about 640 less than last month.
The city of Raleigh moved into the #10 spot with 6,025 multifamily units permitted, 868 units more than June's annual total, displacing the city of Los Angeles, which continues to slow.
The next 10 permitting places after the top 10 are geographically diverse with three permit issuing places in Florida (Unincorporated Hillsborough County-Tampa, Jacksonville-Duval County, and Unincorporated Orange County-Orlando), and one each in Tennessee, Colorado, California, Georgia, Minnesota, Massachusetts and Ohio.
Despite ranking in the top five permitting metros, New York and Dallas are not represented in the top individual permitting places list as much of their permitting is spread throughout their entire metro areas.
---
More From The Real Estate Guys…
The Real Estate Guys™ radio show and podcast provides real estate investing news, education, training, and resources to help real estate investors succeed.
---
Subscribe
Broadcasting since 1997 with over 600 episodes on iTunes!
---
Love the show?  Tell the world!  When you promote the show, you help us attract more great guests for 

your

 listening pleasure!