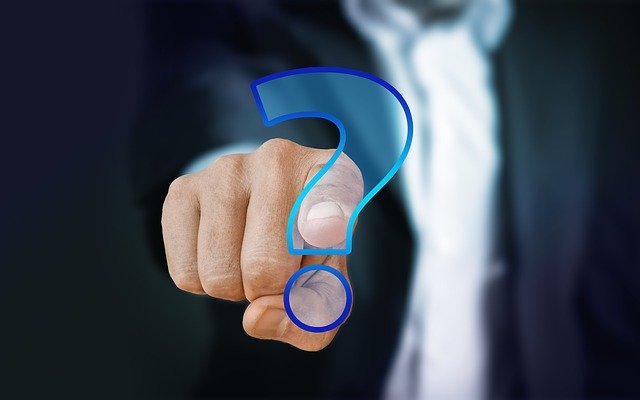 You've got questions. We've got answers. 
That's right. It's time for another segment of Ask The Guys … when we host our most favorite guest … YOU!
This time we're tackling listener questions about choosing a great real estate market, building a bigger portfolio, whether or not an office condo makes sense, and creating a rock-solid reputation in the real estate business. 
And … there's more!
We never tire of hearing what is on your mind. 
Remember … we aren't tax advisors or legal professionals. We give ideas and information … NOT advice. 
In this episode of The Real Estate Guys™ show, hear from:
Your rock-solid host,

Robert Helms

His rocking out co-host,

Russell Gray 
---
Listen
---
Subscribe
Broadcasting since 1997 with over 300 episodes on iTunes!
---
Review
When you give us a positive review on iTunes you help us continue to bring you high caliber guests and attract new listeners. It's easy and takes just a minute! (Don't know how? Follow these instructions).
Thanks!
---
To office condo or not to office condo
Our first question comes from John in Houston, Texas. He's considering purchasing an office condo for his investment management business. 
"I've been doing research, and I get mixed feedback about these being a good investment," John says. 
Is purchasing an office condo really better than leasing if you plan to be in the space for over 10 years? 
It's a great question. 
Let's start with what an office condo is. Maybe it's obvious, but just like you would own a condominium home, you would own a part of an office complex. 
It could be the third floor in the corner or it could be its own building. It really depends on the development and its structure. 
These types of properties appeal to landlords who want commercial tenants instead of residential. The incentive for a business owner is that for what they are paying in rent, they could be working toward owning a building. 
Office condos can be really great investments. 
The biggest consideration for owner users is that not everyone has part of their business plan dedicated to owning real estate. 
But one of the great things about owning the business and owning the real estate is that you can do those two things separately. 
Your business doesn't have to own the building. If you own it instead, you have the flexibility of just selling the business but keeping the building to lease out or selling the building and staying as a tenant. 
It also provides some asset protection benefits and other flexibility in terms of taxes. 
At the end of the day, talk with your legal or tax professional and run the numbers. Figure out the cost of ownership and if it makes sense for you. 
Growing bigger, faster
Casiana in Battle Creek, Michigan, wants to know how to grow her portfolio fast. She currently owns four rental properties and is interested in syndication. 
The whole premise of syndication is being able to do more … faster. 
Every property only cash flows so much … and to get to a really great passive income could take a lot of houses. 
Syndication isn't the only way to go … but it is the next step for many folks, because it allows you to use other people's expertise, money, and resources. 
You can also take advantage of great networking and education events like our Annual Investor Summit at Sea™. Come prepared … reading books by the instructors beforehand is a great start. 
Remember … education for effective action.
The main message is don't trade time for dollars. Put your money to work for you. 
Money doesn't buy happiness … but money can help take the things that make you happy and bring more of them into your life. 
Making sense of markets
Alex in Poulsbo, Washington, is looking to buy a first investment property … but doesn't know where to begin. Maybe markets outside Seattle?
Well, you can make money in Seattle … but Seattle is very expensive. It's one of the more expensive places to try to buy in the U.S. 
You may find out that investing in your home market means the numbers don't work out very well … and since you are thinking about other markets, you've probably figured that out already. 
For those of you that live and invest in the same market … good for you! There's no reason to go outside your market if you live in a place where the numbers work. 
Market analysis starts with listening to the industry buzz … what markets other real estate folks are excited about. 
Then, you look at each market and the key market drivers … factors that create vitality, jobs, and the need … or want … for more tenants to be there. 
Then, you need to look at the market in terms of your personal investment philosophy. 
What are you trying to accomplish as an investor? And what are you willing to do and not willing to do to achieve those goals?
Once you've found a market … or three … that look good to you, get on the ground. 
Go see things in person, and work on building a team. Latch onto a great property manager. 
Find experts who know the area. They should know where the path of progress is, where demand is going, and where the good tenants are.
They will help you drill down to the neighborhood where you should look for property. 
Carefully building credibility
Mike in Buffalo, New York, wants to know how to build credibility in his brand new real estate investment company as a wholesaler or investor. 
Credibility takes time to build. It's like a reputation. 
You have one reputation. It takes you years to build it … and the whole thing can topple down in a minute. 
So, you've got to be very strategic and careful about building your credibility. 
It starts with presentation … how you show up, look, walk, and talk. 
Then, look at who you associate with. Seek out experts in the industry who are top notch quality, and find ways to enter their circles. Offer your help. Ask them questions. Find mentors. 
And … of course … do great work. 
In the end, credibility takes time and consistency. 
More Ask The Guys
Listen to the full episode for more questions and answers. 
Have a real estate investing question? Let us know!  Your question could be featured in our next Ask The Guys episode.
More From The Real Estate Guys™…
The Real Estate Guys™ radio show and podcast provides real estate investing news, education, training, and resources to help real estate investors succeed.
---
Love the show?  Tell the world!  When you promote the show, you help us attract more great guests for 

your

 listening pleasure!
Buying an income producing property is an investment in the underlying economy.
That's REALLY where the income originates. That's why we put so much emphasis on market analysis.
Investors who focus exclusively on deal analysis (crunching the numbers on the property) but fail to underwrite the market sometimes end up in a mess.
The context of a deal is the macro-environment … things like interest rates, taxes, energy costs … that affect everyone everywhere.
But there's also regional factors … local taxes, landlord law, supply and demand, and jobs.
Once all those things check out, you (probably through your boots-on-the ground team) go to the street level and start looking for a deal that makes sense by the numbers.
That's because a strong market will lift a marginal deal, while a weak market can suck the life out of even a "good" deal.
Market selection matters.
Of course, that's easy to say. But figuring markets out can be a bit of a challenge.
So we cheat.
While in school it's frowned upon to sneak a peak at the smart kid's homework … in the real world of real estate investing it's actually a preferred practice.
In this case, the very smart folks at Cushman Wakefield recently released a report they call Spotlight on U.S. Employment – A Tale of 35 MSAs.
As you'll see, it's about office space. But even if you're not an office investor, the report is helpful for understanding where jobs are being created … and why.
Remember, market analysis is about economic activity. And even if you're exclusively an affordable housing investor and your target tenant doesn't work in an office … remember, high-paying jobs create a ripple effect.
That's because a six-figure office worker spends a chunk of their income at local businesses … restaurants, healthcare, auto needs, entertainment, etc.
In fact, as Amazon claimed during the highly publicized hunt for their HQ2, each high-paying job creates an additional 4-5 jobs in the local market.
Our point is that tracking the office market can be a good gauge of local economic vibrancy, no matter what type of real estate you're investing in.
So let's dig into the report and see which markets look promising …
"While the U.S. economy has added jobs at a steady pace … the growth in employment has not been evenly distributed."
" … hotspots … have outperformed the national average … based on local market factors."
Isn't that that way it always goes? The world's not fair … and that's GREAT …
… because it means well-informed strategic real estate investors can dramatically improve their odds of success simply by being attentive to market selection.
The CW report looks at 35 markets over 9 years and divides them into categories … All-Stars,Over-Achievers, Middle-of-the-Road, and Late-Bloomers (like us!).
The first three are probably self-explanatory. Late-Bloomers are markets whose growth the last four years is substantially higher than the first five years.
We think there might be some real opportunity in Late-Bloomer markets because they're less likely to attract attention (and competition) from less studious investors.
It's kind of like a team with a few early season losses that gets hot at the end of the season, sneaks into the playoffs ranked low, and then shocks everyone.
We're not saying momentum is all that matters, but it happens for a reason … so it's probably worth a deeper dive.
But let's start with the five All-Stars …
New York City
San Francisco
Riverside / San Bernadino
Austin
Dallas is no surprise to us. We've been attracted to Dallas since the Great Recession.
At least in the beginning, and even to this day, DFW has it all … business friendly, low-tax, great infrastructure, geographically linked economic drivers (energy and distribution). It's awesome.
But NYC and SF? High-tax, uber-regulated, very unaffordable. What gives?
We're guessing it probably has to do with lots of the Fed's easy money flooding into the financial and tech sectors.
Of course, from an income property investing perspective, neither NYC or SF makes much sense by the numbers or the business climate.
And if someone trips over the cord at the Fed and the printing press stops, it might suck the equity out of those markets. We saw a little of that happen as rates rose and the Fed tightened.
And add to that the recent tax code pouring some SALT on the wound, wealthy folks are leaving … and in many cases, taking their businesses and spending with them.
The point is that just because a market is on the All-Star list for job creation and office space absorption doesn't make it a n0-brainer market for residential income property investing.
You still need to use your brain.
Meanwhile, we're guessing the San Bernardino / Riverside market growth is probably distribution related. There's a zillion people in Southern California … and if you want to ship stuff to them fast, you need nearby distribution.
The Inland Empire is among the most affordable and open areas in California to build these big centers. It's also not too far from the ports bringing containers of merchandise for domestic distribution.
So ff we HAD to invest in California again, the Inland Empire would probably be on the short list.
But the bigger lesson here is to pay attention to the role of distribution in driving a market's job growth. It's one of the shining stars of commercial property investing.
And when you dig deeper, you'll see distribution is something several top markets have in common … and those jobs aren't getting offshored … though they could be robotized.
Of course, technology doesn't necessarily kill jobs … but it can move them. After all, robots need to be built, installed, programmed, updated, repaired.
So that's just one more trend for a savvy investor to watch carefully.
Among the Late-Bloomers are markets we know and like are Jacksonville and Memphis. Landlord friendly, good numbers, and apparently some good local economics.
What's educational and fun (at least for real estate junkies) is to look at these "hot lists" and then analyze the markets for similarities and themes.
You'll often find clues about what makes a market attractive to employers and resilient for investors. Then you'll recognize these factors sooner in lesser known markets and able to make your move ahead of the crowd.
Just remember … while sneaking a peak at the smart kid's homework can shorten your learning curve, it's not a substitute for doing your own homework.
Until next time … good investing!
More From The Real Estate Guys™…
The Real Estate Guys™ radio show and podcast provides real estate investing news, education, training, and resources to help real estate investors succeed.
---
Love the show?  Tell the world!  When you promote the show, you help us attract more great guests for 

your

 listening pleasure!
When big companies like Costco, Walmart, Home Depot and McDonald's start moving into a residential real estate market it's because they expect growth.
And they're usually right.  After all, they have the budgets to buy the best data and hire the smartest analysts.
Some of the data the consider includes migration trends, infrastructure plans and demographic shifts.
Do people want to move there?  Are they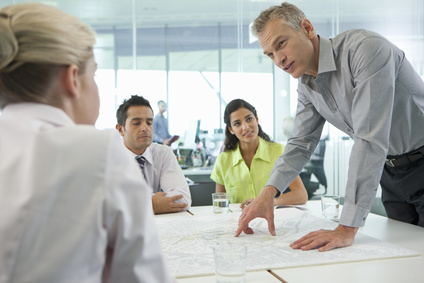 the RIGHT demographic?  Are there freeways, airports, and other key pieces of infrastructure to support a growing population?
When everything checks out, these big organizations begin to move in… to get in ahead of growth.
Savvy residential real estate investors watch these moves … and then start to investigate.  It's a way to piggy-back on the hard work paid for by the big players.
For those interested in resort property investing … and there are some compelling reasons to consider it right now … the principle is the same, but the players are different.
Resort properties make their money renting to tourists, not tenants.  The migration patterns aren't gleaned from U-Haul statistics, but from airlines.
The companies moving in aren't big box retailers, but rather big brand hotels.
So when you see a major airline adding flights to a resort destination, it's in response to growing demand.
That's a clue.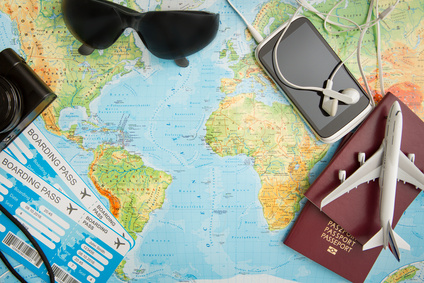 Ditto for when a major hotel brand plants it's first flag in an emerging resort market.  They have strong reasons to believe the tourists and occupancy are there or soon will be.
When those things are happening at the same time, in the same market …. SOMETHING must be happening to attract this attention.  And it is …
Tourism to Belize continues to boom.  And major players are making moves to take advantage of Belize's growing popularity.
Of course, there's a LOT more to this story than can be told in a few hundred words.
That's why we're heading to Belize for a fun-filled, educational field trip … and YOU are invited to join us!
Come see what makes this tropical paradise one of the most exciting resort property market in the Western Hemisphere … and why major players are making their moves.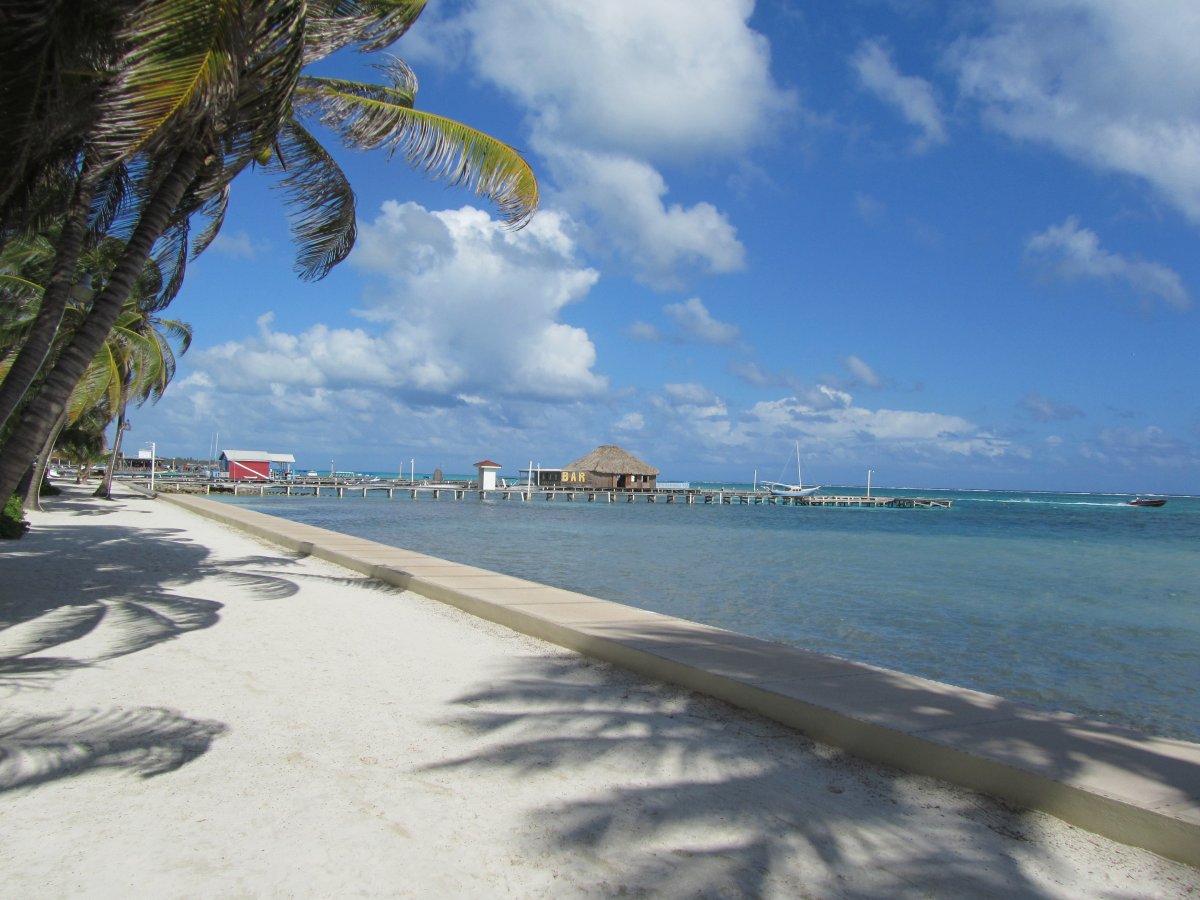 Many investors use low-end residential properties as a vehicle to build wealth so some day they can own and enjoy a beautiful resort property.
Imagine buying a resort property as an investment and still enjoy some personal use.
It's possible.  And it starts with picking the right market, meeting the right team, and finding the right property.
The timing's never been better.  Tens of thousands of baby boomers are retiring every day.  Studies say many wish to travel … maybe even retire … abroad.
Belize is a popular destination because it's close the U.S., English-speaking, friendly to Americans … and REALLY beautiful!
You're going to LOVE it.
Click here now to discover enchanting Belize!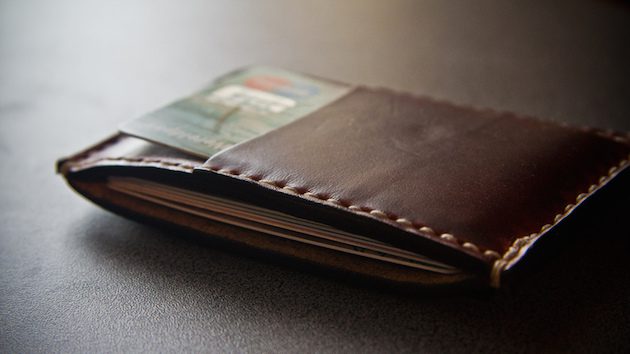 Overview
Ever wonder how to invest in real estate with no money? No money down is the Holy Grail of late night TV real estate infomercials.  But can you really do it?
In this edition of Ask The Guys, we field questions from around the world about how to buy real estate…even when you have next to nothing to start with.
Discussing how you can bring value to the table even when you have no dollars:
Your ask a question, but not in the form of an answer … this isn't Jeopardy show host, Robert Helms
His "I'm no tv host. I just play one on the radio" co-host, Russell Gray
---
Listen
Subscribe
Broadcasting since 1997 with over 300 episodes on iTunes!
Review
Like the show? Help us reach new listeners by leaving us a quick review on iTunes. It takes just a minute of your time, and it would really help us out. Thank you so much!! (Don't know how? Follow these instructions.)
---
(Show Transcript)
Welcome
Robert Helms: Welcome to the Real Estate Guys Radio Show, I'm your host Robert Helms. With me as usual co-host, financial strategist Russell Gray.
Russell Gray: Hey, Robert!
Robert Helms: You know, this is one of our favorite shows.
Russell Gray: It is, "Ask the Guys".
Robert Helms: We do "Ask the Guys", you know, every 6, 8, 10 weeks – whenever we can, and we could do it every week – we're now to the point where we get enough questions that we could almost do this show every week, although there's so many other things to talk about.
But here's the idea – our listeners, like you, have questions. They go to the website, www.realestateguysradio.com. They click "Ask the Guys", and we try to answer as many as we can that we feel will have some relevance to the entire listening community, not just one person.
We don't answer them individually usually. But, here's our only disclaimers – we are not tax or legal professionals. We don't give advice; we only give ideas and information. Your job is to take that and to turn it into actual knowledge by enrolling whatever professionals you need. And we're big proponents of using professionals, and that's how you get things done.
How to Invest in Real Estate with No Money
So here we go, in no particular order. Number one, this question comes from Edward, in Surrey, United Kingdom. So he's in the UK, and he says (and this will ring home, cause this is true for a lot of people in a lot of places).
"I have zero money to invest. Can you help me? I live and work in the UK at a very ordinary, low paid job, without a car. Can you help a guy in my circumstances?"
Well, you know what, congratulations for having the interest and wanting to invest, and recognizing that you don't have much to start with. Almost everybody who does well in real estate investing started with practically nothing.
How to Invest in Real Estate with No Money – Invest in Education and Building Your Skills
Russell Gray: That's true. And I would say, if there's only one thing that you could invest in, it would be your education, and if you were going to focus on one thing to learn about, I would say sales skills.
Because if you learn sales skills, then you can go out and recruit all of the other resources you need. If you know how to sell, then you can find investors, you can make private loans, you can negotiate owner carry-backs. There's all kinds of things you can do if you have the basic skill of knowing how to sell, and communicate with people, and get deals done.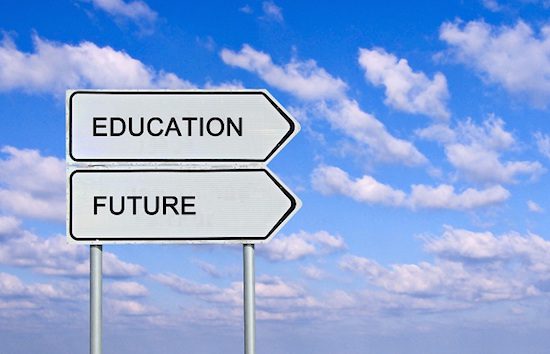 And then, number two, some basic concept of how real estate gets done in terms of structuring deals, and the benefits – why somebody perhaps would want to carry-back, or make an investment, because again you're going to be brokering your knowledge and your network in order to track all of the other resources you need.
How to Invest in Real Estate with No Money – Recognize and Use the Resources That You Do Have
Robert Helms: And the other thing is that you've got a lot of resources that are not necessarily money, and income, although you do have a job, right? So having a job is great, number one rule: Live below your means, just like you should in any productive society. You earn more than it costs you to live, so you're putting away a little bit.
That little bit isn't going to grow at a huge investment rate quickly, but it doesn't have to. Because what you do have, is you have more time. Even a full time job, you still have time that you commit to learning, and networking, and listen to the show we did back on the idea of building your network in the new year, and figuring out some ways that you can add value.
Get around the real estate investors who have the opposite problem that you do – they have not enough time, and way too many deals, and way too much to go do. Figure out how you can help them, and learn as you do it.
How to Invest in Real Estate with No Money – Look for Ways to Get Experience, and Networking Opportunities

Russell Gray: And that's a great way to potentially either earn a little extra money, if it's a paying gig, or expand your knowledge, where maybe instead of paying to be in the room to go to the seminar, you are volunteering. And so you get to hear the material, and even though you're not making any money, you're not spending any money. So, there's creative ways to get what you need by bringing what you can, and that's ultimately what it always comes down to: adding value first, and then looking those opportunities.
One other thing strategically, Edward, is think about the people that would need to get to know. So, look for ways to get things onto your experience resume by volunteering with people, or working with people that are going to position you more professionally, or from an experiential point of view, as being better qualified later on. Because, in sales, it's not just knowing how to communicate, or to negotiate a deal, or to uncover someone's needs and match things up; it's your positioning. It's how do they view you?
And so, when you have things on your resume, or you have people in your network who are recommending you or endorsing you, then that becomes part of your credibility. And it may not be as good as having credit in terms of financials, but in terms of opening up doors when you get into relationships, when you have that kind of credibility from people, then it begins to help you access the resources you need until you can have more of your own resources.
How to Invest in Real Estate with No Money – Keep a Steady Job
Robert Helms: And if you are looking down the road to a point where you could qualify for a mortgage to buy real estate, then every job counts. Yeah, it's a low paid job, but you know what? Don't hop around from job, to job, to job.
If your resume looks like you've been at 10 different places in the last 20 months, that looks very different than if you've been at one place for 20 months. Even if it's not a great job, sticking with it looks good in the eyes of a lender.
How to Invest in Real Estate with No Money – Meet With a Mortgage Professional to Discuss Goals

Russell Gray: It goes back to the idea – you're painting a picture. That's what we talked about building your brand, building your network. And you're painting a picture. You're painting a picture to the lender.
One thing you may do is go visit with a mortgage professional, and ask them to tell you how lendable you are, and if you could make changes, what changes should you make in order to become more lendable. Because it's much easier to hit a target when you actually know what it is.
Again, these are things that don't really cost you any money. It just takes some time, and a notebook, and you go listen. You take notes, and then you go do the things that you can do. And when you start having that action-oriented, can-do attitude, you'll begin to start making some progress. It begins to pick up momentum, and pretty soon you will start feeling not so far out of position.
You won't quite feel as despairing, and you'll go, "Wow, really? You know what, maybe I don't have a great, high paying job, maybe I don't have a bunch of money in the bank, but I do have a lot to work with, and I'm getting more every day."
Robert Helms: And the great news is, absolutely this is possible for you. We know so many people that started with less than zero, and have been able to acquire portfolios. It just takes time and diligence and doing the thing. So, congratulations on listening to the podcast. Listen to a lot of other stuff out there – it's not just us – there's all kinds of great information available, most of it for free. But great question, Edward, and good luck to you in the UK.
How To Learn about My Real Estate Market
This next question is from Toras in Lithuania.

"I wanted to ask you guys what should I begin to learn about the real estate market in my area? I intend to buy an apartment for life. Maybe what would you recommend?"
All right, well I'm confident that there's a little bit of an English challenge there, but I'm certain that this person speaks better English than we speak Lithuanian.
Russell Gray: I would say that's a for sure.
Robert Helms: So ok, so this is great. What do you begin to learn about a market in your area? If you're new to real estate investing, and you don't know, there's a lot you're looking for. I often say, live where you want to live, but invest where the numbers make sense. So just because you live somewhere doesn't mean necessarily that it's a good market to invest in, but it sure could be.
So what are you looking for? In a real estate market, you're looking for a couple of macro factors.
The first is what we call net migration. Are more people coming into a market, or are more people leaving a market? Every single day, people are coming into your market. People are leaving your market. The question is, in which direction is it trending?
And then within that, who's coming in? Are there companies locating, are there jobs coming in? Is there reason for people to be spending more time in your marketplace? Are there what we call drivers that are bringing folks and money into your marketplace? If so, that means the potential exists for rents to go up, for there to be good opportunities to buy investment property.
On the other hand, if it's not that kind of a market, and your market doesn't deliver those kinds of metrics, then you start looking at a larger area. It could be the next town over, the next city or state, right? You start to look at the areas geographically that you can get to.
I'm no longer limited by the geography to where I personally invest. But when I was starting, my thing was, anywhere I can get in a day would be fine. So when I started, I invested mostly 150 miles from my house, until I realized that a two hour drive by car was the same as a two hour flight, and there was a lot more real estate I could get to if I was willing to take a two hour flight, and again I'm thinking, "can I get there in a day and back? Can I fly in the morning, check out whatever I need to check out, fly back in a day."
Today, that's completely gone away, and it's pretty much anywhere on this planet and any of the adjacent planets. So, you start with what's close because that's what you know.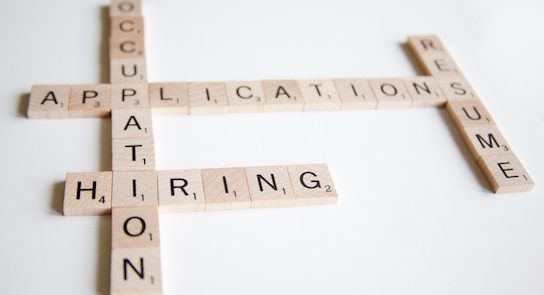 And the kinds of things you want to find out in the market are: What are the jobs like? The people who are paying rent – those people would be your tenants – where are their jobs? How much are they getting paid? How regularly are they employed? What's unemployment like? What industries are there, and how are they paid? There's a lot to find out about the people who are in your real estate market.
Russell Gray: You know I get the feeling he might be asking about a personal residence – you know, an apartment for life. This is going to be a place I'm going to buy, and a place that I want to live. And then the questions you're going to ask are completely different.
Because it may not be necessarily about all those other things, although you're going to be interested about the local economy, and sure you care about the value of the property. And it's obviously better if you buy a property and if you think somewhere down the road "I wouldn't want leave," it would be nice to be able to rent it back out. So all the questions – all those things you mentioned, Robert – are important.
But if it's your personal residence, then there's a whole other host of questions. Right? Is it where you want to live? Is it where your friends and family are located? Is it a part of the world that you enjoy being in? Is the floorplan, the neighborhood, and all of the things, and of course, the trend of the neighborhood right for you? So, lots of different things to think about, and the biggest thing is, you know, you said apartment for life. And I just wonder, are you talking about buying a property you're planning on owning for the rest of your life?
Robert Helms: I don't know if I would assume that just based on the disjointedness of this, because he specifically asks about the real estate market. So that terminology has me think investment. Apartment is also terminology that we think of as an investment, but not all over the world. You can buy apartments in many places. So, I think it's ok on either side. Russ brings up a great point. Depending on your use, that's going to dictate the questions that are important. And with different uses, there are different questions.
Russell Gray: And if you're married, "A happy wife, happy life." Just remember that.
Robert Helms: Do it her way.
Russell Gray: Do it her way.
When to Start Investing in Real Estate
Robert Helms: But congratulations, and hello from Lithuania. Our next question comes from Chris in Montreal, Quebec, Canada.
"Hey guys! I'm 30 years young. I want to start investing in revenue real estate."
Well, hot dog! That's awesome.
"I have over $100,000 in savings, and no debt. However, the market here in Canada seems to be very expensive, and has never had a price correction like the US did in 2008. The pricing of the average rental property in my city goes for 15 times yearly rental income, or around 3-5% ROI. Should I wait for the correction, or get started right away?"
Well that is great. So, before we get to what you should do (and again, we don't give advice but ideas, and we've got a lot of them), let's talk about this idea of the return.
He says, "In my city, the rent is 15 times yearly rental income," which we can assume from his note, that translates to a 3-5% ROI. There's some big assumptions there.
Russell Gray: Yeah, so 15 times is a little bit on the high side, even with today's low interest rates. So that's definitely a little bit frothy for income producing real estate.
The other thing is, just in the big picture with Canada, I mean right now, the big part of the Canadian economy is oil. And the Canadian economy is going to feel the impact. So I'd be paying a lot of attention; we talked about this quite a bit on the show and in the newsletter and in the blog, because oil's a big story all around the world, and it's especially a big story in a place like Canada.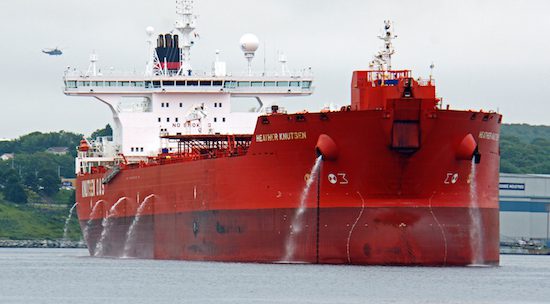 Robert Helms: Not so much in Montreal; Montreal's much more diverse. That's definitely a place that has a lot of different stories, and probably less driven by oil, but Canada as a currency, right? For sure.
Russell Gray: Well you've got that going on, so your currency potentially could be a little bit weaker. And real estate is kind of a lagging type of an indicator, you know. When the economy gets strong, then the real estate gets strong as people can afford. When the economy gets weak, real estate kind of hangs on for a while. People don't like to let go of what they think the value is.
You know, Robert's spent a lot of time selling real estate, and one of the hardest times to sell real estate, especially retail real estate – residential real estate, is when you go talk to the home owner and he goes, "Well, wait a minute, you know, you come back with my comparative analysis and do the market report, and you tell me my house is worth this, well, a year ago, it was worth this plus 20%."
Robert Helms: Right.
Russell Gray: "Well, that was a year ago, and we're in a different direction." And they don't want to let that go, and they resist. And so, there's some of that. So you have to really understand where you're at in the local economy. So, real estate timing is a difficult thing to do. It's really more does the individual deal make sense.
Even though a marketplace could be going for 15 times, you may find a unique opportunity. You may find an opportunity where something is being under-managed, where it has more income potential. Or maybe you can find a way to change the property, or the structure somehow, add a room, create a little extra storage space, add an amenity, and you can get more income than the current owner, and all of a sudden that 15 times drops down the more like 12. And then that starts to get more within spitting distance of numbers that make sense.
You may be able to find a neighborhood that's in kind of the path of progress, and moving up, and maybe you want to stretch a little bit because you believe in this particular location.
Sometimes you can find a particular seller that is able to sweeten the deal a little bit. Maybe he needs to get his price for whatever reason, but he might be able to throw something else into the deal that would make sense. It could be personal property. It could be some other set of terms that would work for you.
So, the idea is that you know if you wait for a correction that never comes, then you miss out. A lot of people have criticized some of the perma-bears. You know, Peter Schiff gets this all the time, "Hey, gold's going to 5,000. Gold's going to 5,000."  Well, meanwhile it went from 1,700 to you know, 1,100 or below.
Robert Helms: Well, he's not wrong yet.
Russell Gray: He's not wrong yet, but for the people who were bought in and then took the hit, well… but what if he would have been right? What if it went from 1,700 to 5,000? Everybody says, "Well I'm waiting til it goes back down to 12." The point is, you don't really know.
Robert Helms: No, I mean, you can't try to play a correction. I would say this – the best time to invest in real estate was 20 years ago, and the second best time is today. Don't wait.
Not only that, there's other places in Canada and in the world where it's not 15 times. Live where you want to live. Invest where the numbers make sense. When I see a market that is 15 times yearly rental income, I think that's a great, great opportunity to develop property.
There's much better returns when I get involved. And I know you're thinking, "I only have 100 grand; I'm trying to buy my first property. How am I going to develop?" You don't have to do the work. You can find a developer who needs what all developers need – capital – and figure out how to partner. There's a lot of hot markets around the world right now where folks are making good money by producing the kinds of inventory that are getting these kinds of returns.
Russell Gray: The one thing, Chris, that I like about the question, is at least you're thinking about whether or not it's a good time. And so, the one thing that I would say, is just be very careful about you know, I agree with Robert – don't wait, but don't chase. Don't chase the market. Don't try to make a deal be something that it's not.
In a market that's a little hotter, you're going to have to do more work to try to find a deal that makes sense. Just don't try to squeeze a mediocre deal in just because you want to get started now.
Just work harder, look at more deals, crunch more numbers, look for out of the box ways to make a deal make sense when maybe on the surface it does. See something that somebody else doesn't see, and then that's probably where you're going to end up finding a deal that's going to make sense, no matter what the market. There are always deals in every market, but sometimes they're easy to find, and sometimes you've really got to work to find them. 
How to Structure a Deal With a Private Lender
Robert Helms: It's "Ask the Guys" – the first three questions from three different countries. This question comes from Dan in Reno, Nevada.
He says, "I'm messaging you today in hopes that I may get some advice on how to approach a private lender (my parents) in regards to financing my first turn-key real estate investment. I only need a down payment from them, as I should be able to finance the rest myself from a mortgage lender. Question – though I can pay my parents back in interest, I would like to know the best strategy for paying them back.
For example, option one, should I pay them back the monthly cash flow for an estimated 5-6 years until they're paid, which will leave me with the refinance money to invest in another property. Or, option two, pocket the cash flow myself, and pay them back in whole with the cash out re-fi.
My priority is to start accumulating rental properties, so losing the cash flow in the first property to get started is not a big deal, if it means that I can use the cash out re-fi for my next property. I don't know if my debt to income ratio will be adequate, though, after re-financing the first property. Thanks for your time. I will try to make the message a little shorter, next time. Love the show, and all of the great content."
Alright, Dan. Well, there is no one way to skin a cat. There's lots of different ways. And although we don't have advice for you, we definitely have some ideas.
Russell Gray: Well I think this is deal making 101. What's optimal for you, is going to maybe be a mathematical decision, but what's optimal for the other person may not be what's optimal for you. And so, if you're going to make a deal, the first thing you have to do is determine optimal is what both parties are willing to do.
And so, you have to have a conversation with your folks. It's like, "Hey guys, what are the options here? And I don't know exactly how we're going to put the deal together, but I want to get all of the pieces of the puzzle on the table. So let's just hypothetically say, if you had to wait 5 years to get your money back, and we did it as a sale, or a cash out re-fi, how would you feel about that? What kind of return on investment would you want to see? If I were to pay you a monthly payment, is that something you would be interested in? Or you know would that create an income tax problem for you?"
Here's another thing: you have more to work with than just the cash flow or the equity. You also have the tax breaks on the property depending on how you structure the deal. Sometimes an investment partner is going to be just as interested in getting a tax break, and if you factor in the value of that break into their scheme, it actually sweetens the return on investment without any money coming out of your pocket. So, that's where you have to understand a little bit about what their criteria is, and then involve the appropriate professional who can help you understand it.
You also talked a little bit about debt to income ratios, which is great understanding. You just need to make sure that you're working with your mortgage professional, not just today, but projecting forward in these different scenarios, because giving up that, if you promise to give someone a cash out re-fi and it puts you in a DTI where you can't do that second or third property in your plan, maybe that's something you think you'd be willing to do today, and then you realize, "Well, gosh, if I do that today, then in two years I'm going to be out of position."
Robert Helms: Well, that's a great point anyway. Anytime you look at investor financing, when you're trying to finance a property that you're going to hold as a rental property short term or long term, you always want to begin with the end in mind.
Lenders: I love lenders, they're very necessary, but they look at the deal on their desk today, and they try to close it by the end of the month. They're driven that way. They don't necessarily look at you being the first of seven or eight or nine or ten or one hundred transactions. You need to start with that. "Listen, I'm going to buy a house every year. How do we structure my first loan in such a way that I get that win?"
For instance, a lot of lenders aren't going to want to see a second or third party second on the property, which is what this would be, alone from your parents, but because it's your parents, it's maybe not documented that way. I'm not suggesting doing anything that's not legal, I'm just saying, parents have more flexibility.
You start with a conversation, which is, "Mom, Dad, thanks for the help. What's best for you?" Maybe it does make sense for you to give them 100% of the income until they're just off and paid, and now you've got the property. That might make sense.
But think about the way most people put money to work who are lenders. They put out money, they expect a monthly return that is somewhere in the 4-10% range, depending on the kind of lenders they are. Maybe that works for them. So for sure, no matter who the partner is, what does the partner want to see, what do you want to see, and how do you come to common ground that works for everybody?
Russell Gray: Yeah, and part of it is the source of funds, you know, wherever your parents are coming up with the money, because whatever you're going to offer them in their mind is compare to what? What else might they do?
Now because you're their child, of course, they have a vested interest one would think in seeing you succeed, and maybe that's good enough. Maybe they'd say, "Hey, you know what? I could make a higher rate of return on XYZ investment, but part of the return is seeing my son, Dan, get into his real estate investing career, and I want to be a part of that."
And so, again, it goes back to what I said at the top of my comments on this question, Dan. It's about really understanding the person on the other side of the table, and everything that they have to work with, everything that they are looking to get out of the deal. Then, you taking what you have to work with, and everything that you want to get out of the deal. And then looking what the deal will actually make available to both of you. Then figure out how to carve out each piece, so that everybody gets what they want out of it, and everybody can walk away.
And some of that's going to be math. Some of that is going to be negotiation and understanding. Some of that is going to require technical expertise maybe from a tax adviser or a mortgage broker, but it's actually one of the most fun components of being a real estate investor, being able to sit down and create these kinds of deals because this is creative real estate.
You may not even need to go to a conventional mortgage lender. You may decide not to do that. Maybe your parents or somebody else has better lendability, or perhaps they have other resources. "Well gosh, if you're going to pay the mortgage company 4 %, I would love to get 4% or 5%, secured by a piece of real estate. So why don't I make that a private loan, and now, you don't have to worry about the down payment. I'll give you the whole thing at 5%."
Robert Helms: Now, you bring up another great point, Dan, which is perhaps a nuance, but I think it's worth talking about. And that is this idea that you recognize you don't necessarily need the monthly payment. You don't need that red income, because you've got the ability to pay for the loan.
Too many real estate investors don't think about that. All they focus on is "I need to get positive cash flow," and they create a scenario where they go out and get a house, they save up a down payment, and they qualify for a loan, and they create $200 a month positive cash flow, and now what? $200 a month is nice, but it's not going to turn you into a wealthy real estate mogul. Two hundred dollars a month if you're accumulating that for every house or three hundred, pick a number, it takes a lot of houses to get to a meaningful number.
So the fact that it's not all about the monthly positive cash flow today by you giving that in this case to the lender or your parents instead is a tool you have.
And I think most people should be more creative of what all the tools are. Russ mentioned tax benefits. Again, consult your tax professional, but there may be some ways to make it work out in their benefit and give them that much more reason to want to invest with you. So, great question.
And if you've got a great question for the Real Estate Guys, or even a mediocre question, send it to us. Go to our website at realestateguysradio.com and click "Ask the Guys."
How to Invest in an Expensive Market
This question comes from Diana in Miami, Florida. Alright. She's asking about a loan in California.
"Hi again, I've written you guys before and you answered my question on the podcast. Thank you. So, I'm reaching out to you again."
You know, rarely do we let a second one slip through, but this time we will.
"My friend lives in Arcadia, California, and has a $240,000 combined income with her husband, great credit – but, saving 20% for their down payment has proven tough. Property there is generally more than $600,000, so FHA doesn't apply. Could you guys offer any suggestions as to any of their options that may be available to her?"
Well, we sure can. When you go into an expensive market, whether it's New York, or California, or even parts of Miami, then you're always up against saving the down payment.
What's crazy is you go to Memphis, Tennessee, and the people there also have a hard time saving the down payment, even though it might only be $10,000. So, someone making a quarter of a million dollars has a hard time putting away 20% – half of that for a down payment.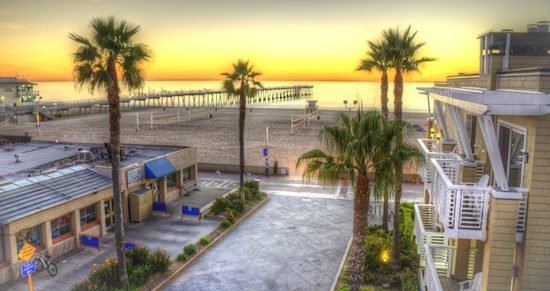 Well, sure, how many people could put away half of everything they make for a down payment? Only the most disciplined. So, what's a person to do?
Well, in California, there's a lot. In fact, there are particular loans, and you want to have your friend probably talk to a local lender, or perhaps you're in that business because you seem to know a lot about it – about what local loans may be available.
California's one of the states that has some good first time buyers' programs. So, we don't know about the situation here, if they're a first time buyer, but if they are – that's a potential opportunity. And there's other things to consider.
Russell Gray: Well, yeah, I mean the big strength here is a good credit score and $20,000 a month of documentable income. So, that's highly leverageable.
So, assuming the ratios are fine, it may be possible to actually borrow the down payment from a private lender, not secured by the real estate (maybe secured by something else on the balance sheet if there is something else, or maybe just a private, unsecured loan based on the strength of their credit profile, and their income.
And then you get those funds, it's a private loan, you stick it in the account, you let it season for however long your mortgage professional tells you it needs to be there, you know. It still needs to show up on your balance sheet as a loan, but it isn't showing up on the properties as an encumbrance, and so if the lender would not allow a second loan – and a lot of lenders will, so that's not even an issue.
Robert Helms: Well, the issue is getting the money up front and then having it attached to the piece of property later – that takes a particular person to be willing to do that.
Russell Gray: Yeah, but again, that's quite a bit of income even by California's standards, and so I would think that you would be able to offer somebody a relatively attractive return, especially if you give them a term that's reasonable. Meaning you're not asking them for the money for 30 years; maybe you're only asking for it for 3 years, or 5 years. And that way you're in the property, and you're counting on the property going up, maybe it's a property that you have the opportunity to do what we call force equity; it's a fixer upper, or somehow you can add something or do something to it to make sure that the value goes up even if the market doesn't go up as fast as you'd like it to.
Robert Helms: The challenge with that is that a lot of fixer upper properties are going to have even less LTV because lenders aren't going to want to be as exposed. So if we're assuming a 20% down scenario, the collateral might not be well enough.
What about an 80, 10, and 10? What if you found a seller who is willing to not carry the entire thing, cause that doesn't happen very often, but would carry 10%. You know, someone who bought this house that's $300,000 and today it's worth $600,000, they're going sell and have whatever gain or whatever that looks like.
We don't know if that's an investment property to them, they're residents, or whatever. But could they take 10%? See, if your friend only had to come up with half as much, would that be do-able?
Russell Gray: Yeah, so I mean, owner's equity is always something that you should inquire about, and the way you do it is you ask, "Well, what are you going to do with the proceeds? Because maybe I can make you an offer that would be just as good or better backed up by a property that you already know and like. And maybe you'd be comfortable with that."
Because if someone's going to go stick the money in a CD and earn you know one quarter of one percent, or one percent, or two percent, and you're offering them three, or four, or five, I mean that's like triple the return! And that could be very attractive to somebody.
The other thing is, if you're buying an owner occupied property, you know, maybe they're going to say, "Hey, it's tax free money to me." But if it's an income property, and they're going to realize a capital gain, or if it is over the threshold, and they've got more than half a million dollars of appreciation in it, for a couple, they're going to be looking at paying a capital gains tax on that.
Especially in California, maybe they don't want to realize that just now. Maybe they want to wait a little bit. Maybe you can work out a deal with them. Again, this is where you have to have a decent working knowledge of the tax ramifications of decisions not just for yourself, but for the party on the other side, as we were sharing earlier. So it would be something to look into. Owner's equity is always something that you want to ask about.
Robert Helms: I think a lease option would be possible – find a property that they can rent for a year that becomes the potential to be the property that they can purchase. That gives them time at a $240,000 income to put that money away, cause that's a good income. And I'm sure they're able to save some, but if they can't save up 20%, give it a little more runway and a little more time, maybe they could. Maybe a 2 year lease option would make sense.
Russell Gray: Yeah, sometimes the seller, especially a seller who is either maybe asking a little bit higher price than the market wants to give in an area that maybe isn't selling as fast as you know some areas are, would be willing to do that, because they can get more cash flow today. And even though, let's say for example, you rent the property (and I'm just going to toss out numbers), let's say it's a $3,000 a month property at market, but you pay $4,000. But they're giving you $1,000 a month credit towards the down payment.
That's really equity build up to you, and that is receipt of equity to them. Of course, if you don't close, they get to keep that money, but in the meanwhile, they get the cash flow. And based on your strong income, or your friend's strong income, maybe that's something they could swing.
Meanwhile, that gives you the opportunity to continue to work on the down payment, so down the road, when you get ready to do the loan to take out the seller completely, you've already got some down payment credited in the transaction from the $1,000, plus whatever else you're able to save up outside of that.
Robert Helms: You know, we look at conforming loan limits today. They vary based on the areas of the country. Some are higher, some are lower. In a high area like this, you're going to be right up at the top. I don't make it a habit of staying right up to date on these things, but last I knew, about $417,000 was the conforming limit.
So if that were true, you're not that much more than a 20% here, and maybe it makes sense to figure out some in between.
I'd come back to a local lender. Local banks have different lending parameters than the big guys do, and certainly the FHA does.
So, look around. You know, kiss some frogs, and get out in the market and see what's available. But just think creatively, which I think we've demonstrated in the last 8 minutes, but there's a lot more I'm sure. So come out to an event, and let's continue this conversation over a beer.
How to Structure to Protect Your Assets
It's our favorite guest! It's you! "Ask the Guys" – your questions, our answers. This one comes from Arnold in Bur Ridge, Illinois, and he says,
"What's the best structure to use to protect my assets? All my properties are currently in separate in LLC's. Should I put these LLC's into a trust? Should it be a domestic trust or international trust, revocable or irrevocable? What should I do?"
Alright, well great question, Arnold. And as you probably heard today, we don't give advice. And "best" is such an interesting thing. "Best – what is the best structure?" and we've covered this before, the best structure is the one that works the best for you. We don't know enough about your personal situation, but we can certainly talk around these various issues you bring out.
Rusel Gray: So without getting too far into the weeds, a basic structure is, you're there at the top of the food chain, and off to the side you would have a living trust that kind of catches all of your personal property and avoids probate, and any good estate planning attorney can help you understand the benefits of a living trust.
You brought up the topic of an asset protection trust, which can be both domestic or foreign, and so depending on how private you want to be, depending on how inter-jurisdictional, or international you want to be, you might consider using a combination of domestic and foreign entities. And again, a good international attorney can help you with that.
Robert Helms: Well and certainly worth some time getting educated about that – you know, part of that is, it's a whole order of magnitude more complex when you add an international structure in. But there's a lot of great reasons to do it. So, you really have to begin with the end in mind.
If you plan to live all of your days in Illinois, and never leave the United States of America, never own anything or create any income outside of the US, probably not worth a lot of time and toil figuring out international structures.
If on the other hand, you like to travel, you might consider owning property in other places, you know, it's a big old world out there with a lot of opportunity, then now you have the wonderful benefit of the fact that not every country's laws are the same, not every asset protection structure is the same.
There's a lot you can do, a lot when it comes to not only asset protection, but taxation and privacy. So it's certainly worth getting educated about.
Russell Gray: Yeah, I mean there's so many different ways. It's just a complex question. You know, Robert, you brought it up great, it's like, well, best, what is best? Well, I mean, you can really set the thing up bullet proof, and it can cost you a fortune. But you're bullet proof, you're private, you've got everything all set up.
Robert Helms: Well, let's use an example. A lot of attorneys will say, put every property in a separate LLC, like you've already done here, Arnold, and well, I can see why attorneys would say that. They're in the business of creating LLC's, and that is the most bullet proof.
But you know what? Often, if I have 3 or 4 single family homes in the same neighborhood, I might put them all in one LLC, because I don't perceive that there's a huge liability hanging out, unless it's a really low risk neighborhood. And they're all about the same kind of asset, and they're all in the same neighborhood. I'm comfortable with the risk. I'm just talking personally.
So, why am I putting them in a LLC? To protect assets. What else could I use? Insurance protects assets. So, there's different ways to come out of it.
You might say, "I want every property in its own LLC, and I want that LLC owned by an offshore trust." Ok, you could do that. I might say, "I'm going to put 4 properties in the same LLC. It's going to firewall between the rest of my life, but not within each other, because I'm willing to take that risk."
So part of it is getting out who you are, as an investor, and how much risk you are willing to take, and how much you are willing to pay to avoid that risk.
Russell Gray: Yeah, so, it's a combination of asset protection structures, entities like LLC's, and then jurisdictions, and then privacy, and then insurance policies. There's a whole combination of how you put those together.
For example, if you have 5 properties all in 1 LLC, and there is 100% financing, no equity – there's really not that much to go after, except the income streams on the individual properties.
And depending on if you use things the way you do the ownership structures, all anybody may end up with is the charging order, which means they realize the tax, but they don't end up getting any of the income. And so, that's a whole different structure. It's kind of like this little poison pill that your attorneys can stick inside your deal.
So, it's difficult to answer the question in great detail when someone asks a question like "best," but I think big picture is, the idea that you have living trusts and asset protection trusts, Then underneath that you have holding companies that don't do any business with any third party people. Because when you do business with third party people, that's when you create a liability port, or a door, a way they can get to you.
And then you have operating companies, and management companies, and the operating companies would be these individual LLC's, and you might have one management company with a directors and officers, or as an errors and omissions insurance policy that is operating all of these different LLC's, each one holding an individual property, and each one of those properties would have a commercial, general liability policy, which would cover you against slip and falls, and some of those types of things.
It would trigger a defense. And if somebody went after the holding companies, or the managers, meaning you, then that's where the directors and officers insurance, or your errors and omissions insurance would kick in.
So you have insurance that are funding your defense, you have insurance policies that can pay out a settlement, and on top of that, you can use a technique called equity stripping, and that's where you might have a separate holding company somewhere else put a lien on your property for the full amount of the equity.
So when someone does an asset search on the property, they go, "Oh, well this property doesn't have any equity in it. There's a first lender, and there's a second lender, which means that I would be third in line at best, and there's nothing to go after."
You know, someone who takes the time to sue you, and gets you all the way through, that they win, and then they do what's called an order of examination to have you reveal where everything's at – they're going to find all that stuff. But the person who isn't going to find it easily is just the opportunistic attorney who's just running around looking for properties with bunches of equity that they can go after easily.
You just don't want to be having your assets hanging out there uncovered, you know, where people can take a shot at them. So, if you use privacy, if you use insurance, you use asset protection, and you use multi-jurisdictions, you make it very, very difficult for the opportunistic, lazy, predatory people to come after you.
The only people who are going to get you are going to be the government if they're coming after you for taxes, or somebody who really has a solid, legit claim, that they're going to push all the way through the whole structure, and then have you come reveal where everything is.
Robert Helms: And two of the parties really to be involved in helping you make this decision, obviously, your tax attorney, and that may be a separate attorney than the person who sets up your entities, but then also your estate planner – whoever's going to help you with that, because that has a lot to do with those, too.
How to Find Real Estate Investors
Good question, Arnold! If you have a question for the Real Estate Guys, go to our website at realestateguysradio.com and click "Ask the Guys." This question comes from Dave in Mountain Home, Idaho.
"Hey guys, I'd like to find out the best way to find equity partners for our manufactured home community investments. We have two projects in Montana, and one in Colorado. All three are C-quality projects that need better management and a few homes brought in to fill up the vacancies. The initial cash flows are approximately 10%, and will go up to about 18% in 3-5 years. Any ideas in today's world?"
Thank you, Dave. Well, Dave, yeah. Here's the deal. There's lots of money out there, and this is the kind of opportunity people are interested in. Right? A kind of value add opportunity.
Certainly mobile homes and manufactured housing have good returns as an asset class. So, pretty easy to find money for those deals. In fact, we have a couple of students that do exactly this. Mobile home parks in little cities all around the United States, and they're offering, you know, 18% returns, 16% returns, 21% return.
So yeah, you can go out and find money for that. Where? Probably not institutions.
Russell Gray: Yeah, exactly. It's really interesting, cause there's that best again. What is the best way? The best is whatever works best for you. But at the end of the day, it's going to come down to building your brand and building your network, something we talk about all the time at the syndication seminar.
It is getting to a place of professional positioning, where people believe that you're credible, that you know what you're doing, that you do quality projects, that you're a reputable business person, someone that they can invest with.
So you start by building that up. You show people who are credible, like CPA's and attorneys, and people that have networks of high net worth people. And you begin either retaining them to help you with your own practice, because now there just is a nature of networking. Business people refer other business people to business people. So the more people you have on your team, the more likely they're going to bring people to the party. And so, you begin to do that.
The other thing is, you learn how to tell your story. You get good at telling your story. You may go to join investment clubs, or go other places where there are investors, and you begin to tell your story. And you start getting really, really good at it, so you can explain to people why what you're doing makes sense, why it's compelling, why it's interesting.
And so now you've got some good endorsements, you've got some good professional communication skills. Now you want to think about the people that you want to be partners with.
Because, if you're looking for private investors, these people are going to be your partners. They might not be voting partners, they may be limited partners (and hopefully they will be), but nonetheless they will be people that you have a degree of accountability to, you're going to have to  interact with, and so you have to decide what kind of people that you want to do business with.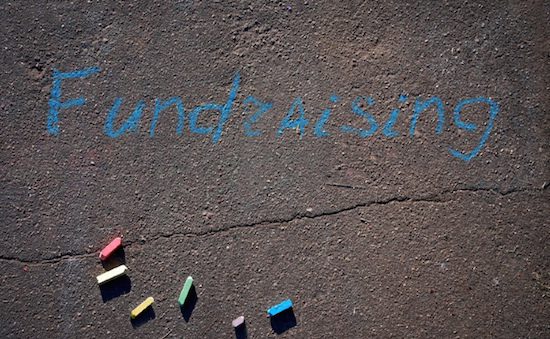 Now, once you've figured out who those people are, where are they? Where do they congregate? They do. Their eyeballs congregate somewhere, somewhere they socially congregate – could be a rotary club, it could be a networking event.
And here's the great news: It used to be, until a couple of years ago, that you were not even able to advertise. But today you can. We've been talking about this for quite a while.
In fact, we have a report on this in our special reports section. I believe you can get it if you send an email to [email protected], because the new law that has come out basically allows you to go out and advertise these types of opportunities to accredited investors.
And then recently we did a show with attorney Mauricio Rauld about how even non-accredited investors it's beginning to open up.
So the ability for someone who has a credible deal to go out and find investors with whom you did not have a prior relationship from a legal perspective, is opening up.
But that doesn't mean you still don't have to work on your brand, and your reputation, and your ability to communicate your offer. And of course, that means you've got to have an offer that's compelling.
And so, if you take the time to go meet with a few people, and instead of trying to pitch them the deal, you ask for their feedback – say, "Hey, here's what I do, here's how it works, here's how I'm thinking about putting it together. What do you think? What kind of questions do you have? What kind of returns do you think people out there would be interested in?"
Some of the people whose opinions you ask for are actually going to want to invest. You're not really trying to sell them, you're trying to get their opinion, and if that's all you get out of it, you've won. But you may end up getting a lot more than that.
Robert Helms: If this is more than just three properties, if you're thinking about doing more of this, Dave, I think I would strongly recommend you come out to the Secrets of Success full Syndication. It's two full days and a big workbook, and a lot of great faculty.
Not only that, the people that come to the syndication event are top notch. It's amazing. We are humbled every time at the great people we meet that are already doing deals and many that have a lot of property in their own account and are looking to get to the next level by raising capital.
You'll meet great people, you'll get all kinds of great advice, and who knows, maybe you'll find another few folks in this same space that can give you some ideas. I know of a couple of guys who will be at the syndication seminar who do exactly what you're doing, and they've raised money to do it. So that would be a great place to go meet folks like that. But, good good stuff. Those deals are absolutely do-able.
San Diego and Southern California Water Concerns
Time for one more question today. This comes from Laura in San Diego. She says,
"You and your podcast are awesome, and I listen to every show religiously!"
Well, thanks a lot, Laura!
"I would like to get your opinion on the drought situation in San Diego, California, and how it may change San Diego in general, and real estate market specifically. You know, prices for both rent and sales, in the short and long term. What are the best strategies" – there's best again – "for real estate investors to hold real estate properties long term if it was planned originally, or sell everything and run away from San Diego before it runs out of water and becomes a desert? Thank you."
Well, Laura, in case everyone is not up to speed on this, San Diego is one of many cities that faces a little bit of a drought issue in the fact that they are running out of water. Now having said that, do we think, as the Real Estate Guys, it is going to turn into a desolate desert, and no one will ever want to go there again? Not very likely.
Here's the reality. If the business people and stake holders in San Diego have to ship water in in one pint bottles, they will get this problem solved. We've seen this happen again and again. We've seen this happen in multiple markets.
I remember more than 10 years ago when Las Vegas, Nevada, had the same exact issue, and they were running out of water, and developers weren't even getting permits because there weren't going to be water rights. Guess what? Today there is plenty of water in Las Vegas. It's thriving. It's all good.
I'm not trying to make light of the issue. I'm trying to say, don't be alarmed about it, and don't say I've got to cut and run and get rid of everything before it becomes a desert. Now just looking at where the market is price wise, who knows? Maybe you'll look like a hero two years from now if you sell everything you own in San Diego today. Don't know.
Russell Gray: I think the big picture is there's a lot of things to worry about, and I probably worry about as much as anybody there is. I mean, I listen to everybody, I try to take everything seriously, and then you just have to ask yourself, "what's most likely?"
And it always comes down to this notion that when you have a major economic population center, and you have a key piece of important infrastructure, and it's hard to imagine anything much higher on the food chain than water, as far as being an important piece of infrastructure, there is enormous resource in political will to fix the problem.
Water exists somewhere. I mean, think about it right now. We have gone back and forth through this keystone pipeline, right? The idea that there's tons and tons of oil way up north. And all we have to do is get that pipeline built over how many thousands of miles to bring that oil from where it is to where it's needed.
There's water in this world. It may not be in southern California, but there's a big enough population base and economic base that they will build a pipeline – probably not one pint bottles, right? They're going to build a big pipeline to get it where it needs to be. Not to mention, San Diego's right on the ocean.
Robert Helms: Hello!
Russell Gray: There are people that have manufactured desalination plants. There are entire populations – islands, you know – where you get fresh water, and it comes straight from the sea water.
Robert Helms: The entire island of Grand Cayman is desal, and it's desal by a publicly traded company. And the water is of high quality. It's wonderful, and it's easy to do.
Plus, they have so much beer produced in San Diego, they go through a lot of water there. I can't imagine that they're not going to want to brew more of their great hopped ales, with more water. So, you know, you've just got to look at whatever the risk you think is. I think San Diego's a great marketplace for a lot of reasons. I also think it's high up there, right? The prices are high, so.
Russell Gray: Well, I think the thing is, whatever thing you're concerned about, what you need to do is figure out the people who are qualified to have an opinion on the matter.
In this case, it could be people in the water community, it could be people, you know, involved in civil engineering and planning – I mean, I don't exactly know who, but you study the issue for a little while, you're going to figure it out pretty quickly, and once you figure out who's qualified to have an opinion, then try to understand what agenda they might have in swinging their opinioni one way or the other, and listen to a lot of different people, and then sit down and think about what really makes sense to you.
If you really believe in your heart of hearts that it's on its way to become a desert waste land, then absolutely, the best strategy for you, is to sell everything and get out of dodge. If like us, you think, you know, that's probably not a very likely scenario, then pay attention to it, but then turn your attention to other things that are more likely to help you make good investing decisions going forward.
Robert Helms: We have some great investor friends who own more than a dozen properties in San Diego, and are looking to acquire more, and they'll be with us on the 14th annual Investor's Summit at Sea. You can pick their brain. They're going to do a round table discussion about their properties in San Diego, and I promise, they're up to speed on this issue.
So come on out to the Investor's Summit at Sea. There's still a couple of cabins left. Join us, join sales legend Tom Hopkins, join best selling financial author in history Robert Kiyosaki all live, all in person at the Investor's Summit at Sea, and get all the details on our website at realestateguysradio.com.
Big thanks to all the folks who submitted questions, whether we got to them today or not. If you have a question for the Real Estate Guys, get to that website, realestateguysradio.com, click "Ask the Guys," and maybe next edition of "Ask the Guys," we'll answer your question.
Until next time, go out and make some equity happen.
---
Listen on YouTube
Want More?
The Real Estate Guys™ radio show and podcast provides real estate investing news, education, training and resources that help real estate investors succeed.

Overview
How do 2016 predictions from a variety of sources impact you as a real estate investor. There is a LOT of uncertainty heading into 2016…
The stock market is off to its worst start since the Great Depression. Oil is tanking. China's in a slump. Retail holiday sales were soft.
Yet the U.S. government reports a strong jobs market. Rents have been rising. Mortgage rates remain low in spite of the Fed's decision to bump up the federal funds rate in December.
All this against the backdrop of one of the most unusual election years in U.S. history.
In this episode, we take a look into the crystal balls of a variety of pundits and industry observers…and toss in our two cents…as we try to decide if 2016 will be a bullish, bearish or boring year for real estate investors.
Discussing networking tips for real estate investors:
Your entertaining and never predictable host, Robert Helms
His crystal ball co-host, Russell Gray
The Godfather of Real Estate, Bob Helms
---
Listen
Subscribe
Broadcasting since 1997 with over 300 episodes on iTunes!
Review
Like the show? Help us reach new listeners by leaving us a quick review on iTunes. It takes just a minute of your time, and it would really help us out. Thank you so much!! (Don't know how? Follow these instructions.)
---
(Show Transcript)
Welcome
Robert Helms: Welcome to The Real Estate Guys radio program. I'm your host, Robert Helms. Joining me this week as usual, Co-Host Financial Strategist Russell Gray.
Russell Gray: Hey, Robert!
Robert Helms: And the man we call the Godfather of Real Estate, Bob Helms is with us.
Bob Helms: Always fun to be on The Real Estate Guys Show.
Robert Helms: A big hello and howdy and hugs to the folks that came out to Creating Your Future, the 2016 goals retreat. My goodness, what an amazing group of folks, and look out, because we've got goal achievers out there and great stuff's going to happen.
It's going to be a great year, but it's also, at the beginning of the year, a great time to say, "Well, what is everybody thinking?" It takes a couple of weeks usually until the predictions start to come out.
All of the pundits, and all of the industry experts, and all of the economists for the various real estate boards, and all those folks come out and say, "Here's what the year's going to look like for real estate, and then for things that affect real estate." We are taking a look today at all those 2016 predictions because there's just a lot of folks who apparently have crystal balls out there.
2016 Will Be An Especially Interesting Year
Russell Gray: Yeah, it's going to be an especially interesting year, 2016. We've got a lot of things going on.
We've got the Fed moved for the first time in 10 years on raising interest rates, and so we're going to be sailing into that. Whether they're going to follow up with some more increases or not remains to be seen. What is going to be the effect? We've got that we're dealing with.
We've got an election year, which is always interesting. I would think that this is probably one of the more polarizing election years.
We've got a lot of things going on in the world geopolitically. We're starting to really begin to realize the impact of China on the rest of the world. For a long time, it was China's growth that was fueling; now it's China's decline that is impacting.
There's a lot of dynamics we haven't really had to deal with for a number of years that now people are beginning to look at. It's going to be interesting to see what all of these market observers are thinking as they take a look out there through their crystal balls and try to decide how it's going to impact real estate. We're going to take a look at that and try to figure out how it's going to impact real estate investors.
Robert Helms: For 10 years, we did our live Investor Mentoring Club events, where we had hundreds of people coming out once a month, and every January it was the same. We would take a look at the predictions from last year and what really happened, and then we would look forward to see the predictions of folks in the real estate space.
Always interesting, because it is that nobody has a crystal ball and we just take our best guess. The Real Estate Guys are journalists, really. It's not our opinion that matters. Instead, we survey a lot of folks to see what they think, and so we'll talk about some general predictions that may or may not affect real estate and how that might, and I think maybe start with some of the fun ones actually.
Then from there, we'll break down by product type and some regional markets, at least of the U.S., what the outlook looks like.
2016 Predictions – Marijuana Becomes More Accepted
Top 5 predictions from MarketWatch came out. Here's one that says basically in 2016, marijuana's going to become legal. Now that's a pretty broad thing. I'll tell you what, here at this event we did last week, we had another group at the same hotel we were at, and they were a big medical marijuana group.
Russell Gray: Robert, you've been doing events longer than I've been with you, but for the last 14 years, we've been doing events together. I don't think that we've ever been at an event where there was actually public condoned smoking going on. We would walk by this big tent outside the hotel venue, and every once in awhile somebody would go into, well in my case, the men's room, and woo!
The thing that's interesting about that, we've watched what's happened to real estate in particular in Colorado when Colorado was leading the charge. That has had a profound effect on the pricing of real estate, and not just housing, because it's affected the prosperity, but some of the retail.
Retail has been a sector that's been under a lot of pressure, but they're opening up these dispensaries. Then industrial because these guys are actually coming and growing, and now even agricultural land because now that they don't have to hide their growing inside these industrial buildings, it's a lot cheaper just to go out and buy a piece of land in a rural area and put together a farm.
There's a lot of things that are going on in the real estate space that's being directly affected through the growing acceptance in society of marijuana.
Robert Helms: That's why I wanted to start with some of these fun things. I don't want to dwell on any of them, but how does this affect real estate?
Like we first said, marijuana's going to become legal. You're like, "Well, that has nothing to do with real estate." Actually, it has a lot to do with real estate.
2016 Predictions – Star Wars Mania Increases
Here's another one. Star Wars mania will only intensify. The new Star Wars movie is out, and another one's coming out in 18 months, another one after that, so great. What does that have to do with real estate? Think about it. People are going out to the movies. Theme parks are bringing in record numbers, especially those that are affiliated with these kind of folks.
When you stay at a theme park, you're usually not staying in the park; you're staying at a hotel. We're going to talk about the hotel sector before we're done because there's some strong, strong indicators in hotel. You read a headline, and you're like, "Well, that doesn't really have anything to do with real estate," and maybe it does.
2016 Predictions – Student Loans and Millennials
How about this one? Student loan forgiveness will be expanded. How can that possibly affect real estate?
Russell Gray: Anybody that's been paying attention, everybody's waiting for the first time buyer, those millennials, to step into the housing market and begin to push things up because that's typically what drives the market.
The millennials have not been pushing on the front end of the market. Part of it is because they don't have the same sense of urgency their predecessors had in terms of appreciation, because they were basically coming of age, if you will, in the downturn. It's like, "Hey, it's not that big of a deal."
The other thing is it takes them longer to get their families started. Part of that is just socially because they've grown up in the era of social networking and a lot of exposure on the internet and much broader access to entertainment. They begin to realize there's a lot of things to do in life that maybe they want to get out of the way before they settle down and get married.
I think I'm qualified to have a bit of an opinion, even though I'm long past being a millennial, but I've got a bunch of them in my life because my kids are all millennials.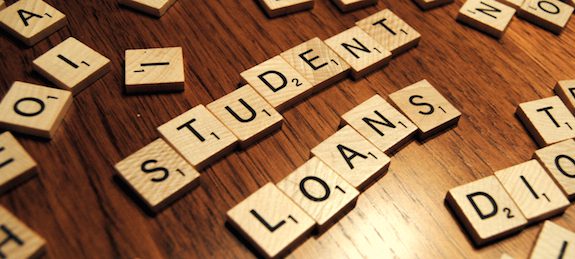 The other big one is the student loan thing because that is a big debt burden that many, many young people are starting life with. They're trying to figure out, "How do I deal with that in a soft job economy, while housing prices have actually been going up because of the big stimulus trying to push the housing market?" The fact that they may get some relief from that could really have an impact on real estate, especially in the starter housing market.
Robert Helms: It sure could, and that debt load, of course, happened at a very difficult time already. The whole student debt isn't something you can't just easily write off or make go away like other debt, and so there's a whole bunch around that.
2016 Predictions – Commercial Drone Use Will Be Legalized
Here's another fun one: commercial drone use will be legalized. It's a prediction from MarketWatch, this year's commercial drone use. Okay, well drones are out there. Now you have to register your drone if it's of a certain size in the U.S. Other countries are thinking about this. How's that going to affect real estate?
Russell Gray: We try to make sure that the commercials that we have here on the radio show don't drone on and on and on.
Robert Helms: We try. That's for sure. Think about what this does. There's been talk about delivery via drone, and that's going to cut down on maybe employment, maybe use of resources.
Then there's all kinds of talk about and use of commercial drones in photography certainly, and in surveys, and weather. It's a technological advance that maybe has some real estate connotations. Certainly we're using a commercial drone in our development projects to get some of the greatest aerial footage we can, and that's had a market effect.
Bob Helms: Yeah, and I have a grandson, 8 years old, who has been an airplane kid all his life. He's got hundreds of models, but he flies helicopters. I don't know how many drones he's got, but it's 7 or 8, and of course he can't wait to get his hands on that big commercial drone in the real estate development project. Here's a kid, he's even thinking about opening a drone school so he can teach others how to do it. He's 8.
Robert Helms: That's his business, right? He wants to open a school where he can teach pilots how to fly drones. According to MarketWatch, that might be a good business to be in, so who knows, right?
Start with some fun ones to get the ball rolling, but let's talk about what some of the predictions are for the year because there's a lot of folks out there that have the right to have an opinion. Like Russ mentioned, "I've got millennials in my life, so I kind of know how they think, I talk to them about it," so you've got a right. Someone who doesn't, not so much. They know what they read.
2016 Predictions – Oil's Impact on Real Estate
Forbes puts out an article every year where they quote different people, and they look for different predictions. There's a lot of interesting specific predictions. Commodities are big in the news and certainly oil. When oil got below 30 this last week, well that's news.
Russell Gray: Yeah, the oil story's a huge story, and any long time listeners to The Real Estate Guys know for the last year we've really been paying attention to oil, primarily because we have been suspicious over this course of stimulus that somewhere, we call it the squish factor, it was going to come out in the economy.
Back when we lowered the standards for lending in order to make it easier for people to buy houses, the net result was a housing bubble and a bond market bust. There was the derivatives going on. It created a rapid expansion of credit.
In the area of oil, what's happened is because of cheap money, oil drillers have been able to borrow huge sums of money based on financial models where their worst case scenario, maybe when oil was $90 or $100, worst case scenario, 40, 50% drop, $40 or $50. Fairly prudent, right?
Robert Helms: Right, yes sure.
Russell Gray: When I had my real estate portfolio, my models were all based on I could absorb a 30 or 40% decrease in my income, not a 95% decrease.
These guys that are sitting there looking at $30 a barrel oil, they're hemorrhaging cash. This the thing that a lot of people don't understand: they have to keep pumping to generate cash flow even though it's negative profit.
Robert Helms: They're pumping at a loss because the cash flow is what they need to service debt and pay employees.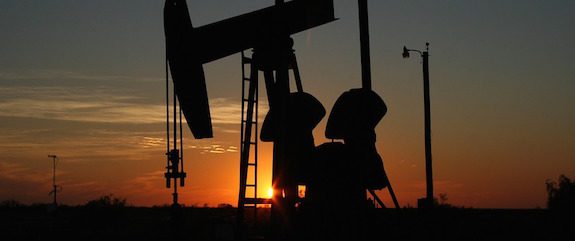 Russell Gray: That's right. It slows down how fast their balance sheet implodes. They're hoping against hope maybe that the price will go up.
We've already got 30 companies with over $13 billion of debt, according to a Wall Street Journal article on January 11, that have declared bankruptcy.
These major oil companies have reduced their budgets by 50%: that's employees, that's exploration, that's R&D. These are good high paying jobs, and so that has a big effect.
Then when you go back and you look at the history of the job recovery in the United States from 2008 to now, a big chunk of it has been oil-related.
If there's one story that is probably the most likely to impact real estate directly in terms of employment, it's oil, and in terms of the financial markets.
If those debts go bad and people start taking losses on bonds in the financial markets, just like they did with subprime, we don't know, but there could be a bunch of derivatives stacked up beneath it, and it could start that ripple effect.
You look at the volatility in the markets, as they've started out the beginning of the year, I think oil is a big contributor to that lack of certainty and how skittish everybody is in the paper asset markets.
Robert Helms: Here's the oil prediction from Forbes: "Oil shall crumble like the weak child it is as Iran starts pumping, Iraq stays calmish, and OPEC chaos continues. When prices fall into the 20's, though, things will start to reverse. The most expensive U.S. and Canadian supplies begin to dry up, and eventually all the oil in storage and at sea gets sold. Then we'll see a sharp reversal, and prices will end the year, 2016, north of $50 a barrel."
Russell Gray: I wouldn't think that that's the consensus, because nobody is shutting down production. They're not. They're going to go bankrupt, and when they go bankrupt they'll shut down production. There's venture funds out there that have raised hundreds of millions of dollars that are getting ready to go buy these assets.
Robert Helms: Let's step back because I didn't want to dwell on oil or drill on oil, but some oil companies have the issues, and the big issue they have is debt. They've got a debt service.
We know some folks in the oil business who only have a single project that has any debt and the rest have no debt, so they really could shut it down if they needed to. The oil they are drilling, they're delivering some return to investors.
Russell Gray: Right, and those are the guys that are in a position to weather a downturn. You can learn a lot from studying what those guys are doing in terms of managing their portfolios.
If it wasn't oil, let's say it was rents that were going down. If rents went down, is your portfolio structured in such a way that you could survive that? That's a good question to ask.
One side note on oil, Canada has been a big driver of real estate in Phoenix, in Arizona for example, because the Canadian dollar, because of strong oil, was strong against the U.S. dollar, and so the Canadians were able to come down and buy U.S. real estate with their strong Canadian dollar.
Now that's reversing, and so a lot of these things that have been driving the real estate market, in Arizona in particular, could, I'm not saying it will, and if I was invested there, that would be something I would be paying attention to, could begin to slow down the interest of the Canadians in coming into the Arizona market.
You have to deal with your own individual neighborhoods and talk to your real estate professionals that you work with that have the thumb on the pulse of that local market to find out what the real trends are, but it's something that you can begin to see.
The ripple effect at what goes on at these higher levels, it pushes out and affects, not even just from country to country, but we're talking Wall Street and we're also talking all the way down to Main Street.
Predictions vs. Perceptions
Russell Gray: What we're doing is talking about people's predictions and then perhaps our thoughts about them, neither one of which is necessarily right or wrong.
Bob Helms: Perception's an interesting thing. You said, Russ, "If I was invested, I'd be paying attention." It's so interesting. If you're not invested, if you aren't close to it someplace, you're not necessarily paying attention, let alone saying, "What impact does it have on the things I am paying attention to?"
I have a little personal story. Simply, I'm a legatee. I had an aunt who was in an oil collective. She died in Oklahoma. She had a lot of brothers and sisters. She left all the kids a little share of that, so I've been getting a monthly check for 10 years or 12 years or something and not paying any attention to it because it was automatic.
I'm still getting that check; it's just not monthly. It's about every third or fourth month that I get a check of approximately the same amount. The difference, by the way, is that there's a difference in the check that's more than I spend on gas personally for my automobile altogether. I appreciate the low pump price. I'm sure people do, but there's a lot more to it than the low pump price.
Robert Helms: It affects so many things, transportation and all that kind of stuff. We're talking today about predictions in the New Year, lots of sharp folks are out there making their best guesses. We're going to talk about some of our thoughts, and ultimately you're going to decide what makes sense for you.
2016 Predictions – Currency Valuation & Bitcoin
Robert Helms: It's a new year and we're looking at some predictions that lots of folks from different industries are making and just trying to stimulate your thought as a real estate investor as to the things you hear in the news and what you should pay attention to.
One of the things that of course is on everyone's mind is the value of their currency. With listeners in over 190 countries, we have buying power in our currency. Then compared to other currencies in the world, as they're stronger or weaker, that affects imports and exports and ultimately what we pay for things, and that's why currency's important. The dollar was strong in 2015, stronger than every currency but one.
Russell Gray: Yeah, that's interesting. Bitcoin crushed the dollar in 2015, and there's a whole story behind that. Not to dwell on it, but as you're looking out at trends, we pay attention to alternatives to the dollar.
Of course there's other currencies. The yuan has been the one that we've been paying the most attention to in terms of currencies.
We've also been paying attention to gold and silver because those are used by a lot of people as a monetary metal, at least as terms of a store of value, you don't trade in it, but you can see that certain countries are beginning to accumulate it. You can see record sales of gold and silver Eagles in the United States the last couple of years. We had a big kickoff to 2016, so that tells you something.
You see the growth of cryptocurrencies. Bitcoin is the biggest. It's the Kleenex of the … It's the brand name that everybody associates the product with, but there's actually 3 gold-backed cryptocurriences now.
Bitcoin is not-gold backed, and there's other cryptocurrencies. The fact that society is beginning to adopt these alternatives to the dollar, that sovereigns are beginning to look for alternatives to the dollar, if I denominate my wealth in dollars, that's a trend I've got to pay attention to.
Real Assets in Unstable Times
Robert Helms: You bet. When we talk about some of the big predictors out there, folks like Fortune and Forbes and MarketWatch, that's different than a lot of the more alternative sources and stuff that we look at, too, who are predicting that there's going to be a need for alternative everything, alternative exchanges and currencies.
We're big fans of real asset investing. We invest in things that are real. Real estate, obviously, that's like the "Duh," but there are other things like gold, silver, commodities, oil, that are real as opposed to some market equity that can go and come in no time at all.
One of the articles, that we won't get into the details of for today, was about Apple's 6000% increase since 15 years ago or whatever and how amazing that is, one of the few stocks to ever do that, and so forth. How do you know 15 years ago which of the myriad stocks to pick? Only in hindsight can we really learn some of these things, and really as real estate investors, we want to be focused forward.
Russell Gray: Just a little sidebar on that. One of the concerns I always have as an investor, when you're looking at things that are real that are pretty straightforward to understand, that have intrinsic value because of what they are, that's one thing. When you are looking at a financial statement for a company, and you're trying to determine … You think about Enron, whose financial statements were completely fabricated, and you look at these companies that do accounting tricks.
To me things that are real, things that are essential, things that are tangible, that I can understand with simple business models where I can verify the essential data to determine the value, to me in an environment like we're in right now, is a lot safer place to play.
2016 Predictions – Food Delivery & Distribution
Robert Helms: All right. Final predictions there from Forbes is that both gold and the dollar will end the year below where they started it, so we shall see.
Fortune has some interesting predictions which also may have something to do with real estate, but aren't as directly related. Here's an interesting one. The food delivery bubble will pop.
"Everybody eats," they say, but we may not eat nearly enough to support the ballooning food delivery tech category. There's a lot of these companies that today do and some companies that soon will be delivering food to us rather than us going to the grocery store.
This can be a wonderful service, but you probably remember more than 10 years ago, a couple of those services went belly up. Their prediction is all these new food delivery services, as great as that is, aren't going to be able to sustain.
Russell Gray: Is that groceries or prepared food, do you know?
Robert Helms: It's both. It's both groceries, meal kits, meal delivery, and then some of the big warehouse type stores who are doing delivery.
Russell Gray: Okay. If that's true, and I'm not convinced that it is, but if it were true, obviously the impact is going to be on the distribution workers and things like that.
Distribution's such an interesting topic to start with because I started out my personal career as an adult as a material handler. That was a fancy title that meant that my job was to move to a box from point A to point B, so I operated forklifts and hand trucks, and I got to drive a little Bobtail truck, and learned how to back up to a loading dock, and all of that.
A lot of that was manual labor, and of course with technology, they've been able to eliminate a lot of those types of jobs. If that particular call is correct and there's less packages going around, then there's probably going to be less work in the distribution sector.
Robert Helms: Interesting enough, as we're looking at 2015, overall shipping surprisingly was down. You would think as more people are buying stuff online, and realizing the convenience of having things shipped, and the inconsequential amount of shipping compared to the price of the goods, and yet shipping down. That's a concern if you are in markets where shipping is part of the story.
Russell Gray: Yeah, we've talked a lot about that because to us those are the types of jobs that are difficult to outsource. At least you're not going to lose them to China. You're not going to ship something to China, or Mexico, or Asia, and then ship it back.
You do that when you're manufacturing but not for distribution, so the distribution is going to happen in certain geographic regions. That's been basically a pretty good call. I think it will probably continue to be a good call, but to your point earlier about drones, there's some changes in the way trucking is going to work. I think we're probably going to be covering that here shortly. You just got done talking about maybe the demand.
We've had Matt Kirchoff on the show a couple of times. He was on The Summit at Sea with us a couple years back. In fact, he's the one that warned us that China … Everybody's like, "Oh, China's doing great," and he's like "Uh, guys, hey. Watch China. China's not doing so great." I was like, "Really? That doesn't make any sense to me." He called it.
Richard Russell, his whole thing with Dow Theory is looking into the Dow Transports. If people aren't moving packages, if things aren't shipping, then there's an economic slowdown coming. This, what you're talking about, Robert, is a slow down in shipments, is something that could indicate a broader economic weakness. People aren't spending.
2016 Predictions – Robots Driving More
Robert Helms: Absolutely. That's why you got to pay attention to this stuff early, leading indicators, trailing indicators. Speaking of drones, here's our last prediction before we go to the break, and then lots of real estate predictions. Robots, according to Fortune, will be doing more of your driving.
As you know, there's lots of companies that are looking at self-driving cars and all of that stuff, and interesting enough, in PriceWaterhouseCoopers Real Estate report and predictions for 2016, the question they pose is: should we be building fewer parking garages if in fact where the world is heading is to driverless cars?
Russell Gray: You've got the Uber factor-
Robert Helms: You do.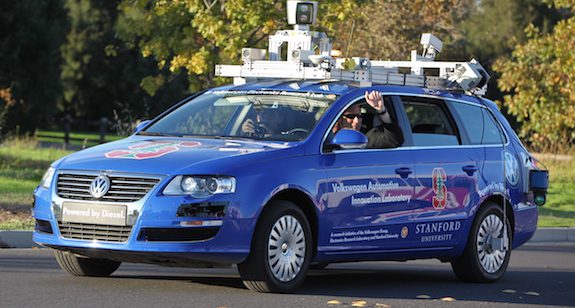 Russell Gray: … which is part of it. You look at these towns that really have grown up on shipping routes and their truck stops, and then things grow up around that because those are convenient points, and as they get a little bit of infrastructure. If you drive around, if you've ever driven cross country, you know what I'm talking about.
Imagine if all the sudden you don't have as many people, those businesses will begin to fail, or they will begin to have to cut back because there will not be as many people. You'll still get maybe the tourists and the people traveling, but that bread and butter trucking business, if there's no drivers in those things … You think, "God, that'd be so weird to think about."
Think about all the things that are in your life right now that are technology driven. For example, right now we had the big minimum wage increase in the food service, and there are major corporations like McDonald's that are already beginning to experiment with fully automated robotic ordering.
I rent a lot of cars. I go in and I use kiosks. I go in, I swipe my drivers license, swipe my credit card, I print out my thing, and I don't even talk to a human being, and then I walk down to the garage and pick up the car.
This is how technology, and robotics in particular, is beginning to replace the work that a lot of the entry level people were doing. Those are the kind of people that rent.
Now if those jobs are being eliminated, these are things that could have an impact on you as a landlord. Again, it goes back to this idea: wherever you're invest in, whatever demographic you're serving, pay attention to how these macro-trends are trickling down to the street level because they will end up on your PNL and your balance sheets.
Bob Helms: Certain parts of this whole idea of having a car that you don't drive are pretty reasonable and easy to understand, particularly in urban areas, but think of sprawling Los Angeles. Why are there 12 zillion cars there?
Robert Helms: Right.
Bob Helms: Because people are not going to the same destination at the same time. What's created, the great sprawl, the total infill of city to city to city, is all about people and where they're going and what they choose to do. I'm having a problem projecting forward and seeing that applied to a place like LA.
Robert Helms: Here's the thing. We've already seen what Uber has done in terms of disruption. All that has been is fewer taxis and people that are driving private cars.
That's not as big of a disruption as what they're doing in Japan, the Robot Taxi: the car you get in with no driver, never will have a driver. Doesn't ever park anywhere except to let you out, is stored dozens of miles away from the town it services, and you don't ever interact with anybody.
It used to be you had to get on a bus because all of us were going the same way, or a train because we're all going to the same city. With Robot Taxi in Japan, doesn't matter where you're going.
Russell Gray: Johnny Cab.
Bob Helms: Johnny Cab. That's right.
Russell Gray: Remember that from Total Recall?
Bob Helms: From Total Recall. Yes, exactly.
Russell Gray: I have a prediction regarding driverless cars.
Bob Helms: All right.
Russell Gray: More drunk people. How many people have said, "Hey, we're going to go out drinking tonight. Let's Uber." If your car's going to drive you, it's like, "Hey, I can drink all the time."
Robert Helms: Excellent!
Russell Gray: "I don't need to worry about drunk driving."
Robert Helms: All right, well let's look for the stocks of those beverage companies to increase perhaps.
2016 Predictions – California Real Estate
Robert Helms: We're talking about market predictions, what some of the experts are saying about what might happen in the new year. Of course we're always interested in what people think, and then we're going to find out how it works in the real world.
Let's take a quick prediction now from Leslie Appleton-Young. She's the Chief Economist for the California Association of Realtors, so just one of the U.S. states, but it's a big one, and it's been a strong market.
California was overall pretty strong real estate-wise in 2015. Here's what she said, the end of November: "California home prices for 2016 and the number of sales will both edge up slightly in 2016." She expects home prices to go up somewhere in the 3% range and number of sales to go up in the 5 to 6% range.
Russell Gray: Let's say she's right, and you see 3% appreciation. If you are out there looking to invest in a property, and you're thinking to yourself, "Okay, I'm going to get into this property," maybe even a homebuyer, you're going to get into the property. You're like, "I'm going to buy this property, and I'll live there for 2, 3 years."
If you've got a 6 to 8 or 10% cost of sales on the back end of that and you're only getting 3% appreciation, you may want to think twice about that strategy.
You have to pay attention to the logic how she got there, and ask yourself, "Does this make sense to me? Does what she said at the macro affect where I'm at in the micro, in my particular market? Then how would that level of growth affect my exit and holding strategies?" Sometimes when you don't get much appreciation …
We've been in markets where it's been 20, 30, 40%. There are markets right now in the United States last year in 2015 that did 10, 15%.
You can get into a property, and you can get out of a property in a couple of years and break even or maybe at a profit when you have that kind of growth, but at 3%, not so much. I would say with that long history of maybe an average of 5 or 6%, what I'm really hearing her say is it's a below average amount of appreciation.
Robert Helms: There's a huge nuance there. You don't just buy a property in California. That's way too big of an area. If she's saying as the Chief Economist for California Association of Realtors, number 1, she has a bent. She's in the housing area, and that's her bread and butter. She been at this game a long time.
California, even within her presentation, there are markets that will exceed and there are markets that won't. She's got a couple of California markets that she thinks are unhealthy. We can only look at big picture. Today, as a real estate investor, you have to look at the smaller picture.
Bob Helms: As a real estate investor, I'm looking for that equity growth if I can find it, but as a homeowner, that's secondary to me, generally.
First of all, I may not know how long I'm going to be there, or I may know I'm going to be there a long time and the equity will be what it is. What am I looking for as a homeowner? The living conditions that I want, the neighborhood I want, what I can afford, best housing, best schools, whatever.
Point is, we think equity's urgent. I think you guys wrote a book about that. Was it called "Equity Happens"? Yeah, I think so. Investors think that way; homeowners do not.
2016 Predictions – Housing Affordability On The Rise
Robert Helms: That's a good segue into this report that comes out every year. One of the main resources I look to is the PWC Emerging Trends report. PriceWaterhouseCoopers put out this amazing report, very detailed.
Here's what they do. They go out and they survey a whole bunch of folks who have earned the right to have an opinion. So leaders of industry and housing, development, management, asset management, all those folks, to say, "From sitting in your seat, what do you see?"
This is a huge report. You can Google around and find it. It's 100 pages and it's free.
Housing affordability concerns are on the rise. Why developers are building condominiums and mid-density products. There's other products that are coming onto the market, and pricing is going up. We'll talk in a little bit about the different markets and where. Housing affordability's been pretty good, and as prices edge up, that's a concern.
Russell Gray: Here's the thing. I think going forward, at least in 2016, I don't think you can count on lower interest rates to compensate for unaffordable housing. I don't think the mortgage rates are going to save that part of the market.
The growth is going to have to come from stronger employment, stronger real wages. Certainly the low oil prices are helping, but you could make the argument that's being offset by the rising healthcare costs for the average family, so that's an issue.
You've got the issues with the interest rates, like I said, not really getting where they need to be, but the reverse of that is that now you're beginning to see the lending standards loosen up a little bit. Loans are becoming more available.
The big picture with real estate always is that all the powers that be are definitely working to make housing affordable, whatever you call affordable. A lot of times the things they do to make things more affordable make it more expensive on a purchase basis, but they make it more affordable on a monthly payment basis.
2016 Predictions – Rise Of The Renters
Robert Helms: Let's talk about what's good for who. If affordability's down, the next paragraph in this report is the rise of the renters. If housing affordability is down, is that a bad thing if you're an investor?
Russell Gray: No!
Robert Helms: No, it's a great thing.
Russell Gray: No, it's a great thing. You've got more tenants, you've got a lower price to purchase, you've got a higher cap rate. It's a more profitable scenario for you, so it's actually a great thing.
Robert Helms: This report, this Emerging Trends in Real Estate, this is just within their housing sector, they're saying another interesting thing about renters, and I quote, "Attitudes about renting have changed, respondents noted. Renting is no longer seen as only a temporary step on the road to home-ownership but as an alternative, and today we're seeing the rise of permanent renters, a new demographic in Canadian markets as well as in the U.S. markets," so more and more renters.
Let's take a look at what some of these big picture trends are for this year. First of all, their summation of the year is this is going to be a year of coordinating offense and defense for real estate investors. There's both, and they go through different product types and desirability of city locations, suburban locations, all those kinds of things.
Just some high notes. One is the decline in home ownership continues. We are at the lowest level of home-ownership we've been in basically ever.
What's interesting in this report is they show that broken down by age group, so 10 years swaths: everyone under 35, everyone over 65, and then the 10 years in the middle. The group that's been affected the most in decline of home-ownership is age 35 to 44.
Overall, we're at 63.4% of households owning, and that's down from in 20 years 69.2%, and that's meaningful. It's down in every age category. The least amount of change is 65 and older. Of course a lot of folks that are 65 and older bought those houses some time ago and still have them, so they're homeowners.
Now I know you're going to want to know where the top markets. Before we're done, we're going to make sure, probably the last thing we do today is share with you the number 1 market predicted by everybody.
What's interesting is they've asked all of these respondents in this report, putting it together, the importance of what their issues are this year. The top issues probably don't seem surprising.
Before I get to the top issues, let me share some of the things, the lower issues. Things they're not all that concerned about. If we start there, you're going to think, "Well, those are things people should be concerned about."
They're not very concerned about the rising cost of education. They're not very concerned about immigration. They're not too concerned about deleveraging. They're not concerned about sustainable buildings or wellness and health features in buildings. Those are things you might think, "Well, no, people should be concerned." Here's what they're concerned about. Number 1, job growth. Well, duh!
Russell Gray: Duh.
Robert Helms: Job growth affects almost every real estate asset. Income and wage growth, interest rates, and of course as Russ points out, interest rates aren't likely to go lower. The Feds made the first increase, and there's a lot of predictions that we left on the sidelines from different folks about how many times will the Fed raise and how much.
If you were to put that all on a spreadsheet, it's going to come out like about 50 basis points at the end of the year. You had everyone up to 2 all the way down to .1, but somewhere between 40 and 50 basis points.
Russell Gray: You know what's interesting about that is that I'm looking at an article from December 16 when they first raised the interest rate to 25 basis points. It's talking about the Fed's projection.
It says, "The economic projections that the Federal Reserve policymakers released on Wednesday anticipate U.S. economic growth at 2.4% next year and a rebound in inflation to 2% by 2018. The new projections came as the Fed carried out its first rate hike in almost a decade and set out a path for rate rises for 2016 that projected a 1.375 year end Federal funds rate," so we'll see. This was a Reuters article from December 16, 2015 if you care to look it up.
2016 Predictions – More Real Estate Emerging Trends
Robert Helms: Hey, here's an interesting exhibit where they've asked all of these investors and fund managers where they're looking to invest this year and the potential investment universe, they call this, by market classification. Where are people interested in investing?
Number 1 category within real estate is office followed by multi-family. Probably if you look back in the past few years, you'll see multi-family was higher than office.
Office is strong and continues to be in certain markets, so we'll talk about some of the particular market sectors here in just a minute. The big picture is that we've got a change in what people are looking to invest in in real estate. That may affect you, it may not.
We're talking about some predictions the experts are making for 2016 and trying to stimulate your brain about stuff to think about.We're looking at this PWC Emerging Trends report.
A couple interesting things, just quick high notes on a few things. Availability of capital for real estate in 2016. Number 1 equity source of all the sources? Foreign investors.
Number 1 lending source of all the lending sources? Securitized CMBS.
All right. Let's look at investment prospects by asset class. Now again, we would argue that real estate isn't necessarily an asset class, but we're talking about within real estate, the different types of real estate, those could be asset classes. Where are the investors? Number 1 this year is private direct real estate investments.
That's a bigger stack of capital than REITs, publicly listed homebuilders, publicly listed real estate companies, commercial mortgage backed securities. All that pales in comparison to private direct real estate investors.
Still you, and me, and those of us who invest in real estate are the horse when it comes to buying assets, all the way up to the Ken McElroys of the world and folks that buy huge, huge stuff.
What about REITs? REITS have performed pretty well, and right now, in the views of many of the folks interviewed for this, the outlook for the REITs sector is bullish.
"Business as good as it's every been," one of the REIT executives said. Well, okay. The market will be good for at least another 2 years at a very conservative estimate.
Reits are publicly traded vehicles to invest in real estate. I'm going to guess that most of our listeners, that's not their primary focus, but that tells you kind of sentiment of the traditional Wall Street market and what they think about real estate.
Bob Helms: It's an area in which it's hands off. It's passive investment. For a lot of people, that works really well, particularly people who have gone through and built an investment portfolio, and are at a point where they're ready to back away from it.
They don't want to be out of real estate. They just want to be out of management. REITs are huge, multi-national REITs, billions of dollars broke into 2 categories. Either I own property or I finance the loans for that property. It's a narrow segment, although it can incorporate a lot of different kind of properties.
Robert Helms: Now they have a section in here about what foreign currency is coming into the U.S., and the number 1 source of capital from non-U.S. investors as a whole is the country of Canada, not China, not Japan, not Australia.
Canada has been number 1 in office, number 1 in multi-family, number 1 certainly in the industrial sector. Not number 1 in retail. Number 1 in retail investment into the U.S.: Australia. That's interesting to look at.
Probably more interesting is what's going to happen, according to these experts, in particular markets. Here's a great quote from this report. "2016 is the year of the secondary tertiary markets. They continue to be more attractive on a relative opportunity basis than some of the gateway cities. Gateway cities, as we know, are places people might want to be, but we're thinking of cities like Nashville, Charlotte, Indianapolis, Louisville, Portland, Austin, Raleigh-Durham.

These cities continue to attract hosts of people, and there are a lot of places that people love to live and work. They are manageable environments and have a better value proposition." That's a quote from one of the respondents. Looking at those markets, not surprised.
Russell Gray: No, not at all. What happens is the popular markets, if you will, get overbought, and now you've got to go find something else. That's not just true from an investment perspective; that's true from a living perspective in a business.
A business or a individual who's looking for a place to live when they're out their shopping, these markets that are the popular markets get very expensive. Then it's like, "Okay, I've got to kind of … What's number 2 on my list." Hence secondary or tertiary.
These are all great markets with great infrastructure, transportation, shopping, education, all the things you look for. In fact, getting more familiar with a lot of those markets is one of our goals for 2016, and you're going to be hearing more about that as the year progresses.
2016 Predictions – The U.S. Will Have A Housing Shortage
Robert Helms: Now one of the predictions that folks have been making for a long time is that eventually the U.S., and we're just talking about the U.S. now because this report is there, obviously we look at a lot of other places, but the U.S. is going to have a housing shortage.
We're going to need to build more houses. In certain places that's not true. Right now here are the top 5 homebuilding markets, so the top 5 places where there's demand for homebuilding.
Number 5 is Denver, Colorado, number 4 Seattle, Washington, number 3 is Charlotte. Charlotte you don't think about necessarily. It's more of a secondary market but pretty strong. Then number 2 and number 1, both Texas markets. Number 2 Austin, and number 1 Dallas-Fort Worth for homebuilding markets, so interesting.
In the office sector, office is an interesting trend because office is up right now. There is a lot of activity in office, and we're seeing it emerge in the buy hold sell recommendations they do. That is they poll all of these folks and they say, "For your product type and these markets, are you a buy, are you a hold, are you a sell?" Then they put all that information to say where the strongest markets.
Office right now, strongest market, New York-Brooklyn, followed by Minneapolis-St. Paul.
Now you would think New York, well duh, but Minneapolis? I don't know. How about number 3? Portland, Oregon. Number 4 Austin, Texas. Number 5 Atlanta, Georgia.
Those are the strong markets. Now that's a culmination because even though Minneapolis-St. Paul is number 2, it's got a higher percentage of people saying sell than hold compared to some of these other markets, but a lot on the buy side. Office, interesting, interesting sector to watch.
Retail. Now retail has, as you said, been hit. Right now the outlet for retail looks fairly bullish in some of the top 20 markets.
Top markets are: number 1 New York-Brooklyn, number 2 Miami, followed by Austin, Portland, and Los Angeles.
Now again, when we talk about retail today, there's categories of retail. We're not going to break it down into that, but if there's opportunity you think of the retail sector, go check that out.
Hotels an interesting sector right now. Hotels pretty bullish in some areas and bearish in others. The kinds of properties, there's business hotels, there's resort hotels.
Right now the top markets for hotel: number 1 San Diego, California, number 2 Tampa and St. Petersburg in Florida, then in 3 and 4 are the Bay Area, San Francisco and San Jose of California for hotel.
We were talking off mic about the fact that if you look at that, San Diego is more of a destination, vacation, maybe conference city, whereas San Jose more business oriented. Not that people don't certainly go to San Francisco to visit, but not that many people vacation in San Jose. That's more of a business or that a lot of companies, Silicon Valley and all that, need for hotels.
Russell Gray: Yeah, as native San Joseans, we can tell you that, no insult, but we know the market well. I'm guessing there's just not a lot of people that on their short list of places they want to go for vacation, it's San Jose.
Robert Helms: Absolutely.
Russell Gray: This year with the Super Bowl, they're going to be coming to Santa Clara, so that's exciting.
Robert Helms: Last year, with the last Grateful Dead shows, so there you go.
All right, multi-family. Everyone knows about multi-family prospects look pretty good.
Here are the top markets according to the research for multi-family: number 1 Orlando. Orlando needs apartments, followed by Minneapolis-St. Paul. Put that on the list out in 2 of the categories in the top 5. San Diego, Los Angeles, San Francisco, so good markets.
Now overall, what about overall markets? Of all the markets and all the respondents, what is the top market to watch in the United States of America? Dallas-Fort Worth. That's the market. That's the MSA people have their eyes on for lots of reasons. This could be a 5 hour show, because we've got all kinds of predictions we didn't even get to.
Get a 360 Perspective
The point is a prediction is only somebody's opinion. It may be an educated opinion because they've done research.
A lot of folks, like PWC here, they poll a lot of people. That's kind of what we've done. We've colored it with some of our nuances and context and understanding, but we don't have a crystal ball. They might; we don't. We just look at what all these folks are saying, and that gives us the ideas of what we should be watching.
Russell Gray: Yeah, absolutely. The thing is you have to keep your head in the game, and you've got to listen to a lot of different opinions. You have to ask yourself, "What makes sense, and what makes sense in my market?"
Then the other part, whenever you're reading anybody or listening to anything anybody has to say, including us, you have to ask yourself, "What's their agenda? Do they have a paradigm?"
They may not mean to misled. They may not be trying to spin any way. It's just the way they see things. It's how they filter things.
Think about all that, and then ask yourself the same question. "How do I filter things? What am I not seeing that I need to see?" I call it getting a 360.
I love doing these kind of shows. I love especially when we can go to networking events and conferences where a lot of these people are, and we can go from session to session to session, and then end up on the trade show floor and the cocktail hour at night, beginning to have these conversations and say, "Hey, how is it you see this? What did you mean by that?"
It's one of the things I love best about The Investor Summit at Sea. We have that opportunity to get the 360.
You got people from all different disciplines. You've got people who are coming from different product types and investment backgrounds, different geographies, different occupations.
You have these lively, lively conversations. Then you have a lot of time to just consider it, and think about it, and then go back and clarify.
When you come out of an event, whether it's a 1 day conference, or a 2 day conference, or 9 days, or 8 days like The Summit at Sea is, you have so much more clarity about what you see in the marketplace, and how to interpret it, and then what moves you're going to make to either make more money or protect what you've already got.
Robert Helms: There is only one huge, giant problem with The Investor Summit at Sea, and that is there's 4 cabins left. If you're not yet signed up to join The Real Estate Guys, G. Edward Griffin, Tom Hopkins, and Robert Kiyosaki, live on The Investor Summit at Sea, then get to the website and do that, realestateguysradio.com, and click Summit at Sea.
Big thanks to all the folks who have made these predictions, and we'll know next year whether or not they were true. Happy investing to you. Next week, we have an amazing real estate investor and a trainer of real estate agents. Brian Buffini will be with us. You're going to want to catch next week's show.
Until then, go out and make some equity happen.
---
Listen on YouTube
Want More?
The Real Estate Guys™ radio show and podcast provides real estate investing news, education, training and resources that help real estate investors succeed.
The future of money, inflation, and deflation are just a few of the recent questions topics we've received from you, our listeners. So many great questions piled up in our email grab bag, Walter could barely carry them into the studio.  Of course, Walter's got those skinny little bird legs… So, let's dive into your questions on real estate markets, condos, deflation, the future of money and how it affects you as an investor.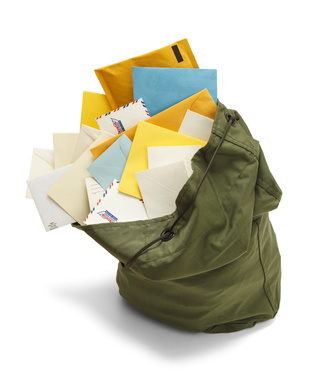 In the studio behind the silver microphones of The Real Estate Guys™ radio show:
Your intrepid educator and host, Robert Helms
His inept communicator and co-host, Russell Gray
The ageless Godfather of Real Estate, Bob Helms
Choosing a Good Real Estate Market
It's no secret that real estate prices have risen in many markets.  And because of this, investors are looking for places where properties are more affordable.
Long time listeners know we think all things being equal…affordable markets will be a safer place to be in the next decade or so.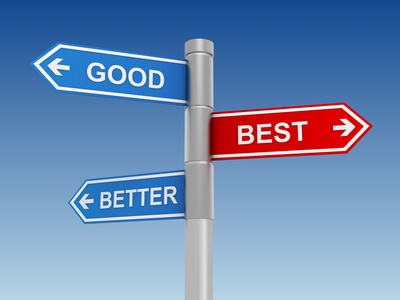 BUT…all things aren't equal in all markets.
So when a young listener asks our opinion of Detroit as a real estate investment market, we had to take a step back and discuss what makes one market preferable to another.
After all, "good" has to be answered in the context of, "Compared to what?"
So tip #1 is…pick at least two markets to compare.  Not seventeen.  Just two or three.
Next, look for economic drivers.
What makes that market tick economically?  There should be several things.  If there aren't, then you need to move on.
Look at population and migration trends.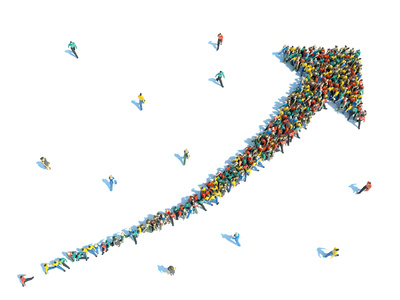 More people equals more demand for real estate.  Growing population and people moving in means upward pressure on rents and prices….and vice versa.
Look at infrastructure.
Schools, transportation, healthcare and retail are biggies.  The more and better of these essential "bones" that exist in a market, the more likely people and businesses will want to move there…or stay.
Consider the financial health of the government.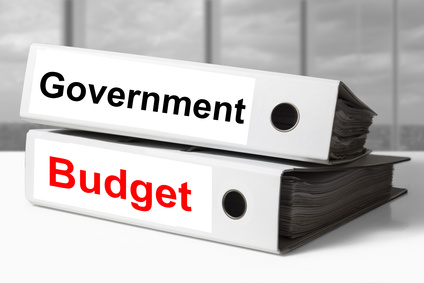 Is it able to provide essential services, improve infrastructure and maintain an environment conducive to economic growth?
A municipality that can't afford to pay its police or maintain its roads, parks, etc…is likely to impose higher taxes now or in the future.  That chases away businesses and people.
You get the idea.
Of course, with that said, because of the inherent inefficiencies in trading real estate, it's always possible to find a deal that makes sense.
We just think fighting the local market trends isn't worth it.  As much as a hassle as investing out of area is, it's easier than swimming upstream against a declining market.
"Live where you want to live, but invest where the numbers make sense." – Robert Helms
Condo Conundrum
Another listener is considering investing in a residential condominium.  Like any product type, there are pros and cons.
One of the positives about condos is they tend to be more affordable than single-family homes.  So you potentially get more bang for your investment buck.
You also have the power of the group.  Depending on the size and configuration of a complex, you can have common amenities like a pool, fitness center, tennis courts, green areas, etc.
These are things many tenants would find attractive, but the costs are shared by all owners.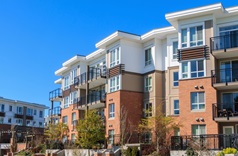 On the downside, there are some things every condo investor should be aware of.
First and foremost is the financial condition of the Homeowner's Association or HOA.
If the HOA isn't collecting its membership dues or not collecting enough, then all those fancy amenities fall into disrepair.  Or worse, essential things like roofs, driveways and landscaping can deteriorate.
When these major expenses come up and the condo association can't pay the bill, the owners could end up getting a "special assessment", which is essentially a cash call.
And if you don't pay, the HOA can place a lien on your property, impeding your ability to sell the property…or worse, the HOA can initiate a foreclosure to satisfy its lien. Yikes!
Also, on the subject of HOA's…
Be sure to look over the HOA's meeting minutes to see if any major issues of concern are being discussed.  If there's trouble brewing, you probably want to know about it BEFORE you buy.  You can't expect that the seller or the seller's agent have read them…much less disclosed anything problematic.  Check it yourself.
It's also important to pay attention to the percentage of renters in any given complex.
That's because when the percentage gets too high, the condo becomes "unwarrantable".  This is lending lingo for saying that conventional lenders won't loan on it.
Now you might not care when you buy or own, but when you get ready to sell, if your potential buyers can't get a loan, it limits your options for getting out.  This means a lower price…if you can sell it at all.
So it's certainly possible to make money in residential condo investing…and many people do…it's very important to do your homework BEFORE you pull the trigger.
Inflation or Deflation?
We got a great question from a long term listener wants to, know, "Is inflation or deflation coming?"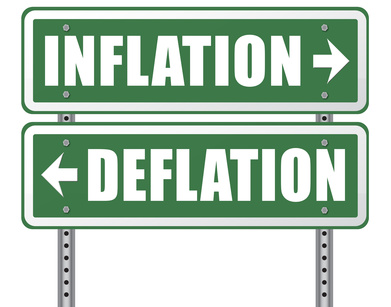 The short answer is yes.  In fact, they're both already here.
The bigger answer is more complicated, but worth delving into because it's very relevant to real estate investors.
Inflation and deflation affect everything from interest rates, to wages and rents, to property values...and more.
In an effort to keep it simple, we get inside what causes prices to rise or fall.
The factors which drive prices UP include appreciation, leverage and inflation.  And they are all different.
Factors driving prices down are the inverse:  depreciation, de-leverage and deflation.
Here are the quick definitions:
Appreciation is when more demand is out weighing supply.  Depreciation is when supply is out weighting demand.
Remember, an economy is just one big auction with bidders and sellers.  The more people who "appreciate" an item and bid for it…especially against a static or shrinking supply…the higher the price will rise.
Of course, if supply increases relative to demand, the sellers lower the price to attract buyers, and prices fall.
It's true for stocks, houses, labor, commodities and pretty much everything.
But there's more…
Inside "demand" is "capacity to pay".  After all, if you can't afford something, it doesn't matter how much you demand it.
This is where "leverage" comes in.  And leverage dramatically affects "capacity to pay".
When people who want something they can't afford today with the money they already have, financing allows them to bring future earnings into the present.  Those funds are used to bid UP the price.
A big part of the explosive rise in the cost of college has come from the explosion in student debt.  A lot of money from the future came into the present and bid up the cost of college.
The same thing happened in housing over the decades following the Depression.
If you can find someone really old, ask them about home loans in the 40's.  They were maybe 5 or 10 years.  Today, they're 30 years.  In Japan, they can be 100 years!
That's a lot of future money (leverage) coming into the present to bid up prices.
Of course, when people can no longer afford to go into debt…or are unwilling to…then all that purchasing power goes away.
And LESS leverage means downward pressure on prices.
The third component of price change is the supply of currency (not debt, just cash) that is in circulation.
The MORE money being circulated, the more can be used to purchase things.
And if the amount of things doesn't change, the net result is it costs MORE to buy the SAME things.  This is inflation.
Of course, the reverse is true.  But since the central banks control the printing presses and are committed to INFLATION, the probability of true deflation is unlikely.
But that doesn't mean prices won't fall. Just take a look at oil.
Because the SUPPLY of oil exploded with the fracking industry, while the DEMAND for oil didn't grow as quickly, the price of oil dropped.
Meanwhile, because the DEMAND for properties to rent has grown (U.S. home ownership is at the lowest level since 1967) relative to SUPPLY of units available to rent (builders haven't added as many new units as there are people wanting them)...rents have gone UP.
So for those who call rising prices "inflation" and falling prices "deflation", BOTH are happening at the same time.
Of course, now you know there's a lot more to rising and falling prices than just inflation and deflation.
The art is to look at anything you're investing in and ask how ALL the factors are most likely to affect it.  And then invest accordingly.
Yes, we wish it was simpler too.  But it is what it is…which is why we study all the time.
Could the Yuan replace the Dollar? How would that impact the future of money?
Another topic we study is currency and the future of money.
Because most of the world transacts most of its business in…or based on…the dollar, we pay attention to it.
Lately, China's been making moves to push its currency (the yuan or renminbi) to be on par with the U.S. dollar, the British pound and the Japanese yen.
The head of the International Monetary Fund has already publicly stated it's not a question of if, but a matter of when this will happen.
One listener wonders what to make of all this.
Join the crowd.  We spend quite a bit of time contemplating this very thing.  In fact, one of the major discussion topics on our next Investor Summit at Sea™ will be "The Future of Money".
At this stage, the trend for the demand of the dollar as a currency (medium of exchange) is actually going down.
At the same time, the supply of dollars has gone up…thanks to trillions of dollars injected into the economic system through multiple doses of quantitative easing by the Fed.
Based on that alone, you'd think the value of the dollar would FALL.  After all, less demand and more supply means a falling price.
So then WHY has the dollar been so strong? And how will that impact the future of money?
Because people are using it not just as a currency, but as a store of value.  So while demand for the dollar as a currency has fallen, demand as a store of value (a safe haven) has increased.
So back to the listener's question…what happens if the yuan becomes a reserve currency?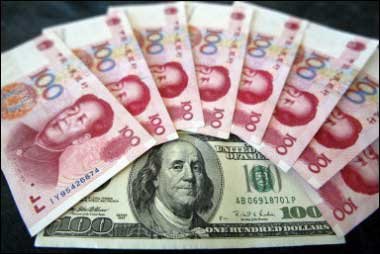 If the yuan becomes a reserve currency, it legitimizes its role not just as a medium of exchange, but also as a store of value.
And if China backs the yuan…even partially…by gold (in addition to its substantial reserves and robust manufacturing economy)…it's conceivable that many investors would dump dollars and buy yuan.
Consider that Britain is issuing the world's first yuan denominated bonds.  It's just a clue that the yuan is moving ever closer to becoming a serious player on the world stage.
So if demand for the dollar falls against the backdrop of the trillions printed in the wake of the 2008 financial crisis, then the value of the dollar could fall SUBSTANTIALLY.
Worse for dollar holders, is that once the world begins to lose faith in the dollar as a store of value, the rush for the exits begins.  And this exacerbates the fall of the dollar.  It's an ugly downward spiral.
What does that mean to you as a Main Street real estate investor?
The first and most likely impact will be a rapid rise in interest rates and in the dollar denominated value of anything real.
If you own real assets, like real estate and precious metals, then you'll preserve your relative position.
The dollar value of those things will go up, but it won't mean anything because the dollars won't be worth as much.
It's like that $50,000 3 bedroom house from 1970 that's now worth $500,000.
The house didn't get bigger or more useful.  The dollar just fell, so now it takes more of them to buy the same real value.
But even though you aren't richer in real terms, you're better off than if you didn't own the house.  So owning anything real when a currency is losing value is a safer place to be.
Next, if you've used low fixed rate financing, as interest rates rise, you're not affected.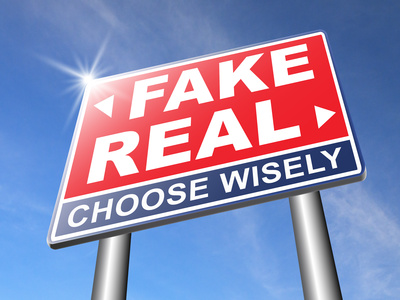 In fact, you have a competitive edge because anyone trying to buy when interest rates are high will have to charge much higher rents in order to cover their costs.
So you can offer low relative prices to your tenants in a time of economic weakness and still be positive cash flow.
Your tenants will probably be very grateful and loyal, so you'll have less vacancy and less hassles.
All this to say…the more you understand what's happening, why it's happening, how it affects you and what you can do about it…the less scary all of these changes are.
Because change is coming whether you're ready or not…and whether you do anything or not.  Obviously, it's probably a good idea to pay attention and take appropriate action.
We'll be here watching, reporting and commenting on the future of money and other topic.  So stay tuned to The Real Estate Guys™ radio show.  And if you really want to compress your learning curve, take the big leap and join us on our next Investor Summit at Sea™.
Meanwhile, listen into this enlightening edition of Ask The Guys!
Listen Now: 
The Real Estate Guys™ radio show and podcast provides real estate investing news, education, training and resources that help real estate investors succeed.

Contributed by John Burns
10% of Housing Demand
Builders and developers will now start building more detached homes for rent. For years, home builders have ignored 10% of housing demand, allowing resale homes to fill the demand. As shown below, 12.7 million of today's 120 million households rent a detached home.
29% of Rental Demand
44.3 million US rental households occupy:
15.5 million individually owned rentals

12.7 million detached homes (29%)
2.8 million condominiums and townhomes
26.8 million apartment buildings

13.2 million units in small apartment buildings (less than 10 units)
13.6 million units in larger apartment buildings (10+ units)
2.0 million mobile homes, boats, etc.
Historically a Mom and Pop Business
The 12.7 million detached home renters have largely been ignored by builders and developers for years as both supply and demand steadily grew over many decades. The vast majority of the growth of individually owned rental homes has historically come from households who lived in the home before relocating and decided to continue owning and renting the home rather than selling it. Approximately 54% of the landlords of single-family rental homes own only one home, per RentRange.
Detached Rentals in Masterplans
We have noted that even actively selling masterplans, despite not building single-family homes for rent, have a significant number of single-family renters. Just go into Zillow and look for yourself. The proactive developers are now looking to develop these neighborhoods and homes themselves, rather than letting others meet the demand.
Our research, which we confirmed with the CEOs of several of the institutional investors, shows that these renters live in detached homes primarily because that is the preferred lifestyle. Most of them did not even consider renting an apartment. They prefer to live in a detached home and are renting either because of:
Necessity. They do not have the ability to qualify for a mortgage.
Flexibility. They choose to rent to maintain the flexibility to move.
Choice. They would rather spend what they earn today than save for a down payment.
Thus, single-family rental home competes more with the detached resale and new home market than with apartments.
Clearly, there is a subset of renters who will pay a premium to rent new, as evidenced by the 200K+ apartment units that are built and leased every year. If it works for apartment developers, why has there not been much attempt to build single-family homes for rent? Those days are now ending.
Seizing the Opportunity
Here come the home builders, seizing the opportunity to build single-family detached homes to be sold to professional investors or to manage themselves. Consider the following:
Starwood Waypoint, an owner of 16,000+/- rental homes, has worked with 12 builders to buy homes from them. While they have often bought the slowest selling floor plan or the last few homes in a community, they are now actively pursuing new subdivisions in areas where they currently operate. Their CEO recently told me that their business has shifted dramatically in the last few years, with only 25%+/- of their tenants now having gone through foreclosure, versus 50%+ a few years ago.
The CEO of American Residential Properties shared at our recent client conference that their tenant profile has shifted as well, with new leases typically to young families with more than enough income to buy but who are choosing to rent primarily to have the flexibility to move.
Masterplan developers have taken notice. Bob Sharpe, the owner of Rancho Sahuarita in Tucson, surveyed his 5,500 home community and found that renters occupy 22% of the individually-owned homes. With 4,000 homes left to sell, why not build and rent homes to this group, many of whom will buy homes in the future?
Lennar has been a pioneer in detached subdivisions for rent with their Frontera community in a suburb of Reno Nevada. Rents for 1,210- to 2,182-square-foot homes range from $1499 to $1999 per month, or $0.92 to $1.20 per square foot, per apartmentguide.com. While Lennar also runs an apartment company, they acknowledged that the management complexities are very different. Lennar's CEO recently noted that "it's a pretty exciting opportunity for our company…and we're probably going to launch another one or two as part of our evaluation as we go forward."
Drop the Stigma
There remains a stigma that renters are not as good for the neighborhood as owners. From personal experience in my own neighborhood, as well as Census data, I can testify that they certainly move more often—and that they have always been great neighbors and their homes have been very well maintained.
Conclusion
Last year, approximately 25,000 detached homes were built for rent. We believe that number will increase significantly over the next several years. We expect detached homes for rent to become an important segmentation opportunity for the top masterplans in the country, who will no longer ignore 10% of housing demand
---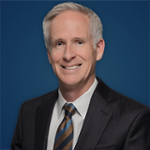 John Burns is the CEO of John Burns Consulting. John Burns Real Estate Consulting, LLC provides independent research and consulting services related to the US housing industry.  Click here to learn more.
Tax policy can be a VERY polarizing issue.  Just think about what happened in Boston in the late 1700's.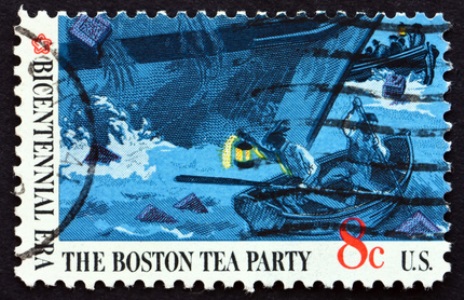 However, tax considerations play a big role in the decisions real estate investors make when choosing markets, financing structures and hold terms.  All diligent real estate investors spend a lot of time with their tax strategist to manage their portfolios for optimum tax benefit.
But most of that work is done inside the tax code…which grows out of the tax statutes passed by Congress…which grow out of tax philosophy, AKA tax policy.
Working backwards… tax policy is what gives birth to the tax code.
So if tax POLICY changes, then it will directly affect the tax CODE…and YOUR strategic investment decisions.
And it's not just you, the small time real estate investor, who's affected.  There's also the big REITs, hedge funds and mega-millionaire real estate investors.
But it's even BIGGER than that.
Consider how tax strategy impacts the decision making of corporations, small businesses and bond investors (where much of the money we borrow to buy real estate comes from).
So any proposed tax reform, whether we agree with it or not, has the potential to DIRECTLY impact the flow of capital, the expansion of supply and the formation of jobs…in YOUR local markets.
To talk about the current state of tax reform as the U.S. heads into a major election year:
Your well-formed host, Robert Helms
His deformed co-host, Russell Gray
Tax reform activist and author, Grover Norquist
Billionaire, author, former presidential candidate, Steve Forbes
If you're familiar with our guests, you already know they share a particular slant when it comes to tax reform:  smaller and simpler is better.
You may or may not agree.  That's okay.  While Steve Forbes and Grover Norquist may want to persuade you to their particular philosophy, that's not what this episode is all about.
The fact is that we're headed into a major election year.  It's one that promises to include heated debate about how best to improve the state of the U.S. economy.
And a big part of the discussion will include what to do about the enormous and complicated U.S. tax code.
If Donald Trump is right when he says all the politicians do is talk but nothing happens, then maybe you don't need to pay much attention.  After all, the tax code hasn't changed much since Ronald Reagan pushed through the Tax Reform Act of 1986.
BUT…if you're a geeky student of economic history like we are, you may recall that quite a few MAJOR events occurred in the wake of the last major tax reform…such as the Black Monday stock market crash of 1987 and the real estate bust of 1989.
However, we're not here to dissect the 1986 tax reform act.  We encourage you to go back and study it for yourself.
The point right now is that MANY inattentive investors…both real estate and stock…got CRUSHED by the ramifications of tax reform.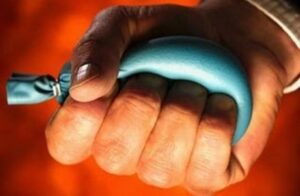 It's called The Law of Unintended Consquences.  We call it the "squish" factor.
If you've ever squeezed a balloon in your hand, you know that under pressure the volume of the balloon will move…sometimes very rapidly…and pop out someplace.  But you can't always predict when and where.
Sometimes politicians mean well (stop laughing…sometimes they do)…but the road to you know where is often paved in good intentions.
Again, we're not saying tax law should or shouldn't be reformed.
But if tax reform actually happens, it often means good and bad things happens…some anticipated and some not.
All that to say, we think paying attention to the potential for serious tax reform is an important use of time…especially when political change is in the air.
So we decided to sit down with two of the most outspoken proponents of tax reform, Grover Norquist and Steve Forbes.
Grover Norquist is the President of Americans for Tax Reform, an organization that was formed in 1985 at the request of then President Ronald Reagan for the purpose of advocating for the tax reform which was eventually enacted in 1986.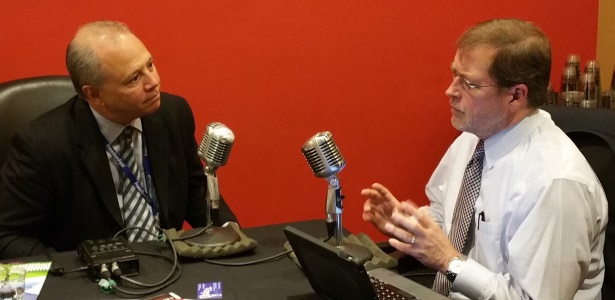 In a nutshell, the objective is to reduce the burden of taxes on the private sector so those resources can be redirected to more productive uses.
The thesis is that less tax means more growth, so even though the percentage of tax is a smaller part of GDP, the actual taxes collected are higher.
Does it work?
For our purposes, it doesn't matter.  What we want to know is how businesses and individuals respond to it…or are likely to.
Norquist advocates for a lower corporate tax.  He says at 35% (which is higher than both Greece and France), the current corporate tax rate is a de-motivator for economic growth and job creation in the U.S.
So Norquist wants to see the corporate tax pushed down to 20%, which he says is about "average" among the major developed nations.  At this rate, he says, the U.S. is on a level playing field to attract and retain major employers.
Our question is…and if you know any CEOs or if you are a CEO of a major company, please let us know…what do CEOs think?  Will a lower corporate tax motivate corporations to stay, expand or move in to the U.S.?
We want to know because where jobs are likely to grow and stay is a very important consideration when choosing which geographic markets to invest in.
Norquist also favors the elimination of taxes on savings and investment.
This is the exact opposite of the reported position of presidential hopeful Hillary Clinton.  She's calling for an INCREASE in capital gains tax…to nearly 40%.
However, Clinton says this will only affect the .5% who earn more than $412,000 a year.
(Note: You should go look up how many people the original income tax was supposed to affect…and compare it to how many are affected today…)
But if you flip houses, it's easy to get over $412,000 a year in total income.
Think about how paying DOUBLE the capital gains tax would affect YOU.  Would you be able to do more…or less?  Would create more work for your teams…or less?  Would the higher tax create more jobs…or less?
Our next guest, Steve Forbes has a very simple proposal…one he's been advocating for nearly 20 years.  One thing you can say about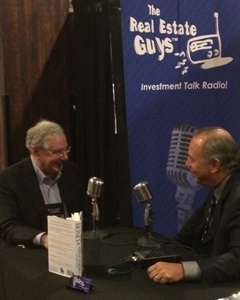 Forbes…he's persistent.
Steve Forbes' proposal is to simply implement a flat tax.  It's an idea that GOP presidential hopeful Rand Paul is advocating for.
Forbes' contention is that a flat tax frees up about 6 billion hours a year currently dedicated by businesses and individuals dealing with today's highly complex tax code.  He believes when this time and effort is redirected into innovation and production, job creation wouldn't be far behind.
We don't know which, if any, tax proposal will ever see the light of day…or if one does, what at the actual effect will be.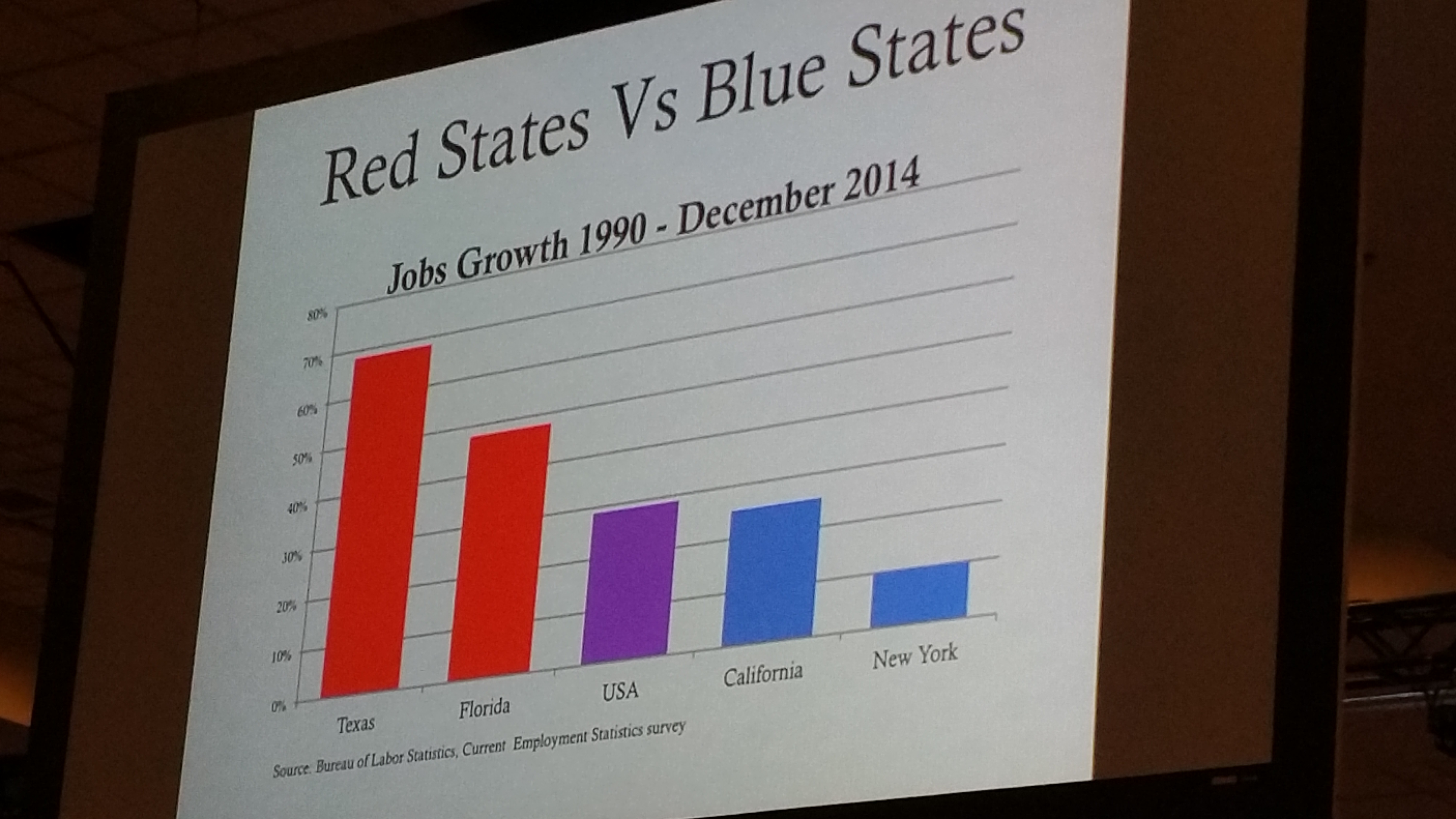 But we do know what of the four largest states in the Union…which are New York, California, Texas and Florida…two have gained the MOST jobs over the last decade while two have LOST the most jobs.
According a data we say presented by economist and former Wall Street Journal editor Stephen Moore…New York and California are the losers, while Texas and Florida are the winners in terms of both job growth AND net migration growth.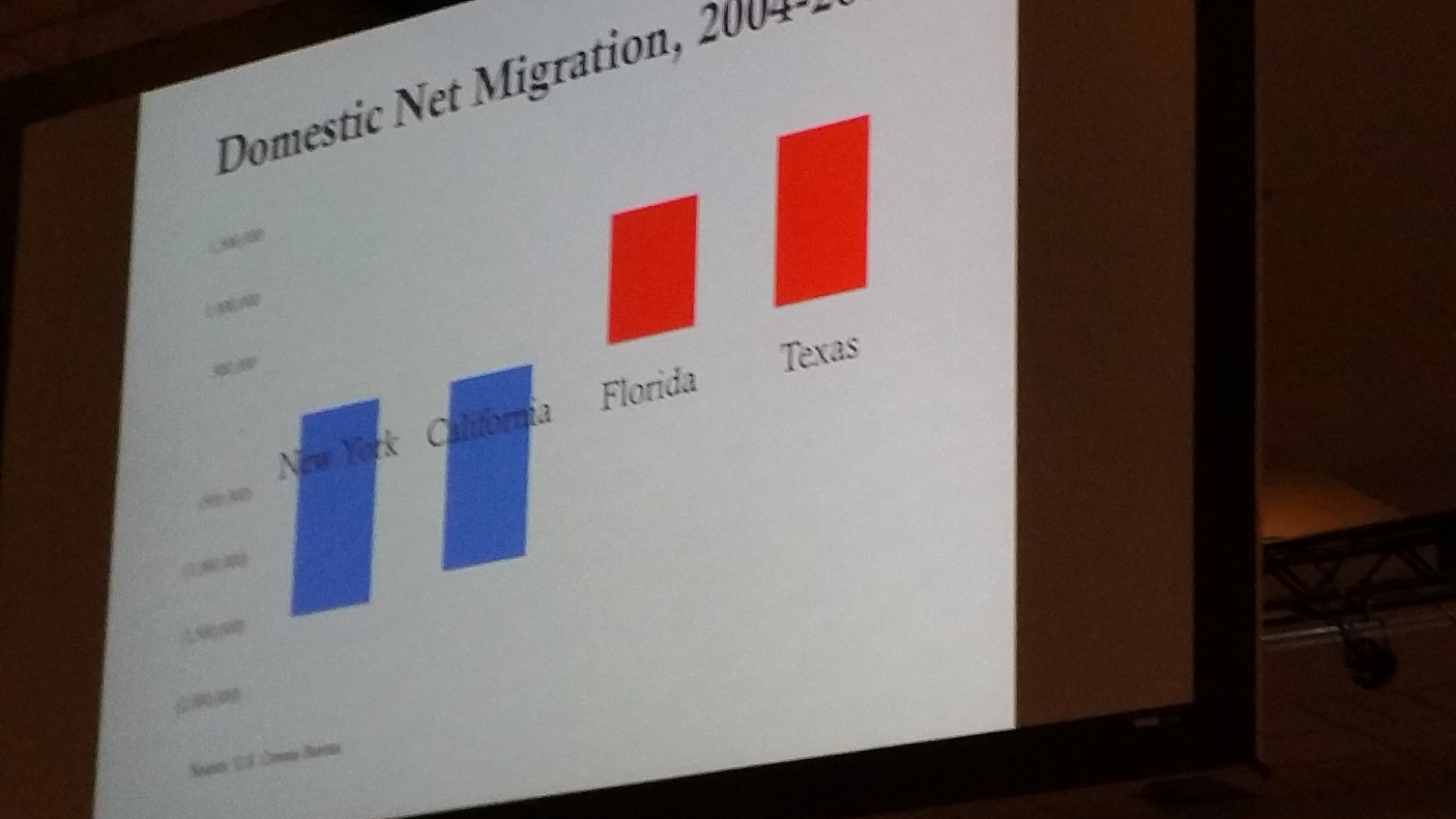 And it so happens that the losers happen to have the HIGHEST tax burden, while the winners have NO state income tax.
Coincidence?  Maybe.
But if you've been watching TV lately, you may have seen ads for StartUp NY, which is a state government sponsored initiative that "offers new and expanding businesses the opportunity to operate tax-free for 10 years" as a way to create jobs in New York.
They say imitation is the highest form of flattery.  So perhaps this is New York's way of tipping its hat to Texas and Florida?
We don't know.
But we do know that two of the BEST real estate investment markets have been Texas and Florida.  Not surprising since people and jobs are the two biggest factors which drive real estate.
The bottom line is that tax policy affects real estate investors…so it's worth paying attention to.  Especially in a major election cycle.
So tune in and listen to what our expert guests have to say about some of the current tax reform proposals being floated around…and consider how any such reform might affect you and your real estate investing.
Listen Now: 
The Real Estate Guys™ radio show and podcast provides real estate investing news, education, training and resources that help real estate investors succeed.
Riding the wave of a hot market can be one of the most thrilling times of a real estate investor's career.
Of course, skilled equity surfers know how to exit before the wave breaks on top of them.  But how?
That's the topic of this exciting episode of The Real Estate Guys™ radio show!
Waxing down our microphones to ride the airwaves of talk radio…
Your hang ten host, Robert Helms
His hanging on co-host, Russell Gray
With all the talk about whether or not the stock market is overheated, we thought it was time to take a look at real estate and ask the same question.
Of course, real estate isn't an asset class…because no two properties are the same.  So it really comes down to what's happening in your local market.
Nonetheless, some of the principles of recognizing when a market transitions from appreciation based on fundamentals…to appreciation based on hot (and sometimes dumb) money chasing a trend…apply to real estate just as they do to stocks.
The nice thing about real estate…which is also one of the dangers…is it moves slowly.  And while it's easy to be proactive…it's also easy to fall asleep at the wheel.
So how do you know when a market is getting too hot?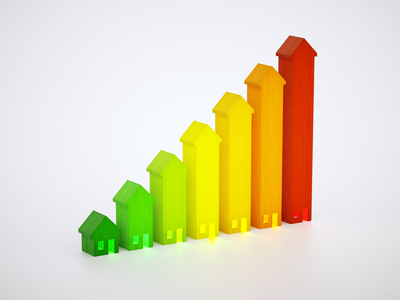 No surprise, it's mostly common sense…a little math…and keeping your greed under control.
So what does that look like?
First, you have to remember where value comes from…and it's NOT the "greater fool".
The "greater fool" concept drives a lot of "investing"…where you buy low today in the hopes some greater fool will come along tomorrow and pay you more.  Thus you book "a profit" for doing nothing more than carrying the asset for a period of time.
In buy and hold real estate investing…and arguably in all types of long term investing…value comes from income.
So when an asset produces income it has value.  The more income…the more value.
Therefore, when an asset's PRICE starts to climb, the first thing to ask yourself is whether that's driven by an increase in INCOME…or if it's simply a greater fool paying MORE for the SAME income.
Obviously, the latter can only go in for so long before the party has to end.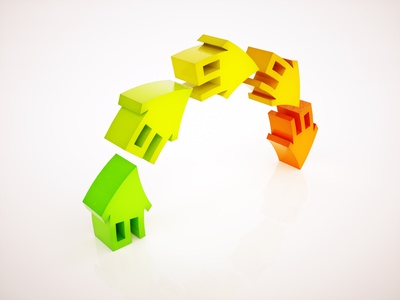 This is one of the problems with the bond markets right now.
For 30 years, investors have been paying more and more for the same income, which drives down yields (interest rates)…until rates fall to next to nothing.
At that point, where can interest rates go?
Right now, interest rates remain VERY low…and therefore very attractive…and even more so when they can be used to get some hot equity off the table.
More on that in a moment…
For now, the lesson is that investors can only bid up an asset price so far…until the income simply can't support it any more.
And when all that's left in the market is hot, dumb money chasing a trend…the minute the market cools down..EVERYONE is rushing for the exits.
So, it's VERY important to note that one of the first ways to recognize a market is heating up is when you see falling cap rates…or rising gross rent multipliers.
These are simply two different ways of saying investors are bidding up prices faster than incomes are growing.
BUT…it's a little more complicated than that…
Because when interest rates are falling…as they have been…investors can afford to bid up a property's price faster then the income, but still retain the same cash flow.
In other words, low interest rates are party extenders.  As long as cheap money is flooding into the market, the momentum continues.
But what happens when interest rates begin to rise?
Obviously,  it takes some…and sometimes a LOT…of wind out of the sails.  At least for the speculative money.
So if you're counting on cheap money being available for the great fool to take you out of an unsustainable position…you're playing with fire.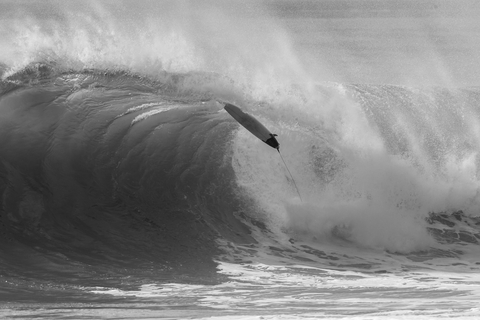 Now when it comes to real estate…especially single family homes…sometimes the price appreciation is driven by supply and demand factors.  After all, housing is not a discretionary purchase for most people.
Of course, this further complicates the analysis, but it's still based on income and interest rates.
After all, a homeowners ability to bid up a price comes largely from their ability to leverage their income into a mortgage.  Rising incomes and falling interest rates will push prices UP…while falling incomes and rising interest rates will exert DOWNWARD pressure.
The challenge is that owner-occupants don't usually consider the rental value of their property.  They simply look at the payment and decide if they think they can afford it.
But if YOU…the real estate investor…are playing in the single family home market…YOU need to be sure that if you can't sell the property to a retail buyer…or even another investor (who WILL be looking at the income)…can YOU afford to hold on until market conditions improve?
And if you're buying any tenant occupied property, even if the cash flow is solid now…and you're main play is to see sell later for a profit…then even when rents are rising…it's wise to consider whether wages are rising too.
Sometimes because of low supply and high demand, tenants are simply devoting more of their income to housing.
If so, how long can THAT go on?  And what if other prices, like food, energy and healthcare for example…are going up faster than wages?  That squeezes your tenants even more.
Here's the point…
When prices are rising and you're investing into a mature up cycle, be attentive to market selection, tenant demographic, interest rate risk, and net cash flows.
Each acquisition needs to be structured to survive a downturn.
So, if you're buying a property in a hot market expecting to sell it in the short term for a profit..and you're not structured to stay in for the long term…even if that's a Plan B…you may end up in a VERY uncomfortable position.
Of course, if you're sitting on several appreciated properties and you're able to refinance them to extract the equity, but end up with sufficient cash flow to conservatively control the property regardless of the short term price direction…it might be a good idea to get some of that equity off the table.
Liquid equity can be useful for snapping up bargains in a downturn…handling cash flow emergencies over the long haul while waiting for a market to recover…or simply moving into a new market which has more upside potential.
When and how you decide to manage your equity will be based on your ability to recognize a hot market and manage your greed…because hot markets can be seductive.
So listen into this episode as we discuss how to recognize when a market gets too hot….and what to do about it.
Listen Now: [sc_embed_player fileurl="http://traffic.libsyn.com/realestateguysradio/How_to_Know_When_a_Market_is_Too_Hot_and_What_to_Do_About_It.mp3″]
The Real Estate Guys™ radio show and podcast provides real estate investing news, education, training and resources that help real estate investors succeed.
The Dallas real estate market, just like the Dallas TV series and the Dallas Cowboys, just won't go away.  It's one of the most resilient, tenacious, dependable real estate markets in the world.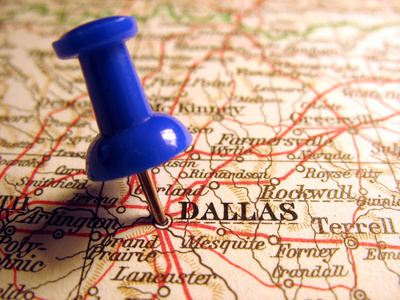 To find out what's doing in Dallas, we pay a visit to two of our boots on the ground team.
Hosting the hot talk, Robert Helms
His tenacious temporary co-host, Russell Gray
Returning contributor, Jay Hartley
Special guest, Pam Blanco
Our expert guests for this episode are both active Dallas Metroplex real estate professionals with a long history of residential brokerage and property management.  They were there before Dallas caught the world's attention…and they're there now.
And because they both deal with investors from all over the world as well as tenants right there in town, they have a perspective that just can't be found simply reading headlines, charts and graphs.
Most investors buy local and don't see the big picture.  That's a great way to get blindsided by things like bond market collapses.
Some investors are big picture only.  They study a market from afar, decide it's the one for them, and then throw a dart at a map and buy whatever it hits.
That's a great way to become the proud owner of a huge problem on a bad street.
We think you need to have both a big picture perspective AND a strong local market team who can help you find the right neighborhoods, properties and tenants.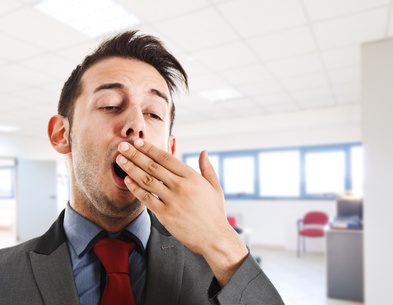 Pre-recession, Dallas was a pretty ho-hum appreciation market.
While markets like Las Vegas, Phoenix, Florida and California were shooting to the moon…Dallas plodded along with a great economy, solid employment, good cash flows…. and boring stability.
Then, when the sub-prime bomb detonated and all those high-flying appreciation markets imploded….
Dallas just sat there.
Sure, there was an increase in foreclosures, a decrease in values and a decline in job growth.  But compared to the rest of the country's pneumonia, Dallas only caught a cold.  And it quickly recovered.
Long time listeners know that this is when Dallas caught our attention.
Just like in human relationships, your relationships with markets will be tested.  And when the chips are down, you find out fast who your friends REALLY are.
In the Great Recession, Dallas demonstrated its dependability.  Suddenly, boring was beautiful.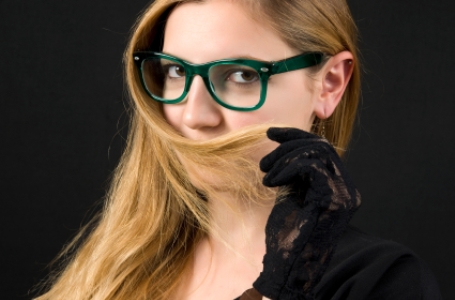 Over the last five years, we've discovered a whole new sexy side to Dallas.  It's been one of the leading appreciation markets coming out of the Great Recession.
It turns out that we weren't the only ones who suddenly got interested in Dallas.  Wall Street hedge funds got heavily involved.  So did Mom and Pop real estate investors from all over the world.
The lesson is that solid fundamentals will almost always leads to a solid trend.
The bigger lesson is that if you focus on fundamentals…the inner beauty of a market…and not just the glamorous make-up of a hot trend…you can catch a rising star.
Today, Dallas is hardly a secret.  Investors worldwide know Dallas real estate is a great place to store and build wealth.  So it's no surprise that 11% of the home sales are to foreigners…or that hedge funds have bought up thousands of properties.
Does that mean that the deals in Dallas are done?
Not necessarily.  But they're harder to find.
So getting into the deal flow in ANY market is essential…and even more so in a high demand market like Dallas.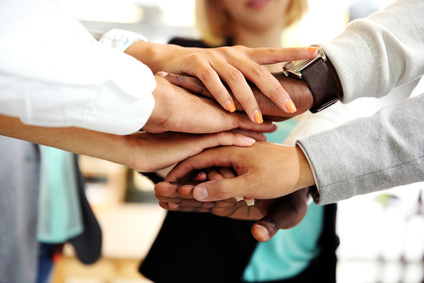 The key to getting into the deal flow is having great relationships with well-connected people in the local market.  The closer to the street they are, the more likely they are to find the opportunities others overlook.
So listen in to this episode to hear from two real life pros who live in the trenches in the Dallas Metro…and if you decide Dallas is a market you'd like to explore, make plans to join us for a fun-filled field trip!
Listen Now :
The Real Estate Guys™ radio show and podcast provides real estate investing news, education, training and resources that help real estate investors succeed.