Honey, they shrunk my net worth!
In case you haven't heard, the financial reform bill redefines who qualifies as an accredited investor.  So, if you like to pool your money with other people's money so you can get in on bigger deals, there are some new rules to play by.
And if you're syndicating deals now, then you REALLY need to listen up – because the new rules are effective IMMEDIATELY!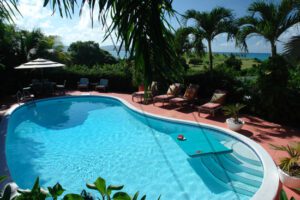 Diving into the deep end of The Real Estate Guys™ pool to discuss the ramifications for real estate investors:
Your host and lifeguard, Robert Helms
Your co-host and wading pool watcher, Russell Gray
Cannonball champion, the Godfather of Real Estate, Bob Helms
OMG!  OPM is r BFF.  TDM rulz!
Sorry.  Too much time at the teen pool.  Back to the topic at hand…
Our friend and real estate attorney Jeff Lerman sent us an important update about something buried in the 2,300 pages of the financial reform bill:  Congress decided to change the definition of "accredited investor" so that you can't count your home equity in your net worth.  Maybe it's a good time to do it since so few people have any home equity any way.
But for those of us who like to invest in private placements – and even more importantly, those who like to have people invest in our private placements – the new definition just demoted a lot of investors.  They've effectively been kicked out of the private pool and are now only allowed to swim in public securities.  You know, the ones run by the fine folks on Wall Street and "supervised" by the SEC.  We're feeling safer already.
What's really amazing is the new rules went into effect immediately. That means if you were in the middle of getting into a deal or putting one together, nothing is grandfathered.  So you could have good faith money in a deal based on capital pledges from people who were qualified to invest and poof!  Now those people are unqualified and you're scrambling to find replacement money before you lose your opportunity – or worse, your earnest money.
We're guessing the folks who decided to do this have never put a deal together.  But, perhaps just a little too much of our opinion is showing.  Sorry, we'll throw a towel around ourselves.
A big thanks for Jeff for bringing this to our attention.  It's changes like this that keep us subscribed to all of our newsletters, podcasts and blogs.  You never know (especially now) when the winds of change are going to blow across the game board and shuffle things around.  But when they do, you can count on The Real Estate Guys™ and our network of experts to let you know – and to help you adjust and adapt.  So be sure you're subscribed to everything and keep your eyes and ears open!
Listen now
Don't miss a show!  Subscribe to the free podcast!
Want more?  Sign Up for The Real Estate Guys™ free newsletter!
Protecting your money in today's highly uncertain economy is surely very challenging. Remember when real estate equity and bank accounts were considered among the SAFEST places to keep your savings?  Today, real estate equity has disappeared – and for many people even getting access to whatever equity they still have is next to impossible.  Boy, do we miss those equity lines of credit with their checkbooks and debit cards!
And even though you can still write checks on your cash deposits at a bank, with record bank failures even that old saying "sure as money in the bank" seems a little outdated.  Add horribly low interest rates and, to compound the injury, taxes on your meager interest earnings, it's enough to make you wonder what this financial world is coming to.
Well, we have good news. There's a new way to look at an old product – one that is time tested and has survived its fair share of economic turmoil.  And we got such a positive response to our first foray into this topic, we decided to re-visit it with a new guest.
In the radio lifeboat for another voyage into broadcasting brilliance:
Host and head lifeguard, Robert Helms
Co-host and lifeboat inflater, Russell Gray
Seasoned sailer of stormy economic seas, the Godfather of Real Estate, Bob Helms
Special guest, "infinite banking" expert, Patrick Donohoe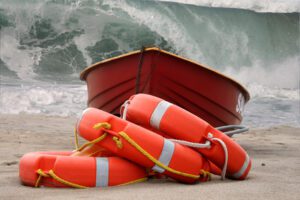 Right out of the gate we need to set the table, which is no small task with the lifeboat bobbing on the waves:  what does life insurance have to do with real estate investing?
Think about what a bank account has to do with real estate investing and you're on the right track.  But unlike a bank account, our guest explains that certain types of life insurance – thought greatly misunderstood – offer far greater flexibility than bank accounts.  And though they aren't FDIC insured, insurance companies are arguably more stable and conservatively run.  Unlike banks right now, you don't hear a lot about record number of life insurance companies failing.
We also address why so many CONSUMER financial gurus are down on cash value life insurance, yet corporations like Wells Fargo and Wal-Mart buy tons of it.  Could it be there are BUSINESS purposes that make it very useful for BUSINESS people?  We say all the time that real estate investing is a business, so it makes good sense to see how businesses are using this financial tool.
For example, how'd you like you to take a tax deduction for making a deposit in your bank account?  Hmmm….that's an interesting concept!  What about getting a loan against your equity without having to qualify?  Try doing that with a property!  And unlike property, the value isn't determined by market forces, so your equity doesn't disappear in a market downturn.
The point of this episode is that insurance can do a lot more than manage risk and pay a benefit. Our job is to expose you to some of the possibilities.  Your mission, should you choose to accept it, is to explore those possibilities, learn how to use this powerful tool, and decide when and where to use it to advance your real estate investing program.  It seems the economic storm isn't over yet, so it might be a good idea to know how to operate the lifeboat.  It's a matter of life and debt.
Listen Now: 
The Real Estate Guys™ radio show and podcast provides real estate investing news, education, training and resources that help real estate investors succeed.
The Real Estate Guys™ sit down and talk with Steve Forbes about jobs, the economy and real estate.
We don't know about you, but any time a billionaire, a CEO of a major company, a best selling author or a legit presidential candidate is willing to sit down and chat, our response is always, "Yes!".   In this case, our special guest for this episode, Steve Forbes, is ALL of those things wrapped into one.  So we're super jazzed to bring this exclusive interview to you.
In the broadcast booth at the Freedom Fest conference in Las Vegas:
Your Host and interviewer extraordinaire, Robert Helms
The just-happy-to-be-here Co-host, Russell Gray
Special guest, Forbes Magazine CEO, Steve Forbes



Mr. Forbes was the keynote speaker at the Freedom Fest conference and remained in attendance for the entire event.  In spite of a recent neck surgery, he was very accommodating and so Robert was able to sit down with Mr. Forbes for an impromptu interview.
We decided to ask him about his latest book, Why Capitalism Will Save Us – Why Free People and Free Markets are the Best Answer in Today's Economy. Mr. Forbes' thesis is that too much government is bad for business because it increases costs, diminishes productivity and takes too many resources away from creating jobs for an ever-growing population.  He calls for "sensible rules of the road" to provide a basic framework in which free people can conduct business.  Of course, the great debate is over what's "sensible".  His position is that less is more.
What we're really interested in is jobs. Jobs are where our tenants get their rent money.  It's where home buyers get the income stream to make the mortgage payments that prop up the property values that create passive equity.  Jobs are near the top of our due diligence check list when evaluating a market to invest in.  It's one of the reasons we like Dallas right now.  Among U.S. markets, it's doing pretty well.  Ironically, another great job market is Washington DC, but if there's a changing of the guard over the next couple of elections, that could change.  But we digress…
So Mr. Forbes shares his thoughts on the economy, job creation and the role of government in real estate, specifically Fannie Mae and Freddie Mac.  In his position as the CEO and editor-in-chief of Forbes Magazine, he gets to talk with many of people who shape, interpret and respond to public policy.  We really enjoyed our time with him and hope you will too!
On a side note, Steve Forbes is the nicest billionaire we've ever interviewed.  Actually, he's the only billionaire we've ever interviewed.  But he's still a very nice guy.  So, if you're a billionaire and want to come on the show and be nice to us, just give us a call.  Our door is always open. 🙂



Don't miss a show!  Subscribe to the Free Podcast
Want More?  Sign Up for The Real Estate Guys™ Free Newsletter!
Quick!  Before you let your summer end, squeeze in just one more FUN trip! And to make sure you have no guilt about having going, let's make it an EDUCATIONAL trip designed to ENHANCE YOUR INVESTMENT KNOWLEDGE.  Now that sounds like a REALLY GREAT IDEA!
Here are SEVEN REASONS to join The Real Estate Guys™ on the next FIELD TRIP TO BELIZE:
Belize is warm, beautiful, friendly and fun.  Much better than looking at fixer uppers in Detroit or Oakland.
Belize is still a largely undiscovered country.  Imagine getting to Hawaii or the Bahamas before the rest of the world figured it out.  But once you're there, you don't have to wait as long.  The pace of discovery is much shorter now.  There's a reason Belize is one of fastest growing cruise destinations.
Robert has been studying Belize for three years.  He and his team have several dozen trips under their belt.  It's always better to go exploring with an experienced guide. You'll be amazed at how much you see and learn in just 3-1/2 days.
Did we mention Belize is warm, beautiful, friendly and fun?
Robert will introduce you to real estate developers, brokers, bankers and other important local contacts.  It's power networking in your shorts.  You'll be better connected in one weekend than most people are after several months.
It's a GREAT ITINERARY!  You'll see the mainland, the biggest cities, the #1 tourist destination, and the islands while you travel by bus, boat and plane throughout the country.
You'll make new friends. Every field trip and investor summit, we not only get to know our guests, but they get to know each other.  And you never know who you'll meet or what good thing may come from it.  But one thing is for sure: if you don't go, it's certain you won't meet anyone.  So come join the fun!
Still not convinced?  Check out these comments from some past attendees.
Click here to get all the details on our next fabulous field trip to beautiful Belize.
WHO KNEW the crash was coming? Lots of people have been reverse engineering the causes of the financial crisis.  It's easy(er) to be smart when operating from hindsight.  But when someone gets it right for the right reasons BEFORE the event occurs…well, that's just impressive.
Peter Schiff is one of the few guys who called it way in advance. Not only that, but he put it in writing in his 2006 book Crash Proof (the updated version Crash Proof 2.0 is now on our recommended reading list).
Even more impressive is that Schiff appeared on a whole host of TV shows sounding the warning.  But people literally LAUGHED at him, as you'll see in the 10 minute video below.  And there are many other videos of Peter aggressively debating all kinds of people – including next week's guest on The Real Estate Guys™ Radio Show, Steve Forbes.
Featured on this week's episode:
Your host, Robert Helms
Co-host, Russell Gray
Fund manager, economist, author and outspoken commentator, Peter Schiff
Politics aside (Schiff is running for the Republican nomination for Senate in Connecticut –  with the endorsement of Steve Forbes!), considering what Peter predicted and what actually happened,  how can you not be at least curious?   It was that curiosity that had us go to Las Vegas for Freedom Fest in July, where we were exposed to many economists who follow the Austrian school of thought.  There isn't any way in a blog post to explain all we learned, but a recommended homework assignment is to review the major tenets of the Austrian viewpoint versus Keynesian.  We think you'll find it very interesting, if not highly enlightening!
What we're really interested in is being able to best anticipate macroeconomic influences that are likely to impact the value of our real estate, the strength of the jobs market, the growth of wages (which fuels growth in rents); and the cost and availability of loans.  We don't care if you're Democrat, Republican, Libertarian, fans of rap or a drinker of light beer (okay, we find the last one a little offensive) -if you have something to say that proves true and makes sense, we're interested.  Peter Schiff is a guy that has proven true and seems to makes sense.
So for this entire show, we ask Peter to tell us to our face how he knew the crisis was coming and what's going to happen next.  Based on his track record, we think he's a guy worth listening to.  Check it out and let us know what YOU think!
The Real Estate Guys™ Radio Show provides ideas, perspectives and resources to help real estate investors succeed.
This podcast brought to you in part by Audible.com.  To download a FREE audiobook of your choice, click here.
Listen Now
Don't miss a show!  Subscribe to the Free Podcast
Want More?  Sign Up for The Real Estate Guys™ Free Newsletter!
According to the latest monthly review of the Texas economy from the Real Estate Center at Texas A&M University, Texas is leading the United States in economic recovery.    The Texas economy experienced its second month of positive annual employment growth up 0.9 percent from June 2009 to June 2010 compared with a negative rate of 0.1 percent for the nation.
Over the past 12 months the Dallas metro added 27,300 more jobs than it cut.  That is enough job growth to warrant the development of a mid sized city!!!   If a city needs 3 jobs to support every 5 people, 27,300 new jobs justifies a population increase of 45,500 people.  Kids and retired people don't work but they need places to live. Assuming 2.5 people per household, 45,500 new people need 18,200 additional housing units.
Is the supply of Dallas housing keeping up with the demand?
In the past 12 months Dallas County added 5,351 apartment units and absorbed 7,596.  The numbers show people are absorbing apartments faster than they are being built.  The demand for housing is strong but apartment construction has dwindled because of the lack of construction financing.  This positive absorption is lowering vacancy rate substantially, however rental rates have remained steady.
Dallas hasn't experienced a boom in rental rates because while demographics are headed in the right direction, Dallas is still burning off a small amount of excess housing that was built during the easy credit building boom from 2001-2007.   Current apartment vacancy rates are around 9%, however if you look at the rate of vacancy for properties that are less than 15 years old and the residential occupancy rate is MUCH better.
Many people forecast a housing boom in Dallas because the job market is forecasted to bring more people to Dallas than the housing market can keep up with.  Land near Dallas job centers is scarce and people are starting to pay substantial rental premiums to live closer to work. Dallas commute times are increasing as people are choosing to live farther into the affordable suburbs rather than pay the higher cost of living associated with living near the city center.  While Texas still has amazing expanses of inexpensive land, none of that land is close to jobs.
Get ready for a Texas sized real estate boom!!!
The Dallas population is growing rapidly as a result of relative economic prosperity while developable land near job centers is scarce.  As traffic commute times increase over the next decade, it will become more desirable and more economical to pay a larger and larger housing premium to live closer to your job.
Statistics for this blog were taken from the real estate research center at Texas A&M University http://recenter.tamu.edu/mreports/
For more information about Dallas, visit our Dallas Market page or find a local market expert in our Resource Network.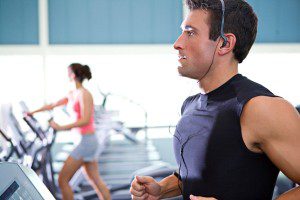 If you're one of those who take The Real Estate Guys™ to the gym, make sure you carbo load first! This one's a whopper!  Our radio audience only got an hour, but the podcast audience gets the whole enchilada.  That way whether you like American or Mexican, there's something for everyone.
A few weeks back, we went to Las Vegas for the 7th Annual Freedom Fest conference.  This was our first time and we weren't sure what to expect.  But after our previous interview with event founder, economist Mark Skousen, we thought it would be worthwhile.  It turned out even better than we thought!
After being near the epicenter of the financial earthquake which rocked the real estate portfolios of even the most experienced investors, we've put a big emphasis on studying economics.  Who cares if you're expert at fixing up properties, managing tenants or putting together syndications if property values are crashing, tenants don't have jobs, loans aren't available, and people are too scared to act?
So we started looking for people who saw it coming, put their predictions in writing and got it right for the right reasons.  Hindsight's often 20/20, but seeing the storm coming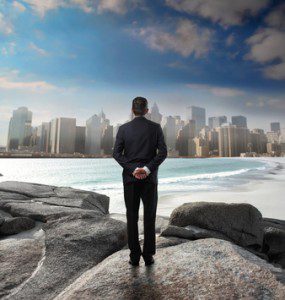 while there's still time to shutter the windows is better.  You might not be able to avoid bad economic weather, but with advance notice at least you can prepare!
We looked at the lineup of speakers at Freedom Fest and decided this would surely be an eye-opening experience. We were especially excited about Peter Schiff, author of Crash Proof 2.0 (a highly recommended read!).  Schiff called the crisis for the right reasons – and way ahead of time.  We're happy to say we got a lengthy interview with Mr. Schiff to see what he's thinking now – which is the feature of our next show.
While we're boasting about awesome interviews, we also had a chance to talk with billionaire CEO of Forbes Magazine and former Presidential candidate, Steve Forbes.  That interview is coming up in a couple of weeks, so stay tuned!  The best way to be sure you don't miss any of our exciting episodes is to subscribe to our podcast via iTunes (shameless plug). 😉
Today's episode is about talking to LOTS of people! It was like one of those speed dating sessions.  Robert sat at the microphone from early morning to late at night, and Russ rounded up a long line of interesting people to interview.
Featured in this episode of The Real Estate Guys™ Radio Show:
Your host, Robert Helms
Co-host and cat herder, Russell Gray
And a long parade of very special guests (in order of appearance):
Jeffrey Verdon, Attorney, talks about estate planning and asset protection strategies utilized by wealthy individuals; including off-shore entities and a very interesting technique for funding life insurance.
Dave Fessler, Energy & Infrastructure Expert for the Oxford Club.  Dave discusses his views on the future of energy and infrastructure and their impact on jobs and the economy.  He also comments on "the paradox of thrift" – how consumer savings is actually fueling the recession.  He tells us how long he thinks it's going to last, and where he believes America's best chance for job creation are right now.
Bob Bauman, Attorney, Former U.S. Congressman, Founder of The Sovereign Society; shares his thoughts on offshore investment, asset protection, second citizenship and the growing interest many people have in diversifying globally.
Vernon Jacobs, CPA, is an expert in international taxation.  Vern tells us what to consider when investing or employing asset protection strategies offshore.
Robert Barnes, Attorney, is part one of two back to back interviews with lawyers from a premier tax and investment fraud law firm that went 3 for 3 (that's pretty good!) in three of the top four high profile tax cases in the U.S. (you'd recognize the names).  Mr. Barnes reveals the worst thing you can do when contacted by the IRS.
Robert Bernhoft, Attorney, is part two of our tax and investment fraud attorney interviews.  Mr. Bernhoft describes what you can do to proactively avoid problems with both your investors and regulators; and shares how his firm uses specialized "non-litigation" techniques to recover misappropriated funds without going to court.
Steve Hochberg, Chief Market Analyst for Elliott Wave, works closely with Robert Prechter.  Prechter's 2002 NY Times best seller, Conquer the Crash, accurately predicted the current financial crisis.  While everyone is running scared of inflation, Steve says DEFLATION is actually the big near term threat.  He believes we are "on the precipice of the greatest stock market decline of our lifetime."
Patri Friedman, Executive Director and Chairman of the Board of The Seasteading Institute.  A city on the sea?  Really??? Before you write it off as Looney Tunes, go to their website and look at their management team.  These guys are all brilliant.  We're talking Stanford, Harvard, Yale.  Wow.  Have you heard of Pay Pal?   Yeah,the founder is on their board.  And why were they at Freedom Fest?  Take a listen!
Leon Louw, Executive Director of the Free Market Foundation, all the way from South Africa!  Why?  To raise money to advance property ownership rights for blacks in South Africa. For what it's worth, we didn't see any evidence of racism at Freedom Fest, though it was full of "tea baggers".  Obviously, Leon felt people at the event would be supportive of his cause. From our observations he was right.  But this isn't a political interview. any more than our show is political.  We just  want to understand what people are thinking and doing, and how it creates or undermines real estate opportunities.  Think about the ramifications on demand in a market where a large part of the population, formerly locked out, suddenly has access to buy property.  Very interesting stuff.
Terry Coxon, author of Unleash Your IRA, shares a powerful concept for maximizing your Individual Retirement Account.  We thought we knew all about this topic, but Terry shares a strategy we hadn't considered. Now we're hyped to read his book.  With the demise of home equity, and a growing number of people predicting a tough stock market (at best); and lending getting even tighter from financial reform, we think IRA's and rollover 401k's are one of the BEST sources of private investment capital.  That makes this a topic worth exploring!
Ron Holland, editor of two financial newsletters and 30 year financial industry veteran, has something to say on the topic of IRA's.  And it's concerning.  He shares what he thinks is the greatest threat to your retirement account.
Terry Easton, author of Refounding America and contributor to Human Events. Terry is an uber-conservative / Libertarian and has a lot to say on the topics of economics, politics and real estate.  We came to hear a lot of opinions and it just so happens that Terry has a lot of opinions.  But since they come from a long history of study and involvement, we think they're worth listening to.
All in all, Freedom Fest was a great experience and we're very likely to attend next year's event.  We met great people, got valuable insights, and had our paradigms stretched (we've been icing them since we got back).  Most of all, we see the economy and real estate from a much broader perspective.  As we continue to seek out markets, opportunities and product niches to invest in, we are convinced a bigger perspective will pay huge dividends.
Remember – our next two episodes feature our interviews with Peter Schiff and Steve Forbes!
The Real Estate Guys™ Radio Show provides ideas, perspectives and resources to help real estate investors succeed.